Get our 43-Page Guide to Real Estate Investing Today!
Real estate has long been the go-to investment for those looking to build long-term wealth for generations. Let us help you navigate this asset class by signing up for our comprehensive real estate investing guide.
There is a new, faster, and simpler method of buying and selling real estate called iBuying. Wondering what an iBuyer is? This article explains what iBuying is, how iBuying works, and the pros and cons of buying or selling real estate this way.
What is an iBuyer?
An iBuyer is a company that works directly with consumers providing an instant cash offer to purchase the home outright. iBuyers -- Opendoor Technologies or Offerpad, for instance -- purchase the home as-is without requesting any repairs, upgrades, warranties, closing costs or concessions, or real estate agent commissions. iBuying allows homeowners to sell their home without a broker or real estate agent, saving them money and time while avoiding the challenges and costs that can be incurred with the traditional real estate transactions.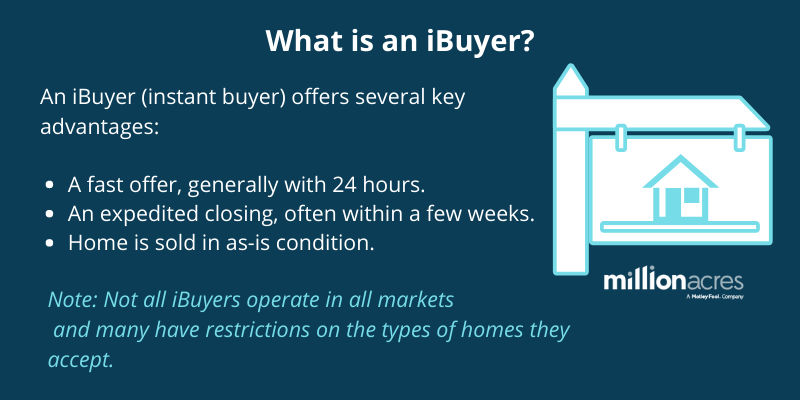 How iBuying works
iBuyers use algorithms to determine an ideal buy price for the property based on comparable properties (comps) to provide instant offers sight unseen -- which is what the "i" in iBuyer stands for. A prospective seller goes to their website, fills out a form, and receives an offer to buy their home in 24 hours or less. If the seller accepts the iBuyer offer, the sale is closed in just a few weeks.
By using technology to streamline the buying process, iBuyers are able to minimize costs and speed up closing timelines making it an appealing option for selling a home.
iBuying companies use different models to provide different solutions based on the seller's needs.
The iBuyer business models
Business model
Designed for home sellers who...
How it works
Cash offer
• need to sell quickly • do not want to make any repairs on the home • need cash fast
The iBuyer company buys the home in cash at a slight discount from fair market value. Most cash offer iBuying programs will not give the seller top dollar for their home.
Trade in
• want to sell their home and buy a new one simultaneously
The seller identifies a new home they want to purchase. The iBuyer makes a cash offer that allows the seller to buy the new home. The seller moves into the new home while the old home is listed for sale. Depending on the program, the seller will:

• continue making payments on the old mortgage until the old home is sold where they settle any outstanding costs including financing for the new home from the sale proceeds

• lease the new home until the old home sells, or if it doesn't sell for top dollar, sell the home to the iBuyer at a predetermined set price

• get a new mortgage through the iBuying company using the proceeds from the old home sale.
iBuyers make money by purchasing the home at a slight discount, adding value to the home to improve its worth, through the financing they offer, or through a fee. They may fix up the home, relisting it for sale on the MLS or with a local real estate agent after improvements have been made, or offer to finance the home using their own in-house financing programs.
Cortney Read explains what an iBuyer is and the benefits of using one on the Millionacres Podcast
Top iBuyer companies
New iBuyer companies are continuously being launched, growing the iBuying market rapidly. Below are a few of the current iBuyer programs based on the iBuyer business model.
Cash offer iBuyer programs
Trade-in iBuyer programs
Currently, iBuying programs like the ones above are only available in certain locations, with the largest iBuyer being available in 20 different markets.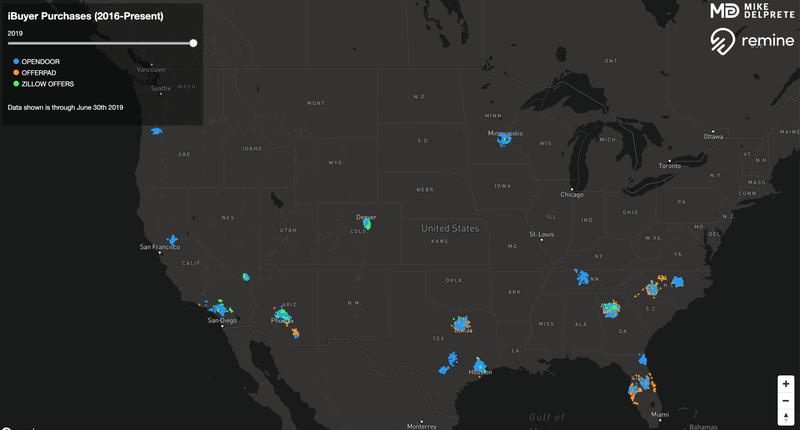 Pros and cons of selling your home to an iBuyer
As with any sales process, there are definitely pros and cons to iBuying. Many say that one of the biggest cons of selling to an iBuyer is that offers are below market value, taking away from the seller profits. However, Mike Del Prete, a global real estate tech strategist, recently conducted a study that found iBuyers actually pay close to fair market value, with a median offer price of 98.6% of the automated valuation model (AVM) value of a $270,000 home.
While there are certainly times when the iBuyer purchase price is significantly below the fair market value, most of the time they are close to the home value.
The largest benefit for most sellers is the convenience of having a cash buyer who can close quickly. They don't have to wait for inspections, appraisals, or loan underwriting, which could take 30-45 days. Most closings can happen in just a few weeks with lower closing costs because it's a cash closing. Sellers are also not responsible for having to renovate or improve the property, keep it tidy and in clean "showing condition," or leave work around a showing schedule.
A perceived benefit of selling with an iBuyer is avoiding having to pay real estate agent commissions, which for the seller is typically 6%. However, some programs do charge a listing fee for their services which can be higher than the typical real estate commission. It's important to do your due diligence on the specific program's service charge, commission, or fees to determine what you'll actually pay and if the service outweighs the potential cost.
A con of iBuying is that it's not available everywhere and the companies are selective on the type of homes they buy. I recently had a condo in St. Petersburg, Florida for sale by owner and decided to see what I could get on Offerpad, a cash offer iBuyer. After completing the form, I was notified that Offerpad declined to make an offer stating the home didn't meet their buying criteria. While it may seem like an appealing option for selling your home, it's dependent on your home's location, condition, and property type.
Is iBuying worth it?
No matter how you sell your home, with a real estate agent or an iBuyer, there will always be advantages and disadvantages with the transaction. It's up to you to determine if it makes sense to sell or buy your home with an iBuyer or if a traditional real estate transaction is better suited for you. There is no cost to getting an offer with these programs to see if selling to an iBuyer makes sense. If you do decide to sell your home to an iBuyer, make sure to read the fine print and understand what costs or fees are involved and what responsibilities both parties have in the transaction.
Got $1,000? The 10 Top Investments We'd Make Right Now
Our team of analysts agrees. These 10 real estate plays are the best ways to invest in real estate right now. By signing up to be a member of Real Estate Winners, you'll get access to our 10 best ideas and new investment ideas every month. Find out how you can get started with Real Estate Winners by clicking here.