Get our 43-Page Guide to Real Estate Investing Today!
Real estate has long been the go-to investment for those looking to build long-term wealth for generations. Let us help you navigate this asset class by signing up for our comprehensive real estate investing guide.
A coffered ceiling can be an attractive feature and can really give your home a higher-end feel. However, like most architectural decisions, coffered ceilings aren't perfect for every situation. Here's a quick rundown of what a coffered ceiling is, why you might want to consider one for one or more rooms in your home, and the potential drawbacks of choosing coffered ceilings as your next home renovation project.
What is a coffered ceiling?
A coffered ceiling is a style of ceiling that, instead of being a flat surface, has a pattern of recessed areas. In architectural terms, the word "coffer" means an indentation. So, a coffered ceiling is a style of ceiling that involves a pattern of indentations.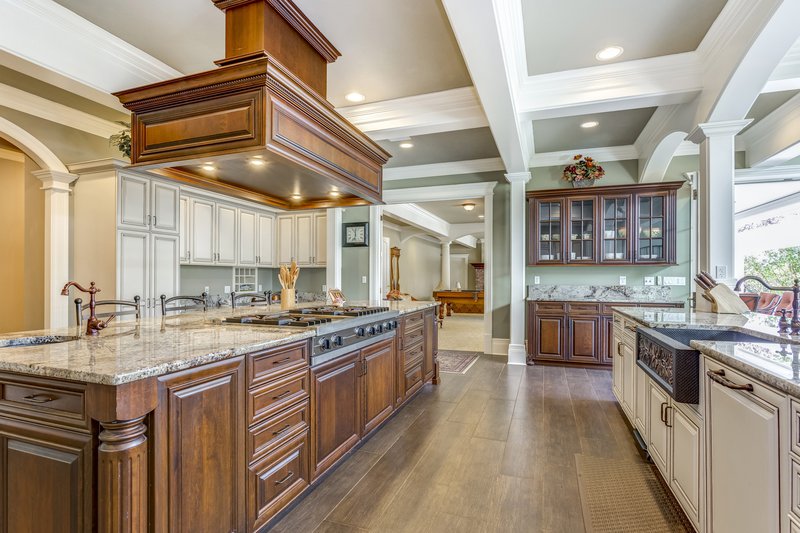 These patterns can be rectangles (most common for residential applications) but can be other shapes as well, such as hexagons or octagons. In some higher-end homes and public buildings, such as churches, courthouses, and museums, coffered ceilings can be rather ornate and complex.
Reasons to consider coffered ceilings
There are a few potential benefits to adding a coffered ceiling to a room in your home:
They're attractive
Coffered ceilings create a dramatic appearance that many homeowners find to be very attractive. They also add an element of customization to a home, especially when a coffered ceiling is installed in an elaborate or ornate design pattern.
They absorb sound
Coffered ceilings can be good for acoustics, absorbing excess sound in an area. This makes them especially popular in master bedrooms and living rooms.
They can make rooms feel more spacious
Coffered ceilings actually remove space from a room, with installation taking up some of the overhead space, but they can give the illusion of a more spacious environment. Think of coffered ceilings as having a similar effect to an open floor plan -- an open-concept living area can feel much larger than one with more walls, even if it's the exact same size.
They can add value to your home
Coffered ceilings can add to your home's value and make your home more attractive to potential buyers. It's difficult to quantify how much value it can add, and there isn't much hard data on the matter, but most professionals seem to agree that a well-done coffered ceiling can be a significant value-adding project.
Potential downsides of coffered ceilings
As is the case with most home projects, coffered ceilings don't make sense for all homeowners. Here are a couple of potential downsides to keep in mind:
Coffered ceilings are expensive
Installing a coffered ceiling can be expensive, even for basic rectangular patterns. Expect to spend $25 per square foot for a professionally installed coffered ceiling, and this cost can increase dramatically with more elaborate patterns, higher-end materials, or additional features such as recessed lighting. Expect to spend at least $3,750 on a 150-square-foot coffered ceiling, according to HomeAdvisor (NASDAQ: ANGI).
You can potentially construct and install a coffered ceiling yourself for significantly less, but this is on the more advanced end of the do-it-yourself spectrum. In fact, most of the cost of a coffered ceiling is labor, since these are usually done by highly experienced, specialized professionals. As mentioned earlier, a coffered ceiling may increase your home's value, but you are unlikely to recoup the entire cost of the project.
You need a high ceiling
Because they are built onto flat ceilings and take up some overhead space, coffered ceilings make the most sense in rooms that already have higher-than-usual ceiling heights (say, nine feet or more). Installing a coffered ceiling in a room with a standard eight-foot ceiling height can make the space seem smaller, sometimes uncomfortably so.
The Millionacres bottom line
Coffered ceilings can be attractive additions to your home and can serve a functional purpose as well by helping with sound absorption. They can also make your home more valuable.
However, coffered ceilings can be expensive and don't work well in areas without high ceilings, so keep these factors in mind when deciding whether such a project would be worth tackling in your home. If you decide against it, you may want to check out these other ideas for transforming your ceiling.
Got $1,000? The 10 Top Investments We'd Make Right Now
Our team of analysts agrees. These 10 real estate plays are the best ways to invest in real estate right now. By signing up to be a member of Real Estate Winners, you'll get access to our 10 best ideas and new investment ideas every month. Find out how you can get started with Real Estate Winners by clicking here.