Get our 43-Page Guide to Real Estate Investing Today!
Real estate has long been the go-to investment for those looking to build long-term wealth for generations. Let us help you navigate this asset class by signing up for our comprehensive real estate investing guide.
We've all seen the headlines: Rent growth slowed considerably during the pandemic. And in many urban cores? They actually dropped for a time.
It seems those days are over, though, and in many markets, rents are well on their way to recovery -- and then some.
Are you preparing to invest in new rental properties this year? Just want to know if raising rents on your existing ones is possible? Let's take a look at where rents are rebounding best and what types of properties are seeing the most growth.
Rent growth by market
Phoenix has been the standout in the rent-growth department for the last few years, and the pandemic did little to change that. The city has seen rents jump 11.4% year over year as of March, and in nearby Tucson, Arizona, the jump is just slightly lower, at 10.4%.
Other top cities include:
According to Realtor.com, places like Riverside and Sacramento, California; Memphis, Tennessee; and Tampa, Florida, are on the up and up, too. Riverside rents have increased 15% since last April.
On the other end of the spectrum are big cities like Boston, Chicago, and St. Louis, which all saw rents decline in the last year. In Boston, rents are down a whopping 7.7% compared to March 2020.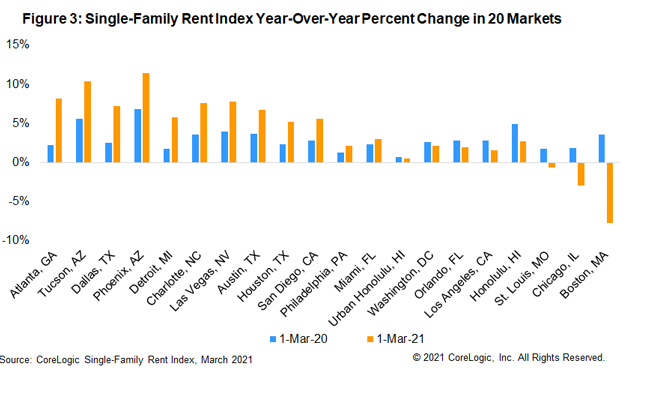 Rent growth by property type
Looking at property types, higher-priced single-family units -- or properties that have rents at least 125% of the local median -- are seeing the biggest bounceback. According to CoreLogic, higher-price tier properties saw rents rise 5% in March -- up from 2.8% a year prior. It's the fastest rent increase on these units in about 15 years.
Detached single-family units are also doing great, as are larger properties. Detached units saw a record-setting 6.9% jump in rents between March 2020 and March 2021, while two-bedroom units have now surpassed their pre-pandemic growth rates, with rents up 5.2% over the year in April.
Units on the lower price tier (75% or less than the area's median rent) are doing the worst in terms of rent growth. Prices are up just 3.2%.
Tech cities are slowly recovering
If you're invested in any tech hubs -- or are considering it -- this is of note, too. According to Realtor.com's data, these cities are finally recovering (albeit slowly).
When working from home became the norm early last year, rents in these areas plummeted. Now, the average rent in tech centers clocks in at $2,086 -- its highest point in months. Semi-tech cities like Denver and Austin seem to be recovering the most, while larger, more traditional tech towns (San Francisco and Seattle, for example) are recovering more slowly.
"These hybrid tech markets, which have more diverse economies that don't lean as heavily into the tech space as, say, San Francisco, have been able to stave off steep declines in rent and have therefore recovered quickly," Realtor.com's report reads. "Rental markets such as San Francisco and San Jose, which have seen rents decline by double digits, are indeed seeing signs of recovery but will take a bit longer to fully recover to pre-COVID levels."
The bottom line
Median rents are finally bouncing back, so if you have vacancies coming up, it may be time to think about raising your rents -- especially if it's a large or detached unit. You might also consider a rent increase on existing tenants. Just make sure you give them plenty of heads up and be ready to remarket the property if they can't afford the hike.
Got $1,000? The 10 Top Investments We'd Make Right Now
Our team of analysts agrees. These 10 real estate plays are the best ways to invest in real estate right now. By signing up to be a member of Real Estate Winners, you'll get access to our 10 best ideas and new investment ideas every month. Find out how you can get started with Real Estate Winners by clicking here.