Get our 43-Page Guide to Real Estate Investing Today!
Real estate has long been the go-to investment for those looking to build long-term wealth for generations. Let us help you navigate this asset class by signing up for our comprehensive real estate investing guide.
What's a second home?
A second home is a home you don't live in full-time but whose primary purpose isn't as a rental property. But this is a vague definition and there are some situations where the term "second home" is more specifically defined.
With that in mind, here's a rundown of what makes a home a second home and why it's important to know.
Three types of homes
For most purposes, residential properties can be grouped into three categories:
Primary residences
This is the home you live in most of the time. The exact definition depends on who you ask, but the IRS defines it as a home you owned and lived in for at least two of the past five years. Generally speaking, a primary residence is the home where you live most of the year. It's usually close to where you work, too.
Second home
This is a home you own that's not your primary residence, but whose primary function isn't as an investment property. To qualify as a second home, you must live in it for at least part of the year. Also, "second" is somewhat misleading. It's possible to own more than one "second home."
Austin explains who is interested in investing in the second home market.
Investment property
This is a home you own for the primary purpose of renting out. That's not to say that you can never use an investment property for personal use. But it can't be the main function of the home.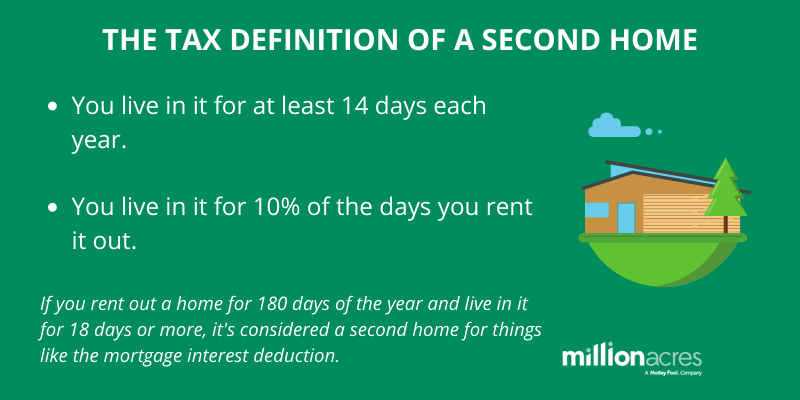 What makes a second home, specifically?
When it comes to tax purposes, a property can be considered a second home under two conditions:
You live in it for at least 14 days each year.
You live in it for 10% of the days you rent it out.
You have to satisfy the greater option. For example, if you rent out a home for 180 days of the year and live in it for 18 days or more, it's considered a second home for things like the mortgage interest deduction.
Many lenders have more stringent requirements than the IRS. In fact, many lenders won't offer second home financing if you plan to rent out the home at all.
Why the distinction is important
Second homes are treated differently than investment properties when it comes to taxation of rental income.
If you rent your second home for two weeks or less in a year, you can keep all the rental income it generates. The IRS won't touch a penny.
But if you rent a property for more than two weeks, it's important to make a distinction between a second home and an investment property.
In either case, you must report rental income. You can deduct certain expenses of property ownership and maintenance, too. Second homes can use the mortgage interest tax deduction if they meet the IRS requirements above. But they can't use the depreciation benefit that investment property owners get.
Financing is another big consideration. Second home loans are generally easier to qualify for and come with lower interest rates than loans made on investment properties.
Most often, lenders qualify vacation homes as second homes. To qualify for second home financing, properties generally must be located in a vacation destination, such as at the beach or in the mountains. They must be a certain distance away from the borrower's primary residence, too.
Finally, the distinction between a second home and a primary residence is important when you sell the home. When a primary residence is sold, the owner can exclude up to $250,000 of capital gains ($500,000 for married couples) from the sale. This exclusion isn't available when you sell a second home.
The definition depends on what you need it for
There are three separate definitions of a second home that you might need to know:
For the primary residence capital gains tax exclusion, a second home is one you didn't own for at least two of the previous five years and didn't live in as your main home in two of the previous five years.
For tax purposes, a second home is one you live in for at least two weeks each year or 10% of the days the home is rented, whichever is more.
For financing purposes, a second home is one that's not your primary home, but isn't rented to anyone else.
Be sure to understand which purpose you're defining your home for, and you'll always make the right call.
Got $1,000? The 10 Top Investments We'd Make Right Now
Our team of analysts agrees. These 10 real estate plays are the best ways to invest in real estate right now. By signing up to be a member of Real Estate Winners, you'll get access to our 10 best ideas and new investment ideas every month. Find out how you can get started with Real Estate Winners by clicking here.