Get our 43-Page Guide to Real Estate Investing Today!
Real estate has long been the go-to investment for those looking to build long-term wealth for generations. Let us help you navigate this asset class by signing up for our comprehensive real estate investing guide.
Thanks to the emergence of Airbnb and countless other comparable platforms, real estate investors now have two options when renting out a property. You can target traditional, long-term tenants, or you can lease the home on a short-term basis to vacationers and out-of-towners.
Both have perks and drawbacks, of course. One is a little more hands-on but potentially more lucrative. The other requires less work but could result in more wear and tear on the property.
Not sure which rental property strategy you should take with your investment? Let's look at both sides of the coin.
The pros and cons of short-term rental properties
Short-term rentals have exploded in popularity over the last decade. Though it started with Airbnb, dozens of new platforms have emerged and major hotel brands and multifamily developments have gotten in the game.
It speaks to the growing consumer demand for more flexible, affordable travel options as well as the sheer profitability it offers investors (in some cities, hosts rake in upwards of $300 per night).
Still, short-term rentals aren't right for every investor, and they definitely have their drawbacks. Are you considering a short-term strategy for your investment property? Check out the pros and cons below.
Pro: There's potential for high earnings
If you snag enough bookings, short-term rentals can mean serious income -- especially compared to longer-term properties.
Just think: If you're charging a tenant $1,000 per month for a one-year lease, that's a maximum of $12,000 per year (minus your mortgage and other costs). But what if you're renting it out for $150 a night just 15 days a month? That adds up to $27,000 -- $15,000 more per year.
What's even better is you can change your pricing strategy based on demand, seasonality, local events, and other factors. This lets you maximize your returns and fill vacancies more easily when needed.
Pro: It's easy to get started
Launching a short-term rental is as easy as snapping a few photos, writing a listing description, and adding it to Airbnb, VRBO, or another platform.
You don't need a real estate agent, there are no leases or contracts involved, and you can get started right away. Compared to longer-term rentals, the barrier to entry is extremely low.
Pro: The home gets less wear and tear
Short-term rental properties generally only have guests for two to three nights at a time. Visitors aren't hanging photos on the wall, cooking regular meals, or even spending much time on the property in most cases. Ultimately, it equates to less wear and tear and, most importantly, fewer maintenance and repair costs on your part.
Pro: You get a vacation home for yourself
Buying a property on the beach or up in the mountains? Maybe one just down the street from Disney World? The great thing about renting it short-term is that you have access to it, too. Just block the days you want to vacation off your booking calendar and enjoy a little R&R yourself.
Pro: You're usually paid up front
Most short-term rental platforms require users to pay up front, so there's no risk of nonpayment or skipping out on the bill. They often include cleaning fees and other costs as well.
Best of all, the funds are usually transferred quickly. On Airbnb, for example, hosts get their payments about 24 hours after the guest's check-in time. That can be a big perk if you're used to only getting a rent check once a month.
Con: There might be rules and regulations to deal with
Short-term rentals have received a lot of pushback. Many cities have enacted new regulations (or sometimes even bans) to deal with them. HOAs aren't too happy about them, either.
This isn't the case for every locale, but do your research before buying a property you hope to rent out. Check with the city building department and look at local deed restrictions, too.
Con: The income isn't as stable
There's a lot of seasonality to the short-term rental game. If your property is on the beach, you're probably not going to see high demand in the dead of winter. If your area is big on college football, you might have trouble filling those vacancies once spring rolls around.
That's not to say you won't get any bookings during these off-season times. You just may need to be more creative with your marketing or consider running some sort of promotion to bring renters in.
Con: It requires more cleaning and regular maintenance
You have to be pretty hands-on with a short-term rental property. The home needs to be cleaned, restocked, and essentially reset every time a guest checks out. If you're running a busy property, this can mean serious time (or costs if you're outsourcing the job).
More than this though, your care for the property will also impact your listing's reviews -- and that directly influences how many guests you bring in and how much cash you can make. Scrimping and cutting corners on this only costs you more in the long run.
Con: You'll have to furnish, decorate, and stock the property
As a short-term rental host, you're responsible for furnishing and decorating the place. You'll need beds, tables, chairs, linens, coffee makers, and all the staples you'd typically find in a home or hotel room.
On top of this, you also need to stock the place after every use -- that means buying toilet paper, napkins, water bottles, coffee pods, and so on. The costs can seriously add up over time.
Con: You're in charge of the bills
Short-term guests don't foot the bill for the electricity, gas, or any other utility. That's all on you. And if you really want to make your place hospitable, you'll probably want to go ahead and add in cable or Netflix charges, as well.
Con: There's nothing to protect you from damage
Damage can -- and will -- happen with short-term rentals (especially if the property's popular). While some short-term rental sites have "insurance" policies in place for their hosts, there are limitations to those.
Platforms also don't do anything to discourage damage on the part of the renter. With longer-term tenants, you have leases, security deposits, and other measures in place to encourage better care of the property.
| PROS | CONS |
| --- | --- |
| There's potential for high earnings. | There may be rules and regulations to deal with. |
| The barrier to entry is low. | The income is seasonal and often inconsistent. |
| You'll see less wear and tear on the property. | You need to furnish, decorate, and stock the property. |
| You'll get a vacation home for yourself. | You pay the utility bills. |
| There's usually some form of payment protection. | There's little protection from loss and damage. |
| | It requires more maintenance and upkeep. |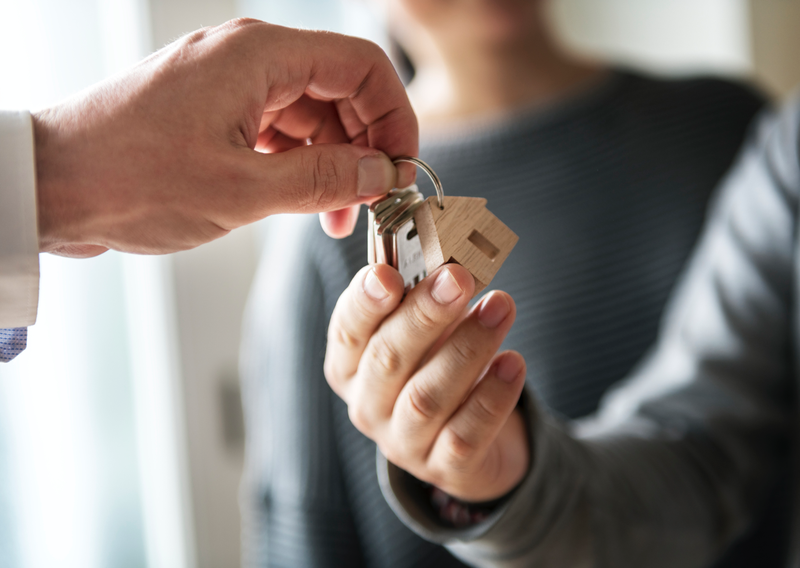 The pros and cons of long-term rental properties
Short-term rental properties have their perks, but don't count long-term tenants out just yet. In fact, if you look at the latest data from the U.S. Census Bureau, it may be the perfect time to consider one.
According to the Bureau's Housing Vacancies and Homeownership report, there were more new renter households than owner households last quarter -- the first time it's happened since 2016.
More importantly, rents are up on these units. The median asking monthly rent sits at just over $1,000 nationally, though it can go much higher in many areas. It's up $57 per month (that's nearly $700 per year) compared to just 12 months ago.
Sound like a market you might want to dip your toes into? Let's look at the pros and cons:
Pro: You get consistent, stable income
The biggest benefit of long-term rentals is that you get consistent income. You know how much you're getting paid and when, and there's no uncertainty about the returns you're able to make on the property. If you're savvy, you can even set up online payment tools so you're not messing with checks or mailed payments.
Pro: You don't pay utility bills
Once that lease is signed, the utility bills are out of your hands. You don't need to cover water, electric, gas, or even trash unless it's stipulated in the contract. This can equate to serious long-term savings over short-term rentals.
Pro: You have protection
Long-term rentals offer your property (and your investment) more protection, financially speaking. First, you have a legally binding lease, which stipulates what tenants can and can't do and how they're required to care for the property. It also outlines any reparations you're due if they don't follow through on that agreement. On top of this, you'll have a security deposit. This gives you a financial cushion in case the tenant damages the property.
Pro: There's less maintenance
You're still responsible for making repairs on long-term rental investments, but smaller maintenance issues usually fall on the tenant. This includes watering and mowing the lawn, replacing air filters and light bulbs, watering the grass, etc. If you rent to short-term tenants, you're responsible for all these costs on a regular basis.
Pro: There's no furnishing, decorating, or restocking the property
As a long-term landlord, all you do is provide the property and the tenant brings in the rest. Aside from maybe painting the walls or installing a shelf or two, you're off the hook, and the tenant handles furnishing, decorating, and stocking the property for the entirety of the lease.
It sounds like a "Duh" perk, but when you're comparing it to a short-term rental property, the savings are immense.
Con: There's more wear and tear on the property
Long-term rentals always have more wear and tear than short-term rentals. The tenants live there day in and day out. They're sleeping there, cooking there, and raising their kids and pets there. That takes its toll on any property over time.
There's also the visibility factor to consider here. A short-term tenant is going to take better care of a property knowing the owner will be back in just a day or two. Longer-term tenants know their landlord won't be coming unless they call, and that affords them a little more flexibility in how they care (or don't care) for the property.
Con: It may take more work to find tenants
It's one thing to find a guest for a night or two, but finding a tenant for a year can be much harder. Depending on where your property is located and local demand, you might need to market the property on Facebook or NextDoor, enlist a real estate agent, or take out ads in local newspapers and publications to find a tenant -- all of which cost money.
Add in the months the home is vacant and that can mean significant costs.
Con: It's harder to get started
The barrier to entry is much higher on long-term rentals than short-term ones. Rather than just posting your house on a listing site, you'll need to
hammer out a lease with a knowledgeable real estate attorney,
hire an agent to list and market the property, and
get background screenings and credit checks on potential tenants.
It's a multilayered process that's more involved and cost-intensive than what you'd see on a short-term rental.
Con: You don't get to use the property
With long-term rentals, you don't get to make use of the home yourself. Once the lease is signed, it's basically someone else's property for the entirety of the term. Depending on where your property is located, this may or may not be a disadvantage -- but it's worth mentioning.
Con: You're on call (or at least on the hook for the bill) all the time
Landlords are always on call in case of emergency. If the sink clogs up, a pipe bursts, or a tenant is locked out, you get a middle-of-the-night phone call to come by and fix it. If you're not excited about this idea, you could bring in a property management company to handle the day-to-day issues. It will cost you, though.
Con: You have less control over the home
As a long-term landlord, you have less control over your investment. You're not there every day and you can't pop by and check on it whenever you feel like it. If you're a type-A investor who wants a lot of visibility into your business, this can be a hard pill to swallow.
Con: You could have problems with payment
Short-term rentals come with a payment guarantee from whatever listing site you're working with. When you're flying solo with a long-term tenant, you don't get that kind of protection. It doesn't always happen, but there's a chance your tenant could fall behind on their rent or, even worse, stop paying altogether. You, of course, have legal options should this occur, but it could cause cash flow problems if you rely on that income to pay the bills.
Con: You can't change pricing as easily
With short-term rental investments, you can change the pricing as needed. Increase it in high-demand times and around holidays to boost earnings, and discount your rate when the bookings slow down.
When you're renting long-term, you don't get this flexibility. There's no capitalizing on increased demand or market changes and you can only increase your rate once a year (or less, depending on your lease length). Even then, you're limited in how much you can raise it -- unless you want to start at square one and find a new tenant.
| Pros | Cons |
| --- | --- |
| The income is consistent and predictable. | The property will get more wear and tear. |
| You don't pay the utility bills. | It may take more marketing to find tenants. |
| There's more protection from damage. | The barrier to entry is high. |
| You don't have to furnish or decorate the property. | You can't use the property yourself. |
| There's less maintenance and upkeep. | You're on call for repairs and emergencies. |
| | You have less control over the home. |
| | You could encounter payment problems. |
| | You have little pricing flexibility. |
Which investment is right for you?
Both short-term and long-term rental properties have their merits, but which one is right for you? That depends on the role you want to play in the process, your marketing savvy, where you're looking to buy, and a whole slew of other factors.
Generally, you should take the following into consideration when choosing the best rental strategy for your specific situation:
Your time: How much time do you have to manage and market the property? Are you balancing a full-time job and other investments, or do you have the bandwidth to maximize your earnings each week?
Your resources: Do you have the cash flow to handle regular cleaning, restocking, and maintenance of the property? Do you have money to furnish and decorate the property before it generates income? Do you have the cash to pay a property manager if you can't manage the rental yourself?
Your income needs: How much do you need the property to bring in? Would you rather work more and maximize your income or work less and enjoy a stable paycheck?
Your location: Is the home in a desirable location you'll want to visit? Is it close enough that you could handle regular repairs and maintenance tasks?
The property: What is the property best suited for? Is it a single-family home in a neighborhood with good schools? A condo in an in-demand tourist spot? What type of tenants are most likely to use the property?
For the most part, a short-term rental strategy is best if you're willing to be more hands-on with your investment.
You'll need to do the dirty work, like cleaning, restocking the house, paying the utility bills, and communicating with your renters -- or, at the very least, hire a property manager who can do it for you. It's more work, sure, but if you're smart about your pricing strategy and on top of your marketing and promotions, it could mean significant monthly returns. Just be prepared for a little inconsistency and seasonality, and don't bank on your property as your sole source of income.
If you're looking for a more passive stream of income, a long-term rental investment is probably best.
You won't have nearly as much hands-on work, and there's far less marketing and strategizing. You'll probably make less money in the process, but the earnings will be consistent -- a big win if you're just looking for some extra cash or a little financial cushion in retirement. A long-term investment might also be best if your property is suburban and located near good schools and other family-friendly amenities.
Still not sure?
If you're still not sure which investment route is best for your goals, give short-term renting a try first. Commit to a few months on a platform like Airbnb or VRBO and see how things shake out. If you're able to bring in a good amount of cash while also balancing all the short-term to-dos that come with it, then stick to it and keep honing your strategy. If it ends up being too much work or is too time-consuming, connect with a local real estate agent and start looking for long-term renters. Sometimes it takes a little trial and error before you find the right approach.
Got $1,000? The 10 Top Investments We'd Make Right Now
Our team of analysts agrees. These 10 real estate plays are the best ways to invest in real estate right now. By signing up to be a member of Real Estate Winners, you'll get access to our 10 best ideas and new investment ideas every month. Find out how you can get started with Real Estate Winners by clicking here.