Get our 43-Page Guide to Real Estate Investing Today!
Real estate has long been the go-to investment for those looking to build long-term wealth for generations. Let us help you navigate this asset class by signing up for our comprehensive real estate investing guide.
New York City is one of the world's premier real estate markets. The city's commercial real estate market is so large and vital that several real estate investment trusts (REITs) make it their sole focus. Among that group is Vornado Realty Trust (NYSE: VNO). However, it takes a slightly different approach than many of its office-centric rivals as it owns a diversified portfolio of Manhattan real estate.
Here's a closer look at the leading New York City real estate investor.
Vornado Realty Trust company profile
Vornado Realty Trust is a diversified REIT primarily focused on the New York City office and retail markets. The company's New York portfolio currently consists of:
35 Manhattan properties with 19.1 million square feet of office space.
70 Manhattan properties with 2.3 million square feet of street retail space.
10 residential properties with 1,991 apartment units.
The 1,700-room Hotel Pennsylvania in the Penn District of Manhattan.
A 32.4% interest in Alexander's (NYSE: ALX), a diversified REIT that owns seven properties in the greater New York metro area.
Signage throughout the Penn District and Times Square.
Building Maintenance Services (BMS), which provides cleaning and security services to its buildings and those owned by third parties.
220 Central Park South, a 950-foot-tall residential luxury tower containing 400,000 square feet of saleable condominium space.
In addition to that extensive New York real estate portfolio, Vornado owns iconic assets in San Francisco and Chicago. The REIT has a 70% controlling stake in 555 California Street (the Trump Organization owns the other 30%), a three-building office complex with 1.8 million square feet in San Francisco's financial district. It also owns theMART, a 3.7-million-square-foot property with office and showroom space in Chicago. Finally, the company has a 25% interest in Vornado Capital Partners, a real estate fund it manages.
While Vornado owns a diversified portfolio of real estate assets, office properties generate the majority of its net operating income (NOI):
| Property Type | NOI in 2019 | Percentage of Total NOI |
| --- | --- | --- |
| Office | $724.5 million | 57.5% |
| Retail | $273.2 million | 21.7% |
| Residential | $23.4 million | 1.9% |
| Alexander's | $44.3 million | 3.5% |
| Hotel Pennsylvania | $7.4 million | 0.6% |
| theMART | $102.1 million | 8.1% |
| 555 California Street | $59.7 million | 4.7% |
| Other investments | $25.2 million | 2.0% |
As that table shows, more than half of the company's NOI comes from its New York City office portfolio. Add in theMART and 555 California Street, and office buildings contribute more than 70% of its total NOI. Meanwhile, its New York City real estate holdings provide roughly 85% of its total NOI.
Vornado is an active New York City real estate developer. The company is currently working to redevelop several properties in the Penn District of Manhattan. It's redeveloping The Farley Building, a 1912 U.S. Postal Service Building, into a best-in-class 740,000-square-foot creative office building that will also feature 120,000 square feet of retail space and a new train hall, Moynihan Station. The company is also redeveloping Penn 1 and Penn 2 to transform the Penn District into a world-class office campus.
Vornado Realty Trust news
Vornado's New York City-centric portfolio faced significant headwinds in 2020 due to the impact the COVID-19 outbreak had on the city. The pandemic forced office tenants to work remotely. That affected office demand and had an even greater impact on the residential rental market. Many remote workers opted to move out into the cheaper suburbs, which affected apartment occupancy and rental levels. Meanwhile, the city closed nonessential businesses early in the year to help slow the virus' spread, which impacted their ability to pay rent. On top of that, fewer commuters and residents and limited travel have impacted the retail and hospitality sectors.
Overall, the company collected 88% of the rent it billed during the second quarter (93% from office tenants and 72% from retailers), though that number should increase to 94% after factoring in rent deferrals. Rental collection rates improved during the third quarter to 93% or 95% after accounting for deferral agreements. However, the company did write off more than $50 million in rent through the third quarter, primarily due to retail bankruptcies.
In addition to those rent collection issues, the company canceled all trade shows at theMART for 2020 and closed the Hotel Pennsylvania in April. It also earned lower revenue from BMS and its signage businesses. As a result of all these issues, NOI declined by 24% during the first nine months of 2020 compared to the same period in 2019.
The pandemic's ultimate impact on Vornado's operations remains highly unknown. The REIT warned during the third quarter of 2020 that:
In light of the evolving health, social, economic, and business environment, governmental regulation or mandates, and business disruptions that have occurred and may continue to occur, the impact of the COVID-19 pandemic on our financial condition and operating results remains highly uncertain, but the impact could be material. The impact on us includes lower rental income and potentially lower occupancy levels at our properties which will result in less cash flow available for operating costs, to pay our indebtedness, and for distribution to our shareholders. … The value of our real estate assets may continue to decline, which may result in additional non-cash impairment charges in future periods, and that impact could be material.
On a more positive note, the REIT has a strong balance sheet to help weather the storm. It bolstered its position during the year by selling assets. For example, it sold its remaining stake in retail REIT PREIT (NYSE: PEI) in January, realizing $28.4 million in proceeds. While it recorded a nearly $5 million loss on that sale, the timing couldn't have been better as the mall owner filed for bankruptcy later in the year, wiping out most of its remaining equity value.
Meanwhile, the company closed the sale of 30 condos at 220 Central Park South through the end of the third quarter for $939.3 million of net proceeds and a financial gain of more than $338.8 million. The company also completed several refinancing transactions that reduced its interest costs and extended its loan terms.
However, the office property sale market remains fairly frozen due to the unknown impact work-from-home trends will have on office occupancy and rental rates. Because of that, Vornado pulled back on its efforts to sell two buildings it owns with the Trump Organization (1290 Avenue of the Americas in Manhattan and 555 California Street). It had hoped to fetch $5 billion for the properties, with it entitled to 70% of the proceeds. Instead of selling the assets, the owners planned to refinance and put them back on the market when conditions improve.
Vornado Realty Trust stock price
Unfortunately, Vornado's focus on the New York City market hasn't paid dividends for investors in recent years as its shares have significantly underperformed the S&P 500: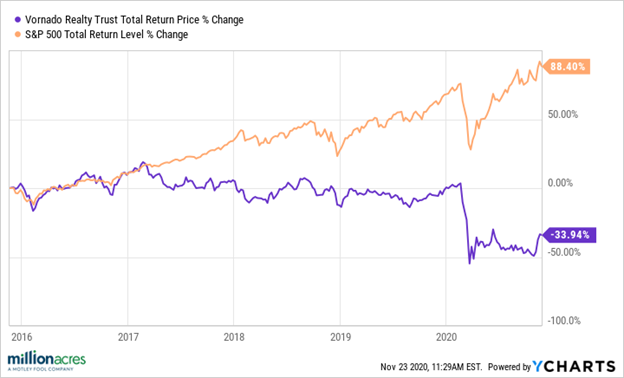 While the company's challenges in 2020 certainly weighed on its shares, that's not the only issue plaguing the REIT. Another headwind that has impacted the company in recent years is its exposure to the retail sector. That industry has been under pressure due to the continued growth in e-commerce. In addition to its sizable presence in the New York City retail market, it held a stake in the fledgling PREIT that it acquired when it sold a mall to that company in 2014. It also owned shares of retail REIT Urban Edge Properties (NYSE: UE) from its spinoff in 2015 until it exited its remaining position in 2019.
Meanwhile, the company has spent several years refocusing its portfolio on the New York City market. In late 2016, it spun off its Washington, D.C., business to shareholders and merged that entity with fellow diversified REIT JBG SMITH Properties (NYSE: JBGS). The company also sold its legacy stake in industrial REIT Lexington Realty Trust (NYSE: LXP) in 2019. Add that to various other asset sales over the years, and Vornado's portfolio has gotten smaller. Likewise, its FFO per share has declined from $1.27 in 2015 to $0.92 in 2019.
Vornado's declining FFO, when combined with its COVID-19 headwinds, put pressure on its dividend. That led the company to trim its payout by 20% in the middle of 2020. That reduction pushed the company's average yield below 6%. Before that reduction, the company's dividend yield had been more than 7% due to concerns about the payout's stability given the headwinds facing its New York City real estate assets. Though before its stock sold off in early 2020, it's yield had averaged around 4% in prior years.
The bottom line on Vornado Realty Trust
Vornado has struggled to leverage its diversified real estate portfolio to create value for shareholders in recent years. That led it to focus its attention on the New York City market, which turned out to be an ill-timed move as the COVID-19 outbreak had an outsized impact on that metro area.
However, the city has faced headwinds before and has always recovered. Because of that, Vornado is an intriguing option for REIT investors who want to wager that the city will again make a comeback as one of the world's leading real estate markets.
Got $1,000? The 10 Top Investments We'd Make Right Now
Our team of analysts agrees. These 10 real estate plays are the best ways to invest in real estate right now. By signing up to be a member of Real Estate Winners, you'll get access to our 10 best ideas and new investment ideas every month. Find out how you can get started with Real Estate Winners by clicking here.
Matthew DiLallo
has no position in any of the stocks mentioned. The Motley Fool has no position in any of the stocks mentioned. The Motley Fool has a
disclosure policy
.