Get our 43-Page Guide to Real Estate Investing Today!
Real estate has long been the go-to investment for those looking to build long-term wealth for generations. Let us help you navigate this asset class by signing up for our comprehensive real estate investing guide.
Affordable housing is getting harder to find. Single-family home prices continue to grow, driven by low interest rates and millennials looking for their first home. Mix in some pandemic-related headwinds that are sending renters to seek more space, and the housing market has tightened considerably, squeezing out those near the bottom.
However, manufactured housing is one area that remains relatively affordable. Manufactured homes often cost less than half the price of a site-built home ($49 per square foot vs. $107 per square foot). Further, there's lots of flexibility in placement as a homeowner can have these homes installed on a lot they've purchased or they can rent one in a manufactured home community at a reasonable rate.
One company focused on this more affordable housing market is UMH Properties (NYSE: UMH). Here's a closer look at this real estate investment trust (REIT).
UMH Properties profile
UMH Properties is a residential REIT focused on manufactured housing. As of January 2021, the company owned and operated 126 manufactured housing communities with about 23,800 developed home sites across 10 states. The company primarily leases manufactured home sites to private residential homeowners. It also rents manufactured homes that it owns in its communities to tenants and operates a sales and financing subsidiary that sells and provides mortgages for manufactured homes.
Here's a breakdown of its portfolio:
| State | Total Communities | Total Developed Sites | Total Rentals | Vacant Acreage |
| --- | --- | --- | --- | --- |
| Pennsylvania | 51 | 7,785 | 2,584 | 358 |
| Ohio | 36 | 6,727 | 2,420 | 453 |
| Indiana | 14 | 3,998 | 1,666 | 225 |
| New York | 8 | 1,339 | 433 | 326 |
| Tennessee | 7 | 1,776 | 841 | 246 |
| New Jersey | 4 | 1,006 | 46 | 162 |
| Michigan | 3 | 740 | 262 | 0 |
| Maryland | 1 | 62 | 0 | 67 |
| Alabama and South Carolina | 2 | 337 | 68 | 0 |
UMH Properties generates the bulk of its income from leasing manufactured homesites to homeowners and renting manufactured homes to tenants. In 2020, 88% of its revenue came from rental and related income while 12% came from the sale of manufactured homes.
The REIT also holds a portfolio of loans backed by manufactured homes it sells. It ended 2020 with a $44.2 million loan portfolio secured by 1,200 homes located throughout 90 communities that generate about $5 million of principal and interest payments each year. Most loans it provides only require a 10% down payment and offer principal amortization ranging from 15 to 25 years. They also carry a relatively higher interest rate (the weighted average was 7.3%), reflecting its typical borrower's higher risk profile.
UMH Properties also holds a portfolio of publicly traded REIT securities, including common and preferred stock. The portfolio had $103.2 million of investments at the end of 2020 (about 7.6% of its total undepreciated assets), with 45% in industrial real estate, 41% in retail REITs, 13% in office properties, and 1% in the healthcare sector. This portfolio generates dividend income and provides a source of capital. Its biggest holding is industrial REIT Monmouth Real Estate Corporation (NYSE: MNR) at $46 million at the end of 2020.
UMH Properties has ample room to expand without making additional acquisitions. The company had about 3,500 vacant lots across its communities. It can fill them by leasing sites to new manufactured homeowners or putting a manufactured home on the site as part of its growing rental program. It currently targets adding 800 to 900 rental homes per year. On top of that, the REIT had about 1,800 vacant acres across its portfolio, giving it enough room to build roughly 7,300 future rental lots.
UMH Properties news
UMH Properties weathered the economic storm caused by the pandemic with ease in 2020. Overall, the REIT grew its revenue by 12% to $163.3 million. Meanwhile, it generated $29.2 million, or $0.70 per share, of normalized FFO for the year, up 11% from 2019.
Several factors drove that growth. Same-property occupancy improved from 83.6% to 86.8%. Meanwhile, it added 858 rental homes to its portfolio, increasing it by 12%. The REIT also improved its rental home occupancy from 92.3% to 94.6%, sold 13% more manufactured homes, and acquired two communities with 310 home sites for $7.8 million.
UMH Properties continued its expansion in early 2021. It closed the purchase of its first property in Alabama in January, paying $4.6 million for this 33-acre community that contains 195 developed homesites. What's notable about the property is that occupancy was only 37%. That gives it an enormous opportunity to increase value if it can turn the community around by filling it in with rental homes.
The REIT also purchased its first property in South Carolina in 2021. The 24-acre community had 142 developed home sites with a 49% occupancy level when it bought the property. It paid $3.4 million for the value-add acquisition that it expects to improve through its rental program and marketing strategies. Combined with the Alabama purchase, this community is part of the REIT's efforts to expand its footprint in the fast-growing Sun Belt region.
The REIT also made significant progress on improving its cost of capital in 2020. It completed the financing on 28 communities, generating $106 million in proceeds at a low interest rate of 2.62%. It used the capital to redeem $96 million of preferred stock that yielded 8%. This recapitalization will save it $5 million, or $0.11 per share, each year.
UMH Properties stock price
UMH Properties' focus on affordable housing has created a lot of value for its investors over the years: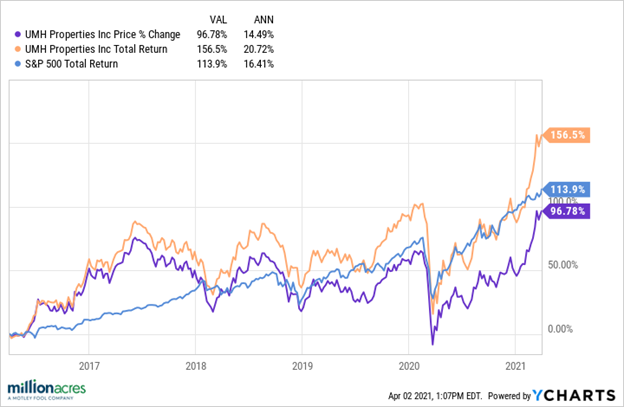 As that chart shows, the REIT has outperformed the S&P 500 over the past five years. That's impressive, considering this has been a strong period in the broader stock market.
One factor driving this growth has been the steady expansion of UMH Properties' portfolio. The REIT has grown from 101 communities with about 18,000 sites in 2016 to 124 communities with 23,400 sites by the end of 2020. It has also increased its rental unit portfolio from 4,700 to 8,300 during that time frame. Occupancy has also improved, rising from 81% in 2016 to 85% in 2020.
Another factor that has helped the REIT create shareholder value is its focus on value-add acquisitions. It typically acquires properties that have low occupancy levels in markets with solid fundamentals. It then spends money to improve the communities and add rental homes to fill in the vacant lots. It will also buy communities with vacant land that it can develop over time. These investments improve occupancy, which boosts the property's net operating income (NOI).
For example, in 2013, the company bought a 282-site community near Nashville, Tennessee, for $7.25 million. Since that time, it has invested an additional $7.75 million, including $4.7 million in rental homes, which has helped increase occupancy from 82% to 97% while growing the property's NOI by 189%. These investments have increased the community's overall value by 31%.
The company's value-add investment approach has enabled the REIT to steadily grow its revenue, community NOI, and normalized FFO. However, until recently, UMH Properties' dividend hadn't budged since it reset the payout during the financial crisis to an annualized rate of $0.72 per share. It maintained that level for more than a decade until it finally gave investors a raise in 2021 by boosting the payout by about 6% to an annualized rate of $0.76 per share. It had the confidence to increase its payout following a transformational 2020, which saw it make significant progress on the financing front, including paying off high-cost preferred equity with low-cost mortgage debt, which will save it $0.11 per share in interest costs each year.
Despite the lack of dividend growth in recent years, UMH Properties pays a relatively attractive dividend. Its yield had been above 5% until an uptick in its stock price in early 2021 sent its payout below 4%, which is still slightly above the REIT sector average.
The bottom line on UMH Properties
UMH Properties has done an excellent job creating shareholder value over the years. The REIT has steadily expanded its community count while also growing its occupancy level, which has increased its NOI and FFO. The company has lots of room for organic growth in its existing communities and the financial flexibility to continue investing in value-add opportunities. Those factors make it a compelling option for those looking to invest in affordable housing.
Got $1,000? The 10 Top Investments We'd Make Right Now
Our team of analysts agrees. These 10 real estate plays are the best ways to invest in real estate right now. By signing up to be a member of Real Estate Winners, you'll get access to our 10 best ideas and new investment ideas every month. Find out how you can get started with Real Estate Winners by clicking here.