Get our 43-Page Guide to Real Estate Investing Today!
Real estate has long been the go-to investment for those looking to build long-term wealth for generations. Let us help you navigate this asset class by signing up for our comprehensive real estate investing guide.
The industrial sector is the motor of the global economy. It manufactures and transports the physical goods needed to keep the economy humming. Because of that, industrial real estate is vital to keeping the economy running smoothly. It gives companies the space they need to produce goods and distribute them to their destinations.
One of the companies focused on owning industrial real estate is STAG Industrial (NYSE: STAG). Here's a closer look at this real estate investment trust (REIT).
STAG Industrial profile
STAG Industrial is an industrial REIT focused on the acquisition and operation of single-tenant industrial properties in the U.S. Unlike some industrial REITs that concentrate on one aspect of the industrial sector, like logistics properties, STAG is the only pure-play REIT active across the entire U.S. industrial real estate market. As of the end of 2020, the company owned 492 industrial buildings across 39 states with 98.2 million square feet of leasable space. Its portfolio comprises:
409 warehouse buildings with nearly 89.5 million square feet of space
73 light manufacturing buildings with over 8.2 million square feet of space
8 flex/office properties with roughly 432,000 square feet of space
2 value-add/other properties with about 95,000 square feet of space
About 52% of the company's real estate was in primary locations (classified as more than 220 million net rentable square feet), roughly 42% were in secondary areas (27 million to 220 million), and the rest were in tertiary locations (less than 27 million).
STAG Industrial's diversification also extends to geography, tenant, and industry:
| Ranking | Geography (% of ABR) | Tenant (% of ABR) | Industry (% of ABR) |
| --- | --- | --- | --- |
| 1 | Chicago, IL 7.2% | Amazon (NASDAQ: AMZN) 3.8% | Auto Components 12.4% |
| 2 | Philadelphia, PA 6.8% | XPO Logistics (NYSE: XPO) 1.3% | Air Freight & Logistics 8.5% |
| 3 | Greenville/SpartanburgSC 5.4% | Eastern Metal Supply 1.1% | Containers & Packaging 7.1% |
| 4 | Pittsburgh, PA 4.7% | FedEx (NYSE: FDX) 1% | Commercial Services & Supplies 5.1% |
| 5 | Milwaukee/Madison, WI 4.4% | American Tire Distributors 0.9% | Internet & Direct Mkt Retail 5.1% |
| 6 | Detroit, MI 4.3% | TriMas Corporation 0.9% | Household Durables 4.8% |
| 7 | Minneapolis/St Paul, MN 4.0% | Penguin Random House 0.9% | Building Products 4.8% |
| 8 | Columbus, OH 3.9% | DS Smith North America 0.8% | Machinery 4.8% |
| 9 | Houston, TX 3.2% | Ford Motor Company (NYSE: F) 0.8% | Food Products 4.4% |
| 10 | Charlotte, NC 2.9% | Costco Wholesale (NASDAQ: COST) 0.8% | Food & Stables Retailing 4.2% |
| Top 10 | 46.8% | 12.3% | 61.2% |
As that table demonstrates, STAG Industrial places a heavy emphasis on diversification. Its portfolio spans 60 markets overall, with the largest one contributing less than 10% of its ABR. Meanwhile, it has exposure to 45 industries, with its largest tenant accounting for less than 4% of its ABR. That diversification helps reduce the risk that a single tenant or market will significantly impact its results.
Another benefit of STAG's diversification is that it increases its total addressable market. The company estimates that the U.S. industrial market's total size is more than $1 trillion. Its current portfolio is just a drop in that bucket at 0.5% of the total, giving it a long runway for continued growth.
STAG Industrial news
While 2020 was a challenging year for the commercial real estate sector, the industrial industry fared much better. That's evident in STAG's results. The REIT collected 99.6% of its base rental billings for the year, which was significantly higher than other commercial property types. Because of that, the REIT's same-store cash NOI rose 1.7% during the year.
Meanwhile, its overall NOI increased by 19.1% for the year, while core FFO rose 21.6% overall and by 2.7% on a fully diluted per-share basis after taking into account the stock issued to help finance acquisitions and bolster its balance sheet.
The company purchased 48 buildings in 2020 for $775.8 million, adding nearly 9.9 million square feet to its portfolio. It also sold seven properties with more than 3.3 million square feet of space for $279.3 million. Those asset sales, along with stock sales, helped STAG finance its acquisitions while maintaining a strong investment-grade balance sheet.
That gives the REIT the financial flexibility to continue making deals. It entered 2021 with 136 properties in its acquisition pipeline, representing 24.4 million square feet and $2.1 billion of investment potential. The company's success in converting its pipeline and capturing additional acquisition opportunities will allow it to continue growing its FFO and dividend in the coming years.
Another news item of note is STAG Industrial's ability to convert its roofs into income-generating assets by adding solar panels to an increasing number of its buildings. The company is working with strategic partners that develop community solar programs utilizing industrial rooftops to generate clean power for homes in the area. For example, in November, STAG Industrial announced the groundbreaking of its first onsite solar installation in Illinois, fifth in Massachusetts, and three projects in Maryland. One of Maryland's projects is the largest rooftop community solar system in the country. The projects will have a combined capacity to produce 15.1 megawatts (MW) of power, enough for more than 1,850 homes. Overall, the company's roofs host 25.5 MW of solar projects across the country.
STAG Industrial stock price
STAG Industrial's strategy to focus on owning real estate across the entire industrial sector has paid big dividends for its shareholders over the years: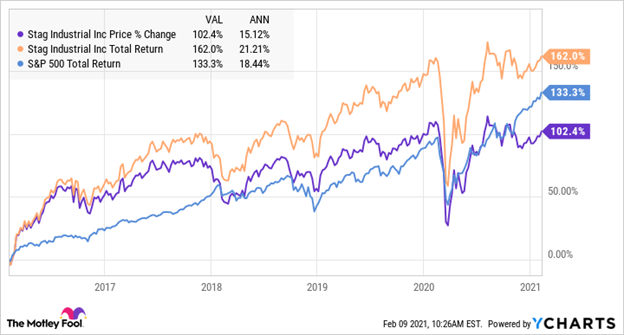 The company has outperformed the S&P 500 during an extraordinary period for the broader market. Driving the REIT's excellent performance has been its multi-faceted approach to creating shareholder value.
STAG Industrial doesn't develop buildings. Instead, it acquires them via sales-leaseback transactions with operators and purchases them from third-party owners. These acquisitions form the building blocks of its growth as most provide an immediate boost to cash flow via existing leases. The company has acquired an average of $675 million in properties over the last five years.
STAG compliments this external growth via several internal growth drivers. It benefits from embedded rental rate escalators on existing leases. It will acquire vacant buildings or those with near-term lease expirations and leverage its leasing capabilities to secure new tenants. STAG will also acquire properties with value-add potential that it can realize by investing in expansion projects or redevelopments to meet existing or prospective tenant needs. For example, in 2015, the company acquired a 500,000 square-foot building with 25 acres of excess land. It subdivided that land and constructed a class A building in 2019 that it subsequently leased to a large investment-grade e-commerce company. It earned a more than 110% profit margin on this investment.
STAG Industrial's value creation strategy has steadily grown its FFO, giving it the funds to pay a rising dividend. The REIT has increased its payout each year since 2011, including a 0.7% increase in early 2021. STAG's dividend, which it pays monthly, has had an average yield above 4.5% in recent years.
The bottom line on STAG Industrial
STAG Industrial's focus on the entire U.S. industrial market has paid big dividends over the years. The REIT has routinely increased its monthly payout, enabling it to generate market-beating total returns. It appears well-positioned to continue creating shareholder value thanks to its investment-grade balance sheet, excellent acquisition track record, and massive addressable market. Because of that, it's an intriguing REIT to consider owning, especially by investors seeking exposure to the fast-growing industrial sector or those desiring a high-yielding dividend paid monthly.
Got $1,000? The 10 Top Investments We'd Make Right Now
Our team of analysts agrees. These 10 real estate plays are the best ways to invest in real estate right now. By signing up to be a member of Real Estate Winners, you'll get access to our 10 best ideas and new investment ideas every month. Find out how you can get started with Real Estate Winners by clicking here.
John Mackey, CEO of Whole Foods Market, an Amazon subsidiary, is a member of The Motley Fool's board of directors. Matthew DiLallo owns shares of Amazon, FedEx, and Ford. The Motley Fool owns shares of and recommends Amazon, Costco Wholesale, FedEx, and Stag Industrial. The Motley Fool recommends XPO Logistics and recommends the following options: long January 2022 $1920 calls on Amazon and short January 2022 $1940 calls on Amazon. The Motley Fool has a disclosure policy.