Get our 43-Page Guide to Real Estate Investing Today!
Real estate has long been the go-to investment for those looking to build long-term wealth for generations. Let us help you navigate this asset class by signing up for our comprehensive real estate investing guide.
Real estate investment trusts, or REITs, trade on exchanges like ordinary stocks. But they're unique in several ways.
REITs are especially different from ordinary stocks when it comes to dividends. Not only do REITs tend to pay above-average dividends, but they also have several unique tax implications.
With that in mind, here's what REIT investors should know about dividends.
REITs have high dividend yields
Most REITs pay dividend yields that are significantly higher than average. Consider this chart of the dividend yields paid by some of the largest publicly traded REITs.
| | | |
| --- | --- | --- |
| REIT Name (Stock Symbol) | Type of Assets | Dividend Yield |
| Simon Property Group (NYSE: SPG) | Shopping malls | 4.6% |
| Host Hotels & Resorts (NYSE: HST) | Hotels | 4.2% |
| Annaly Capital Management (NYSE: NLY) | Mortgages and related assets | 11.8% |
| Public Storage (NYSE: PSA) | Self-storage facilities | 3.7% |
| Digital Realty Trust (NYSE: DLR) | Data centers | 3.6% |
For context, consider that the average dividend yield paid by stocks in the S&P 500 is 1.9%. In contrast, the average equity REIT (which owns properties) pays about 5%. The average mortgage REIT (which owns mortgage-backed securities and related assets) pays around 10.6%.
Why are REIT dividends so high?
You can read our thorough discussion of what makes a REIT a REIT in this article. But for this discussion, it's important to know two basic principles:
First, to be a REIT, a real estate company needs to pay out a minimum of 90% of its taxable income.
Second, if a company meets the definition of a REIT, it doesn't pay corporate taxes.
Here's why these two principles are so important. Not only are REITs required to pay out almost all of their taxable income, but if they do, this income isn't taxed on the corporate level.
To illustrate why this is such a big benefit, let's say a REIT earns a taxable profit of $10 million. By definition, it has to distribute at least $9 million to shareholders.
Meanwhile, a standard (non-REIT) corporation also earns a profit of $10 million in 2019. Based on the 21% corporate tax rate, there will be $7.9 million left after taxes. Even if this company wanted to distribute 90% of its profits to shareholders, this would translate to about $7.1 million. Nearly $2 million less than the REIT.
Finally, it's worth mentioning the differences between equity REITs and mortgage REITs when it comes to dividends. You'll notice from the chart earlier that Annaly Capital Management pays more than double the next-highest payer on the list. Annaly is a mortgage REIT.
Here's why mortgage REITs tend to pay huge dividends:
Equity REITs produce a combination of stock price appreciation and income. Commercial properties generate rental income -- but they also tend to increase in value over time. On the other hand, mortgage-backed securities are purchased only for income. Mortgage REITs deliver the maximum amount of income within certain risk parameters. They have little or no regard for the appreciation potential of their assets.
Don't read too much into taxable income
While REITs need to pay at least 90% of taxable income, most equity REITs pay 100% or more. This may sound like an unsustainable practice, but it's actually quite the opposite.
Without getting too deep into a discussion of REIT earnings, let's just say that taxable income isn't the best representation of how much money a REIT makes. Companies can write off real estate investments for tax purposes over a number of years. This results in an annual deduction called depreciation. While depreciation lowers a REIT's taxable income, it doesn't actually cost anything.
Funds from operations, or FFO, is a better metric to look at. It adds depreciation back in and makes a few other adjustments to give a clearer picture of a REIT's profitability.
If a REIT earns taxable income of $1.00 per share and has FFO of $2.50, it wouldn't be unusual to pay out $2.00 per share in dividends. In fact, a payout of 70–80% of FFO is the industry average, regardless of taxable income.
REIT dividends have unique tax implications
The downside to REITs avoiding tax on the corporate level is that their dividends have a complicated and disadvantageous tax structure on the individual level.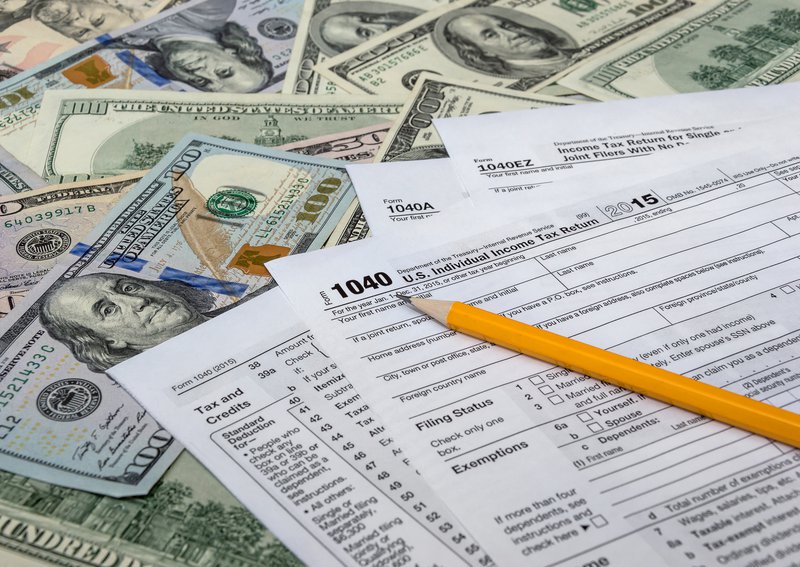 Most stock dividends meet the IRS definition of "qualified dividends," so they get lower long-term capital gains tax rates. Most REIT dividends don't qualify.
So the majority of REIT distributions are classified as ordinary income, which is taxable at your marginal tax rate.
However, some of your REIT distributions could meet the definition of qualified dividends. This happens when a REIT distributes a long-term capital gain on the sale of an asset or if the REIT itself receives a qualified dividend payment.
Furthermore, part of a REIT's distribution can be considered a return of capital to investors. This is a non-taxable distribution, but it serves to lower your cost basis. That can translate to higher tax liability when you eventually sell.
To illustrate how this works, here's a breakdown of the 2018 distributions of leading data center REIT Digital Realty Trust: The company paid dividends of $3.96 per share.
Of this, about $3.175, or 80% of the total, was classified as an ordinary dividend.
None of the distribution met the definition of a qualified dividend.
About $0.785, or 20% of the total payout, was classified as a return of capital.
If you own REITs in a tax-advantaged retirement account, you don't need to concern yourself with dividend taxes. This complication only applies to REIT dividends paid in taxable accounts.
The pass-through deduction applies to REIT dividends
Finally, because REITs pay the vast majority of their income to investors, they're considered "pass-through" businesses.
Because of this, dividends qualify for the new tax deduction that allows taxpayers with income from a pass-through entity to deduct 20% of their income. And because a REIT isn't considered a "specified service trade or business" by the IRS, there's no income limitation to use the deduction. All investors with taxable REIT distributions can use it.
This is an above-the-line deduction, so you can use it even if you itemize deductions on your tax return.
REIT dividends are complex, so part of your distributions may not qualify as pass-through income. Fortunately, your REITs do the math for you. Each year, you get a breakdown of how a REIT's distributions are classified. The amount of the distribution that's a "Section 199A dividend" is qualified business income for the deduction. This should be clearly stated in your paperwork.
Got $1,000? The 10 Top Investments We'd Make Right Now
Our team of analysts agrees. These 10 real estate plays are the best ways to invest in real estate right now. By signing up to be a member of Real Estate Winners, you'll get access to our 10 best ideas and new investment ideas every month. Find out how you can get started with Real Estate Winners by clicking here.
Matthew Frankel, CFP
owns shares of Digital Realty Trust and Public Storage. The Motley Fool owns shares of and recommends Digital Realty Trust. The Motley Fool has a
disclosure policy
.