Get our 43-Page Guide to Real Estate Investing Today!
Real estate has long been the go-to investment for those looking to build long-term wealth for generations. Let us help you navigate this asset class by signing up for our comprehensive real estate investing guide.
Retail real estate is experiencing a wave of change as consumers look to online shopping at an accelerated rate, undoubtedly a result of the coronavirus pandemic. This shift coupled with pandemic-related closures has put retail investors in a tough position, including Kimco Realty (NYSE: KIM), the largest real estate investment trust (REIT) specializing in open-air retail centers.
Despite a challenging few years for the company, Kimco Realty believes its future is bright and is working to adapt to the new normal for retail. If you're considering buying shares of Kimco Realty, here's what you need to know.
Kimco Realty company profile
Kimco Realty owns, operates, and has interest in 400 open-air shopping centers and mixed-use assets for a total of 70 million square feet. The company's mainstay is its grocery-anchored retail centers, which make up 77.6% of its average base rent (ABR). The company earns income by leasing retail space using long-term net leases. Right now Kimco is engaged in nearly 7,300 leases with 3,400 tenants with an average weighted lease term of 10 years for its anchor tenants and 5 years for smaller, more regionally based tenants.
44% of the company's ABR is earned from essential retailers, 42% from nonessential retailers, and 14% comes from restaurants. Of those tenants, 58% of its ABR is earned from grocery or anchor tenants, such as Whole Foods (NASDAQ: AMZN), Costco (NASDAQ: COST), Target (NYSE: TGT), and Walmart (NYSE: WMT); 11% comes from mid-tier stores, such as Trader Joe's or Dollar Tree (NASDAQ: DLTR); and 19% is earned from national franchises such as Panera, Five Guys, and JP Morgan Chase (NYSE: JPM), followed by 12% being earned from small, local, and independent businesses.TJ Maxx (NYSE: TJX) is the only tenant that provides more than 1% of the company's ABR.
In 2010, Kimco's portfolio was spread across the country with interest in over 800 properties. However, over the past decade, the company has worked hard to reduce its portfolio size and refocus on owning assets in its core 21 markets, including:
Seattle, WA
Portland, OR
San Francisco and the Bay Area, CA
Los Angeles and Orange County, CA
Phoenix, AZ
Austin, TX
Dallas, TX
Houston, TX
Atlanta, GA
Tampa, FL
Orlando, FL
Miami/Ft. Lauderdale, FL
Raleigh/Durham, NC
Charlotte, NC
Baltimore, MD
Washington, D.C.
Philadelphia, PA
New York, New York
Boston, MA
Chicago, IL
Denver, CO
Kimco Realty news
It comes as no surprise that COVID-19 has had a negative impact on the company's profitability. While net income for the full year 2020 was up, funds from operations (FFO) were down 18% for the full year. By year end, all of Kimco's shopping centers were open and operational with 97% of tenants open, including those operating on a limited basis. As of January 2021, Kimco had collected 97% of the stores that were open. Year to date, Kimco has granted 28.9% of deferrals as a total percentage of ABR. Deferrals have an average 12-month payback period.
Year ended 2020, the company's debt-to-EBITDA was 7.3x, which is high for the REIT industry and particularly concerning considering the company has roughly 16% of its total debt maturing in 2021 and 2022. The company has roughly $2.3 billion in cash and a revolving line of credit currently, which will be used to help fund the continued development projects underway, including around 5,000 multifamily units located in or near its retail centers.
The biggest challenge for the company moving forward is adapting to the shift in consumer preferences when it comes to shopping. Kimco believes the future of retail is being able to deliver appealing solutions for consumers. For example, curbside delivery, home delivery, or order pickup are all strategies consumers want, while still using the retail store as the logistics hubs for those solutions. Many of its core tenants, including Home Depot (NYSE: HD), Best Buy (NYSE: BBY), Dick's Sporting Goods (NYSE: DKS), and Walmart, have seen curbside pickup or online purchasing with home delivery skyrocket over the past year, far surpassing the 50% threshold of sales for each company.
Kimco plans to install curbside pickup stations at all its properties by 2025, which should help promote the use of online solutions for customers and retailers. The company also believes convenience and offering multifamily and housing solutions attached to its retail centers will promote and engage more revenues for its tenants and portfolio. Which is why Kimco has set a goal to have 10,000 entitlements (or permits) in place for multifamily housing at or near its retail centers.
A few tenants are cause of concern for Kimco in the future. Kroger (NYSE: KR), for example, which makes up 0.9% of total ABR, has recently announced having to close stores to combat rising wages. Bed Bath & Beyond, which accounts for 1.4% of total ABR, has had to close 200 stores in response to the pandemic. The Gap (NYSE: GPS), which makes up 1% of ABR, plans to close down 350 stores. Not to mention the countless other non-core tenants struggling to stay afloat or unable to fully reopen. Kimco is far from out of the clear yet. One positive is that most of its core tenants are doing well, helping compensate for its at-risk tenants.
Kimco Realty stock price
Kimco's share prices fell hard in March of 2020 and are finally starting to recover to pre-coronavirus levels, right now trading just below early 2020 highs. On a five-year basis though, returns were a meger -1.33% while share prices have fallen -6.66% on an annual basis.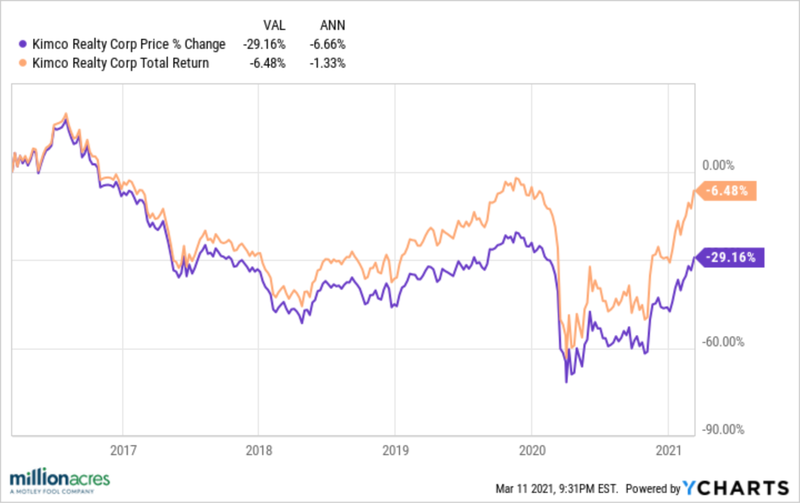 Looking back further, over the past ten years, the company produced an annualized return of 5.76% while seeing 8.2% overall price change.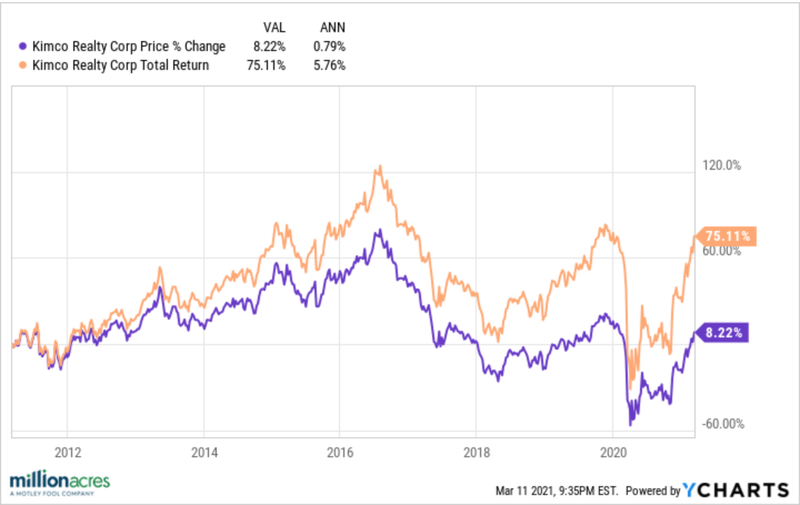 Dividends have fluctuated over the years, reflecting the increase or decrease of revenues for the company. Dividends dropped significantly in 2020, from $1.00 in 2019, to $.31 in 2020. Q1 2021 resulted in a quarterly dividend payment of $.17, meaning dividends for 2021 should exceed 2020, providing investors a return of roughly 3.5%. Kimco's payout ratio of 37% is far below normal REIT standards and gives the company a lot of room to play, both in terms of maintaining the dividend and increasing it as recovery is hopefully achieved.
The bottom line on Kimco Realty
The long-term outlook for the company seems more positive than not. However, with that being said, Kimco has a tough few years ahead. It has several debt obligations, including debt maturities, new developments, and deferred leases to address over the next one to three years. The company's 2021 guidance estimates FFOs between $1.18 and $1.24, a step up from 2020 performance, but not by much.
I personally believe the company has a lot of challenges ahead. Kimco seems aware of this fact and is being proactive in approaching and solving many of the issues retailers face today. There is some value in the company's slightly deflated share prices as it relates to its income and payout ratios, but there is also a lot of risk for investors in the future.
Got $1,000? The 10 Top Investments We'd Make Right Now
Our team of analysts agrees. These 10 real estate plays are the best ways to invest in real estate right now. By signing up to be a member of Real Estate Winners, you'll get access to our 10 best ideas and new investment ideas every month. Find out how you can get started with Real Estate Winners by clicking here.
John Mackey, CEO of Whole Foods Market, an Amazon subsidiary, is a member of The Motley Fool's board of directors. Liz Brumer-Smith has no position in any of the stocks mentioned. The Motley Fool owns shares of and recommends Amazon, Costco Wholesale, and Home Depot. The Motley Fool recommends The TJX Companies and recommends the following options: long January 2022 $1920 calls on Amazon and short January 2022 $1940 calls on Amazon. The Motley Fool has a disclosure policy.