Get our 43-Page Guide to Real Estate Investing Today!
Real estate has long been the go-to investment for those looking to build long-term wealth for generations. Let us help you navigate this asset class by signing up for our comprehensive real estate investing guide.
Real estate investors tend to concentrate on primary markets like major gateway cities along the coasts, driven by the mantra that the three most important factors are "location, location, location." These markets are always in high demand, which tends to generate steadier results.
However, while primary markets offer stable growth, secondary ones have more upside potential. That's led real estate investment trust (REIT) Highwoods Properties (NYSE: HIW) to go off the beaten path and concentrate on faster-growing cities. It believes this strategy can earn better returns for its shareholders.
Highwoods Properties profile
Highwood Properties is an office REIT focused on owning, developing, acquiring, leasing, and managing Class A properties primarily in the BBDs (best business districts), or most sought-after locations, in fast-growing secondary markets. At the end of 2020, the REIT controlled more than 25.9 million square feet of rentable space across the following markets:
Atlanta: More than 5.4 million square feet (21.3% of its annualized cash revenue)
Nashville: Nearly 4.6 million square feet (19.8%)
Raleigh: More than 4.8 million square feet (18.4%)
Tampa: More than 3.6 million square feet (13.4%)
Pittsburgh: Nearly 2.2 million square feet (8.3%)
Orlando: Nearly 1.8 million square feet (6.8%)
Richmond: More than 2 million square feet (6.2%)
Charlotte: More than 800,000 square feet (4%)
Non-core markets (Greensboro and Memphis): More than 650,000 square feet (1.8%)
Overall, 75% of the company's revenue comes from fast-growing real estate markets, predominantly in the Sun Belt region.
The company leases space in its office properties to a diversified tenant base:
| Industry | Percentage of Annualized Cash Revenue |
| --- | --- |
| Professional, scientific, and technical services | 25.2% |
| Finance/Banking | 17.7% |
| Health care and social assistance | 11.9% |
| Insurance | 9.8% |
| Manufacturing | 8.0% |
| Government/Public administration | 5.4% |
| Real estate rental and leasing | 4.6% |
| Information | 3.5% |
| Administrative and support services | 2.5% |
| Retail trade | 1.9% |
| Educational services | 1.8% |
| Other services | 1.7% |
| Accommodation and food services | 1.6% |
| Telecommunications | 1.5% |
| Energy | 1.5% |
| Transportation and warehousing | 1.0% |
| Wholesale trade | 0.4% |
Overall, the REIT's top 20 tenants contribute 29.4% of its annualized cash revenue. The top five are:
The Federal Government: 4.26%
Bank of America (NYSE: BAC): 4.05%
Bridgestone Americas (OTCMKTS: BRDCY): 2.76%
Metropolitan Life Insurance (NYSE: MET): 2.56%
Mars Petcare: 1.49%
Development projects are a key growth driver for Highwoods Properties. The REIT entered 2021 with five projects totaling 1.2 million square feet (79% pre-leased) under construction in Raleigh, Tampa, and Nashville. It expects to invest $503 million across those projects (with $104 million of spending remaining at the end of 2020). This investment should generate $40 million of annualized NOI once all those projects reach stabilization by the end of 2022. For perspective, that's a 7.9% increase from the $505 million in NOI it produced in 2020. The REIT also had a vast land bank to support future growth. Overall, it could build an estimated 5.6 million additional square feet of office space, representing $2.2 billion in total investment potential.
Highwoods Properties news
Highwoods Properties navigated the challenges brought on by the pandemic in 2020 quite well. Overall, the REIT generated $3.58 per share of FFO, up 7.5% from the $3.33 per share it produced in 2019. Driving that growth was higher NOI from its existing properties due to lower expenses and the benefit from recent additions to its portfolio. That more than offset the impact of lower parking revenues due to reduced physical occupancy levels at its office buildings because of the pandemic.
The REIT also completed the first phase of its market rotation plan in 2020 by selling four office buildings in the Greensboro and Memphis markets comprising 599,000 square feet for $428 million. Those proceeds helped fund almost all the company's $436 million investment for Bank of America Tower at Legacy Union in Charlotte, which it closed in late 2019. The REIT also took its first step toward completing the second phase of that plan by selling $127.5 million of assets in Greensboro and Memphis in November. The sale included a three-building office portfolio in Greensboro and a medical office building portfolio in both cities.
Highwoods Properties continued its wheeling and dealing in early 2021. The REIT sold a 100,000-square-foot office building in Atlanta for $30.7 million. It previously developed that property in 2009 for $18 million. It also acquired its joint venture partner's 75% interest in Highwoods DLF Forum, a five-building office complex with 636,000 square feet called The Forum in Raleigh for $131.2 million.
Highwoods Properties stock price
Highwoods Properties' strategy of focusing on fast-growing secondary markets hasn't created much value for its investors in recent years: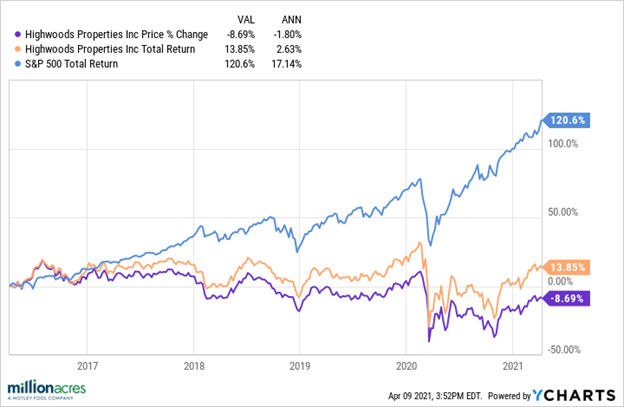 As that chart shows, the REIT has significantly underperformed the S&P 500 over the last five years.
That poor performance is one factor driving its market rotation plan, launched in August of 2019. The strategy aimed to achieve the following goals:
Accretion: Accretive to cash flow and cash available for distribution while being neutral on an FFO basis.
Leverage neutral: The REIT aimed to maintain conservative debt metrics.
Improve portfolio quality: Strengthen its long-term same-property cash NOI growth prospects.
Improve portfolio efficiency: Reduce its capital spending and building count.
Simplify operations: Reduce its general and administrative expenses while exiting the industrial real estate sector.
Enhance future growth: Opportunities for additional investments in the fast-growing Charlotte market.
Phase one of this strategy saw the company purchase the Bank of America Tower in Charlotte for $436 million in November of 2019. It paid for that purchase by selling $428 million of properties in Greensboro and Memphis by early 2020. It has since launched phase two, completing additional property sales in both markets. That gave it the cash to buy out a joint venture partner in Raleigh.
Before this asset rotation plan, Highwoods Properties exited the Kansas City market via several deals in 2016. The largest transaction was the $600 million sale of nearly all its Country Club Plaza portfolio containing 804,000 square feet of retail space and 468,000 square feet of office space to mall REITs Taubman Centers and The Macerich Company (NYSE: MAC). Those sales helped repay debt, fund development projects, pay a special dividend, and make acquisitions in other markets.
Despite all the company's wheeling and dealing, it hasn't been able to grow its FFO per share that much in recent years. It has only increased from $3.28 per share in 2016 to $3.58 per share last year, or 9.1% during the previous five years.
However, that hasn't stopped Highwoods from growing its dividend. The REIT has increased its payout in each of the last five years, growing it at a 2.5% compound annual rate. On top of that, it made a large special dividend in 2017 following its exit from Kansas City. Because Highwoods' payout has continued to grow while the stock price has declined, the dividend yield has increased. Over the past year, it has averaged about 4.5%, above the REIT sector's 3.5% average.
The bottom line on Highwoods Properties
Highwoods Properties has spent the past few years refocusing its office portfolio on faster-growing secondary markets, predominantly in the Sun Belt region. While that shift has stunted its growth in recent years, it should start paying dividends as its development projects come online. That gives the REIT intriguing upside potential as the office market rebounds from its pandemic-related headwinds.
Got $1,000? The 10 Top Investments We'd Make Right Now
Our team of analysts agrees. These 10 real estate plays are the best ways to invest in real estate right now. By signing up to be a member of Real Estate Winners, you'll get access to our 10 best ideas and new investment ideas every month. Find out how you can get started with Real Estate Winners by clicking here.
Matthew DiLallo has no position in any of the stocks mentioned. The Motley Fool has no position in any of the stocks mentioned. The Motley Fool has a disclosure policy.