Get our 43-Page Guide to Real Estate Investing Today!
Real estate has long been the go-to investment for those looking to build long-term wealth for generations. Let us help you navigate this asset class by signing up for our comprehensive real estate investing guide.
Most real estate investment trusts (REITs) like to focus on specific property types or regions. They believe a concentrated strategy will enable them to create more value for their investors over the long term.
However, some REITs view a broader approach as the best plan since a diversified portfolio will generate steadier income throughout the economic cycle.
Global Net Lease (NYSE: GNL) falls into that latter group. Here's a closer look at the company.
Global Net Lease company profile
Global Net Lease's name describes its business model. It's a diversified REIT with a global portfolio of properties net leased to a variety of tenants. As of the end of 2021's first quarter, the REIT owned 306 properties with 37.2 million square feet of space leased to 130 primarily investment-grade rated tenants in 48 industries across 10 countries.
Roughly 49% of its assets are industrial real estate properties like distribution centers, 46% are offices, and 5% are retail properties. The company focuses on owning mission-critical sites, such as corporate headquarters, or strategically located industrial and distribution facilities.
Nearly two-thirds of the company's properties are located in the U.S., with most of the remainder in Western Europe, including the UK (17%), Netherlands (4%), Finland (4%), France (4%), Germany (4%), Luxembourg (2%), Italy (less than 1%), and Spain (less than 1%). It also has less than 1% of its portfolio in Canada.
The company leases its assets to tenants in the following industries (percentage of straight-line rent displayed):
Financial services: 12%
Healthcare: 7%
Technology: 6%
Auto manufacturing: 6%
Consumer goods: 5%
Freight: 4%
Aerospace: 4%
Government: 4%
Metal Processing: 4%
Logistics: 4%
Telecommunications: 4%
Energy: 4%
Engineering: 3%
Pharmaceuticals: 3%
Automotive parts: 3%
All others: 27%
Meanwhile, its top 10 tenants include:
| Tenant | Industry | Property Type | Country | % of Cash Rent |
| --- | --- | --- | --- | --- |
| FedEx | Freight | Distribution | U.S. & Canada | 4% |
| Government Services Administration | Government | Office | U.S. | 4% |
| Whirlpool | Consumer goods | Industrial/Distribution | U.S. & Italy | 4% |
| Foster Wheeler | Engineering | Office | U.K. | 4% |
| ING | Financial services | Office | Netherlands | 3% |
| Broadridge Financial Solutions | Financial services | Industrial | U.S. | 3% |
| Finnair | Aerospace | Industrial | Finland | 3% |
| Penske | Logistics | Distribution | U.S. | 2% |
| FCA USA | Auto manufacturing | Industrial/Distribution | U.S. | 2% |
| Contractors Steel | Metal processing | Industrial | U.S. | 2% |
Overall, Global Net Lease's 10 largest tenants contribute 31% of its straight-line rent while the top 20 contribute 48%. While that's a large concentration at the top, 82% of its 20 largest tenants have investment-grade credit ratings, implying they have the financial flexibility to meet their financial obligations even during an economic downturn. Meanwhile, 66.3% of its overall straight-line rent comes from investment-grade tenants.
Global Net Lease news
Global Net Lease's strategic focus on owning a diversified portfolio of properties net leased to primarily investment-grade tenants served it well in 2020. While the pandemic impacted some of its tenants' abilities to pay rent, the REIT collected more than 97% of the rent due each quarter.
That gave it the financial flexibility to grow its portfolio. Overall, Global Net Lease purchased 28 properties for $461.2 million in 2020. Those acquisitions expanded its global reach from eight to 10 countries by adding Italy and Spain to its roster. The company also increased its exposure to the industrial sector, which rose by 3% to reach 49% of its assets, and added two new large investment-grade industrial tenants to its top ten.
The REIT got off to a solid start in 2021, collecting 100% of the rent due in the first quarter, and by the end of April, completing five acquisitions totaling nearly $250 million, led by the $236 million sale-leaseback of the McLaren Group headquarters. The company had ample liquidity to complete additional deals to continue expanding and enhancing its diversified global net lease portfolio.
Global Net Lease stock price
Despite its focus on building a diversified portfolio of mission-critical properties net leased to high-quality tenants, Global Net Lease has delivered an underwhelming performance in recent years: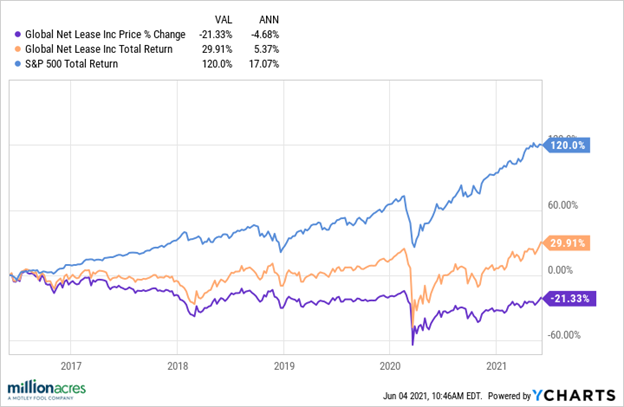 As the table shows, the REIT has significantly underperformed the S&P 500 over the last five years.
That lackluster performance comes even though the REIT has steadily expanded its portfolio and FFO in recent years. Overall, it has grown its global real estate portfolio at a 7.4% compound annual growth rate from the end of 2017 through 2021's first quarter. That's enabled the REIT to expand its core Funds From Operations (FFO) and Adjusted Funds From Operations (AFFO) at compound annual rates of 3.5% and 3.4%, respectively.
However, while FFO and AFFO have grown overall, they've declined on a per-share basis. Core FFO has fallen from $2.01 per share in 2017 to $1.51 per share in 2020, and AFFO has dropped from $2.10 to $1.79 per share during that same time frame. That's due entirely to a significant increase in outstanding shares -- from 66.9 million to roughly 89.5 million -- as the company issued new shares to finance growth. Due to its desire to improve its financial profile, the REIT has had to sell stock to fund its expansion. It succeeded in enhancing its balance sheet, evidenced by its ability to begin issuing lower-cost investment-grade debt at the end of 2020.
The steady decline in Global Net Lease's FFO has weighed on its ability to pay dividends in recent years. The REIT switched from a monthly to a quarterly payout schedule in 2019. Then, in early 2020, the company reduced its payout from an annualized rate of $2.13 per share to $1.60 per share. It made that move to preserve its liquidity during the pandemic, enabling it to take greater advantage of acquisition opportunities.
Even with that reduction, Global Net Lease pays a high-yielding dividend. It has been over 8% for much of the past year -- well above the REIT sector's average of slightly more than 3%. Two factors contribute to that high yield. First, Global Net Lease has a high dividend payout ratio of around 90% of its AFFO. Meanwhile, with its stock price falling in recent years, the REIT trades at a low valuation of around 10 times its AFFO.
The bottom line on Global Net Lease
Global Net Lease is steadily building a diversified portfolio of mission-critical properties net leased to high-quality tenants. While its strategy hasn't paid dividends in recent years, its improving financial profile will put the company in a better position to grow its AFFO per share in the future. Add that to the company's high dividend yield and cheap valuation, and it has compelling upside potential as it continues to enhance its balance sheet and portfolio in the future.
Got $1,000? The 10 Top Investments We'd Make Right Now
Our team of analysts agrees. These 10 real estate plays are the best ways to invest in real estate right now. By signing up to be a member of Real Estate Winners, you'll get access to our 10 best ideas and new investment ideas every month. Find out how you can get started with Real Estate Winners by clicking here.
Matthew DiLallo
has no position in any of the stocks mentioned. The Motley Fool has no position in any of the stocks mentioned. The Motley Fool has a
disclosure policy
.