Get our 43-Page Guide to Real Estate Investing Today!
Real estate has long been the go-to investment for those looking to build long-term wealth for generations. Let us help you navigate this asset class by signing up for our comprehensive real estate investing guide.
Real estate investment trusts (REITs) are generally thought of as income investments. But there are some REIT subsectors with tremendous growth potential. One subsector that's primed to grow rapidly in the coming years is data center REITs -- like Digitalbridge Group, which invests in digital infrastructure, including cell towers and data centers. These trusts own facilities that provide secure and reliable data storage for companies.
Data center REITs can be a great combination of low risk and high reward potential. Here are a few things you should know before you add a data center REIT to your portfolio.
What is a data center REIT?
A real estate investment trust is a unique type of company that invests in real estate and related assets. According to industry group NAREIT, a company needs to meet some strict criteria to qualify as a REIT:
REITs must distribute at least 90% of their taxable income to shareholders. This is the most well-known characteristic of REITs and why they generally pay above-average dividend yields. Most REITs choose to pay out all their taxable income.
REITs must invest at least three-fourths of their investable assets in real estate or related investments.
REITs must derive at least three-fourths of their income from these investments.
REITs must have at least 100 shareholders and no five shareholders can control more than 50% of the outstanding shares.
REITs must be structured as corporations.
There are some other requirements, but these are the most important.
If a company meets these requirements, it's treated as a pass-through entity for tax purposes. This is similar to a partnership or LLC. This means it doesn't pay any corporate tax on its profits. REIT profits are only taxed on the individual level after they're distributed to shareholders.
The downside of this arrangement is that REIT dividends typically don't count as "qualified dividends," which are taxed at lower rates than ordinary income. However, they do qualify for the 20% pass-through income deduction from the Tax Cuts and Jobs Act.
Now we know what REITs are. So what's a data center REIT?
A data center is a facility that provides a secure and reliable environment for customers to house servers and other computing equipment. These facilities generally have reliable and uninterruptible power sources, cooling equipment, and a high level of security.
Data center REITs own and manage these facilities.
Reasons to invest in data center REITs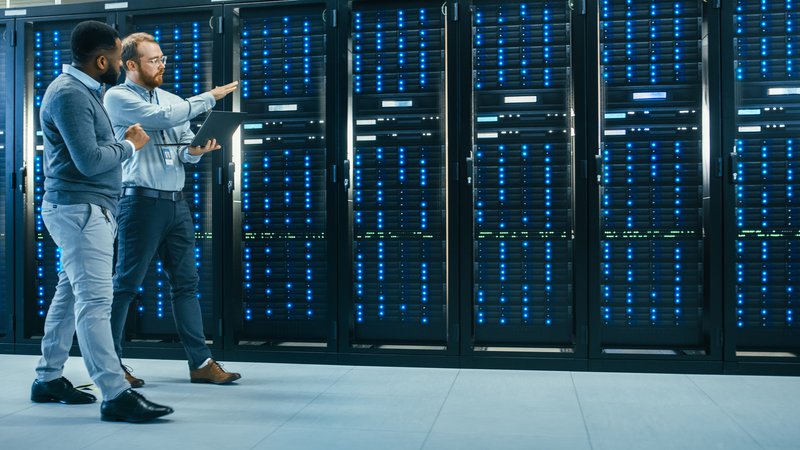 The need for secure and reliable data storage has exploded, and is expected to continue to do so. That makes them great investments.
Data-heavy devices will hit the market in increasing numbers over the coming years. For example, shipments of autonomous vehicles are expected to rise from 64,000 in 2018 to 569,000 by 2025. The artificial intelligence market is expected to grow from $11 billion today to $90 billion by that time. Data center traffic is expected to grow 25% per year through at least 2021, according to Cisco.
So far, demand for data centers has been encouraging. In North America and Europe, the market is absorbing data center inventory 1.6 times faster than it's being built. This provides lots of opportunities to grow -- and should result in increased pricing power as space fills up.
Abby talks about REIT.com and the information it provides for investors
Risks of investing in data center REITs
Data center REITs have excellent return potential. In fact, leading data center REIT Equinix has produced a staggering 760% total return over the past decade. Return potential like this doesn't come without risk. Here are a few potential risk factors investors should be aware of:
Interest rate risk
Perhaps the biggest risk factor affecting REIT share prices is interest rates. As an investor, the key thing to know is that rising interest rates are generally bad for REIT prices.
Here's the simplified explanation of why this is. REITs are income-based assets, and income investors expect a higher return than what they can get from risk-free investments like Treasury securities. When risk-free yields rise (the 10-year Treasury is a good one to keep an eye on), REIT yields tend to rise accordingly. Since price and yield have an inverse relationship, these rising yields lead to lower share prices.
Oversupply risk
This is always a risk factor with REITs. But it's especially important to be aware of with property subtypes that are expected to grow rapidly.
First, there's the risk that demand doesn't grow as fast as anticipated. And second, with so much demand growth in the forecast, it's reasonable to expect a surge in new construction from competitors trying to take advantage. Supply could end up growing too fast, leading to vacancies and a loss of pricing power.
Economic risk
In some ways, data centers are recession-resistant. For example, consumers don't stop using their connected devices when the economy does poorly.
However, an economic downturn can cause companies to have less money to spend and pump the brakes on expansion. In short, data centers aren't a terribly cyclical business, but they aren't immune to bad economies either.
The five publicly traded data center REITs
There are five REITs traded on U.S. stock exchanges as of May 2019, according to Nareit. Here's some quick information to help you start your search.
| | | |
| --- | --- | --- |
| Company (Stock Symbol) | Market Capitalization | Dividend Yield |
| Equinix (NASDAQ: EQIX) | $38.8 billion | 2.1% |
| Digital Realty Trust (NYSE: DLR) | $24.7 billion | 3.7% |
| CyrusOne (NYSE: CONE) | $6.8 billion | 3.1% |
| CoreSite Realty (NYSE: COR) | $4.2 billion | 3.9% |
| QTS Realty Trust (NYSE: QTS) | $2.5 billion | 4.0% |
An alternative way to invest in tech momentum
Data center REITs can be good for investors who want to capitalize on technology trends with a source of steady income. It also helps avoid the risk of investing directly in high-momentum technology stocks. Data center REITs aren't without risk, but they don't have nearly the risk level of most popular technology stocks.
Data center REITs can be a smart way to play tech's momentum, but with a risk-reward profile investors can more easily tolerate.
Got $1,000? The 10 Top Investments We'd Make Right Now
Our team of analysts agrees. These 10 real estate plays are the best ways to invest in real estate right now. By signing up to be a member of Real Estate Winners, you'll get access to our 10 best ideas and new investment ideas every month. Find out how you can get started with Real Estate Winners by clicking here.