Get our 43-Page Guide to Real Estate Investing Today!
Real estate has long been the go-to investment for those looking to build long-term wealth for generations. Let us help you navigate this asset class by signing up for our comprehensive real estate investing guide.

CrowdStreet
Crowdstreet is one of the largest and most experienced crowdfunding portals. With excellent deal flow and an early track record of impressive returns, they offer a lot for accredited individuals who only want to work in one platform.
Excellent deal flow
Impressive early track record
Diverse exposure to real estate classes
---
Bankruptcy Protection
8/10
Diversified Fund Options
4/5
Non-accredited Investor Offerings
0/5
What is CrowdStreet?
Founded in 2013, CrowdStreet is one of the higher-volume real estate crowdfunding platforms for stand-alone deals. It has a highly-integrated investment management platform that's extremely user-friendly for both investors and project sponsors.
More than 250 large commercial real estate developers and operators have used CrowdStreet technology to raise capital online and manage their investors and investments. CrowdStreet reports that more than 100,000 subscribers have registered to use their platform to get direct access to a broad range of institutional quality commercial real estate assets.
The platform offers investors a wide range of opportunities. In 2020, CrowdStreet brought 90 deals to its investor community, including new asset types like a data center, charter school, build-to-rent projects, and a micro-unit multifamily development. In addition to single-asset syndications, the platform has launched several managed funds, including its first e-commerce and opportunistic funds. Given the large breadth of opportunities offered on the platform, real estate investors will undoubtedly find something that suits their needs.
CrowdStreet also offers excellent educational content for real estate investors. From its investment thesis to educational roundtables, the site is a great place to learn how to become a better real estate investor.
Summary: Is CrowdStreet a good investment?
CrowdStreet is one of the largest and most experienced commercial real estate crowdfunding platforms. With excellent deal flow and an early track record of impressive returns, CrowdStreet offers accredited investors access to a variety of deals that were once only available privately. In comparison to other platforms, CrowdStreet has a lot of pros and a few limitations.
CrowdStreet pros and cons
Pros
Company longevity and sponsor success: Closed more than 450 deals since launching, including over 40 fully realized deals. CrowdStreet is completely transparent about the results of all deals.
Excellent deal flow: CrowdStreet brought 90 deals to its platform in 2020 across a wide range of asset classes and project types. Due to its growing scale, sponsors are increasing their allocations to the platform, allowing more investors to participate in each deal.
Direct investment: You invest directly with the deal sponsor.
Robust, user-friendly platform: Superb technology and smart programming are definitely a strength of CrowdStreet.
Deep, very thorough pre-screening: Sponsors are vetted on many levels, including their ability to provide a high level of service and responsiveness to investors.
Sponsor and deal transparency: CrowdStreet provides a plethora of documents and due diligence research on each deal and significant track-record history on every sponsor.
IRA accessibility: CrowdStreet makes investing with a self-directed IRA (SDIRA) easy by actually integrating their platform with some of the largest SDIRA custodian companies.
Excellent investor educational resources: CrowdStreet publishes an investment thesis to help guide investors on its current market views. It also publishes a report on the top 20 real estate investment markets along with other useful resources like blog posts and webinars.
Cons
High minimum investment: $25,000 in one deal is a sizable chunk to risk if the deal goes sour. The minimum investment for the Opportunity Zone Portfolio fund is $100,000, and to open an Advisor Service account, you need a minimum of $250,000.
Limited liquidity: On the marketplace, you're investing in specific commercial projects and must wait for the deal to mature. This isn't a place to invest money you'll need for an emergency.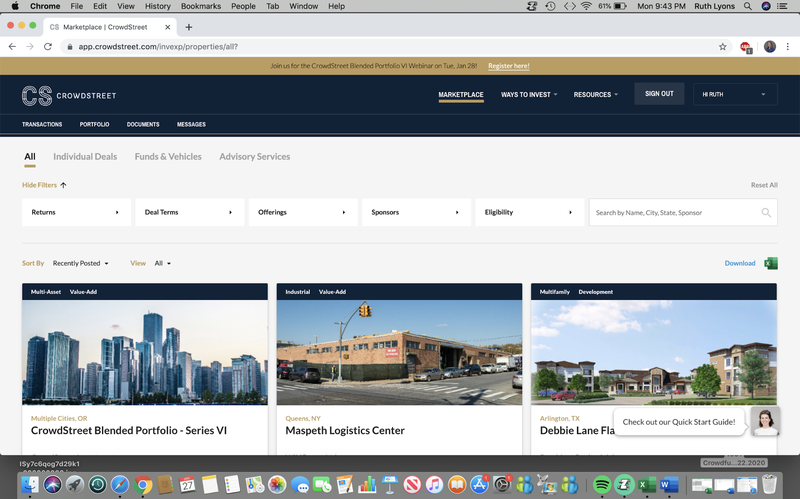 Is CrowdStreet legit? How strong is it?
CrowdStreet is legit and is arguably one of the stronger companies in the real estate crowdfunding space.
The CrowdStreet marketplace is one of the biggest in terms of deal flow, with over 467 commercial real estate offerings since the company launched in 2014. In 2020 alone, CrowdStreet launched 90 deals that raised $640 million from investors on its platform. The majority of these deals are working through their intended holding periods. Of the 44 offerings that have been fully realized, most surpassed their expected returns at initial offering while only three experienced a loss. As of February 2021, the average realized deal produced a 17.7% internal rate of return (IRR) net of fees and an equity multiple of 1.37 times.
CrowdStreet's marketplace is one of the best, with information-rich deal pages that make it very easy to determine if a particular offering is right for you.
One of CrowdStreet's strengths is its investor dashboard. Once you've made an investment, this is where you'll find the latest information from sponsors on real estate projects you've invested in, including quarterly reporting, tax documents, performance reporting, and just about anything else you'll need to find, including the ability to communicate directly with a sponsor.
CrowdStreet also regularly publishes articles and videos and offers webinars to help investors learn about various aspects of real estate investing across a broad range of topics.
CrowdStreet management
CrowdStreet was co-founded by Tore Steen and Darren Powderly. Tore has a deep background in technology and Darren was president of Compass Commercial, a leading Pacific Northwest full-service commercial real estate company, where he spent 13 years. He also holds the CCIM (Certified Commercial Investment Member), which is a designation that recognizes expertise in commercial and investment real estate.
Rounding out the management team is Ian Formigle, who serves as chief investment officer and also has substantial real estate experience. Each deal is vetted by a team of investment managers and real estate analysts, a due diligence manager, and an associate who screens sponsors.
CrowdStreet added several new members to its executive team in 2020, including a Chief Technology Officer, new CFO/COO, and VP of Customer Experience to help accelerate the company's next phase of growth. It also added to its investment team, bringing Jack Chandler, the former managing director and global head and chairman of real estate at BlackRock and founder of Majesteka Investments Holdings, aboard as a voting member of the investment committee for CrowdStreet Funds and a member of its board of advisors.
How CrowdStreet works: How are investments sourced?
Once you've verified with CrowdStreet that you're an accredited investor, it's just a matter of picking an investment and then funding your transaction.
Simply put, CrowdStreet excels when it comes to providing a marketplace that both investors and sponsors find appealing. For investors, it's very simple to find relevant information about the real estate offerings in its marketplace, and the dashboard is a powerful tool to keep you informed about every real estate deal you invest in. Sponsors say it makes investor management much easier, which allows them to dedicate more resources to what they're best at: developing real estate.
Deal pages follow uniform formatting, and it's easy to find relevant information and documentation and to communicate with the sponsor, or CrowdStreet, if necessary. Once you're familiar with the layout, you'll be able to more efficiently review every deal you're considering for your portfolio.
When it comes to reviewing individual deals, CrowdStreet's initial screening turns away about 75% of submitted deals, while further vetting results in approximately 95% of the offerings submitted not making the cut. CrowdStreet's due diligence is in depth at the sponsor level and at the deal level. Sponsors must demonstrate substantial history and expertise, and those that are given the thumbs-up to submit deals for consideration are then grouped according to their track record, success, and experience. Investors can then filter deals by these criteria. Because of its successful track record in raising capital, CrowdStreet draws deals from some of the industry's biggest sponsors, giving users on its platform the opportunity to invest alongside some of the best in the industry.
70% of CrowdStreet's revenue is from deployment fees, which sponsors pay to post their investment opportunities on the marketplace. Sponsors also pay an "annual solution" fee to CrowdStreet for continued access to the marketplace technology.
CrowdStreet's compensation model creates some potential for a conflict between its vetting and how it makes money: More sponsors and more deals create more revenue for CrowdStreet. As with any other real estate crowdfunding solution, make sure you understand the risks and take ownership to thoroughly review any investment you're considering.
Ways to invest on CrowdStreet
On the platform, you have three investing choices:
Invest directly in a plethora of individual deals from a variety of sponsors to choose from with typical target investor IRR of 12% to 21% over two to five years. Minimum investment varies by deal, with $25,000 being typical.
Invest in diversified funds. In addition to single-asset projects, sponsors also bring their CRE funds to the CrowdStreet Marketplace. They might target specific geographies or asset types. CrowdStreet also builds, launches, and manages its own funds from time to time, each with its own unique business plan. In the past, they've created funds that focus on Opportunity Zones, e-commerce related real estate, distressed properties, and more. 
Invest via CrowdStreet's advisory services. CrowdStreet offers private managed account services providing diversified real estate holdings selected by professional managers. Minimum balance is $250,000.
CrowdStreet's diversified portfolio investment options may be appealing to investors looking to limit how much capital they concentrate in a single asset or who simply don't have the time or expertise to fully vet every single deal.
Investors who understand how to evaluate and perform due diligence often prefer to invest directly in individual deals on CrowdStreet. Of course, like with any investment, what best suits you is determined by a lot of factors, including your risk tolerance, size of investment, long-term goals, expected investment timeframe and intended exit strategy. The company launched CrowdStreet Review Snapshot in 2020 to help provide investors with an overview of some of the key attributes that it evaluates in every Marketplace deal. This review highlights nine metrics that are core to its deal review process, outlining many of the criteria it's seeking and why it believes these factors are important for investors. This new feature should help investors determine which deals on its platform best fit their needs.
Who can invest with CrowdStreet?
While it says it is "actively exploring novel approaches" to opening up offerings for non-accredited investors, at present CrowdStreet only offers deals in which accredited investors can participate.
What is the minimum CrowdStreet investment?
The marketplace regularly features deals with minimums of $25,000 (and more) and shortened project lengths of two years compared to the more typical five-plus years on other platforms.
CrowdStreet's managed funds require anywhere from $25,000 to $100,000 minimum investment. Depending on the business plan of the fund, that investment can be spread out over numerous individual assets, targeting a holding pattern of two to 10 years. 
What are CrowdStreet's fees?
CrowdStreet doesn't charge investors any fees. Sponsors pay a fee per investor, which can vary on a case-by-case basis. Typically, the total fee amount equates to around 3% of the amount raised. Rather than a percentage of capital raised, sponsors pay a solution fee for the services and technology involved with administering their fundraise and the post-raise investor management fee for each deal. CrowdStreet makes it easy to identify sponsor fees for each real estate project with a "sponsor fees" tab that breaks these costs down clearly and succinctly. They also show how the fees reduce the overall return. Transparency is obviously an ideal to which CrowdStreet adheres.
Of course, real estate assets and projects cost a lot of money to develop, manage, and operate, and sponsors have to recoup these expenses and cover their costs. Also, sponsors need to charge fees to recoup these costs as well as all the other typical expenses associated with managing a real estate asset and project. CrowdStreet makes it easy to identify these fees on the deal page for each real estate project -- a plus when it comes to transparency.
Looking beyond stand-alone deals, CrowdStreet does offer some products, primarily funds, for which investors pay a fee. This fee depends on the individual fund's business plan.
Lastly, CrowdStreet also offers private managed account services through its CrowdStreet Advisors subsidiary, with fees that vary depending on the size of your portfolio.
CrowdStreet returns: What should you expect?
CrowdStreet's project offerings are widely diverse. You'll find:
All property types -- multifamily, industrial, office, land, hospitality, residential, retail, senior housing, multi-asset, office, and storage.
Many investment structures to choose from -- debt, equity, portfolio, preferred equity, debt funds, equity funds, and REITs.
Various investment profiles to match your risk level -- core, core plus, value add, opportunistic, and development.
Regional choices -- East, West, Midwest, South, and multiple regions.
Their search function lets you sort opportunities by whichever of these qualifiers are important to you, which means there's a good chance of finding appropriate investment opportunities to meet the goals of a wide variety of investors.
Funds returned to investors from the marketplace as of February 2021 total $187 million, and funds which have been invested in deals on the marketplace total $1.67 billion.
Risk and returns vary with the sponsor's recent track record and years of experience. CrowdStreet assigns sponsors a level -- emerging, seasoned, tenured, or enterprise -- based on the size of their portfolio, the length of time they've been in business, and the specific experience they have in the geographic region and specific asset type. This ranking helps investors assess deal risk before delving into deal specifics.
Many investors are drawn to investing in commercial real estate because the deals are structured to deliver steady cash flow and passive income. These distributions can be paid out monthly, quarterly, or annually, depending on the deal and investment. With equity investments in hard assets like office buildings, high occupancy and rising rents tend to deliver steady or rising cash flow over time. With debt investments, participants are investing in a real estate loan and receive portions of a fixed interest rate payment dependent on the terms of the loan. In either case, investors have generally seen consistent cash flow from their CrowdStreet investments.
When (and how) can you sell CrowdStreet investments?
Currently, there is no secondary market for your CrowdStreet investments. You're in it for the duration of the investment term when you invest.
Going mobile: Is there a CrowdStreet app?
There is not a mobile app, but the website functionality on a smartphone is great and likely all you need to stay on top of your investments if you're on the go.
Crowdstreet risks: Is CrowdStreet safe to invest with?
As with other platforms, this is a multi-part answer. The first part deals with the risk of a CrowdStreet failure and the implications for any investments made through its platform.
Well, there's good news in this regard. Since your investments are made directly with the sponsor and not with CrowdStreet, a CrowdStreet failure wouldn't have any direct impact on the real estate asset you're invested in.
It could, however, potentially disturb the flow of information between investors and the sponsor. This is because the CrowdStreet dashboard serves as the communication tool today, and this would create some administrative headaches for sponsors while also leaving investors in the dark until alternative communications tools could be put in place.
With that said, CrowdStreet doesn't strike us as a business that's at risk of going under. We independently verified that it has been able to raise capital multiple times to fund its growth, and revenues have consistently grown at high rates over the past several years due to the success of its platform at connecting sponsors with great projects and investors with capital. That was true even during the market turbulence of 2020 as the company enjoyed a record-breaking year, which boosted its revenue and cash position. As a result, CrowdStreet entered 2021 with its strongest financial position in history.
Investors may have questions about the safety of the underlying investments offered on CrowdStreet. As of early 2021, 44 deals have been fully realized with three resulting in a loss, while the rest have generated positive returns.
Considering this, it's probably best to describe the relative safety of deals featured in its marketplace as being, on average, not necessarily any more or less safe than most of its high-quality peers. It practices standard due diligence that serves as a starting point, but it's the responsibility of you, the investor, to study each real estate offering and decide if the risk/return profile is appropriate for you while also accepting that the risk of a permanent loss of capital comes with the territory.
A combination of things make CrowdStreet stand out among the crowdfunding real estate companies, including its:
Highly usable deal pages and investor dashboard.
Consistent deal flow across a range of commercial real estate types and project lengths.
High transparency with fees and past deal performance.
Yes, some investors on its platform have experienced a deal gone bad, wiping out a significant portion of their capital, but CrowdStreet gets credit for making the realized results of all of its offerings public. This commitment to transparency should be lauded.
CrowdStreet's due diligence is comprehensive and transparent. Brandon Burns, a sponsor from San Diego, commented, "I have listed deals on CrowdStreet and their due diligence is super deep. It took me three months to get my last deal listed. It was a pain, but it props them up."
As a whole, CrowdStreet is one of the better crowdfunding platforms for accredited investors. It balances a healthy deal flow with excellent due diligence, enabling investors to earn strong returns against minimal losses thus far. Add in its transparency and educational resources, and it stands out in this crowded sector.
Got $1,000? The 10 Top Investments We'd Make Right Now
Our team of analysts agrees. These 10 real estate plays are the best ways to invest in real estate right now. By signing up to be a member of Real Estate Winners, you'll get access to our 10 best ideas and new investment ideas every month. Find out how you can get started with Real Estate Winners by clicking here.