Get our 43-Page Guide to Real Estate Investing Today!
Real estate has long been the go-to investment for those looking to build long-term wealth for generations. Let us help you navigate this asset class by signing up for our comprehensive real estate investing guide.
Self-storage investing has been around for decades, but over the past few years, this niche of commercial real estate investing has grown in popularity, now with over 1.7 billion square feet in an estimated 45,000 to 60,000 facilities nationwide, according to Sparefoot. Investors looking to diversify their assets in the highly competitive and high-priced market are looking to an alternative investment like storage.
If you're considering investing in self-storage, learn how self-storage investing works, the pros and cons of self-storage, and tips and resources for investing in this industry before getting started.
Why invest in self-storage?
For many real estate investors, self-storage is an appealing asset class because it has large income potential with low overhead, fewer construction costs than other commercial real estate (CRE) sectors, and relatively low ongoing management. A small to mid-size self-storage business can be nearly self-sufficient, requiring only part-time management.
Since tenants do not reside on the property, there is less emotional equity and fewer building components that can go wrong. Leases are month to month, allowing owners to capture rental rate increases faster.
There is also a wide pool of established self-storage facilities to purchase, making this an easy industry to jump into. Self-Storage Almanac found that as of 2019, 73% of self-storage facilities were owned by small operators, which includes small investors who own one or two facilities or mom and pop-run businesses.
As of March 2020, the average annual revenue for the self-storage industry was $39 billion, with 9.4% of all households renting a storage space. There is a demand for storage space, which will likely grow as generations transition into their next stage of life.
In summary, self-storage is an appealing asset for several reasons, including:
Cash flow with large income potential.
Low construction and building costs.
Low overhead and expenses.
Facilities can be self-sufficient, requiring only part-time management (depending on size).
Month-to-month tenancy allows for rental rate increases sooner.
Growing demand in this $39 billion industry.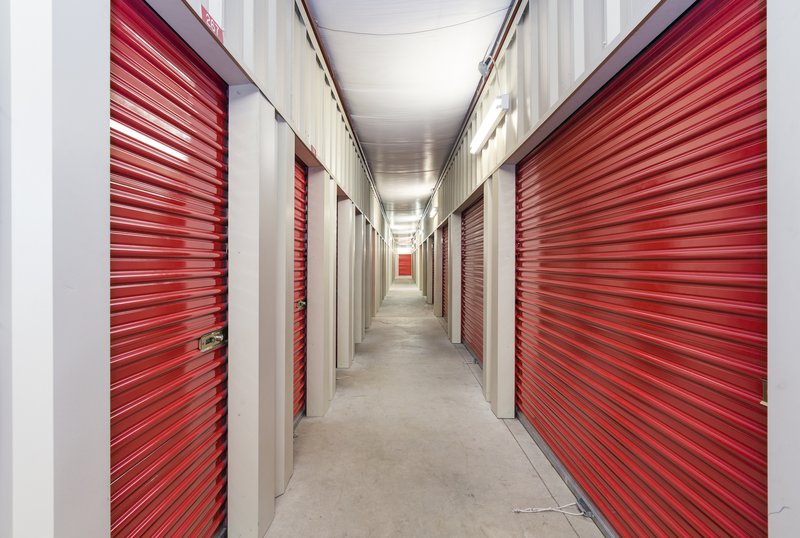 How to invest in self-storage
If you want to invest in self-storage, the first decision you will need to make is deciding how you want to invest.
Storage REITs
The easiest way to invest in self-storage is by purchasing shares in a self-storage real estate investment trust (REIT). This is the most passive investment option that requires the least amount of time while still receiving a return on investment through dividend returns.
Active Participation in Self-Storage
However, if you would prefer to actively participate in self-storage, you can invest in your own self-storage facility. There are two options when it comes to actively investing in self-storage:
Developing a self-storage facility from the ground up.
Purchasing an existing facility.
Developing a self-storage facility
This is the most cost- and labor-intensive method for investing in this industry; however, it can be extremely lucrative if done properly. It takes a high level of experience, knowledge, and resources to help make this a successful endeavor. Newly built self-storage facilities are considered Class A storage facilities and have the highest value in the storage market.
If you choose to develop your own self-storage facility, you will want to begin by identifying a parcel of land to purchase in a market that has a high demand and low supply of storage units. Ideally, the site location will have at least three acres for construction, although multistory buildings can be built on less acreage.
It's important to check with the local municipalities to ensure you understand their zoning, permitting, and development procedures and that the facility can be developed at the site as intended. The lower the land and construction cost, the better your return, so it's important to find the right site at the right price.
The building should be constructed to meet the local demand, providing the desired unit mix for the area while meeting local building, fire, and safety codes. The developers should be forward-thinking, developing a building that will appeal to the big buyers -- the REITs. Look at similar facilities owned or built by REITs like Public Storage (NASDAQ: PSA) and follow suit, designing buildings that match or exceed their standards and amenities, such as climate control.
Keeping construction costs and timelines to a minimum is a crucial step in a successful development project. Most investors choose to have a project manager who can help facilitate and manage the day-to-day operation and construction of the facility.
Once built, the property will be in "lease-up" mode, meaning the facility will be actively marketing for new tenants and leasing the units as fast as possible at current market rates. This can take several months to a year, depending on the facility's size. Having an effective marketing plan, properly priced units, and quality management in place will help expedite this period.
Once the property is leased up, the developer can hold it long term, complete a cash-out refinance, or sell the property to a third party buyer (likely a REIT).
Purchasing an existing self-storage facility
If you choose to take the alternative route and purchase an existing facility, the first step will be finding a self-storage facility to purchase. You can search online at industry websites like LoopNet, Crexi, Argus Self Storage, or List Self Storage or work with a commercial broker. Additionally, you can market to facility owners using direct mail marketing.
Just like other CRE properties, self-storage facilities are listed and sold based on capitalization rates, or cap rates, which directly relate to the property's net operating income (NOI). This is how much cash flow the property produces after accounting for all income and expenses. The higher the cap rate, the better the rate of return for the buyer and the higher return investment is likely to be achieved. Do a cash flow analysis, looking at all expenses relating to operating the self-storage business, including:
Property insurance.
Advertising or marketing.
Management fee (at least 5% of gross rents suggested).
Payroll (for larger facilities).
Office supplies.
Phone or internet.
Utilities.
Credit card processing fees.
Online software.
Lawn care and pest control.
Repairs and maintenance.
Trash service.
Miscellaneous fees.
The property should have sufficient cash flow to cover all expenses as well as any debt service; however, if the property is underperforming, it may not have sufficient cash flow to cover expenses until the property is improved.
Most existing self-storage facilities are Class B or C facilities, especially those owned by mom and pop investors. Many times they are older in age, have some wear and tear, and are likely not performing to market standards. This allows buyers to add value by making capital improvements, increasing rents, expanding, reducing costs, and applying better management practices, among other activities.
Ideally, you want to find or create a facility that has:
Multiple unit sizes advertised at market rents.
Attractive building or buildings (fresh paint, clear branding, manicured lawn, appears safe).
Proper drainage (meaning units won't flood or freeze shut during inclement weather).
Proper signage with facility name and number easily visible.
Automatic gate with 24-hour access.
Proper lighting (ensuring the facility is safe at night).
Security cameras.
A website with online rental and payment capabilities.
While not every facility requires all of these items, adding these features will increase the property's value. If you're in a rural area where there is only one other facility and a few thousand people in town, it's unlikely the cost of adding automatic gates and security cameras is warranted for the market demand. Investors should meet market standards.
It's also good to keep in mind that some areas demand climate-controlled units while others do not. For example, climate-controlled storage in Florida is standard, because of the high humidity and extreme heat in the summer. Your facility's location will help dictate what features to include.
Once a facility has been identified, you will negotiate a purchase price based on your cash flow analysis and desired rate of return or yield. It's important to make your offer based on the current operation of the facility while keeping in mind the potential pro forma projections of the facility. After a price has been agreed upon, the buyer will want to secure financing and conduct due diligence within the inspection period outlined in the commercial contract.
Due diligence can include:
Reviewing current and past three years of profit and loss statements and balance sheets.
Reviewing seller's past three years of tax returns.
Reviewing current rent roll.
Verifying income and expenses (matching to bank statements).
Ordering a survey.
Phase I inspection (needs to be bank ordered if obtaining financing).
Appraisal (needs to be bank ordered if obtaining financing).
After closing on the sale, the new owner will have to handle the day-to-day management of the facility, including:
Renting self-storage units.
Marketing.
Collecting rent.
Paying sales tax.
Maintaining the facility.
Sending late or lien notices.
Handling lockouts and/or auctions.
The management of a storage facility will vary based on size.
| Storage Facility Size | Approximate Number of Units | Management Requirements |
| --- | --- | --- |
| Small | 100 or fewer | Usually doesn't require a full-time or on-site manager. Can typically be managed through weekly visits of a part-time employee or manager. |
| Medium | 100 to 300 | Will generally offer on-site management, which can be in house or through a third-party company. |
| Large | 300+ | Generally has enough cash flow and income to warrant using a third-party management company to handle the operations of the facility. |
Financing for self-storage investing
Obtaining financing for the facility is one of the key factors in being able to invest in self-storage. The small business association (SBA) offers some of the most popular loan programs for self-storage investors, including the SBA 504 (for the development of a facility) and SBA 7a (for existing facilities).
SBA loans are recourse loans, but their rates are typically competitive without balloons and only require around 10% to 15% down. SBA loans will also include working capital and capital improvement costs into the loan.
Investors can also seek conventional financing, which will require at least 20% down and typically will not include working capital or capital improvements into the loan cost and will have a balloon after a few years.
Another less common option investors can pursue is asking for owner financing, where the seller carries financing for the buyer. There are other CRE loans, including private financing, crowdfunding, or bridge loans, but those options aren't as popular.
The most important factor lenders will look at when attempting to fund a self-storage deal is the debt service coverage ratio (DSCR). For this reason, the higher the NOI of the facility, the more likely it is to be underwritten. Most lenders in the self-storage industry look for a DSCR in the 1.25 to 2.0 range.
Drawbacks of self-storage investing
Now that we've talked about why you would want to invest in self-storage and how to do it, let's discuss the drawbacks of this industry. Self-storage investing does have risks, the largest of which is the lien process.
Storage Wars has made the process of auctioning self-storage facilities seem profitable and glamorous at times, but in all honesty, it's extremely risky for facility owners. Most facility owners try to avoid the lien process as much as possible because of it's litigious nature. A tenant can sue you even if you've followed your state's rules regarding the lien and auction process, potentially leading to expensive legal fees and unwanted headaches.
Oversupply is another concern for self-storage investors, especially lately. 2018 and 2019 saw huge spikes in new development and construction in this sector, pumping out nearly 67 million square feet of self-storage in 2018 and 64.5 million square feet in 2019, according to Steven Weinstock of Marcus and Millichap.
This has led to flatlining rental rates and increased vacancy rates for the industry, especially in large metro markets where development is the highest. Luckily the market seems to be slowing, with less than 60 million square feet expected to be produced in 2020. This means choosing the right market is more important than ever and to keep expectations for cap rates, NOIs, and vacancy rates relative to the local market standards.
Tools and resources for investing in self-storage
This article is by no means everything you need to know about investing in self-storage. It's simply a resource to help you understand how you can begin investing in self-storage and how this industry works in general.
If you're looking for additional resources, a great place to start is your state's local Self-Storage Association (SSA). Continue reading about self-storage investing, and begin searching websites for current facilities for sale to get a feel for the local market and buying process.
This industry can be extremely lucrative and a great, low-maintenance way to invest in CRE, but it is not without risk. Make sure it's the right business for you before investing.
Got $1,000? The 10 Top Investments We'd Make Right Now
Our team of analysts agrees. These 10 real estate plays are the best ways to invest in real estate right now. By signing up to be a member of Real Estate Winners, you'll get access to our 10 best ideas and new investment ideas every month. Find out how you can get started with Real Estate Winners by clicking here.
Liz Brumer-Smith has no position in any of the stocks mentioned. The Motley Fool has no position in any of the stocks mentioned. The Motley Fool has a disclosure policy.