Get our 43-Page Guide to Real Estate Investing Today!
Real estate has long been the go-to investment for those looking to build long-term wealth for generations. Let us help you navigate this asset class by signing up for our comprehensive real estate investing guide.
One of the biggest hot-button issues these days is the dearth of affordable housing, especially around the huge metropolitan areas of San Francisco and New York City. While these cities have experienced job growth over the past decade, the supply of housing has not kept up. This has been termed the "jobs-housing mismatch," and it is an issue that has confounded policymakers and employers. What does it mean for real estate investors going forward?
What is the jobs-housing mismatch?
In practical terms, the jobs-housing mismatch means that housing remains scarce around big metropolitan areas, which drives up the cost of real estate. Housing prices have risen particularly fast around San Francisco, where a combination of local zoning codes and geographic limitations have conspired to keep supply low and prices high.
The effect of the mismatch is that many workers (primarily lower-paid ones) cannot find affordable housing within a reasonable commuting distance. This acts as a drag on the economy; growth is slower than it otherwise would be. It also imposes other costs on the economy (especially environmental costs) when workers have to commute long distances.
The U.S. has underbuilt for over 15 years
The problem with low supply isn't just an urban phenomenon. When the real estate bubble burst in 2008, the U.S. saw a collapse in new homebuilding. Part of this was due to overbuilding during the bubble years, but housing starts have only recently returned to historic norms.
According to the chart below, housing starts are right about where they were in the late 1950s. Since 1957, the U.S. population has increased from 178 million to 333 million. If housing starts had kept pace with population growth, they would be 3 million annually. But they are at half that level.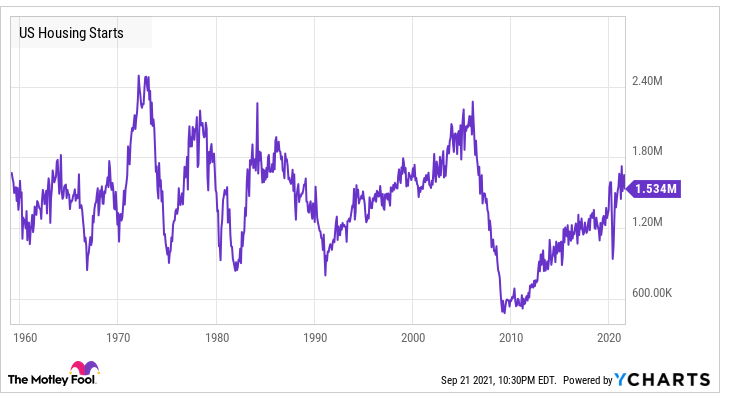 As a result of this housing shortage, we have seen tech companies leave expensive urban areas for cheaper cities with strong knowledge-based workforces. Austin, Texas, has been one of the biggest beneficiaries, and real estate prices in that metropolitan area have been on a tear, rising 39% in the last year alone.
We are also seeing strong appreciation in home prices in Sun Belt cities like Phoenix and Las Vegas. Policymakers are zeroing in on single-family zoning, hoping to force local governments to allow multifamily apartments in more areas.
Equity Residential's focus benefits from the mismatch
One of the biggest beneficiaries of the jobs-housing mismatch is probably apartment REIT (real estate investment trust) Equity Residential (NYSE: EQR). Equity Residential develops high-end apartment buildings in urban and dense suburban environments.
The company focuses primarily on cities with large knowledge-based industries -- places like San Francisco, Seattle, New York City, and Washington, D.C. These workers tend to be highly paid, and they prefer walkable urban environments. The increase in home prices (especially in urban areas) means that market rents are also rising.
While Equity Residential found itself making rent concessions during the pandemic to maintain occupancy levels, those leases are expiring, and new leases are being reset to market levels. This will drive earnings (and dividends) going forward.
Rising prices help American Homes 4 Rent
Another beneficiary of this mismatch is American Homes 4 Rent (NYSE: AMH), which buys and builds single-family homes in suburban markets and rents them out. Not only does American Homes 4 Rent receive rental income from its tenants, but it is also seeing steep price appreciation on its properties. When you combine a mid-teens rate of appreciation with rental income, you have returns that are almost impossible to duplicate in the financial markets.
The Millionacres bottom line
Ironically, the COVID-19 pandemic might provide the solution to the issue. The pandemic proved that many businesses can operate just fine with a fully remote workforce. For knowledge-based industries, the idea that workers must live within commuting distance of their place of employment is fast becoming moot.
The ability of companies to source workers from all over the country will remove a friction point that has been with the economy for a long while. In the meantime, the policy response will be to encourage multifamily building in dense urban areas and to attack overly restrictive zoning regulations. Ultimately, the solution will be more building overall.
Got $1,000? The 10 Top Investments We'd Make Right Now
Our team of analysts agrees. These 10 real estate plays are the best ways to invest in real estate right now. By signing up to be a member of Real Estate Winners, you'll get access to our 10 best ideas and new investment ideas every month. Find out how you can get started with Real Estate Winners by clicking here.
The Motley Fool has no position in any of the stocks mentioned. The Motley Fool has a
disclosure policy
.