Get our 43-Page Guide to Real Estate Investing Today!
Real estate has long been the go-to investment for those looking to build long-term wealth for generations. Let us help you navigate this asset class by signing up for our comprehensive real estate investing guide.
Apartment real estate investment trusts (REITs), also known in the industry as multifamily REITs, let investors combine resources to invest in residential real estate without the hassles of being a landlord.
As homeownership rates dwindle, these companies may prove to be a better investment than other residential REITs.
A big market for residential REITs
According to recent data from the National Association of Real Estate Investment Trusts (NAREIT), residential REITs beat out most other REIT categories. Apartment REITs surpassed hotel, office, and healthcare REITs in terms of market capitalization.
What matters more to investors, though, is the overall rate of return one can expect. Below is a list of the five best-performing publicly traded apartment REITs so far in 2019.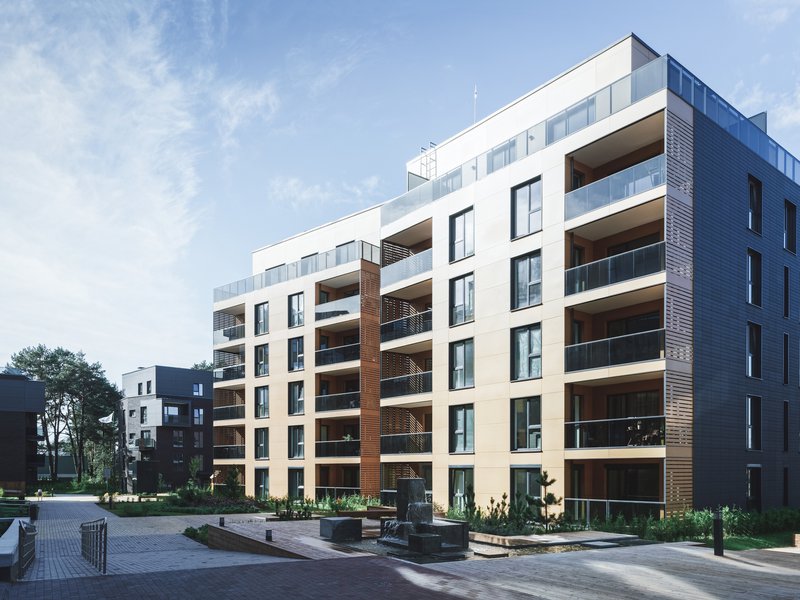 | | | |
| --- | --- | --- |
| REIT | Market Capitalization | Dividend Yield |
| NexPoint Residential (NYSE: NXRT) | $1.16 billion | 2.37% |
| BlueRock Residential Growth REIT (NYSEMKT: BRG) | $280 million | 5.25% |
| Essex Property Trust (NYSE: ESS) | $21.26 billion | 2.40% |
| UDR (NYSE: UDR) | $14.27 billion | 2.83% |
| Independence Realty Trust (NYSE: IRT) | $1.24 billion | 5.21% |
So far in 2019, these five REITs have been the best performing stocks among the 20 publicly traded REITs on a total return basis, which means both stock price appreciation and dividends paid thus far. All of them have outpaced S&P Global REIT Index by a comfortable margin.
NexPoint Residential buys, owns, and operates middle-income apartment properties in large cities and nearby suburbs. The company has apartments mostly in the Southeast and Texas. NexPoint targets affordable workforce housing with amenities for young adults.
BlueRock Residential Growth REIT acquires luxury Class A apartment buildings that are less than 10 years old. These apartments often have a ton of amenities and garner higher rent prices. They're located across the U.S. in desirable high-growth areas with a healthy employment market. Their top three markets are Atlanta, Houston, and Orlando.
Essex Property Trust acquires, develops, redevelops, and manages apartment properties on the West Coast (especially Northern California and Seattle). The company focuses on areas that lack a supply of available apartment units. Essex has more than $1 billion worth of development scheduled to be completed this year.
UDR owns, develops, and acquires luxury apartments throughout the country. This REIT looks for properties in desirable urban areas that demonstrate job growth. They also seek areas where there's a shortage of affordable single-family homes relative to the area's median income. These areas include New York City; Los Angeles; Washington, DC; and San Francisco.
Independence Realty Trust owns and manages apartments largely in non-gateway Southeastern and Midwestern markets with good schools and retail options. These are secondary markets that aren't as popular as major metropolitan cities -- this includes Atlanta, Louisville, Memphis, and Raleigh.
Forecast for apartment REIT investing
Apartment REITs are poised to continue growing as the job market remains healthy, rents grow consistently, and people hold off on home-buying.
The new supply of apartments will likely remain elevated through 2019 and into 2020, but rents and vacancies will continue outperforming historical averages, according to Freddie Mac. The mortgage giant went on to say that some weakness in individual markets and submarkets is evident, but the overall multifamily market remains healthy.
Calvin Schnure, an economist at NAREIT, noted that while multifamily construction may be high, total residential construction is not. "The pace of single-family construction has continued to lag, more than offsetting the modest strength in the multifamily sector," he said.
Invest in apartment REITs
Apartment REITs offer high returns and seem likely to continue doing so. NextPoint Residential, BlueRock Residential, Essex Property Trust, UDR, and Independence Realty Trust have so far been the best performing REITs in 2019. Whether they can continue to outpace the broader REIT index will depend upon the residential market continuing on its current trajectory, especially in the individual markets each of these companies serve.
Got $1,000? The 10 Top Investments We'd Make Right Now
Our team of analysts agrees. These 10 real estate plays are the best ways to invest in real estate right now. By signing up to be a member of Real Estate Winners, you'll get access to our 10 best ideas and new investment ideas every month. Find out how you can get started with Real Estate Winners by clicking here.
Carisa Chappell has no position in any of the stocks mentioned. The Motley Fool has no position in any of the stocks mentioned. The Motley Fool has a disclosure policy.