Get our 43-Page Guide to Real Estate Investing Today!
Real estate has long been the go-to investment for those looking to build long-term wealth for generations. Let us help you navigate this asset class by signing up for our comprehensive real estate investing guide.
Industrial real estate isn't the most aesthetically appealing property type. However, this type of real estate is vitally important to the global economy, especially to companies focused on the e-commerce sector. Because of that, demand continues to grow, which has enabled industrial-focused real estate investment trusts (REITs) to create lots of value for their investors throughout the years.
That's certainly true of industrial REIT EastGroup Properties (NYSE: EGP). For example, $10,000 invested in the REIT at around the time of its initial public offering in 1971 would have generated an eye-popping total return of more than $914,000.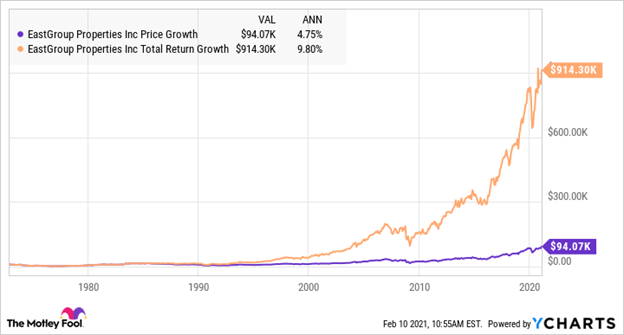 Clearly, the REIT has had millionaire-making potential in the past. The question remains whether it will deliver similar success in the future. Here's a look at the REIT's prospects of enriching investors in the future.
The math to $1 million
As EastGroup's historical returns show, a relatively small investment can grow into a $1 million nest egg given enough time and rate of return. In EastGroup's case, it has produced average annual total returns of 9.8% for the last several decades. To put that into perspective, a $10,000 investment that compounds at a 10% yearly clip -- roughly the historical return of the S&P 500 -- grows into a $1 million payday in about 46 years. Thus, EastGroup has been on a slightly slower pace of minting millionaires than the broader market throughout its history.
However, it has quickened its pace in more recent years, producing a 16.9% total annualized return over the past decade, outperforming the 13.8% rate of the S&P 500. If it can keep that up, EastGroup could turn a $10,000 investment into a $1 million payday in as few as 28 years.
A look at EastGroup's millionaire-making potential
Driving the REIT's accelerated total returns over the past decade has been the increasing demand for warehouses to support fast-paced growth in e-commerce. That's right in the sweet spot for EastGroup, given its focus on owning distribution space near major transportation hubs.
EastGroup Properties currently owns about 47 million square feet of space, primarily in Sun Belt markets like Florida and Texas. The company focuses on developing new projects or acquiring value-add opportunities such as facilities with redevelopment potential. While these types of investments have a higher risk profile, they tend to generate higher returns.
The company has an excellent development track record. Since it started this strategy in 1996, it has invested $1.7 billion to build 215 properties with 21 million square feet of space. EastGroup has developed 46% of the properties in its current portfolio.
East Group has also made $257 million of value-add acquisitions since 2016. These investments have paid dividends, as the company estimates it has a $360 million current market value.
The company has several development and value-add projects underway that should drive growth in the coming years. At the end of 2020, it had a total of 16 projects representing $291.5 million of investment. While the company has only leased 35% of those projects as of early 2021, it should be able to find tenants, given the increasing need for warehouse space.
The tailwinds driving industrial real estate demand -- fast-growing e-commerce sales and shifting inventory strategies -- should continue to propel demand for warehouse space in the coming years. According to industrial real estate giant Prologis (NYSE: PLD), every $1 billion in incremental e-commerce sales drives the need for an additional 1.2 million square feet of warehouse space. Given the current sales growth projection, the U.S. may need an additional 1 billion square feet of logistics space by 2025, implying that EastGroup Properties should be able to continue developing new facilities and making accretive value-add investments.
What's not clear yet is if demand for warehouse space will continue to grow at such a fast pace for the next few decades. If it doesn't, EastGroup might not be able to earn lucrative returns on new development and value-add investments, the keys to its ability to produce above-average total returns. However, it does seem likely that demand for industrial real estate will continue growing, even if it does cool down in the decades ahead.
An enriching REIT
EastGroup Properties has done an excellent job creating value for its investors over the years. Its focus on investing in development and value-add industrial real estate projects has enabled the REIT to grow its earnings consistently and increase its dividend in 25 of the last 28 years.
Given that the demand for the properties it invests in should remain strong for several years, the REIT should be able to continue growing shareholder value at an above-average rate. Because of that, it certainly seems to have millionaire-making potential for long-term investors.
Got $1,000? The 10 Top Investments We'd Make Right Now
Our team of analysts agrees. These 10 real estate plays are the best ways to invest in real estate right now. By signing up to be a member of Real Estate Winners, you'll get access to our 10 best ideas and new investment ideas every month. Find out how you can get started with Real Estate Winners by clicking here.