Get our 43-Page Guide to Real Estate Investing Today!
Real estate has long been the go-to investment for those looking to build long-term wealth for generations. Let us help you navigate this asset class by signing up for our comprehensive real estate investing guide.
Community Healthcare Trust (NYSE: CHCT) is one of 17 REITs focused on owning real estate related to healthcare. Those property types can include senior living facilities, hospitals, medical office buildings, and skilled nursing facilities.
Community Healthcare is a relative newcomer to the healthcare REIT subgroup, having completed its IPO in May 2015. Because of that, it's among the smallest in the sector, as its roughly $1 billion equity market capitalization value is dwarfed by that of leader Welltower (NYSE: WELL) and its $24 billion market cap.
However, that small size doesn't necessarily mean it's not the best in the space. Here's a look at how it compares to its peer group.
Impressive past performance
Community Healthcare Trust has been growing by leaps and bounds since it burst onto the scene about five years ago. The REIT used its IPO cash to acquire 29 properties with 471,000 square feet in 14 states for $87.5 million. It has since invested a total of $664.7 million and grown its portfolio to 131 properties in 33 states totaling 2.8 million square feet.
That expansion has paid big dividends for investors, as the healthcare REIT has outperformed its largest rivals by a wide margin: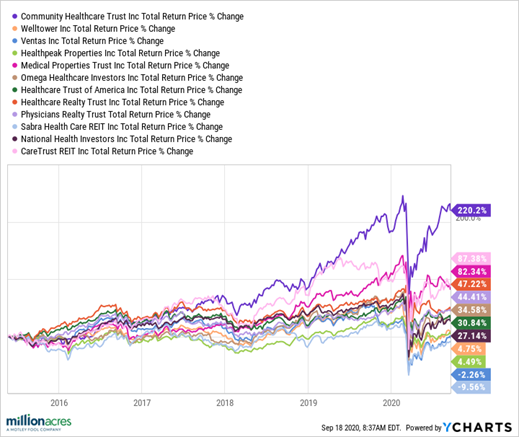 One factor driving its significant outperformance is the REIT's consistent dividend growth. It has increased its dividend every quarter since its IPO. That makes it stand out in the sector, as several of its peers have reduced their payouts this year because of the impact of COVID-19 on their operations.
Among those hardest hit by the pandemic were healthcare REITs with large portfolios of senior living communities. For example, industry leaders Welltower and Ventas (NYSE: VTR) reduced their dividends by 30% and 43%, respectively, in 2020 due in large part to lower occupancy and higher costs at their senior housing operations. As a result, their share prices have both declined more than 25%.
One of the keys to Community Healthcare's strength amid the storm was the overall diversification of its portfolio. Instead of owning volatile senior living properties, the company focuses on owning medical office buildings (34.3% of ABR), behavioral inpatient acute (15.9%), inpatient rehabilitation facilities (14.5%), physician clinics (11%), and specialty centers (10.4%). These properties held up very well during the pandemic, as tenants only requested rent deferrals equating to less than 1% of the REIT's annual rental income, which most agreed to pay by year end.
Can its best-in-class growth continue?
Given Community Healthcare's past success, one could argue it has been the best medical REIT since its IPO five years ago. However, that doesn't necessarily mean it will continue thriving in the years ahead.
On the one hand, it's impossible to predict the future. For example, large healthcare REITs like Ventas and Welltower started shifting their portfolios to senior living communities because demographic trends suggested they could capture outsized growth. However, the pandemic might have significantly altered that business, since people could be reluctant to move into a place where they can't visit family during a future health crisis.
Still, demographics play a significant role in the future of healthcare and, thus, demand for healthcare-related real estate. That's leading Community Healthcare to focus its investment approach on regions where the population is growing at an above-average rate. Its strategy centers around buying healthcare properties in nonurban areas in the western mountain states, along the southeastern coast (including Florida), and in the south-central region (including Texas).
These areas tend to be off the beaten path for most real estate investors, enabling Community Healthcare to buy off-market or lightly marketed properties and earn higher cap rates. Because of that, it has a large, addressable market opportunity with limited competition.
Meanwhile, the REIT has lots of financial flexibility to continue making acquisitions. It has a healthy balance sheet with a stated policy to keep debt at a low level. It also has a reasonable dividend payout ratio of 81% of its AFFO during the second quarter.
While it has a solid financial profile, the REIT lacks the scale advantages of some of its larger peers. For example, it has yet to tap the corporate bond market and thus doesn't have an investment-grade credit rating, which would enhance its ability to raise capital from investors.
Meanwhile, its decision to stay away from urban areas means focusing on smaller healthcare operators instead of larger entities. That suggests it will have to rely on a steady string of bit-sized acquisitions each quarter as opposed to completing a couple of needle-moving opportunities every few quarters.
It's right up there with the best
On the one hand, Community Healthcare lacks the scale of its larger peers, which could affect its ability to raise capital and grow in the future. However, it has delivered peer-leading dividend growth and total returns since its IPO. That outsized growth appears poised to continue for the foreseeable future, which certainly makes this REIT seem like one of the best in the healthcare REIT space.
Got $1,000? The 10 Top Investments We'd Make Right Now
Our team of analysts agrees. These 10 real estate plays are the best ways to invest in real estate right now. By signing up to be a member of Real Estate Winners, you'll get access to our 10 best ideas and new investment ideas every month. Find out how you can get started with Real Estate Winners by clicking here.
Matthew DiLallo has no position in any of the stocks mentioned. The Motley Fool has no position in any of the stocks mentioned. The Motley Fool has a disclosure policy.