Get our 43-Page Guide to Real Estate Investing Today!
Real estate has long been the go-to investment for those looking to build long-term wealth for generations. Let us help you navigate this asset class by signing up for our comprehensive real estate investing guide.
The real estate industry is red-hot, and everyone is vying for a piece of the action. And while any investment will require hard work and energy, there's a growing number of accessible and affordable ways for everyday consumers to invest in real estate online -- especially with the advent of real estate technology.
The following methods will allow you to take that first step to becoming the next real estate mogul, all from the comfort of your laptop or smartphone:
REIT ETFs and mutual funds
Real estate notes
Invest in a real estate-focused company
Let's dive into each of these investment opportunities in further detail:
1. Invest in real estate investment trusts (REITs)
A real estate investment trust (REIT) is a company that buys, manages, and sells real estate investment properties. Investors can purchase a share of a REIT and get a piece of the profits generated from the portfolio of properties. 
For example, a REIT may be comprised of a group of shopping malls across the United States, offering investors the opportunity to own a small piece of 20 or 30 different shopping malls across the country without having to manage the property itself. Buying a REIT can be thought of as similar to buying stocks of companies that own, manage, and lease real estate properties. Most REITs focus on one type of property, such as retail, hotels or health care buildings.
The process of purchasing a physical investment property can be lengthy and strenuous -- and finding trustworthy tenants can take even longer. REITs allow investors to own a share of an income-producing property without the hassle of managing tenants and dealing with costly property maintenance. 
A publicly traded REIT can be invested in by purchasing shares through a broker. Brokerage fees will typically apply and will vary depending on the brokerage. Investors can also purchase shares in a REIT exchange-traded fund or a REIT mutual fund. One share of a public REIT that is not listed on an exchange will typically range in price from $1,000 to $2,500. Private REITs, which can generally only be sold to accredited investors, can range in price from $1,000 to $25,000. Accredited investors have a net worth of at least $1 million or annual income exceeding $200,000.
It is important to note that the U.S. Securities and Exchange Commission (SEC) has warned investors against purchasing non-traded REITs due to their high fees and lack of transparency. Instead, it is advisable to stick with buying publicly traded REITs.
2. Invest in REIT ETFs & mutual funds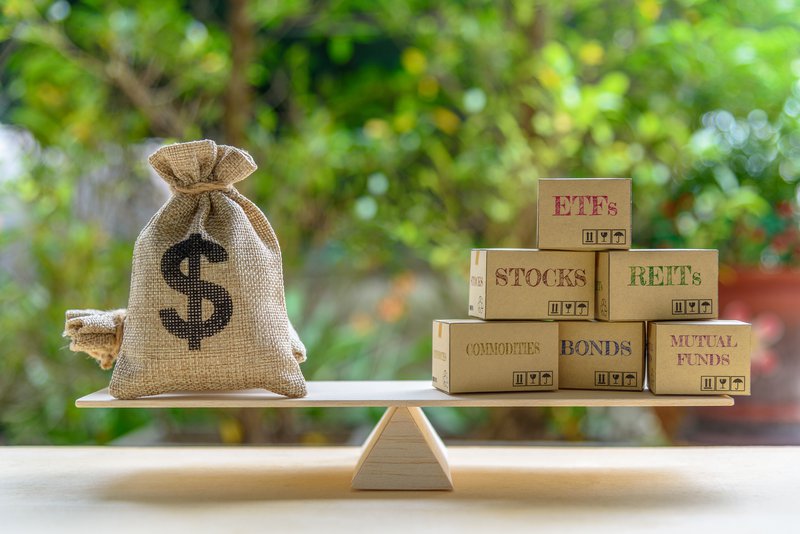 An exchange-traded fund, or ETF for short, is a bundle of stocks or bonds within a single fund. So, rather than picking one or two specific REITs to invest in, you could instead put your cash into a REIT ETF. This would spread your investment across a portfolio of REITs, and reduce the risk of investing in a limited number of markets.
Within one ETF, you may have a REIT that acquires hotels, another than buys apartment buildings, and a third that purchases retail space. REIT ETFs offer investors broad diversification with low overall fees. 
A real estate mutual fund is a hands-off way of investing in real estate. You invest in a fund that is focused on real estate securities (usually stocks) and, as with any mutual fund, they then reinvest any earnings back into the fund. The fund manager will invest in a mix of REITs, firms that sell real estate, real estate software providers, and property management companies. 
A real estate mutual fund can be made up of a portfolio of shares in several REITs and real estate companies. Unlike owning physical real estate itself, real estate mutual funds are relatively liquid and can typically be sold in a day or two.
Investors can purchase shares in a REIT mutual fund or exchange-traded fund (ETF) just like any other public stock, as it is listed on major stock exchanges. When determining REIT investments, it is advisable to speak with a broker, investment advisor, or financial planner who can recommend appropriate investments.
3. Invest in real estate notes
To make it simple, a note is a promise to pay. Anytime you borrow money, such as with a mortgage, you create a note that states you will pay the lender back. 
If the note is "performing," that means the borrower is making consistent payments towards the loan. The investor can then purchase the performing note and start receiving the payments -- essentially acting as the bank -- resulting in a steady stream of passive income.
As with any type of real estate investment, there are risks involved too. Specifically, there is always the risk that the borrower will stop making payments and default on their loan. If this happens, you as the note owner will then need to take possession of the property through foreclosure or sue the borrower. To help prevent that from happening, it is strongly advised to carefully research the home's value, borrower's credit history, and loan document details.
There are several places to buy real estate notes online, such as with BankProspector, Paperstac, and Loan MLS.  
4. Real estate crowdfunding
Latest technology offers a plethora of new and innovative tools for connecting aspiring real estate investors with investment opportunities. Crowdfunding platforms provide one such environment. Read our top rated crowdfunding platform reviews here.
Real estate crowdfunding is an online investment platform that allows prospective real estate investors to place funds into specific projects. Essentially the platform connects real estate developers with investors, who then put their cash into that project -- say, redeveloping an apartment complex. When the project is completed, which can be five to ten years, the investor gets their share of the profits.
The primary difference between using a crowdfunding site versus flying solo on your investment journey is that your investment is managed by a team of real estate professionals. Of course, that is also the biggest risk as you are completely dependent on the project developer to deliver what they promised.
If you are not an accredited investor but want to be involved in real estate crowdfunding, companies such as Fundrise, stREITwise, and RealtyMogul are a great place to start. Each platform will have a portal to create an account, select a real estate investment, enter an investment amount, and track your investment growth. When deciding on which investments to select, each platform offers detailed insight into the property's historical growth performance. It is also important to note that return on investment from a crowdsourcing site is taxed as ordinary income.
5. Hard money loans
For the ready, willing, and able investor who has excess sums of cash on hand but isn't looking for the hassle that a physical property can bring, lending capital to other real estate investors in the form of hard money loans is a way to become involved in the business while having the time to focus on other ventures. However, this investment option is risky and can quickly turn south if careful due diligence isn't in place.
Much like any lending institution, hard money loans are loaned out over a specific time period at a predetermined interest rate percentage. Generally, hard money loans are lent over one- to five-year period, with interest payments made during the first few months and a balloon payment made at the end of the term. 
It is strongly advised to ensure you have strong equity in the deal, and not loan more than 70% of the property's value. It is also wise practice to require the borrower to have title insurance. In the event that you have to foreclose on the property, title insurance will protect you from any liens (unpaid debts) on the property.
This method of investing should only be completed with individuals who you trust will pay the predetermined amount, and the advice of counsel should be sought as a means of financial due diligence. The main difference between a hard money loan and a traditional bank loan is that the hard money loan's amount is primarily focused on the valuation of the piece of real estate versus how much money or credit a borrower has. 
Hard money loans are primarily used for fix-and-flip projects or when a real estate investor needs to act quickly to procure a hot property. Hard money loans (also known as being an "angel investor") can be a highly profitable way of penetrating the industry without picking up a hammer or signing a deed. 
To become an angel investor, you must first be an accredited investor. There are several angel funding groups offered through the Angel Capital Association, and many will allow new angels to participate as a guest so that they can get a sense of the investor's commitment level. Most of these groups also have membership fees as well.
Final takeaways
When determining which avenue to take when investing in real estate online, always consult with a real estate advisor and conduct thorough research into the fees, terms, and timeframe your funds will be held in the investment. 
Remember the adage, "If something seems too good to be true, it probably is." Be wary of companies that tout remarkably high returns, because those are usually the ones with the highest fees and strictest terms. However, as long as you carry out thorough research and due diligence, investing in real estate online can be an extremely lucrative way to acquire passive income.
Got $1,000? The 10 Top Investments We'd Make Right Now
Our team of analysts agrees. These 10 real estate plays are the best ways to invest in real estate right now. By signing up to be a member of Real Estate Winners, you'll get access to our 10 best ideas and new investment ideas every month. Find out how you can get started with Real Estate Winners by clicking here.