Get our 43-Page Guide to Real Estate Investing Today!
Real estate has long been the go-to investment for those looking to build long-term wealth for generations. Let us help you navigate this asset class by signing up for our comprehensive real estate investing guide.
Note: Our market forecast includes Seattle data and data from its surroundings, including Tacoma and Bellevue.
Situated between the Puget Sound and Lake Washington, Seattle is the 15th-largest city in the United States. In total, it's home to almost 4 million people. While its location makes it a major hub for trade in the Pacific region, the city has also made a name for itself as a major center for technological innovation.
In addition, a recent study found that Seattle's population is among one of the fastest growing in the country, with a growth rate of about 2.4%. Together, that influx of people, combined with a strong sense of industry, makes this city a solid choice for investors looking to expand their portfolios.
The state of the market
Surprisingly, though the real estate market in Seattle was undoubtedly impacted by the coronavirus pandemic, the Emerald City, as it's often called, seems to be more insulated than other metros of comparable size. It also seems to be making a faster comeback.
Its unique position may have something to do with the fact that two of the city's largest employers, Amazon (NASDAQ: AMZN) and Microsoft (NASDAQ: MSFT), have thrived over the past year as many people have made efforts to stay home.
With that in mind, here's a look at three trends we're seeing in the Seattle real estate market.
Inventory is frighteningly low
While the nation as a whole is going through an inventory crisis, few places compare to Seattle, which only had 0.8 months of inventory as of January 2021. As a result of the low number of available homes on the market, home prices have also soared to a median of $627,000, up 14% year over year. Luckily, both single-family and multifamily housing permits are up, which will hopefully start to ease some of the low inventory burden.
Rental vacancies have held steady
This metric is one area where Seattle has bucked the national trend. Other major metropolitan areas have had people fleeing their cities in droves now that they're free to work remotely. In contrast, Seattle's rental vacancy rate rose 0.1% on a year-over-year basis, which is good news for landlords.
Financial health indicators are in good shape
In Seattle, both the delinquency rate and the foreclosure rate is well below the national average. While it's likely that some measures such as Mayor Durkan's ban on evictions have hurt landlords, relief options such as mortgage forbearance have enabled them to keep their heads above water.
Seattle housing demand indicators
All data and charts supplied by Housing Tides by EnergyLogic.
Short term, housing demand in Seattle may present a challenge for investors, but as we find a way out of the pandemic, the indicators are starting to show that the city is making a comeback.
Unemployment trends
For the most part, unemployment has held fairly steady in Seattle since 2016. However, in 2020, unemployment surged as a result of the coronavirus pandemic. At its worst, Seattle experienced an unemployment rate of 16.6%, which was higher than the national average of 14.8%. However, the unemployment rate has since dropped.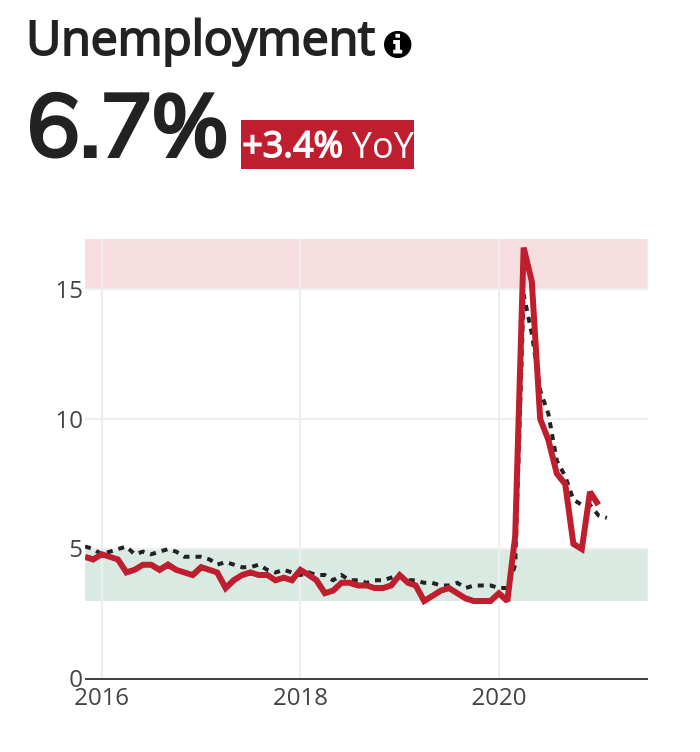 Median home price
Similarly to any major city, the Seattle median home price is typically far above the national average. Still, sale prices in the Emerald City seem to be following along with a national trend. Low mortgage rates are fueling buyer demand, which is causing home prices to rise quickly. At a median price of $627,000, the median home price in Seattle is up 14% year over year, and this trend shows no sign of stopping.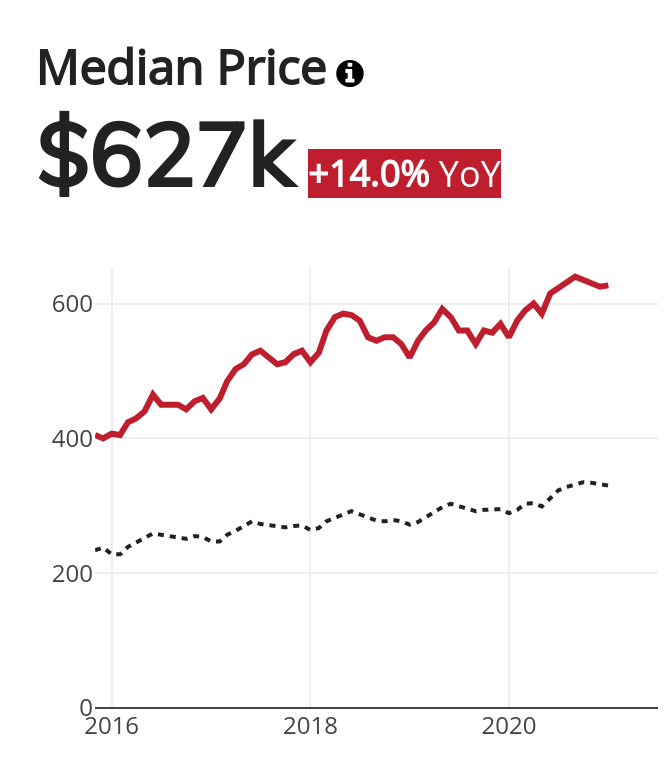 Median rent price
As of December 2020, rents were still dropping in Seattle, settling at an average of $1,896 after coming down from a high of $2,024 before the pandemic. While that drop wasn't as pronounced in Seattle as we saw in more expensive cities like New York or San Francisco, it can likely be attributed to renters who were able to work remotely during the pandemic moving to escape the city's high cost of living.
However, more recent data shows that rents have started to creep back up, suggesting that any setbacks for investors are likely to be temporary. As the vaccine rollout continues and more people return to the office, more renters will begin to return to the city.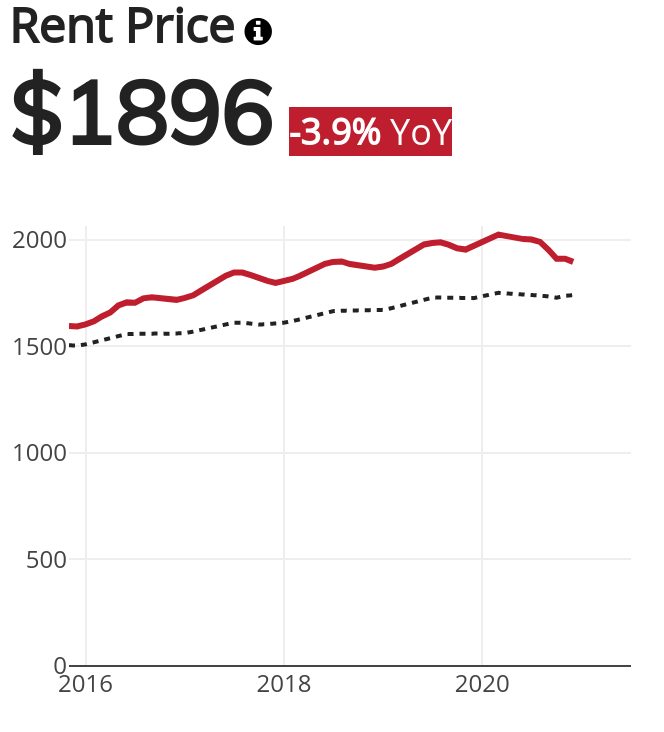 Seattle housing supply indicators
Here's a snapshot of what the housing supply currently looks like in Seattle.
Total housing supply
While housing inventory has been an issue on a national scale for the last few years, the pandemic has only made it worse. Unfortunately, the problem is particularly bad in Seattle. While the United States currently has an average of 1.6 months of inventory, Seattle has less than a month, which means that investors need to be prepared to face lots of competition for available properties.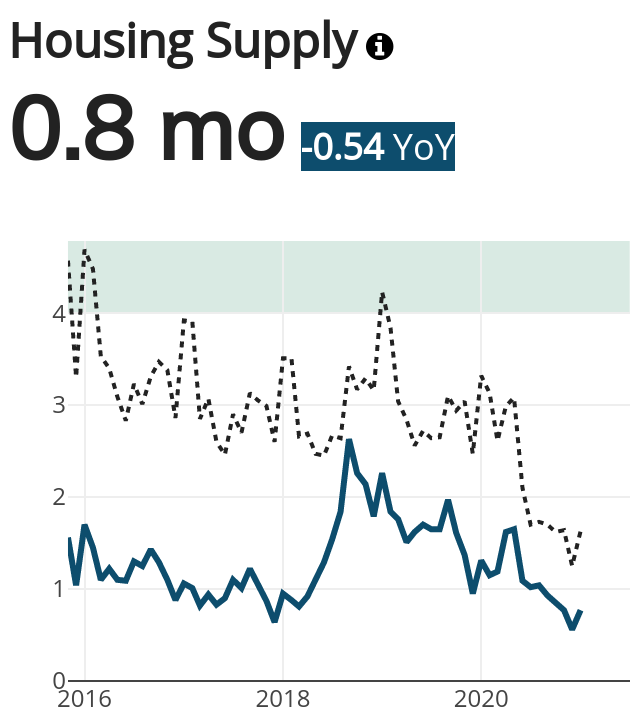 Rental vacancies
On the rental side of things, Seattle seems to be doing better than average. While other major cities have been dealing with a mass exodus now that many people are fortunate enough to be able to work remotely, rental vacancies in Seattle are only up 0.1% on a year-over-year basis. In addition, the 4.4% rental vacancy rate is much lower than the national average of 6.5%.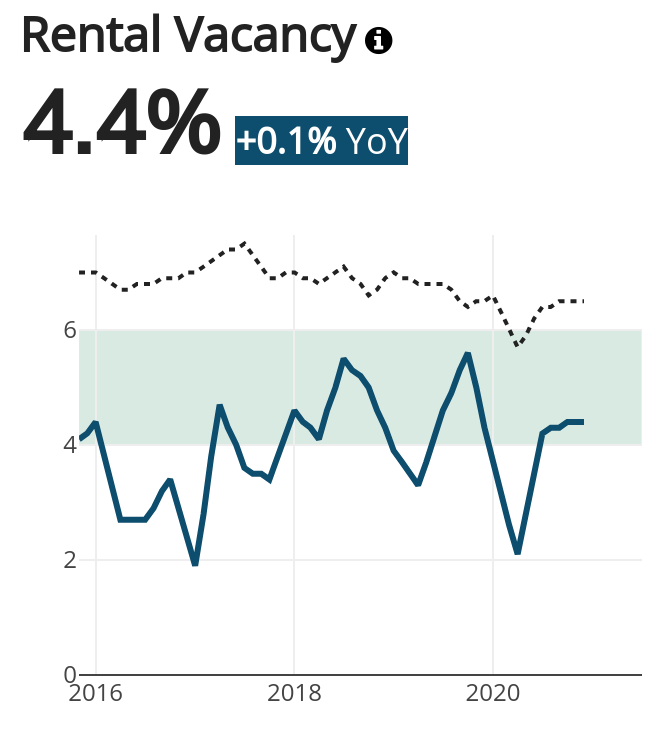 Architectural billings
The architectural billing index typically serves as an indicator of the amount of nonresidential construction in a particular area. Obviously, this index was hit hard by the pandemic. However, in this case, the West fared slightly worse than the nation as a whole.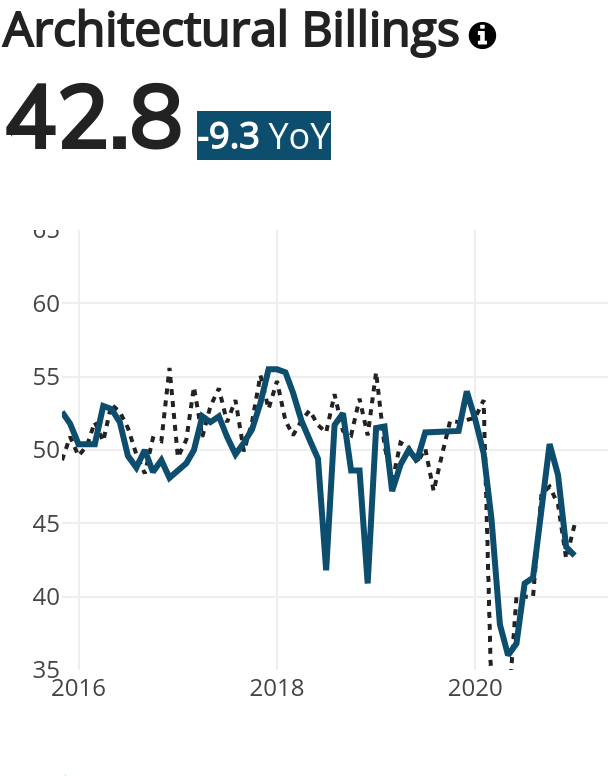 Construction indicators
While construction costs have been on a consistent uptick since 2016, pandemic-related supply chain issues have only made the issue worse. As of February 2021, these costs have risen nearly 7% on a year-over-year basis.
Meanwhile, in terms of construction jobs, Seattle appears to be doing better than most of the nation. A recent report by the Associated General Contractors of America found that construction employment is down in two-thirds of U.S. metros, but the Seattle area was among the few who added construction jobs in 2021.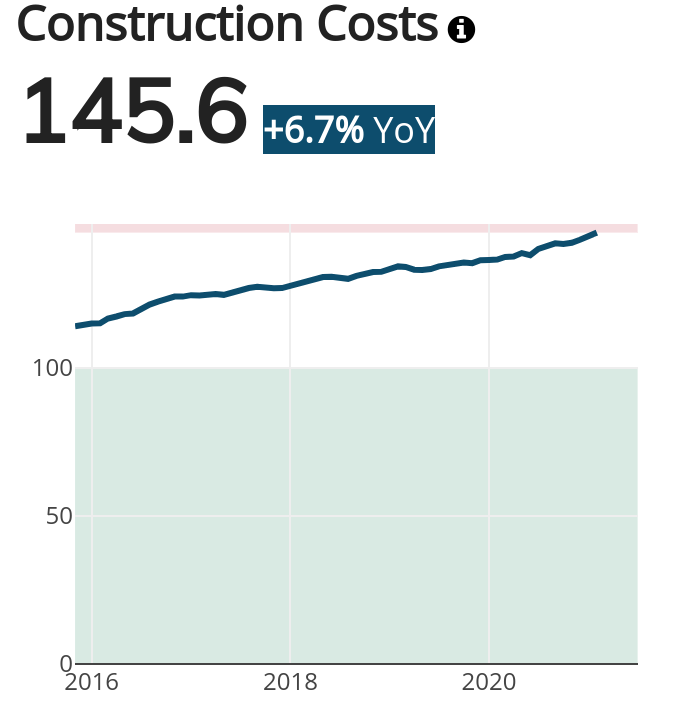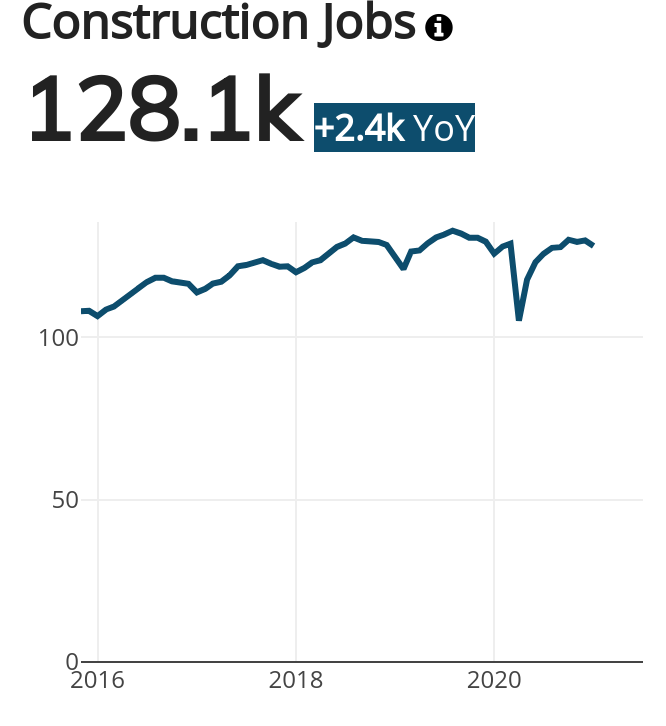 Single-family detached permits
As of February 2021, there were 882 single-family housing permits issued in the Seattle area, which far outpaced the predicted number. On the whole, this looks to be a good thing, since new builds will help ease the massive inventory shortage. That said, investors should be aware that if this trend continues, there is a chance inventory could outpace demand.

Multi-unit permits (2-plus units)
In terms of multifamily housing, again, there were many more permits issued than originally projected. As of February 2021, the city has issued almost 1,500 permits as opposed to the projected 1,139. Short term, this could have an impact on investors, who could face more rental vacancies as inventory rises.

Seattle real estate financial health indicators
Despite the fact that the pandemic has had some impact on the Emerald City's financial health indicators, Seattle seems to be doing better than the rest of the nation.
Delinquencies
Year over year, delinquencies are up in Seattle by over 2%. But that is almost to be expected, given the eviction moratoriums put into place at the beginning of the pandemic. Many of these measures hurt landlords, who have had to seek relief options like forbearance. It's also worth noting that Seattle's delinquency rate of 3.6% is just over half the national average of 6%.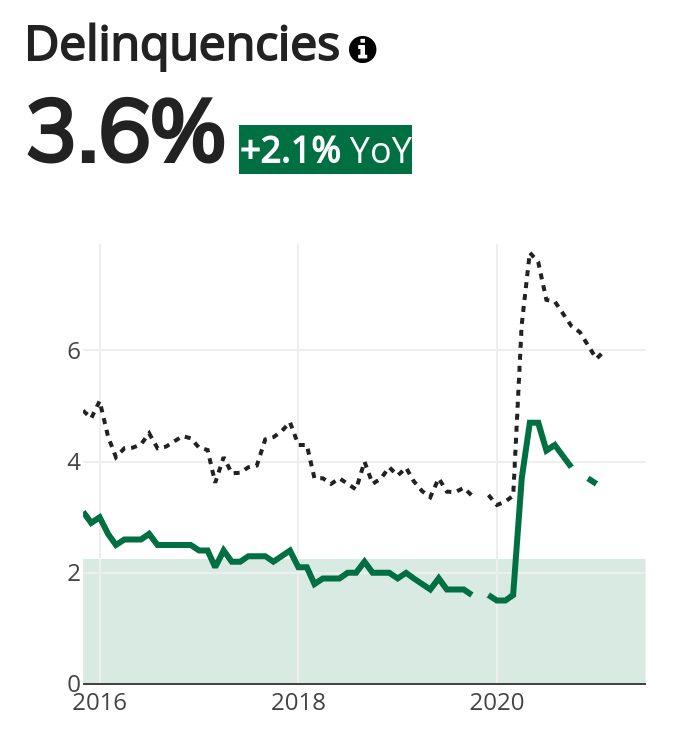 Foreclosures
At just 0.1%, Seattle foreclosures are much lower than the national average of 0.3%. It's likely that, despite the fact many landlords have battled with nonpaying tenants over the last year, protections like forbearance have done their job and put a stop to foreclosures, which have contributed to the low rate.
Brand New Washington Foreclosures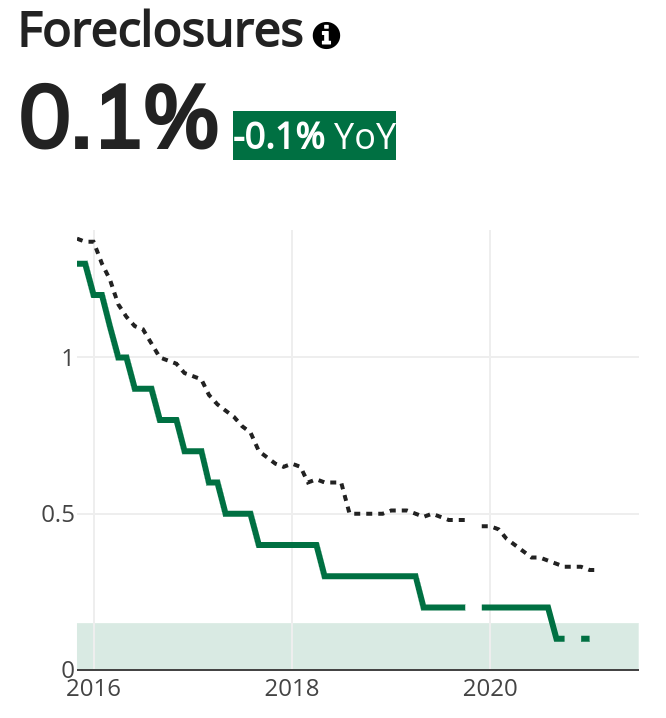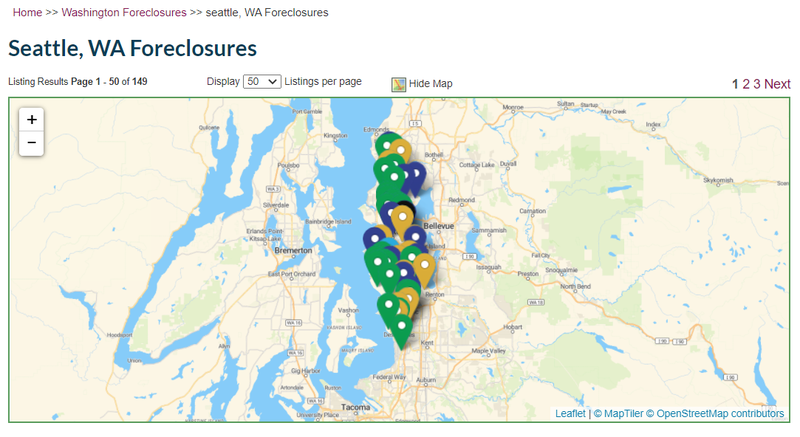 Anchor institutions
Interestingly, Seattle is home to a number of anchor institutions that thrived during the pandemic. That may have contributed to the fact that some of its key housing indicators were more insulated from the pandemic's effects. These major players include:
Boeing: Though Boeing (NYSE: BA) undoubtedly faced strife over the past year, according to the Puget Sound Business Journal, it's still the Seattle area's largest employer for now. Though the company is technically headquartered in Chicago, nearly 72,000 of its 153,000 employees currently work out of their base in Seattle. However, investors should be aware that the economy may undergo a shift, since Boeing recently announced plans to move production of some of its planes from Seattle to South Carolina.
Amazon: Amazon takes second place in the city's largest employers. Amazon is headquartered in Seattle, and around 60,000 of the company's 798,000 employees work at the sprawling campus, which extends into the downtown areas of South Lake Union and Belltown.
Microsoft: In third place is Microsoft. Headquartered in Redmond, Washington, which is still part of the Seattle metropolitan area, it's home to nearly half of the company's 136,000 employees.
Schools of note
If you're interested in investing in student housing, Seattle is a great choice. There are seven four-year colleges within the city limits and another 23 schools within a 50-mile radius. With that in mind, here's a look at the top three schools in the city limits.
University of Washington: Though the University of Washington has satellite campuses in both Tacoma and Bothell, its main campus is located just north of downtown. Known for its computer science programs, the school is one of the oldest public universities on the West Coast and enrolls around 47,000 students.
Seattle University: Seattle University may be much smaller than the University of Washington, but it still contributes to the need for student housing by enrolling around 7,000 students. Part of the First Hill neighborhood, this private, Jesuit-run institution is known for offering legal writing and business programs.
Seattle Pacific University: Located near Queen Anne Hill about 10 minutes from downtown is Seattle Pacific University. It's a small Christian school that enrolls an additional 3,000-plus students and is known for its business and education programs.
Neighborhoods of note for investing
Seattle is home to quite a few thriving neighborhoods, so nailing one down as the best place to invest can get tricky. That said, we've taken a closer look at three neighborhoods worth considering, depending on which type of investment you want to make.
Delridge: If you're looking for an up-and-coming neighborhood, look no further than Delridge. The area used to be plagued with high crime rates, but in recent years, the Delridge Neighborhoods Development Association has played a key role in making the neighborhood a safe place to live. Residential and commercial investors alike should look at this neighborhood for its appreciation potential.
Shoreline: Situated on the north end of Seattle, Shoreline should be a good fit for investors looking to buy single-family homes. The area is made up of more residential communities. However, its easy access to downtown makes it a top pick among renters who may work in the city center.
International District: Formerly known as Chinatown" the International District is located just south of the downtown business district and is home to a thriving culture as well as plenty of amenities. In addition, it's walkable and connected to other parts of the city by public transportation. As with any centrally located neighborhood, investors who are looking to buy in this area should expect higher price points.
The bottom line
Like any investment, investors should be sure to do their research before they jump into the Seattle real estate market. However, all indicators point to the fact that, despite some ups and downs during the pandemic, the Emerald City is ready to make a comeback. As the vaccine rollout continues and the economy takes further steps to open back up, we should start to see strong growth in the real estate sector.
Got $1,000? The 10 Top Investments We'd Make Right Now
Our team of analysts agrees. These 10 real estate plays are the best ways to invest in real estate right now. By signing up to be a member of Real Estate Winners, you'll get access to our 10 best ideas and new investment ideas every month. Find out how you can get started with Real Estate Winners by clicking here.
John Mackey, CEO of Whole Foods Market, an Amazon subsidiary, is a member of The Motley Fool's board of directors. Teresa Kersten, an employee of LinkedIn, a Microsoft subsidiary, is a member of The Motley Fool's board of directors. The Motley Fool owns shares of and recommends Amazon and Microsoft. The Motley Fool recommends the following options: long January 2022 $1,920 calls on Amazon and short January 2022 $1,940 calls on Amazon. The Motley Fool has a
disclosure policy
.