Get our 43-Page Guide to Real Estate Investing Today!
Real estate has long been the go-to investment for those looking to build long-term wealth for generations. Let us help you navigate this asset class by signing up for our comprehensive real estate investing guide.
Note: Our market forecast includes Houston data and data from its surroundings, including The Woodlands, Sugar Land, and more.
Why consider Houston for real estate investing?
Houston -- often referred to as "Space City" -- might be best known as the home to NASA, but this sprawling metro has much more to offer than just astronauts and space missions, especially if you're in the real estate game.
With more than 2 million residents, the Houston area has one of the biggest housing markets in the country. The metro encompasses a whopping 637 square miles of land, spans nine different counties, and includes over 100 different unique cities, towns, villages, and incorporated areas -- some with more than 1 million residents in their own right.
In addition to its well-known aerospace industry, the Houston metro also has strong roots in healthcare and the oil and gas sector and is home to numerous highly ranked colleges and universities.
Are you considering investing in Houston real estate? Here's what you need to know.
The state of the market
Houston's housing market is slowly but steadily recovering from the pandemic, but concerns still remain -- particularly around unemployment and the financial impact it's having on local residents.
Largely, though, there's reason for optimism, and according to our research, Houston is both healthy and improving on many major indicators. Housing Tides shows an outlook slightly more positive than the U.S. average.
Here are the three major trends we're seeing in Houston right now:
The rental market is holding strong.
Housing supply is growing.
Oil and gas employment is down — and its impact is felt widely.
1. The rental market is holding strong. There's a lot to feel positive about if you're a rental investor in Houston. Despite renters getting hit hard with pandemic-spurred job losses, Houston rental vacancies are at their lowest point in years. Even better? Rents are steady. The median rent sits at $1,464 -- up about $100 over the last five years.
2. Housing supply is growing. Houston has a housing supply problem just like the rest of the country, but it appears to be recovering better than most, at least in the last few months. The city currently has a 2.5-month supply of houses, a notable jump over national averages. More importantly, permits are up in the area, too — namely single-family homes. Houston saw almost 4,300 single-family permits issued in just February alone.
3. Oil and gas employment is the wild card. Houston's unemployment rate tracks higher than the national average, and it's likely due to its heavy focus on oil and gas -- an industry hit particularly hard by the pandemic. Though jobs have recovered slightly since last year, the sector still has a bumpy road ahead, especially with a more environmentally-concerned administration in the White House.
Fortunately, the city has a number of other industries in its corner, including healthcare, aviation, and technology. These should see growth as we get further away from the pandemic.
Houston housing demand indicators
Charts courtesy of Housing Tides, an EnergyLogic company.
Demand in Houston should strengthen in the coming months. The area has gained 77,000 new households in the last year, consumer sentiment is improving, and key demand indicators show a fairly affordable market compared to national averages.
Unemployment trends
Like many cities, Houston's job market took a major hit during the pandemic. The oil and gas industry was hit particularly hard as work-from-home became the norm (no more morning commutes!) and travel basically stopped altogether. At one point last year, the city had lost over 300,000 jobs, and according to reports, oil and gas accounted for a whopping 100,000-plus of those.
Fortunately, the market has somewhat recovered since then, and jobs are only down by 141,300 over the year.
Unemployment rates have seen a similar up and down. The local unemployment rate peaked at 14.3% last April but had since dwindled to 8% by February. That's above the national average of 6.7% and is likely due to lingering job losses in the oil and gas field.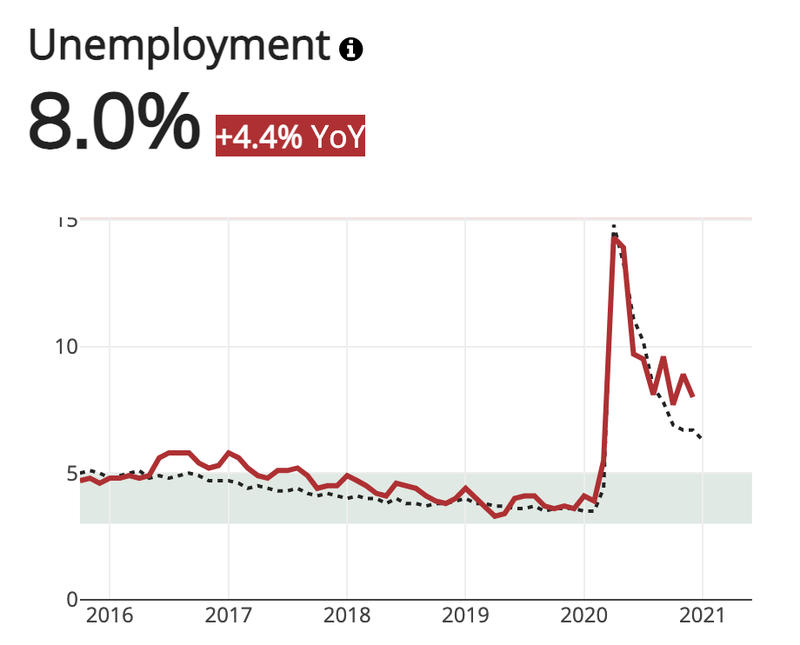 Median home price
Like much of the nation, Houston has seen home prices rise in the last year. The median home price now clocks in at $263,000 -- nearly 12% higher than one year prior. Prices are still well below national averages, though, and they're actually below their Houston peak, too. Local home prices maxed out at $272,000 in December 2020.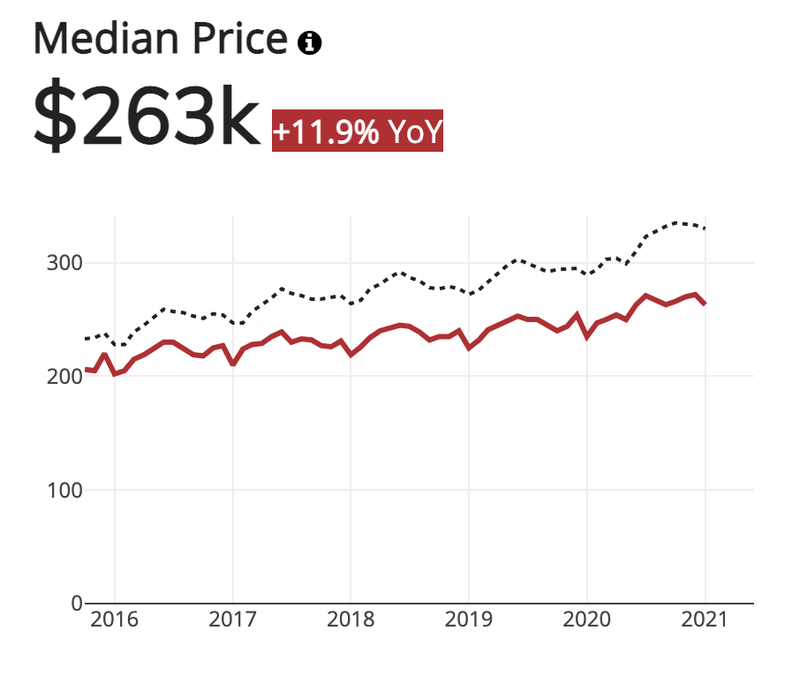 Median rent price
Rents, much like home prices, have also been increasing lately, albeit at a much slower clip. The median rent for Houston is currently $1,464, up 0.4% over the year and well below the national average of $1,721. Over the last five years, rents have only risen by about $100.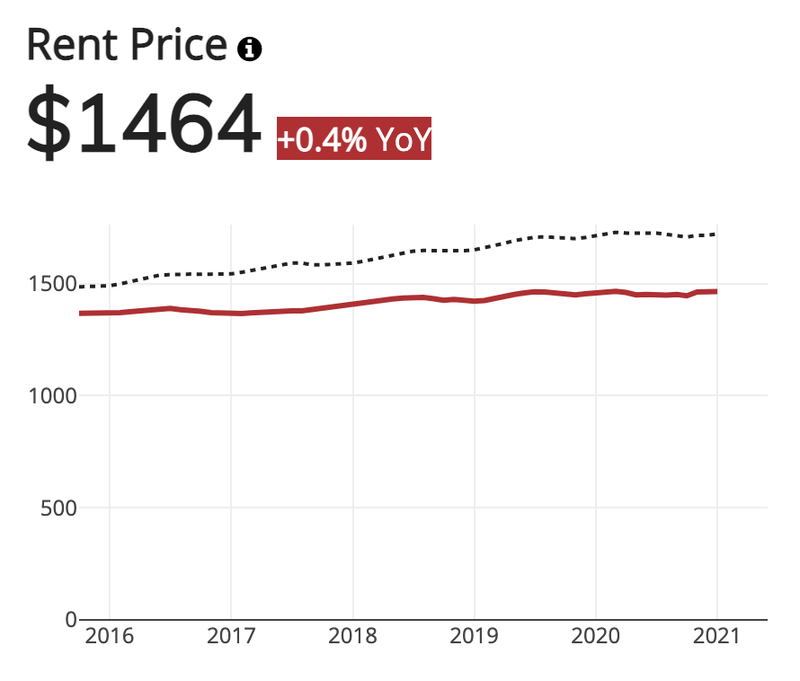 Houston housing supply indicators
On the supply side of things, the data looks even better for Houston, at least for the single-family market Here's what you need to know:
Total housing supply
As with most of the country, Houston's housing supply is way down. The situation has improved significantly in the last couple of months, and supply is still much higher than national averages, too.
Currently, the city has about a 2.5-month supply of for-sale homes, up from its trough of 1.66 months in December. There's still a long way to go until the city's at pre-pandemic levels, though. In January 2020 pre-pandemic, Houston had a whopping five-month supply of properties.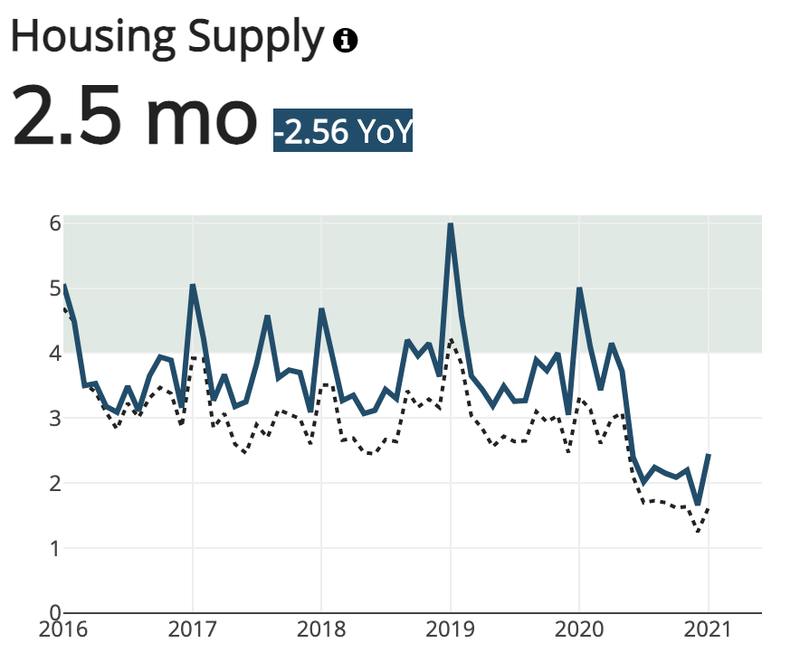 Rental vacancies
Demand for local rental units is strong in Houston. At 7.4%, the rental vacancy rate is currently at its lowest rate in at least the last five years. And though they're technically above the national average, vacancies are down 3.9% over the last year too.
As the city loosens pandemic-related restrictions and more service-driven businesses are able to operate at full capacity, this stat should improve even more. (Renters are more likely to work in restaurants and these service-focused positions, so they've been disproportionately impacted by the pandemic).
Architectural billings
Architectural billings, as well as nonresidential construction activity, serve as a good indicator of local economic strength. And so far, things are looking good in the South. While billings took a big dip at the start of the pandemic, the region has since recovered well -- even more so than the national average.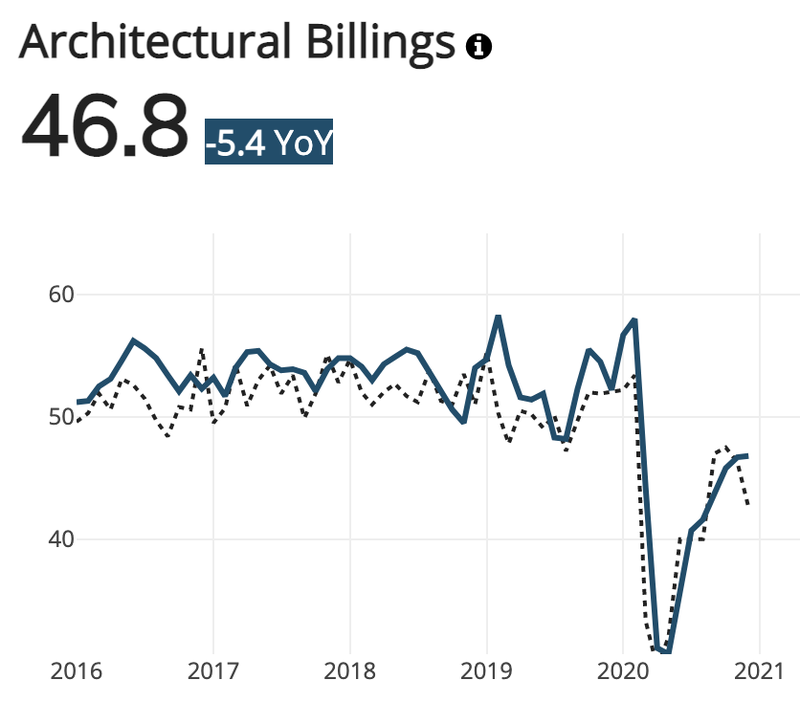 Construction indicators
Construction costs are up in Houston and across the nation. Locally, costs are up 5.4% over the year, and they've been rising consistently for at least the last five years. Lumber prices, in particular, saw a significant price jump in 2020.
Construction employment is one area where Houston has seen little improvement. The industry is down over 53,000 jobs and, according to a report from the Associated General Contractors of America, Houston actually leads the country in terms of construction industry job loss. In pre-pandemic years, the city typically boasted strong construction employment thanks to its ties to big-name homebuilders. Major players like David Weekley and Lennar are headquartered there.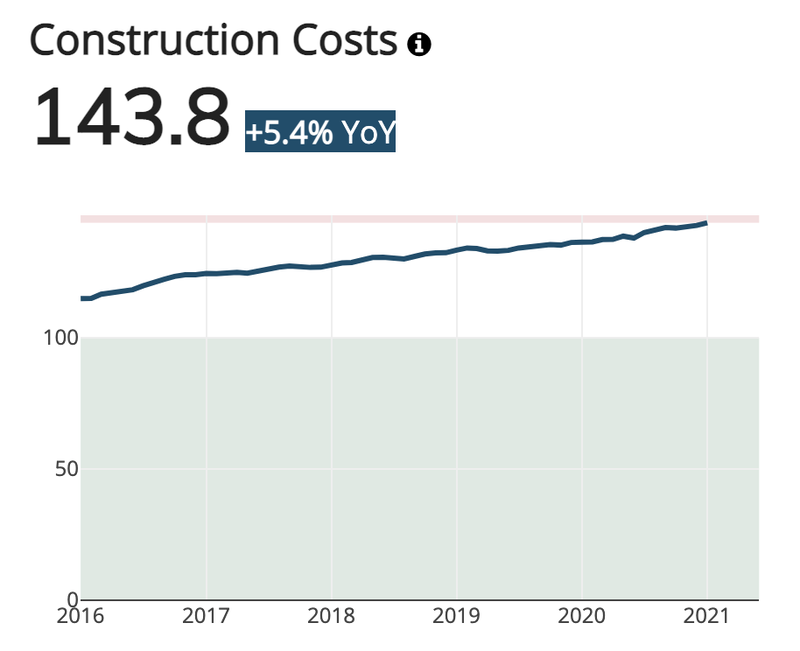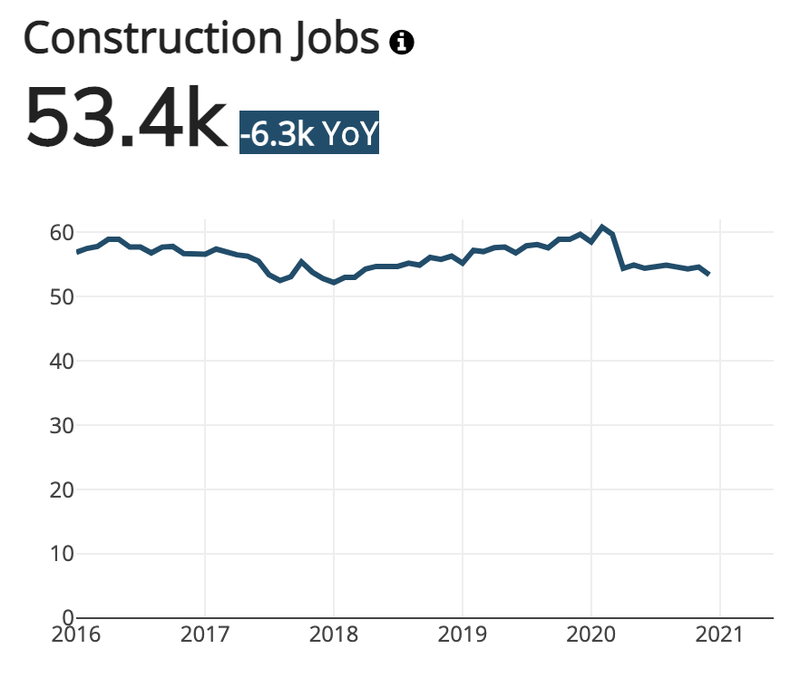 Single-family detached permits
Single-family construction permits have been strong in recent months, and in February 2021, nearly 4,300 new permits were issued. This bodes well for local housing supply and, if the trend continues, it could put a damper on home-price growth by year's end.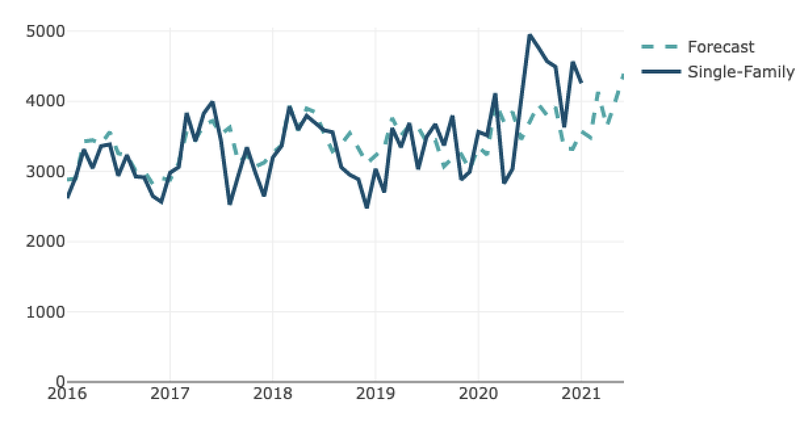 Multi-unit permits (2+ units)
Permits for multifamily construction are actually on the opposite trajectory, notching notable declines over the last few years. Just under 1,500 multifamily permits were issued in February 2021, down from nearly 2,000 five years ago. When you throw in the low number of rental vacancies in the current market, it could spell a supply issue down the line, especially once renter households get back on their feet post-pandemic.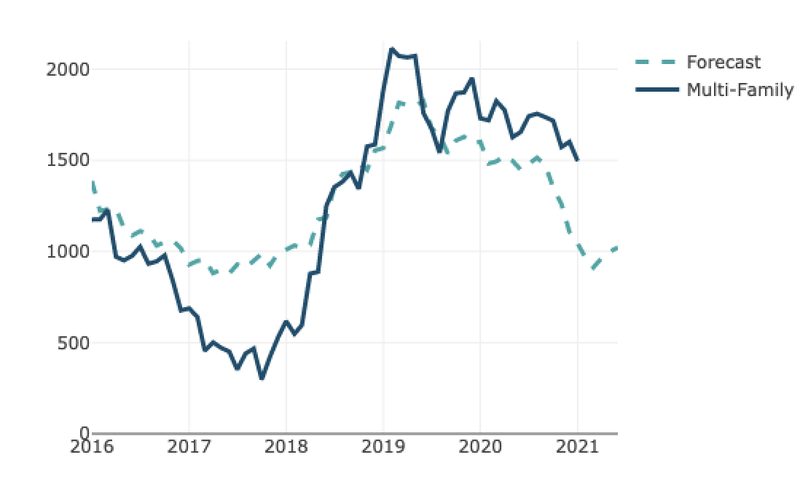 Houston real estate financial health indicators
The pandemic has hit Houston homeowners and renters hard, just as it has residents across the country. While foreclosure bans and relief options like mortgage forbearance have helped blunt financial impact, once those measures expire, the Houston market -- as well as many other cities -- could see definite spikes in foreclosure, delinquencies, and beyond.
Delinquencies
Mortgage delinquencies are up 3.2% over the last year, as pandemic-related job losses and wage cuts have made it harder for many homeowners to pay the bills. Currently, about 7.7% of mortgages in Texas are delinquent, well above the 5.85% national rate.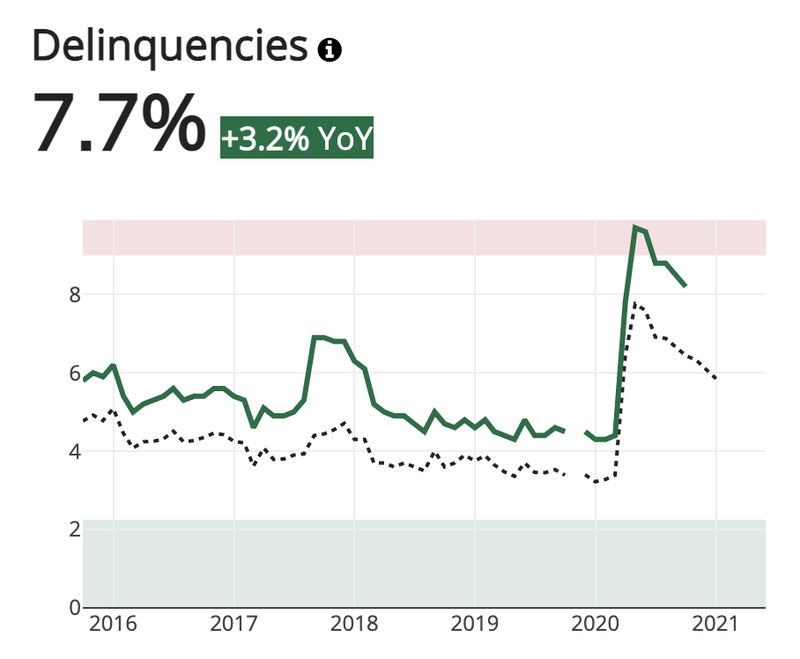 Foreclosures
Foreclosures are at all-time lows due to the various foreclosure moratoriums and forbearance options that are still in place. In Texas, just 0.2% of homeowners are in foreclosure, down from 0.7% five years ago and below the national average of 0.32%.
Brand New Texas Foreclosures
Tomball, TX
San Antonio, TX
Frisco, TX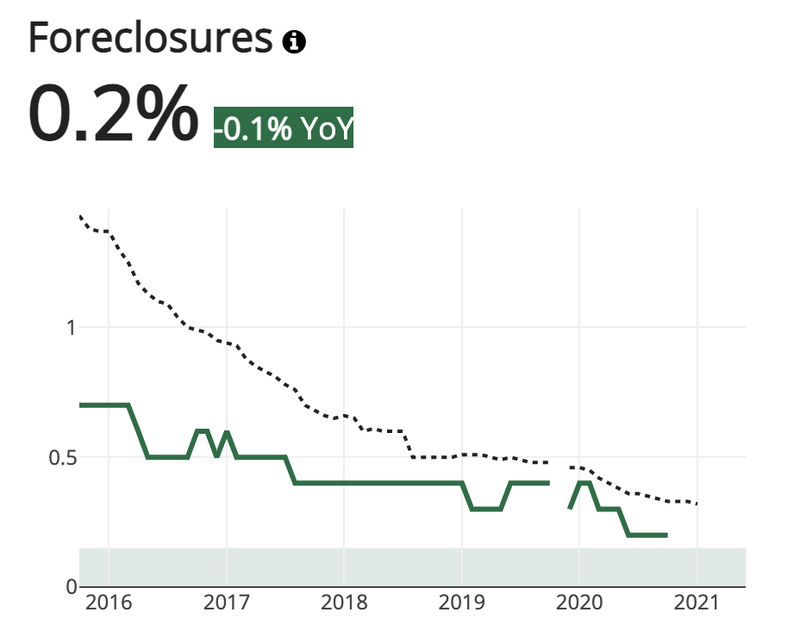 Anchor institutions
Houston is home to 21 Fortune 500 companies and is No. 4 in the country for both Fortune 500 and Fortune 1000 headquarters. A whopping 44 out of the 128 publicly traded oil and gas companies are located in the city.
Oil and gas companies: The energy industry is by far Houston's biggest. The city is home to major players like ConocoPhillips (NYSE: COP), Anadarko Petroleum (NYSE: APC), Occidental Petroleum (NYSE: OXY), Marathon Oil (NYSE: MRO), Southwestern Energy (NYSE: SWN), Haliburton (NYSE: HAL), Kinder Morgan (NYSE: KMI), and more. Many of these are located in a part of town called the Energy Corridor.
Aviation and aerospace: NASA's Johnson Space Center is easily the centerpiece of Houston's aviation and aerospace industry, but it's not the only major player by any means. More than 500 related companies call Houston home, and the city also boasts one of only 12 FAA-licensed spaceports in the country.
Healthcare and medical facilities: Houston's massive Texas Medical Center complex is the world's largest, boasting over 100,000 employees, 9,200 beds, and over 10 million annual patients. The city is also home to the renowned MD Anderson Cancer Center and more than 1,700 life sciences companies, including major pharmaceutical and health research brands like Abbott (NYSE: ABT), Bayer (OTCMKTS: BAYRY), Merck (NYSE: MRK), and more.
Technology: Houston also has a growing tech scene. Hewlett-Packard Enterprise (NYSE: HPE) recently announced a move to the area, and the city is also working on its own "Innovation Corridor," which boasts tech-driven start-ups, incubators, and accelerators.
Schools of note
A number of well-known colleges lay claim to Houston, including one of the top-ranked schools in the country.
Here are just a few of the schools in the area:
Rice University: Rice is easily the most renowned of Houston universities. Ranked at No. 16 on U.S. News and World Report's rankings, it's one of the best colleges in the country. The private, research-focused university is extremely elite, boasting an enrollment of just under 4,000. It's located in Houston's Museum District, near the city zoo and science museum.
University of Houston: The University of Houston is another major college in the area, and while the main college is located in the University Oaks and Third Ward neighborhoods, there are actually locations throughout the city. Residents can attend the University of Houston in Sugar Land, Victoria, Clear Lake, or at its six regional instructional sites.
Texas Southern University: TSU is a historically black college located not far from UH's downtown campus. The school boasts more than 100 programs of study and about 10,000 students. It's located just around the corner from UH near Houston's downtown area.
Sam Houston State University and Prairie View A&M University are in the area, too (though not technically in Houston). SHSU is just north of the metro area in Huntsville, while PVAMU is in Prairie View, a town located west of the city. The University of St. Thomas, a smaller private school, is also located in Houston.
Neighborhoods of note
At over 600 square miles, Houston's home to a good number of neighborhoods and incorporated areas, all with their own unique quirks and nuances.
Here are some of the more notable ones where you might want to consider investing:
The Energy Corridor: The Energy Corridor is in high demand with oil and gas professionals, and it's often a place with lots of corporate-owned and -rented housing. Condos and townhomes are also a common sighting in the area.
The Woodlands: The Woodlands is a master-planned community on the north side of town, and it's a big draw for wealthier buyers, particularly those with kids. Schools in the area are highly rated, and there are lots of amenities, too (a mall, various museums, and a number of parks, pools, and athletic leagues, just to name a few).
The Museum/Medical District: Location doesn't get better than this one. It's close to both UH and TSU, as well as the Texas Medical Center, the Houston Zoo, the Houston Museum of Natural Science, The Museum of Fine Arts, and many other big draws. Real estate in the area truly runs the gamut. From towering apartment buildings to pricey historical estates, you'll find a little bit of everything here.
The Heights: The Heights is a hip yet historic part of town where residents can live, play, and work all in one. It's highly walkable, and there's a good mix of both renters and owners. The area is home to tons of restaurants, music venues, and hotspots, and there are many community events as well. It's well known around the city for its "Lights in the Heights" celebration, in which residents go all-out in decorating for the holidays.
Katy: Katy is one of the most in-demand communities in the Houston area. In fact, a recent survey actually determined Katy to be the top spot for local pandemic-driven movers. Like The Woodlands, Katy is a popular one with families, as it boasts good schools and many family-friendly amenities.
The bottom line
Houston has certainly seen its fair share of pandemic fallout, but for the most part, the city seems to be on a steady path toward recovery. Though employment in the oil and gas sector may decline in the area over time (especially with an administration looking toward more alternative energy sources), the town's strong basis in healthcare, aviation, technology, and other growing sectors should help prop it up.
There are also other positive factors at work: affordable home prices, rising construction numbers, and the many universities in the area that can help fuel demand, both on the rental side and the buying side.
Of course, there's no telling the future. If you're considering a move into the Houston market, make sure to consult your financial advisor and a local real estate agent before making your investment. They can provide guidance on the right move for your specific goals.
Got $1,000? The 10 Top Investments We'd Make Right Now
Our team of analysts agrees. These 10 real estate plays are the best ways to invest in real estate right now. By signing up to be a member of Real Estate Winners, you'll get access to our 10 best ideas and new investment ideas every month. Find out how you can get started with Real Estate Winners by clicking here.
Aly Yale
has no position in any of the stocks mentioned. The Motley Fool owns shares of and recommends Kinder Morgan. The Motley Fool has a
disclosure policy
.