Get our 43-Page Guide to Real Estate Investing Today!
Real estate has long been the go-to investment for those looking to build long-term wealth for generations. Let us help you navigate this asset class by signing up for our comprehensive real estate investing guide.
New York City is known for its iconic skyline and throngs of people -- and it could also constitute a solid investment if you're looking to move into the residential space. Here, we'll review the state of the local market and take a deep dive into a few key neighborhoods it pays to put on your radar.
A special place to invest
New York City has a long history of attracting renters from all walks of life. Its extensive public transportation network makes it one of the most accessible, navigable cities in the country, and its bustling nightlife and tremendous restaurant scene make it a draw for young professionals, retirees, and families alike.
New York City's distinct boroughs also make it a prime spot for residential real estate inventors. You've got Manhattan, where all of the action happens and jobs are abundant. You've got Brooklyn, where a host of hip neighborhoods have emerged in recent years. Then there's Queens, whose diverse neighborhoods range from trendy to full-fledged suburban.
The Bronx, meanwhile, may have a reputation as being home to the tough, but as Manhattan's more affordable counterpart, it's a viable choice for renters on more of a budget (plus, it's home to Yankee Stadium). And we can't forget Staten Island -- perhaps the most residential of all the boroughs and home to a well-known mall.
The state of the market
The coronavirus pandemic has had a huge impact on New York City's residential real estate market. In the wake of the outbreak, renters have been fleeing New York City -- Manhattan in particular -- in droves. Some are taking up residence in nearby suburbs, while others are moving to more affordable cities in different parts of the country.
All of this has taken a toll on New York City real estate, but that doesn't necessarily make it a bad time to invest. While New York City rentals may be a harder sell at present, the city is also primed for a major comeback once the coronavirus crisis comes to an end and normal life can resume.
While the median home price in New York City is $550,000, which represents a 10.2% uptick year over year, that hike is reflective of overall housing market inflation -- it's not unique to New York. On a national level, the median home price is up 13.2% year over year.
Here are some other trends worth noting.
1. Rental vacancies are up
The vacancy rate in New York City is currently at 5.1%. That's an increase of 0.8% year over year. On a national level, however, the vacancy rate is 6.4%, so while 5.1% may be high for New York City, it's not particularly alarming. Many renters' plans are in flux right now due to the ongoing pandemic, but once things settle in that regard, we could see that vacancy rate drop.
Of course, New York City investors will need to brace for the challenge of buying homes with the potential to sit vacant for months, and leases may initially have to be signed at lower price points. In fact, the median rent price in New York City is down 8.7% year over year, and some landlords are going so far as to withhold listings in an effort to not drive prices down even further. As such, New York City is not the place to invest for those looking to make a quick buck. Rather, it's all about the long game right now -- buying properties for which demand is apt to increase in due time.
2. Housing supply is in decent shape
New York City currently has five months' worth of housing inventory available. That makes for a pretty decent selection given that nationally, the residential market is only sporting a 1.2-month supply of homes. In fact, local inventory is comparable to where it was before the pandemic began.
3. Unemployment is high
In December, the unemployment rate in New York City was 9.5%, up 6.1% year over year. That's much higher than the national jobless rate, which sat at 6.7% in December. From an investing standpoint, there's some risk there. Rampant unemployment will make filing vacancies more difficult in the coming months and probably beyond. As things improve on the pandemic front and businesses can operate with fewer restrictions, jobs are likely to come back, so this issue may be more short-term in nature.
New York City housing demand indicators
Charts courtesy of Housing Tides, an EnergyLogic company.
As mentioned, housing demand in New York City may be a challenge in the near term.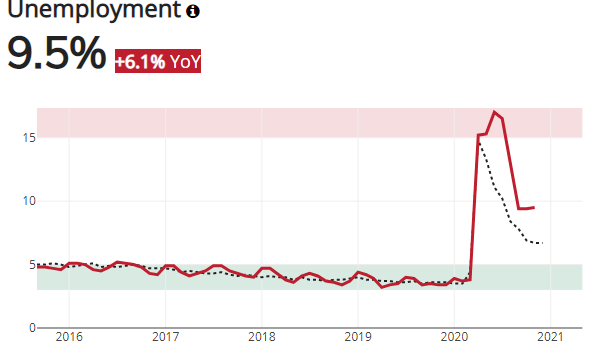 New York City's jobless rate held fairly steady from 2016 through the start of 2020. When the pandemic hit, New York emerged as its epicenter, and given that many industries that were notably hard-hit by the pandemic, like restaurants, retailers, and hotels, have a sizable presence in New York City, it's easy to see why the unemployment rate shot up. Tourism also declined substantially in New York last year, and that, too, contributed to job loss.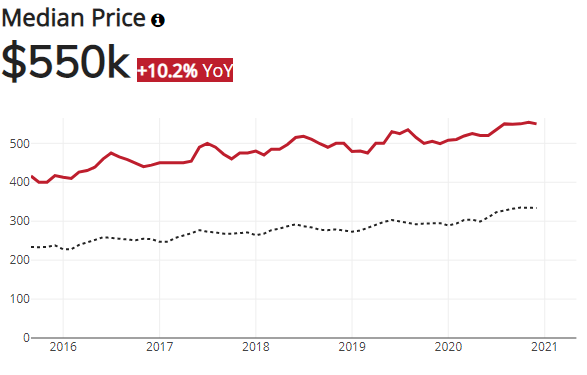 The fact that home values have increased in New York City isn't necessarily indicative of a strong market. Rather, it's a function of a national trend. Low mortgage rates are fueling buyer demand, so New York City homes aren't necessarily a bargain right now. However, they're also cheaper than ever to finance.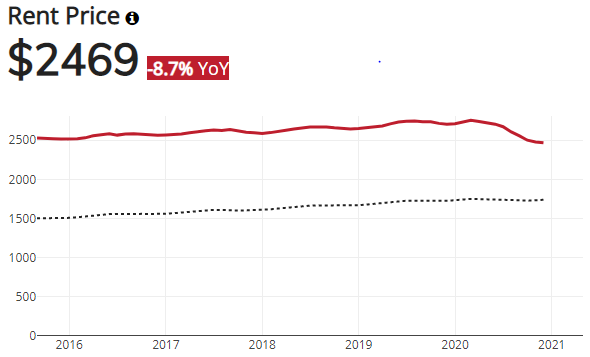 Not shockingly, rent prices are down in New York City, driven largely by the substantial number of vacancies on the market. This, too, is likely to be a shorter-term trend as the coronavirus pandemic continues to leave many of the city's amenities shuttered or restricted. The remote work trend is also detracting from renter demand, but the reality is that once the pandemic comes to an end and companies start calling employees back to offices, workers will clamor for homes that are accessible to their places of work. Once that happens, the demand for New York City rentals should increase, and rent prices will be able to follow suit.
New York City housing supply indicators
Here's a snapshot of what housing supply looks like for New York City.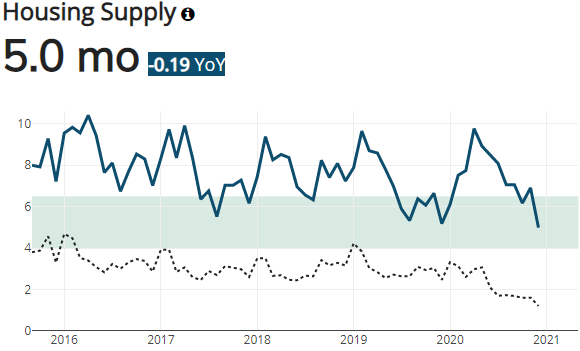 As noted above, housing supply is at a decent level in New York City, especially when compared to the national average. This means investors may have an easier time penetrating the market. Also, low housing supply has been fueling bidding wars for the past six to eight months. That may not be an issue in New York City, though, given the number of homes available for purchase.
Though rental vacancies are substantially higher than where they were prior to the pandemic, that's likely to be a short-term trend. As things improve on the pandemic front and jobs are added, more renters are likely to shore up their plans and sign leases.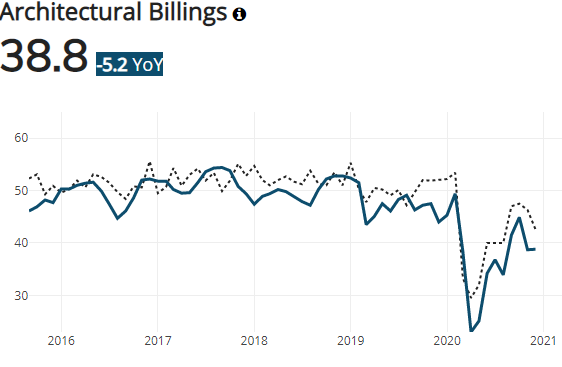 Though architectural billings serves as a key indicator for non-residential construction activity, it can speak to the general state of the market. Clearly, this index saw steep declines in the Northeast thanks to the pandemic, though it's worth noting that this index fell more drastically on a national level than it did for New York City.
Construction indicators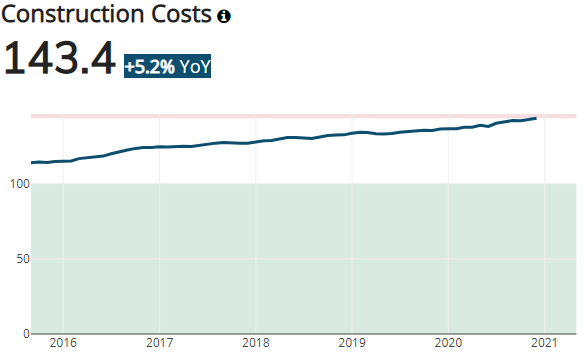 Construction costs rose 5.2% from the previous year. A mid-year lumber shortage and other pandemic-related supply-chain disruptions contributed to an uptick, though construction costs have also been steadily rising since 2016.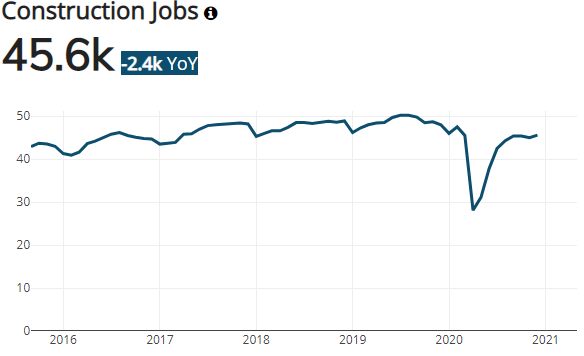 New York City construction jobs were lost in the course of 2020. Early in the pandemic, Governor Andrew Cuomo mandated that all nonessential construction be put on pause to comply with efforts to curb the spread of COVID-19, which contributed heavily to the decline.

As of December 2020, there were 1,021 single-family detached housing permits issued. That's a good thing and a bad thing. On a positive note, it means there should be more housing inventory for investors in the near term. On a negative note, new construction may exceed demand as unemployment remains high.

As of December 2020, there were 3,624 multifamily building housing permits issued. As is the case for single-family units, this is a mixed bag. However, demand for multifamily units remains high, with the National Apartment Association reporting that the U.S. needs about 328,000 new multifamily units each year through 2030. Given the isolating nature of the pandemic, it's likely that New York City renters will seek out multifamily homes once they're ready to sign leases. Single-family homes may be a harder sell from a rental standpoint, though some families that move as a unit may seek to upsize.
New York City real estate financial health indicators
As stated earlier, New York City has taken a beating in the course of the pandemic.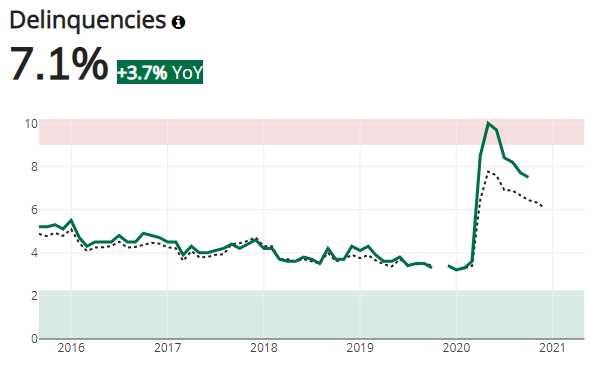 New York City delinquencies peaked during the pandemic and are up 3.7% year over year. The eviction bans that were put into place at the start of the pandemic really hurt landlords, many of whom fell behind on their own mortgages before seeking relief of their own, like forbearance.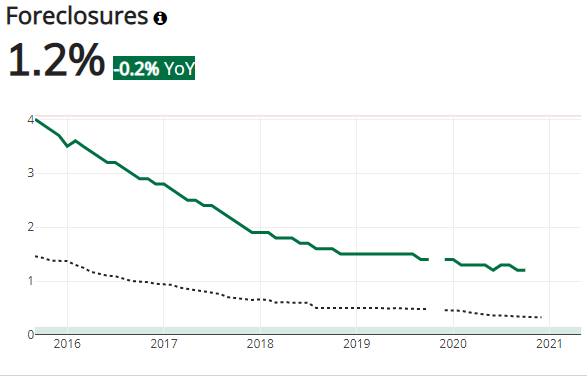 Brand New New York Foreclosures
Great Neck, NY
New York, NY
Willow, NY
The foreclosure rate in New York City fell by 0.2% year over year and sits at 1.2% -- a sharp decline from 2016. Though many landlords struggled with non-paying tenants, protections like forbearance have stopped many property owners from falling delinquent on their mortgages, which led to a downtick in foreclosure rates. Of course, the fact that foreclosures were banned beginning in late March helped as well. It's worth noting, however, that on a national level, the foreclosure rate is sitting at 0.3%.
Visit this resource to see foreclosure investing opportunities in New York City.
Anchor industries
Despite a high unemployment rate fueled by the pandemic, New York City is home to a number of thriving industries:
Investment banking/financial services. New York City houses a number of leading investment banking and financial firms, including Goldman Sachs (NYSE: GS), Citigroup (NYSE: C), Morgan Stanley (NYSE: MS), American Express (NYSE: AXP), and JP Morgan Chase (NYSE: JPM). These firms largely operate offices in Downtown and Midtown Manhattan.
Hospitals/healthcare. New York City is home to a number of renowned hospital systems, including New York-Presbyterian, NYU, Mount Sinai, and Lenox Hill. These hospitals' main campuses are located throughout Manhattan but have additional locations in the remaining boroughs as well.
Media and entertainment. There's a reason New York City has been dubbed the media capital of the world. The city is home to NBCUniversal, The New York Times Company (NYSE: NYT), Thomson Reuters Corporation (NYSE: TRI), WarnerMedia, and ViacomCBS (NASDAQ: VIAC). It's also home to well over a dozen notable magazines and record labels. These companies are located throughout the borough of Manhattan with a large concentration in Midtown.
Technology. New York City houses a number of notable tech companies, including Spotify (NYSE: SPOT), Bloomberg, and IBM (NYSE:IBM), which all have offices in different parts of Manhattan. Google (NASDAQ: GOOGL) also has a major presence, with an office in Manhattan's Chelsea neighborhood, and in recent years, tech firms have increasingly begun setting up shop in Brooklyn.
Schools of note
New York City is home to a number of well-known colleges and universities, all of which present a real opportunity for real estate investors to capitalize on the need for student housing.
Columbia University
Situated in Manhattan's Morningside Heights neighborhood, Columbia University is a renowned learning institution that's part of the well-respected Ivy League. In 2020, total enrollment reached over 31,000, which includes full-time and part-time students.
New York University
NYU is a celebrated private institution that draws in students from all over the country. It's known in particular for its business school and performing arts program. NYU's campus includes over 171 buildings spread between Manhattan and Brooklyn. However, its central location is its Washington Square campus located in the middle of Greenwich Village. As of Fall 2019, NYU had over 58,000 students enrolled across its various programs (including undergrad as well as graduate).
City University of New York
The City University of New York, or CUNY, is a network of schools with locations through the five boroughs. Some of its more notable campuses include Brooklyn College, located in the mostly residential Midwood neighborhood, Queens College, located in the similarly residential Kew Gardens Hills area, Hunter College, located in Manhattan's Upper East Side, and Baruch College, located in the Flatiron District. All told, there were over 271,000 students enrolled across the CUNY network in 2019, with the largest number of students attending Baruch, followed by Brooklyn College.
Neighborhoods of note
New York City has several hundred distinct neighborhoods across its five boroughs, so nailing down a specific one to focus on can be tricky. Here are a few notable neighborhoods worth looking at.
Morningside Heights
Located right above Manhattan's Upper West Side and home to both Columbia University and its sister school, Barnard College, Morningside Heights is a prime spot for investors due to its high concentration of students and academic professionals. The neighborhood runs from West 110th Street to West 125th Street and is encased by two well-known parks -- Riverside and Morningside.
Greenwich Village
Perpetually trendy Greenwich Village is a smart investment choice due largely to the NYU campus that's located smack in the middle of it. With its abundant restaurants, cafes, bars, and shops, it's also a popular stomping ground for new NYC transplants, and seeing as how it's less than a 20-minute subway ride away from both Midtown and Wall Street, it's a prime spot for young professionals.
Greenwich Village runs from Houston Street at its southern point to 14th Street at its northern point, and its center is the famed Washington Square Park. Though rents have plummeted recently in Greenwich Village, the median home asking price declined 16.5% year over year, so now may be a good time to scoop up properties on the cheap.
The Upper East Side
Manhattan's Upper East Side is known as a residential area -- one where families frequently own their own apartments. So why invest there? It's simple. In the wake of the coronavirus pandemic, families have been more apt to flee the city in search of more square footage. As such, the Upper East Side saw the most declines in home prices this past November, which means now's a good time to scoop up properties at a relative discount.
Furthermore, because the neighborhood is more family-oriented, it offers investors a key opportunity to appeal to renters with higher budgets and income. And families tend to be more stable tenants, which means investors can enjoy income stability and less turnover.
The Upper East Side is also a prime spot for medical professionals to take up residence given its proximity to New York-Presbyterian's Weill Cornell Medical Center and Lenox Hill hospital. Plus, there's the potential to house Hunter College students, many of whom can't secure campus housing given the limited supply. The Upper East Side runs between 59th Street and 96th Street, and it offers easy access to Central Park.
Battery Park City
Located on the west side of the southern tip of Manhattan, Battery Park City is a residential community that's adjacent to the Financial District. And that alone makes it a good choice for investors. Not only does it offer easy access to Wall Street jobs, but it's close enough to the financial district that renters can walk to work without having to take the subway. And given the number of people who may seek to do so on a long-term basis even after the pandemic ends, that's a key selling point.
DUMBO
Short for Down Under the Manhattan Bridge Overpass, Brooklyn's DUMBO neighborhood features a host of trendy restaurants, cafes, and shops, all the while offering easy access to lower Manhattan and its many jobs. It's also home to 25% of New York City-based tech firms, making it a convenient location for those who want the option to bike or walk to work.
The Millionacres bottom line
Investing in New York City residential real estate isn't for the faint of heart, and in the near term, there will be challenges due largely to the fallout of the coronavirus pandemic. But New York City won't stay dark forever. Once the pandemic ends, nightlife will open back up, office buildings will reclaim their relevance, and renters will once again clamor for homes to be part of the action. Given that there's a decent supply of housing available, now's a good time to explore the market.
New York City has a strong history of overcoming challenges. It did so after 9/11, and it certainly has the potential to show its resilience in the wake of the pandemic.
Got $1,000? The 10 Top Investments We'd Make Right Now
Our team of analysts agrees. These 10 real estate plays are the best ways to invest in real estate right now. By signing up to be a member of Real Estate Winners, you'll get access to our 10 best ideas and new investment ideas every month. Find out how you can get started with Real Estate Winners by clicking here.
Suzanne Frey, an executive at Alphabet, is a member of The Motley Fool's board of directors. Citigroup is an advertising partner of The Ascent, a Motley Fool company. American Express is an advertising partner of The Ascent, a Motley Fool company. JPMorgan Chase is an advertising partner of The Ascent, a Motley Fool company.
Maurie Backman
owns shares of American Express. The Motley Fool owns shares of and recommends Alphabet (A shares), Alphabet (C shares), and Spotify Technology. The Motley Fool recommends The New York Times. The Motley Fool has a
disclosure policy
.