Get our 43-Page Guide to Real Estate Investing Today!
Real estate has long been the go-to investment for those looking to build long-term wealth for generations. Let us help you navigate this asset class by signing up for our comprehensive real estate investing guide.
Note: Our market forecast includes Kansas City data from Missouri and Kansas.
Kansas City is renowned for its jazz, barbecue, and iconic architectural history. We're taking an in-depth review of the real estate investment market the city has to offer and providing data on notable neighborhoods on the climb.
Why consider Kansas City for real estate investing?
Kansas City has long boasted incredible restaurants, vibrant nightlife, and an immensely diversified economy, demonstrating its appeal to pique the interests of those seeking peace of mind for affordable living.
Guided by growth and demand, Kansas City is thriving with revitalizations in downtown, inner suburbs, and peripheral areas, which is why real estate investors love Kansas City.
Spanning the state line of Missouri and Kansas, there's absolutely something for everyone: retirees enjoy the quality of life, families claim their "forever homes," and millennials are there for the jobs and Paris-of-the-Midwest vibes.
The state of the market
Kansas City has shifted from the old standby of rehabbing to long-term rentals in the wake of the COVID-19 pandemic. The expansion of unemployment benefits and federal aid to small businesses were pivotal to early Kansas City's economic recovery, and while the rebound for the area has been expeditious, it is not complete.
Unemployment rate is low. Pre-pandemic, Kansas City had a steadily declining unemployment rate, and when the pandemic was at its worst for unemployment numbers, Kansas City remained below the national average. The same is accurate as of this article's writing, with only a slight uptick in January 2021. But as the pandemic continues to improve, unemployment should follow suit.
Rental vacancies are high. The most recent rental vacancy rate is 8.2%, but the upside to this trend is that the rate is down 2.8% year over year. With rental rates high but on the decline, Kansas City will grow in terms of its renters once they can get a firm grasp on their plans for living in a post-pandemic city.
Rental prices are increasing. As indicated by the lower rental vacancy rate, rental prices will continue to rise in Kansas City. Since 2016, rental prices have increased 5% year over year, proving the strong demand for rentals in the Kansas City metropolitan area.
Kansas City housing demand indicators
All data and charts supplied by Housing Tides by EnergyLogic.
Unemployment trends
Kansas City's unemployment rate was on track for a steady decline from 2016 through the beginning of 2020. However, once the pandemic hit, many of Kansas City's industries, such as hotels, retail, and restaurants, contributed to the significant unemployment increase.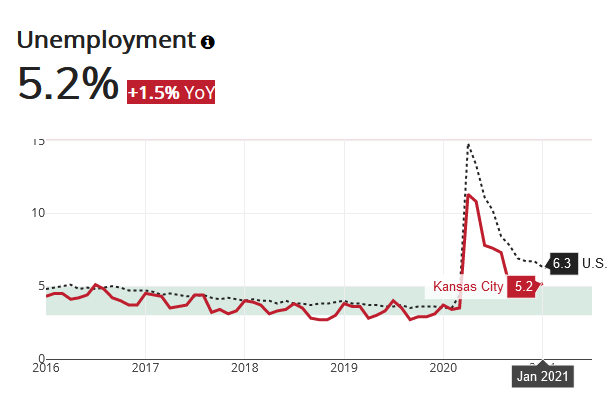 Median home price
A 14% increase in housing pricing for the Kansas City Metropolitan area stokes the more nationwide trend for pandemic-driven buying. That doesn't indicate that the market is more robust due to these spikes; it indicates excellent mortgage lending rates being at a sustainable low.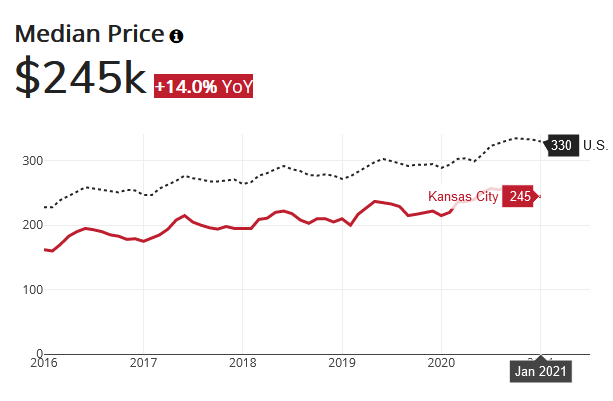 Median rent price
Rent price increases fit hand in hand with median home price increases for Kansas City. The low supply of housing helps drive the demand for single-family and multi-family rentals in Kansas City. Those unable to buy will rent, leading to increased rental demand, coinciding with rent increases.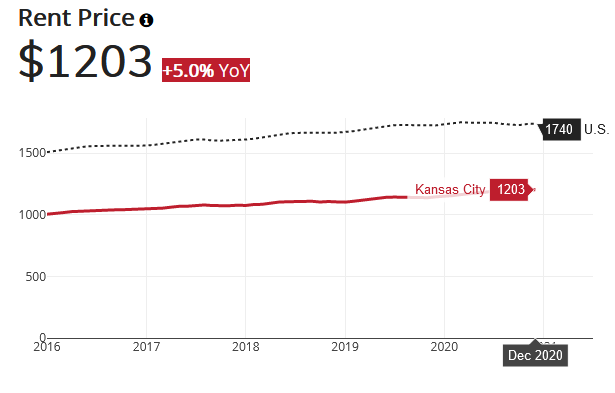 Kansas City housing supply indicators
Rental vacancies
Before the pandemic, Kansas City rental vacancies were on the rise, but the trend shows regularity with peaks every year. However, rental vacancies are continuing a downward trend as the pandemic begins to show signs of relaxing, and renters are more willing to search for housing.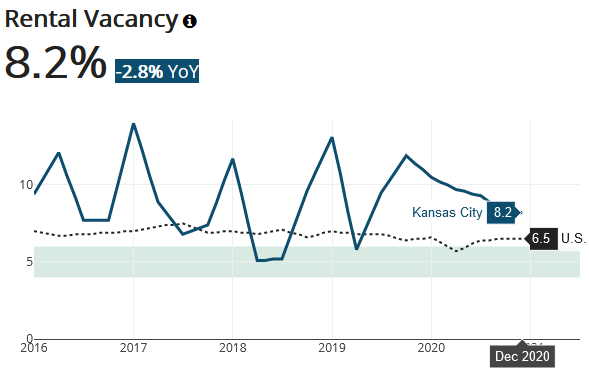 Architectural billings
Architectural billings, a leading indicator metric of construction work of nonresidential structures, have shown positive growth on a national scale for the first time since February 2020. Although the sector experienced significant drops due to the pandemic, the Midwest is beginning to enjoy a rebound.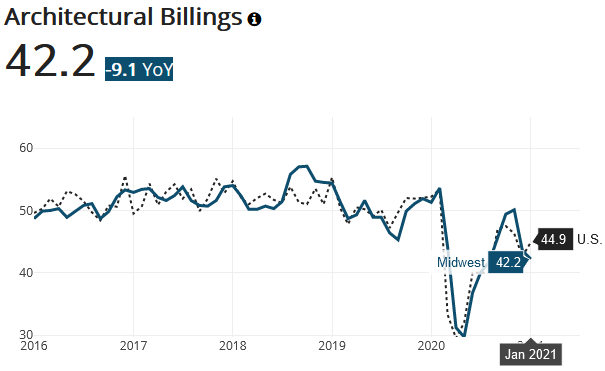 Construction indicators
Construction costs have enjoyed a steadfast gain since 2016 and have increased 6.7% from the previous year in Kansas City. Construction materials prices continue to rise for nonresident construction, most significantly in the cost of lumber.

Single-family detached permits
As of February 2021, 512 single-family detached permits were issued, nearly 31% higher than forecast. Depending on the housing supply, this could indicate whether or not interest in these properties will be favorable.

Multi-unit permits (2+ units)
As of February 2021, 282 multifamily building permits were issued, a 6% decrease from the forecast. Over the last 12 months, multifamily building permits have seen a 37% decrease, which is surprising given the city's low vacancy rate and ever-increasing rent prices. Nevertheless, this is still a significant indicator of a thriving rental demand for Kansas City.

Kansas City real estate financial health indicators
Delinquencies
Delinquencies in Missouri have been slightly above the national average, historically. Surprisingly, Missouri managed to stay below the national average spike when the pandemic hit, even when unemployment rates hit an all-time high. The delinquency rate has shown a slow but steady decline since peaking in May 2020 at 6.3%.
As of January 2021, Missouri delinquency rates were at 5.1%, just below the national average of 5.85%. This delinquency rate may correlate with pandemic-related eviction bans to allow tenants who couldn't pay rent to stay in their homes. Eviction banning enactment harmed landlords, causing many to seek relief through forbearance.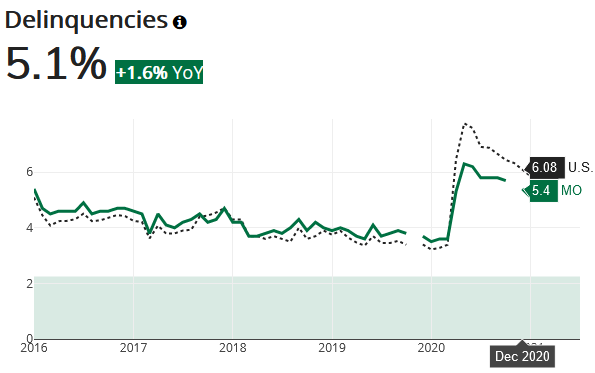 Foreclosures
Foreclosures nationwide have been on a steady decline since 2016; however, the historic lows of January 2021 may have been directly influenced by the pandemic protections from foreclosures. Foreclosure rates were declining for Missouri before the pandemic and still sits below the national average of 0.32% at a respective 0.2%. Visit our resources to see foreclosure investment opportunities in Kansas City, KS, or Kansas City, MO.
Brand New Missouri Foreclosures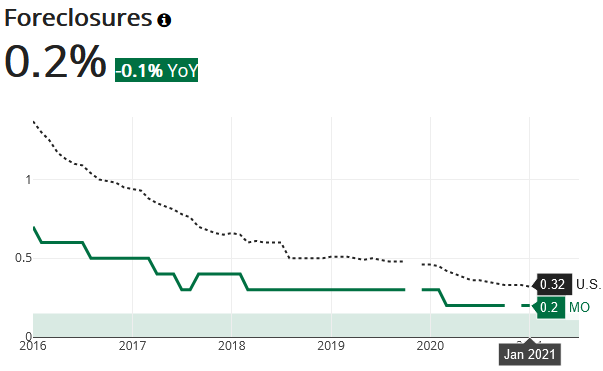 Anchor institutions
Kansas City might be known as the Barbecue Capital, but there are far more economic contributors to the city's continued success. The lower cost of living, decreased construction cost, and business-friendly legislation give companies an open opportunity to diversify in Kansas City. The Missouri portion accounts for 56% of the metro area workforce.
Technology. Kansas City is home to plenty of notable technology companies, including Cerner Corporation (NASDAQ: CERN), T-Mobile US (NASDAQ: TMUS), and Garmin (NASDAQ: GRMN). These firms have offices in North Kansas City or the Overland Park, Kansas, area.
Hospitals/healthcare. Kansas City houses many renowned hospitals, including Children's Mercy, The University of Kansas Hospital, Saint Luke's, Truman Medical Center, and North Kansas City Hospital. Children's Mercy, a comprehensive pediatric medical center, employs over 8,000 residents in the Kansas City metro area.
Tourism/hospitality. More than 25 million visitors come to Kansas City every year, with one in every 20 persons employed in Kansas City metro working directly or indirectly in tourism. Two of the most prominent attractions are America's official World War I Museum and Memorial; the other is the Negro Leagues Baseball Museum.
Financial services. Kansas City possesses several financial institutions. The Federal Reserve Bank of Kansas City covers the 10th District of the Federal Reserve, including Colorado, Kansas, Nebraska, Oklahoma, Wyoming, and portions of western Missouri and northern New Mexico. UMB Financial (NASDAQ: UMBF), Commerce Bancshares (NASDAQ: CBSH), and H&R Block (NYSE: HRB) are all headquartered in Kansas City.
Schools of note
Kansas City is home to several public and private colleges. With each increasing enrollment every year, student housing presents an opportunity for real estate investors.
University of Missouri - Kansas City
The University of Missouri - Kansas City, offering undergraduate, graduate, professional, and doctoral degrees, is located in Kansas City's heart on Volker Boulevard. Over 17,000 students were enrolled as of fall 2020.
The University of Kansas Medical Center
A campus of the University of Kansas, located in Kansas City, Kansas, offers several undergraduate and graduate programs from the KU School of Health Professions, School of Nursing, and School of Medicine. Over 3,600 students enrolled as of fall 2020.
Metropolitan Community College
With five sprawling campuses in Kansas City, Independence, and Lee's Summit, Metropolitan Community College is the oldest public college in greater Kansas City. The campuses support dual enrollment, vocational and associate degree programs, and continuing education throughout the city. Its fall enrollment of 2020 totaled 13,986 students.
Rockhurst University
Rockhurst is a private Jesuit university located on 55 acres in Kansas City's cultural district, a short distance from Country Court Plaza, a favorite dining and shopping spot. Rockhurst University has increased its headcount despite the COVID-19 pandemic, with the student population growing by 23.6%, partially due to Saint Luke's College of Health Sciences becoming part of Rockhurst in 2020.
Neighborhoods of note
With its diverse range of neighborhoods, Kansas City has a significant degree of real estate opportunities. Investors have a myriad of options, whether they're interested in new home builds, neighborhood revitalization in single and multi-family housing, or other areas of investment.
Wendell Phillips
The Wendell Philips neighborhood is filled with historical landmarks -- the American Jazz Museum, Negro Leagues Baseball Museum, Black Archives, and Mutual Musicians Foundation. The district is seeing new life as the site of the Urban Neighborhood Initiative's Purpose Built Community. Residents are designing mixed-income housing, as Wendell Philips promises to be a rich mix of history for the future.
Prairie Village
Though located on the Kansas side, Prairie Village is considered part of the Kansas City Metropolitan Area. It has quick access to Country Club Plaza, major sports stadiums, and the Kansas City Zoo. There's also relatively short access to the University of Missouri - Kansas City and the University of Kansas Edwards Campus. Median home prices are up 12.3% over the past year, with a median home value of $369,857.
Leawood
Home values in Leawood have increased 9.1% over the past year, and it's considered a low-crime-rate area. The City's land area is approximately 75% developed, and growth is expected to continue in the future. Leawood has been fortunate to consistently remain below the national and state averages for unemployment rates throughout the years.
The Millionacres bottom line
Investing in the Kansas City residential area presents many opportunities. Population growth is steadily increasing, jobs are returning to the area, and the pandemic has provided a significant but actively recovering dent in Kansas City's infrastructure. Pandemic-related challenges aside, people will return to the office again, the vibrant nightlife will operate at a total capacity, and the continued strong demand for rentals will firmly give Kansas City an edge for prospective investors.
Kansas City is steeped in a deep history of strength and perseverance as a backbone market in the United States. In the wake of the pandemic, Kansas City's key industries are returning and are on pace to show resurgence, opening up the road to recovery and positively affecting the local economy.
Got $1,000? The 10 Top Investments We'd Make Right Now
Our team of analysts agrees. These 10 real estate plays are the best ways to invest in real estate right now. By signing up to be a member of Real Estate Winners, you'll get access to our 10 best ideas and new investment ideas every month. Find out how you can get started with Real Estate Winners by clicking here.
The Motley Fool recommends Cerner, Garmin, and T-Mobile US. The Motley Fool has a
disclosure policy
.