Get our 43-Page Guide to Real Estate Investing Today!
Real estate has long been the go-to investment for those looking to build long-term wealth for generations. Let us help you navigate this asset class by signing up for our comprehensive real estate investing guide.
Note: Our market forecast includes Boston data and data from its surroundings, including Cambridge and Newton.
Table of Contents:
Boston is the capital of Massachusetts and the largest city in New England, spanning about 48 square miles. It's home to nearly 693,000 people and also serves as a destination for more than 22 million tourists each year. The city was founded by the Puritans in 1630, though the region itself dates back thousands of years to when the Native Americans first live there.
Affectionately called Beantown -- the moniker refers to the early settlers' affinity for beans -- Boston has achieved many important milestones in U.S. history, including the country's first subway system (known as the T), first public school, and first public library. Today, in the realm of business and industry, Boston is known for its "eds and meds." The city has some of the best hospitals and healthcare facilities in the world, along with dozens of top-notch educational institutions.
Boston's many neighborhoods offer a rich mix of real estate opportunities, from stately brownstones in Beacon Hill to triple-deckers in Dorchester to sleek new luxury condos in the Seaport District.
If you're thinking about investing in the Boston real estate market, here are some factors to consider.
The state of the market
Like many other major cities, Boston's real estate market has been hit hard by the pandemic. The downtown area especially saw a massive exodus of residents, who left apartments vacant in search of more space during the lockdown. The once-vibrant college campuses in and around the city were quiet and subdued as students were sent home to complete their studies remotely last March. As the vaccine continues its rollout, campuses are expecting to be full again this fall, which bodes well for investors in the student housing sector.
Here are some real estate trends of note:
Housing is in short supply: Demand is high and inventory is low in Boston's real estate scene. When homes do come onto the market, bidding wars usually ensue for those who can afford to get into the fray. This is particularly discouraging for first-time homebuyers who will likely have to wait for the market to cool off or expand their search farther outside of the city.
The median price of houses is high: It's expensive to buy a home in Boston. The country's average median home price is $330,000, but in Boston, it's hovering around $557,000. It will be hard for investors to find any bargains in such a hot real estate market, and homeowners lured by low interest rates might find their budget stretched to the max. That said, if you already own property, now might be the time to cash in.
The rental market is on the rebound: Even with a drop in rent, Boston's median rent is much higher than that of the general market. Boston is a huge college town, which meant there was a massive exodus of students during the pandemic. Most students continued their studies either remotely or in a hybrid fashion, depending on their campus. Things are definitely looking up for the fall 2021 semester, though, so campuses -- as well as landlords -- are looking forward to welcoming back students.
Boston housing demand indicators
All data and charts supplied by Housing Tides by EnergyLogic.
Home prices have risen in Boston due to the low supply and high demand, good news for current property owners. On the flip side, rents have fallen and vacancies have increased, bad news for rental investors. However, in towns near large campuses, vacancies will get filled up once again when more students return in-person instruction as anticipated this fall.
Unemployment trends
For the past several years, the unemployment rate in the Boston area had been below the national average. That all changed in 2020 because of the pandemic. Like in many other metro areas, the Boston unemployment rate increased, and for much of the lockdown, the area's jobless rate was higher than the national average. Boston's unemployment rate currently stands at 6.8%, for a 3.8% increase year over year, but this will hopefully improve now that businesses are opening back up and more people are returning to work.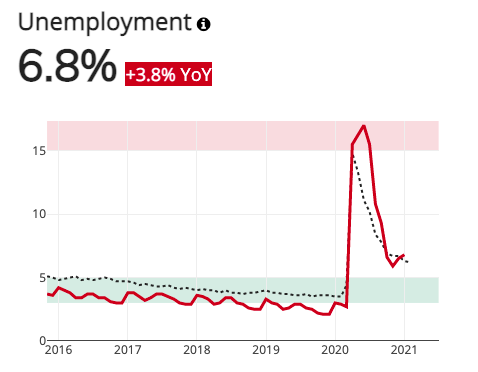 Median home price
The Boston area is an expensive place to live. The current median price is $557,000, which is $227,000 more than that for the country. The median price of homes has increased 10.3% year over year, as low inventory leads to bidding wars, even during the pandemic. The priciest neighborhoods in Boston include the Back Bay, Beacon Hill, and the Seaport District; neighboring Newton, Cambridge, and Brookline also have many multimillion-dollar homes.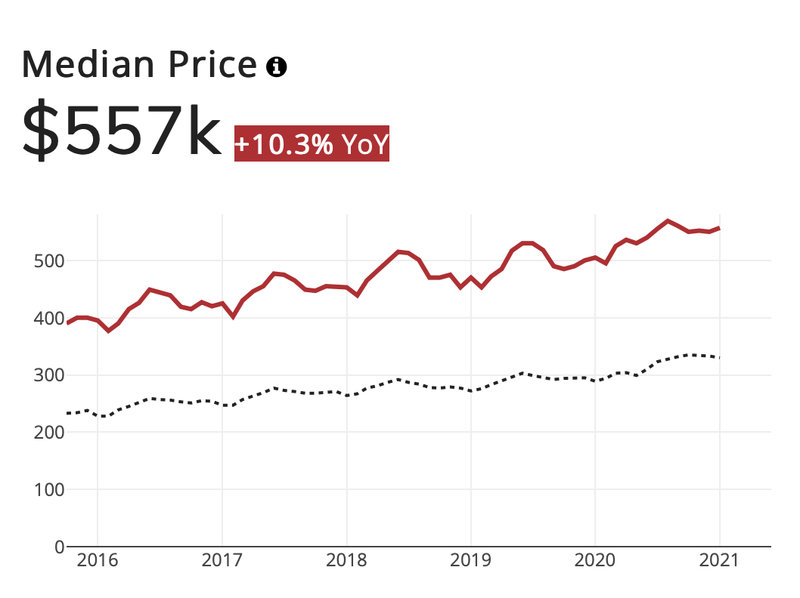 Median rent price
It's also expensive to rent in Boston, where the current median rent is $2,230, surpassing the national median price of $1,740. Still, Boston rents have decreased 5.9% year over year. The pandemic caused many renters to flee crowded cities. Many of these renters were college students, many of whom were forced to or made the choice to continue their studies remotely starting in March 2020.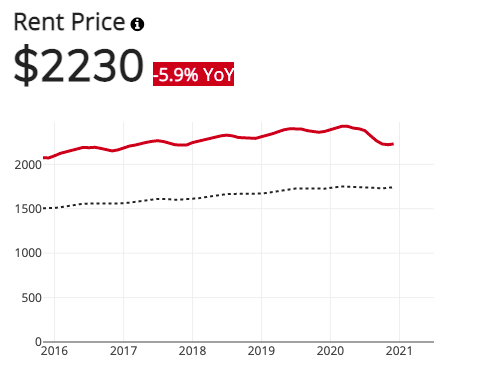 Boston housing supply indicators
Here's a look at the current housing supply in Boston.
Total housing supply
Boston has a tight housing market, with only a 1.4-month supply of homes. This is slightly lower than the national housing supply, which sits at 1.6 months. Low inventory coupled with a high median price means this is a tough market to crack, particularly for first-time homebuyers. While low mortgage rates make homeownership more enticing, a hot seller's market means fierce bidding wars that will be a losing battle for some.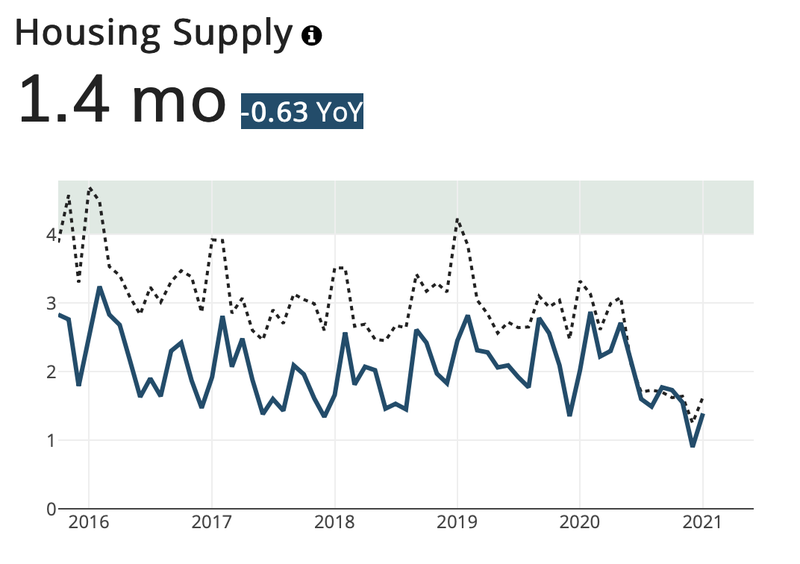 Rental vacancies
Vacancies saw a sharp increase since we first went into lockdown in March 2020. Many people left the city, particularly downtown Boston, where vacancies spiked to nearly 25%. Thousands of college students were also sent back home to continue their studies remotely. As more people become eligible for vaccines in the upcoming months, expect to see full campuses again this fall.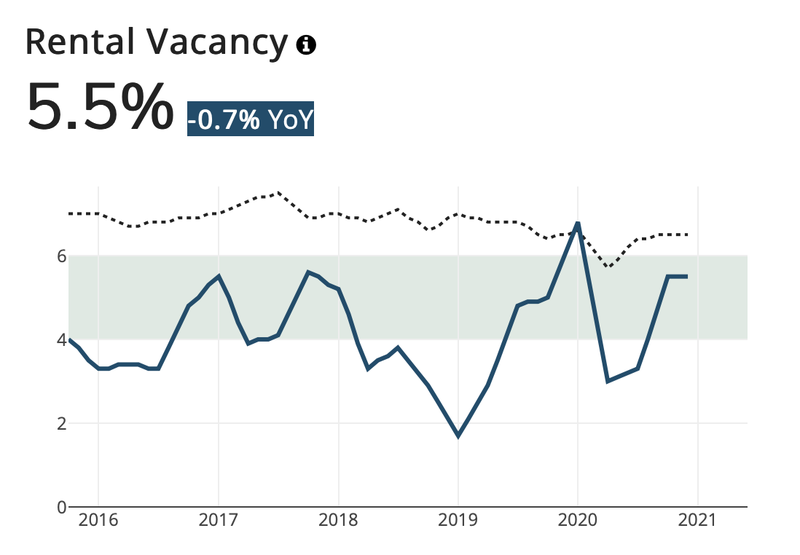 Architectural billings
2020 was not a good year for new construction, as many projects were put on hold because of the pandemic. Boston has been mostly below the national average in architectural billings for the past three years. It took a nosedive during the first part of 2020, but there has been recovery in fits and starts over the rest of the year. Still, architectural billings are below the national average and have seen a 3.4% decrease year over year.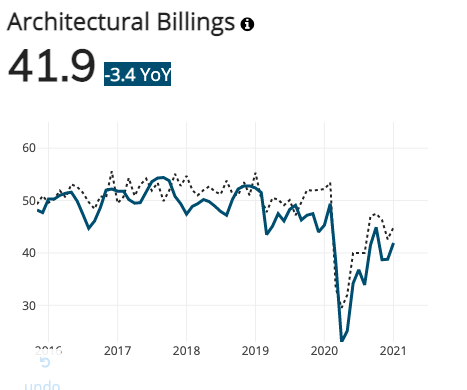 Construction indicators
Construction costs have been on a fairly steady rise over the past few years, with a 6.7% increase year over year. Builders and contractors are currently dealing with supply shortages and increases in lumber costs, which make new builds an even more expensive proposition.
Just as many offices closed down to help stop the spread of COVID-19, many construction projects were also delayed in 2020. Despite higher costs, many projects were once again given the go-ahead, but Boston building projects are still not quite where they were before the pandemic.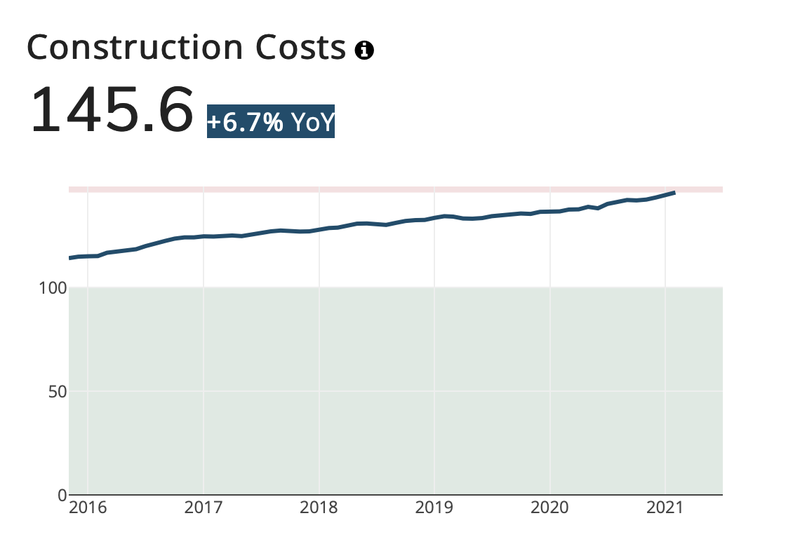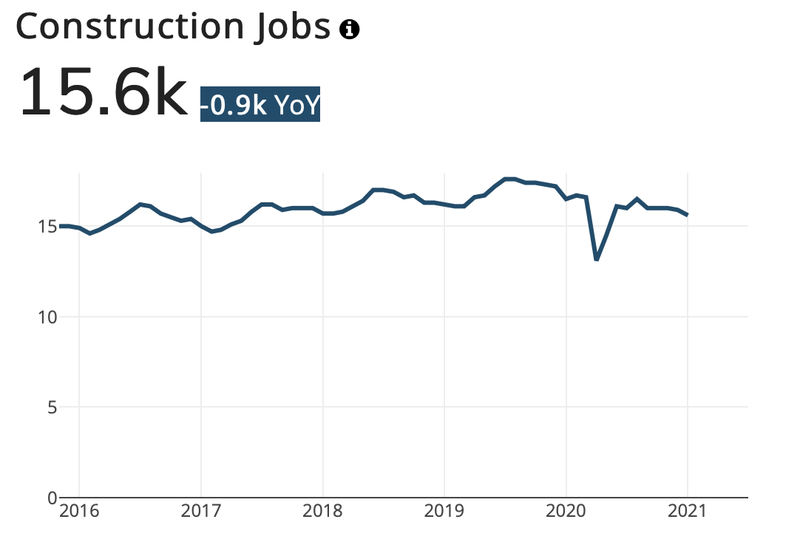 Single-family detached permits
February 2021 saw the issue of 412 single-family detached permits, about 100 more than expected. The forecast for the rest of the year shows an upward trend in the number of permits, which could boost Boston's low housing inventory.

Multi-unit permits (2-plus units)
Multi-unit permits also surpassed what was forecast for 2021. In February 2021, 849.8 permits were issued, about 200 more than what was expected. This is good news for investors, as multifamily homes are typically easier to rent than single-family homes. The increase in multi-unit permits could also be an indicator of more apartment dwellers searching for an upgrade to bigger spaces when the pandemic forced them to live and work in tight quarters.

Boston real estate financial health indicators
Like other major cities in the country, Boston had it hard during the pandemic. Job losses and furloughs led many tenants to fall behind on the rent, and eviction moratoriums gave little recourse for landlords.
Delinquencies
The delinquency rate in Boston is up nearly 2% from last year, a sure indicator that job loss and furloughs caused tenants to get behind in the rent. With evictions put on hold during the pandemic, many landlords fell behind in their own mortgage payments.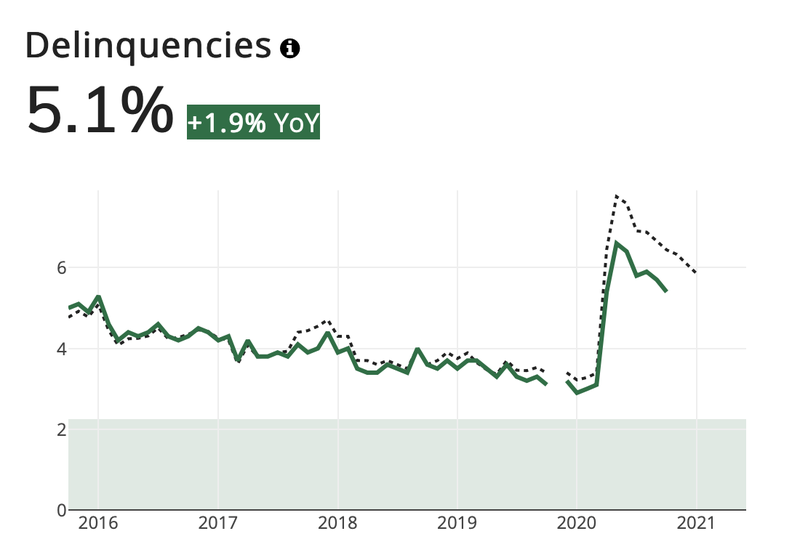 Foreclosures
Boston foreclosures have fallen 0.1% year over year. The rate is now at about 0.3%, very close to the national foreclosure rate. This marks a sharp decline from a 1.5% foreclosure rate five years ago. However, this isn't an indicator that all is well for homeowners. At the start of the pandemic, foreclosures were put on hold, and there are still protections for homeowners like mortgage forbearance that are likely affecting the number of total foreclosures in Boston.
Brand New Massachusetts Foreclosures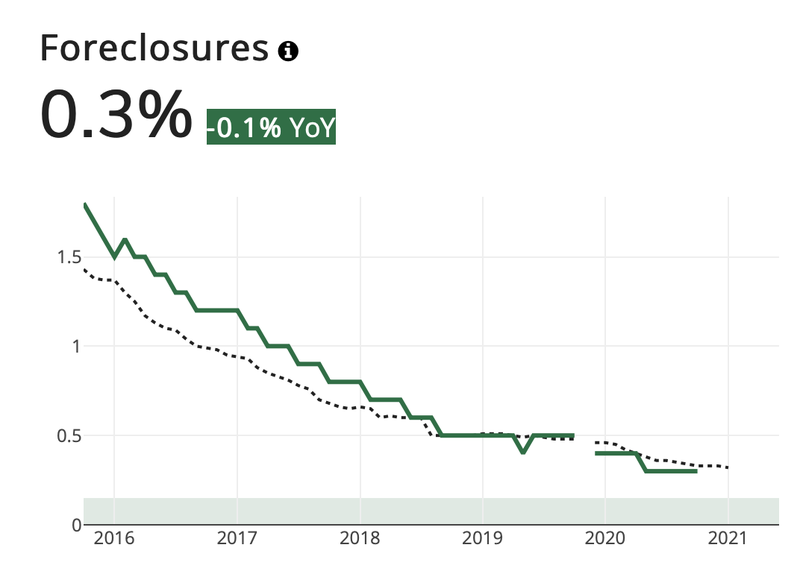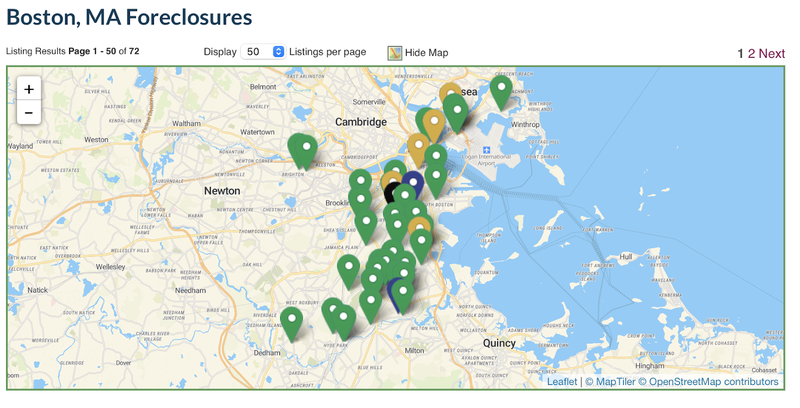 Anchor institutions
Boston is home to a number of key industries and firms, including more than a dozen companies that made the Fortune 500 list:
Financial services: Boston is home to many companies in the financial sector, with State Street Bank (NYSE: STT), MassMutual (NYSE: MCI), LPL Financial Holdings (NASDAQ: LPLA), and the Federal Reserve Bank of Boston among top names. There are also some major players in fintech here, including Domeyard LP, Flywire, and Vestmark.
Biotechnology: Leaders here include Akili Interactive Labs, Ginkgo Bioworks, Alexion Pharmaceuticals (NASDAQ: ALXN), and Vertex Pharmaceuticals (NYSE: VRTX). Boston Scientific (NYSE: BSX) is also a key part of the city's science industry, but it's headquartered in Marlborough, about an hour from Boston.
Healthcare: Boston is home to 21 inpatient hospitals. Top hospitals and rehabilitation facilities include Massachusetts General Hospital, Brigham and Women's Hospital, and Spaulding Rehabilitation Center. McLean Hospital in nearby Belmont is renowned for its psychiatric care.
Education: Boston is widely known as a college town, home to many of the world's most renowned institutes of higher education. The city is also where the country's first public school, Boston Latin School, was founded in 1635 and is still operating as one of the 123 schools in the Boston Public Schools network.
Sports: Boston is a big sports town, with legions of devoted fans. While New York and other big cities might host multiple teams per sport, Boston's teams garner loyalty from all six New England states and beyond. Baseball fans in general consider a trip to Fenway Park a pilgrimage, and on any given night -- prior to the pandemic, that is -- the ballpark is sold out.
Schools of note
The city of Boston is home to 29 colleges and universities, while there are more than 100 institutions of higher education in the greater metropolitan area. All told, there are more than 250,000 students descending on the region from all over the world each year. The vast student population makes Boston and its surrounding towns an excellent opportunity for investors with student housing portfolios.
Here are some of the biggest campuses that are gearing up to be full once again in the fall:
Boston University: BU is a top-tier research university with an enrollment of around 35,000 undergraduate and graduate students.
Northeastern University: Another top-tier research university, Northeastern is also well known for its co-operative education program that allows students to get valuable hands-on experience in their respective fields before graduation. The university has a total enrollment of more than 37,000 undergraduate and graduate students.
Boston College: Despite its name, BC is actually a university. What's more, it's not really in Boston -- it's actually in Chestnut Hill, which is part of both Brookline and Newton. Geography aside, it's another top-tier research university with a total enrollment of nearly 15,000 students. A prestigious academic institution offering dozens of majors, BC has been touted as one of the "New Ivies."
Other notable schools include Emerson College, a top choice for students in the communications and arts fields, and Berklee College of Music, which attracts budding talent from all over the world.
Of course, one can't forget that Harvard University and the Massachusetts Institute of Technology (MIT) are just across the river in Cambridge, not to mention dozens of other schools in any direction. Step a little farther outside of Boston, and you'll find other prestigious institutions, including Tufts University in Medford, Brandeis University in Waltham, and Wellesley College in Wellesley.
Suffice it to say, rental investors will have no trouble finding student housing opportunities in the Boston area.
Neighborhoods of note for investing
The T, Boston's subway and rail system, makes it easy to get around the city, while the commuter rail makes it easy to get into town from outlying suburbs. Here are some neighborhoods that investors should consider:
Allston-Brighton: These two towns in Boston form an urban hub popular with college students for its easy access to both campus and nightlife. Tenant turnover is high here, but there is always a demand for housing. In fact, according to Boston Pads, back in March 2020 before lockdown, Allston and Brighton had only 0.84% and 0.75% vacancy rates, respectively. That shot up to 7.57% and 4.45% over the next year, likely because many students went back to their hometowns for remote study. The outlook for fall 2021 is promising, so rental investors with properties in Allston-Brighton will once again be rejoicing for the hordes of students to move in on September 1.
Roxbury: Home prices fell in 2020 but will rebound here, where you can get more space for your money than elsewhere in the city. Condos and multifamily homes offer good opportunities for investors. Keep an eye on Nubian Square, which has new residential developments and a mixed-use complex in the works.
East Boston: Experts say the redevelopment of the old Suffolk Downs racetrack has brought a lot of promise to "Eastie," an industrial area that is also home to Boston's Logan Airport. Demand isn't as high here for housing yet, which means you can get a rather large condo for under $500,000 -- a proposition practically unheard of elsewhere in the city. If you've got some patience to wait for an up-and-coming town to arrive, keep Eastie on your radar.
Fort Point: Investors are keeping an eye on this Seaport neighborhood where the life sciences industry is setting down roots -- in the former headquarters of GE (NYSE: GE) and an old Procter & Gamble (NYSE: PG) building, to be more specific. This industry will attract high earners to the area, which means higher rents will follow. Mixed-use development projects are also in the works, which could make for an exciting future for Fort Point.
East Cambridge: This area is ready for something big now that the Green Line Extension is almost finished and Cambridge Crossing, an innovative, mixed-use community that connects to Kendall Square, is opening. It's a great area for people who want an urban experience that also feels neighborly with tons of shops, restaurants, and things to do.
The bottom line
Like other major cities, Boston got pummeled by the pandemic. Dismal unemployment rates led to apartment vacancies and stalled construction projects, posing serious challenges for investors. Still, much like how the Red Sox staged an epic comeback in 2004, the city is also on track to rebound. The tight housing market shows there's a high demand for living in Boston, though investors might have to just be a little patient with breaking into the real estate market.
Got $1,000? The 10 Top Investments We'd Make Right Now
Our team of analysts agrees. These 10 real estate plays are the best ways to invest in real estate right now. By signing up to be a member of Real Estate Winners, you'll get access to our 10 best ideas and new investment ideas every month. Find out how you can get started with Real Estate Winners by clicking here.
The Motley Fool has no position in any of the stocks mentioned. The Motley Fool has a
disclosure policy
.