Get our 43-Page Guide to Real Estate Investing Today!
Real estate has long been the go-to investment for those looking to build long-term wealth for generations. Let us help you navigate this asset class by signing up for our comprehensive real estate investing guide.
With a growing number of U.S. citizens and permanent residents living abroad and engaging in various types of international business activity, it's more important than ever to stay abreast of international tax law. Especially when failing to file certain forms come with a hefty penalty!
One of the many forms to keep an eye on is IRS Form 5471, Information Return of U.S. Persons With Respect to Certain Foreign Corporations.
IRS Form 5471, a tax return attachment, is used to report information pertaining to certain foreign corporations. This form is also known as one of the most complicated forms in the tax world, notoriously for taking hours to complete.That's right -- hours.
Since completing this form is so difficult, if you're required to file it, make sure you consult an advisor. This step is crucial because the penalties associated with IRS Form 5471 could potentially be as high as $60,000. That's a huge penalty to potentially face.
To avoid the risk of failing to file correctly and incurring a substantial penalty, let's learn more about the filing requirements for IRS Form 5471.
Who is required to file
While it may seem that IRS Form 5471 is a tax form for major corporations, many small businesses owners who have property (i.e., real estate) held by a foreign equivalent to an LLC are also deemed a shareholder in a foreign corporation and thus have a 5471 reporting requirement.
In general, individuals who are U.S. citizens or residents who are officers, directors, or shareholders in a foreign corporation with at least a 10% ownership stake in the foreign corporation are required to file IRS Form 5471. While this is the general rule, IRS 5471 instructions separate filers into different categories, labeled 1 through 5c, and each category comes with its own set of instructions.
Since the instructions contain so many technical details and categories of filers, you and your advisor should review the instructions closely before filing IRS Form 5471.
Form 5471 schedules
In addition to the technical instructions associated with each filing category, the tax form also has 15 schedules. Here are the Form 5471 schedules you should know about:
Form 5471 Schedule A: Stock of the Foreign Corporation
Form 5471 Schedule B: Shareholders of Foreign Corporations
Form 5471 Schedule C: Income Statement
Form 5471 Schedule E: Income, War Profits, and Excess Profits Taxes Paid or Accrued
Form 5471 Schedule E-1: Taxes Paid, Accrued, or Deemed Paid on Earnings and Profits (E&P) of Foreign Corporation
Form 5471 Schedule F: Balance Sheet
Form 5471 Schedule G: Other information
Form 5471 Schedule H: Current earnings and profits
Form 5471 Schedule I: Summary of Shareholder's Income From Foreign Corporation
Form 5471 Schedule I-1: Information for Global Intangible Low-Taxed Income
Form 5471 Schedule J: Accumulated earnings and profits of Controlled Foreign Corporations
Form 5471 Schedule M: Transactions Between Controlled Foreign Corporation and Shareholders or Other Related Persons
Form 5471 Schedule O: Organization or Reorganization of Foreign Corporation, and Acquisitions and Dispositions of Its Stock
Form 5471 Schedule P: Previously Taxed Earnings and Profits of U.S. Shareholder of Certain Foreign Corporations
Form 5471 Schedule R: Distributions From a Foreign Corporation
In addition to being familiar with the 15 schedules, taxpayers and their advisor should also get acquainted with the categorial instructions for each schedule. For convenience, the chart below can help filers identify which schedules are associated with each category type.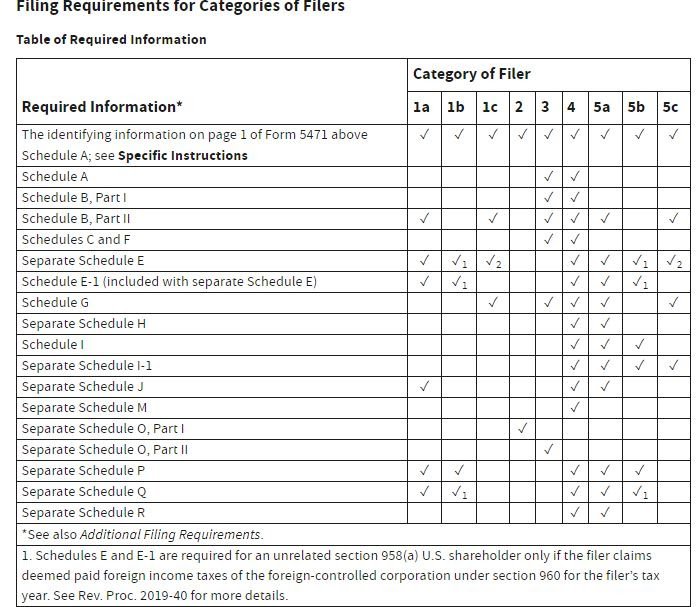 As you can see, IRS Form 5471 filing is complicated. For this reason, working with an advisor every step of the way is your best option. Not only is an advisor better equipped to navigate the form and instructions, but working with an advisor can also reduce the likelihood of running into any penalties.
Fines and penalties for not filing Form 5471
As it relates to Form 5471, the IRS can penalize taxpayers for missing, unfiled, or incomplete 5471 forms. The penalty for failing to file is $10,000 per year for each year the tax form isn't filed; an incomplete form can also be construed as unfiled. Not only could taxpayers face penalties, but if a taxpayer fails to file Form 5471, the entire income tax return remains open for audit -- indefinitely.
Additionally, if the IRS contacts the taxpayer about the failure to file, the penalty can be as hefty as $60,000 per year. So if you have a 5471 reporting requirement, working with a tax advisor to have this form submitted on time is in your best interest.
IRS streamlined program
If you've missed a Form 5471 filing requirement from a previous tax year, consulting a tax advisor about the IRS streamlined program will help to reduce the penalty exposure. The purpose of the streamlined program is to give taxpayers who live outside the country and are able to prove that they did not willfully fail to file a return an opportunity to file a delinquent tax return.
The Millionacres bottom line
Taxpayers who live abroad and engage in international business activities have many additional reporting requirements. From IRS Form 5471 to IRS Form 2555, many forms and instructions that apply to your situation may be unfamiliar to you. Since the process can get rather complicated and many of the forms may take hours to complete, if you're a taxpayer living abroad, always consult your tax advisor before filing your return. Working with a tax advisor will substantially reduce your potential exposure to penalties.
Got $1,000? The 10 Top Investments We'd Make Right Now
Our team of analysts agrees. These 10 real estate plays are the best ways to invest in real estate right now. By signing up to be a member of Real Estate Winners, you'll get access to our 10 best ideas and new investment ideas every month. Find out how you can get started with Real Estate Winners by clicking here.