Get our 43-Page Guide to Real Estate Investing Today!
Real estate has long been the go-to investment for those looking to build long-term wealth for generations. Let us help you navigate this asset class by signing up for our comprehensive real estate investing guide.
Opportunity zones (OZs), which were passed into law as part of the Tax Cuts and Jobs Act (TCJA) in December of 2017, have become one of the most popular new investment vehicles over the past three years. The program's goal is to help create jobs and spur economic growth in some of the country's poorest areas by incentivizing investors to redirect capital there, rewarding them with a variety of tax benefits through 2026.
The federal program has received over $75 billion in private capital, but with certain tax benefits having expired in 2019 and more expiring in 2021, investors want to know how opportunity zones and their benefits will work moving forward. This comprehensive guide will help to address the following questions and topics:
What is an opportunity zone?
Opportunity zones are designated geographic areas that have been identified as low-income census tracts. These census tracts were nominated by governors and certified by the U.S. Department of the Treasury. To be eligible, they needed to have 1) a median family income of less than 80% of the surrounding area or 2) an average poverty rate of 20% or more.
There are currently 8,766 opportunity zones in both rural and urban areas throughout the country, with OZs in every state and territory. Over 35 million people reside in the designated OZs, with 7.5 million of its residents living in poverty. In the past decade, these zones have seen sluggish overall economic progress and a decline in population.
While these areas are some of the most underserved communities of the country, there is also clear opportunity for revitalization. While the removal of reporting requirements from the original legislature has made tracking the results of OZs over time difficult, the Council of Economic Advisors (CEA) estimates that real estate values in OZs have increased 1.1%, adding an extra $11 billion of additional wealth to property owners in these areas just over the past two years. The CEA estimates that OZs can lift around 1 million people out of poverty and are on track to create 500,000 jobs.
How to invest in an opportunity zone?
Participating in an opportunity zone and the preferential tax treatment they offer is done by placing qualified eligible capital gains in a qualified opportunity fund (QOF) on or before December 31, 2026. Eligible capital gains can be realized from the sale of stocks, bonds, private business, or real estate. Gains must be rolled into a qualified OF within 180 days from the sale of the asset in addition to filing IRS form 8949 with the investor's taxes. Nonqualified capital gains funds can also be invested in a qualified fund, but that money will not be eligible for the same tax incentives.
A qualified opportunity fund is a private fund structured as a corporation or partnership that invests at least 90% of its capital into an opportunity zone. A recent ruling stated that a fund's failure to meet the 90% asset test would not disqualify it from being classified as an opportunity fund, but may result in a penalty.
The fund can invest in any qualified asset, which may be real property, equipment, or a business where 50% or more of income is derived from an opportunity zone. If property is purchased, the OF needs to make "substantial improvements" to the property within the first 30 months. OFs are subject to review at six-month and year-end intervals to ensure compliance with regulations and requirements.
The number of OFs is consistently growing, but according to Novogradac there are 927 OFs. The Economic Innovation Group (EIG) has an OZ activity map that highlights the most noteworthy OZ investments, including the fund's investment focus and location. Investments cover a broad range of geographic locations and asset types, including:
Investing in existing businesses.
Affordable housing.
Workforce housing.
Commercial real estate (including industrial, office, retail, mixed-use, and hospitality).
Clean energy.
Health care.
Sustainable and urban agriculture.
Manufacturing.
Historic preservation (redevelopment of historic buildings).
Venture capital.
Similarly to a crowdfunding investment, the opportunity fund should provide an offering memorandum (OM), which outlines the investment opportunity, market summary of that specific opportunity zone, economic outlook, and projected performance.
However, it's essential the investor verify the feasibility of the investment and be comfortable with the structuring of the fund and its holdings. It's also important to see what other assets the fund has managed or completed. While this is no guarantee that the opportunity fund will succeed, it does show that the fund has a track record and experience in the business.
Blake Christian talks about what type of gains can be a part of an Opportunity Zone fund
What tax incentives are there for investing in an opportunity zone?
Significant deadlines for certain opportunity zone tax benefits have passed, meaning investors who participate in opportunity zones today are not eligible for all benefits. However, there are discussions about possibly extending the tax deferral deadline, which would allow more investors to receive all tax benefits. Opportunity zones offer preferential tax treatments on capital gains for investors participating in qualified Opportunity Funds (OF), including tax deferral, a step-up basis for capital gains, and capital gains exclusion. Here is how each benefit applies:
Tax deferral: Investors can defer capital gains taxes by reinvesting capital gains into a qualified opportunity fund within 180 days of achieving the gain. The deferral gain must be realized before the opportunity fund investment is sold, exchanged, or by Dec. 31, 2026.
Step-up basis for capital gains: Those who invest their qualified capital gains into an opportunity zone on or before December 31, 2021, and hold the investment over a period of five years, can eliminate 10% of their original deferred gain.
Those who invested on or before December 31, 2019, and hold the investment for seven years or more will see the 10% elimination benefit become 15%. For example, if an accredited investor rolled a capital gain of $100,000 from a previous investment into an opportunity fund before December 31, 2019, only $90,000 of the original investment would be subject to capital gains tax by 2024, and only $85,000 if the investment is held until December 31, 2026.
3. Capital gains exclusion: If the opportunity fund sustains the investment over a period of 10 years, the capital gains made from the opportunity fund itself on or before December 31, 2047, are permanently excluded from capital gains taxation. This is by far the most significant benefit and can meaningfully enhance the total return to investors who are patient enough to hold for this length of time.
Investors curious about the ins-and-outs of investing opportunity zones can also find more information in our frequently asked questions about opportunity funds page.
How do opportunity zone tax benefits work?
To appreciate the tax benefits of investing in opportunity zones, it's helpful to visualize what an investment in an opportunity fund (OF) may look like. Keep in mind that when you invest in an opportunity zone will determine the amount of benefits you can utilize. Below are the two scenarios in which investors can participate from this point forward: the first being before December 31, 2021, and the second falling after January 1, 2022, but before June 28, 2027. Several factors affect how much you benefit from the tax law, including:
The amount of funds invested.
The length of investment.
Your current filing status.
Your income.
The overall return received from the OF.
The example below is meant to illustrate how an investment in an opportunity fund could work.
Imagine you rolled over $100,000 from a qualified capital gain into a qualified opportunity fund (QOF) in 2021. You're married and file jointly, making over $250,000 a year in joint taxable income. This places you at a capital gains tax rate of 20% with an additional 3.8% to net investment income tax.
The opportunity fund you invested in provides a 8% return over the life of the investment and is held for 10 years. This means you can defer the tax payment on your original capital gains until 2026 in addition to receiving a reduction of 10% on the original basis.
As of December 31, 2026, your lower cost-basis of $90,000 and deferral benefits expire. In year 10, when you exit the investment or the investment is sold, you pay no tax on the capital gains made from the QOF over the entire 10-year investment period. In this example, utilizing the tax incentives offered by investing in an QOF would lead to a 50.98% additional return, or $50,980 more than a standard non-opportunity zone investment would.

Let's say you missed the December 31, 2021, deadline to invest in order to receive the 5-year 10% cost-basis reduction, but you still rolled $100,000 of qualified capital gains into a QOF after January 1, 2022, but before June 28, 2027. Assuming you fall under the same tax qualifications and achieve the same return, this example would lead to a 48.6% additional return, or $48,600 more than a standard non-opportunity zone investment would.
As you can see, the difference between receiving the cost-basis reduction and deferral is minimal when you look at the long-term outcomes between the two examples. The greatest benefit of this program is paying zero capital gains tax on the capital gains earned from investments held 10 years or more. Deferral of capital gains with the step-up basis is a bonus and equates to a 22% increase in savings per $1,000 invested over five years using the example scenarios above. No matter when you invest, the longer an investment is held in an OZF, the greater the additional return.
What risks are there when investing in opportunity zones?
As with any investment, there are risks with investing in opportunity zones. The largest is the viability of the investment in that zone. Just because there are tax incentives to place money in certain areas, it doesn't mean every investment will be profitable. The location and type of investment matters. Look for a fund that has diversified assets across different opportunity zones or is focused on a viable sector regardless of economic conditions.
Each Opportunity zone fund operates in a different way, focusing on a different strategy, offering different returns and structuring. It's important to identify a fund that appeals to you within the 180-day rollover period and to conduct your due diligence on the fund before investing. We suggest researching the fund manager's experience, reviewing past performance in other sectors, and thoroughly analyzing the opportunity zone and asset class the fund is focused on. This is particularly important right now as it relates to coronavirus pandemic-related impacts. Many sectors in commercial real estate are struggling to survive, making new investment opportunities in these asset classes challenging.
Make sure the opportunity fund is following the required rules and guidelines in order to keep the designation of a qualified OF and to be able to take full advantage of the tax opportunities available as one.
What qualifies as an Opportunity Zone?
In order to be deemed an opportunity zone, an area must be nominated for that designation by the corresponding state and that nomination must be certified by the IRS. Additionally, for real estate developments to qualify for opportunity fund financing, the investment must result in the properties being substantially improved, which by the government terms means the doubling of the cost basis.
Opportunity zones were first rolled out in April 2018 and included 18 states. Since that time, the program has expanded and covers all 50 states. These opportunity zones are twice as likely as other U.S. communities to be located within a county that has suffered from persistent poverty. This means the county has experienced a poverty rate of at least 20% for 30 years.
Blake Christian describes how to use Opportunity Zone funds on the Millionacres Podcast
How to find an Opportunity Zone
Opportunity zones are shining the spotlight on parts of the country that have been typically passed over when it comes to investing. Although it may seem like a daunting task, finding an opportunity zone, especially through a qualified opportunity zones map, is easier than you think.
Take a peek at the list of designated qualified opportunity zones in IRS Notices 2018-48 (PDF). The list is organized in alphabetical order by state and includes all of the population census tracts that the Treasury Secretary designated as opportunity zones. You can also find a map of opportunity zones on the EIG website.
In order to find out if an investment is in an opportunity zone, you can search by address online using the Census Bureau's Geocoder tool to determine the census tract in which a specific address lies. You can also then use the opportunity zone mapping system or the list of designated qualified opportunity zones to determine the status of that census tract.
To stay abreast of updates to opportunity zones, one public policy group that played a role in creating the program, the Economic Innovation Group, created a resource page that links to an interactive map and state-by-state opportunity zones updates. On this site you can explore an individual state's opportunity zone program, such as how many areas received the designation as well as the population and employment statistics in each zone.
The EIG has estimated that more than $6 trillion of potential capital gains are eligible for the program.
Smart Growth America's LOCUS published a National Opportunity Zone Ranking Report. The report noted that it ranks each of the designated zones based on its Smart Growth Potential (SGP) as well as its Social Equity + Vulnerability Index score (SE_SVI). It includes a smart-growth potential filter for investors to identify which opportunity zones should be prioritized for investment from a triple-bottom-line perspective that can deliver positive economic, environmental, and social returns.
The group created the report to give local policymakers and community groups a plan to manage and ensure equitable, inclusive development in opportunity zones.
The Urban Institute also offers a state-by-state analysis of opportunity zones. This includes homeownership rates, ethnicity, and education levels.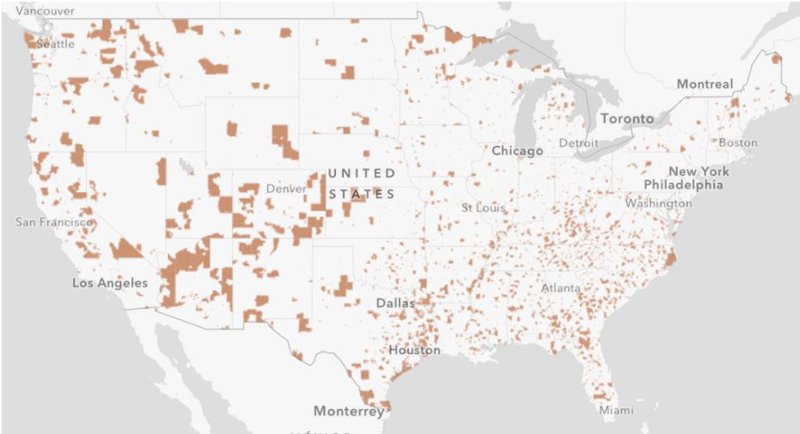 How to form an Opportunity Zone fund
It's important to remember that this fund has to have 90% of its assets in an opportunity zone.The IRS describes an opportunity zone fund as an investment vehicle that files either a partnership or corporation federal income tax return and is organized for the purpose of investing in qualified opportunity zone property. You can get and file Form 8896 from the IRS and create a qualified opportunity fund.
It can be structured as a partnership or corporation as long as the purpose is to invest in one of the opportunity zones' census tracts, through real estate or in businesses through equity. But remember, the fund must hold the bulk -- 90% -- of its assets in an opportunity zone area.
In contrast to existing programs, opportunity funds can self-certify without needing a government agency to approve the fund. In this scenario, it's the private-market fund managers that are responsible for managing the opportunity funds instead of investors or government agencies.
The great thing is that there is no limit to the number of opportunity funds that can be created or dollars that can be invested into it. This gives it the potential to become one of the largest programs aimed at developing low-income communities.
Recently proposed changes to Opportunity Zones
There was some clarification needed surrounding opportunity zones, so government officials relaxed some of the requirements that looked at hours, wages, or tangible property. For example, if at least 70 percent of the tangible property owned or leased by a trade or business is qualified opportunity zone property, it meets the requirement.
In April 2020, the IRS and Treasury issued its second round of regulations for qualified opportunity zones. With regulations evolving, it's easy to get mixed up, which can result in lost funds. This proposed regulation was related to gains that may be deferred as a result of a taxpayer's investment in an opportunity fund, special rules for an investment in the fund held for at least 10 years, and updates to portions of previously proposed regulations under section 1400Z-2 to address various issues.
The latest proposed rules should help promote jobs, and it paves the way for investments in other businesses operating within the opportunity zones, aside from real estate. The businesses can qualify for the 50% gross income requirement if half of the company's employee hours or wages are sourced in the zone.
The new regulations now spell out exactly how businesses can meet the 50% threshold with looser requirements that take into consideration businesses that operate within opportunity zones but get a large amount of business from other places. They can also satisfy the 50% test if at least 50% of the total amount the company pays for services performed goes toward services performed in the opportunity zone and the company's tangible property and management or operational functions performed in the opportunity zone is necessary to generate 50% of its gross income.
Additionally, this recent set of proposed rules clarifies that a fund investing at least 90% of its assets in opportunity zone properties won't lose its tax-advantaged status if it sells qualified property, stock, or partnership interests in the fund. However, there's a catch. This is true just as long as it reinvests the proceeds in another qualified property within 12 months.
Qualified Opportunity Zones: in summary
Opportunity zones can be a great way to invest in real estate while helping improve communities in need of new development. While the tax benefits may lure you to invest in uncharted territories, it's important to make sure you completely understand the intricate details of opportunity zones investing. Take into consideration that you must hold the property for a minimum of 10 years to receive a full tax-exempt status on your investment. This means the real estate market has the potential to go up or down during that time.
This economic development tool and tax haven holds massive potential for those involved. If opportunity zones work as intended, they will offer tax incentives to investors shifting capital into undercapitalized communities of the country. If you are interested in investing in an opportunity zone, it's important to identify a fund to invest in sooner rather than later to take full advantage of the tax incentives available. There are high hopes for a positive impact in areas of need as this investment opportunity continues to unfold over the next decade. For more information about opportunity zone funds, please check out our Opportunity Zone FAQ here.
Got $1,000? The 10 Top Investments We'd Make Right Now
Our team of analysts agrees. These 10 real estate plays are the best ways to invest in real estate right now. By signing up to be a member of Real Estate Winners, you'll get access to our 10 best ideas and new investment ideas every month. Find out how you can get started with Real Estate Winners by clicking here.