Get our 43-Page Guide to Real Estate Investing Today!
Real estate has long been the go-to investment for those looking to build long-term wealth for generations. Let us help you navigate this asset class by signing up for our comprehensive real estate investing guide.
A 1031 exchange is a real estate investor's best friend. When you sell an investment property for a big profit, your wallet can take a big hit during tax time. But a 1031 exchange lets you delay paying any taxes on your investment properties for as long as you like.
This process is more complex than simply selling one property and buying another. You need to meet specific requirements to complete a 1031 exchange.
One of these is the requirement that you identify replacement properties within 45 days from the date you sell the original property. This is easier said than done. And there are other things you need to do, too. Here's a quick guide that can help you get started on the right foot.
The 45-day rule
When you close on the sale of your original investment property, the 45-day identification window begins. You have 45 calendar days, not business days, to identify potential properties you could buy to complete the 1031 exchange.
You have two options here. You can identify:
up to three identified replacement properties or
as many replacement properties as you want if the total market value doesn't exceed 200% of the value of the property or properties you sold to initiate the exchange.
You can change your mind if you're still within the 45-day window (for example, if one of your identified properties sells to someone else). But be sure to revoke your original identification letter or both will count and could violate these rules.
You don't have to buy all of your identified properties. If you identify three potential replacement properties, you can acquire one, two, or all three of them.
Say you sell a property for $1 million and buy one of your identified properties for more than $1 million. That could satisfy the requirements for a completed 1031 exchange by itself.
In other words, while you could buy all the properties you identify, you can look at the three-property rule as a first choice and a couple backups.
The same principle applies to the 200% rule. If you sell an investment property for $1 million and identify five properties with a combined value of $2 million, you don't have to buy all five. You can purchase any combination of the identified properties. As long as the purchase price is equal to or greater than the sale price of the original property, you can still defer taxes.
You can even acquire just one of your identified properties for less than the original property's sale price. This is a partial 1031 exchange and it defers some of your taxes.
You must identify the replacement property or properties by the end of the 45-day window. Make the identification in signed written document that's delivered to your 1031 exchange facilitator. This is generally your qualified intermediary.
In this document, clearly describe the replacement property using information like its street address or legal description. "Duplex on Elm Street" isn't an acceptable identification of a potential replacement property.
Here's something else to know: If you close on a property within the 45-day window, the formal identification requirement doesn't apply to you. The property you acquire has been "identified" automatically.
How to find replacement properties for your 1031 exchange
Here's the good news. While the 45-day identification window goes by quickly, there are tons of possibilities when it comes to identifying potential replacement properties.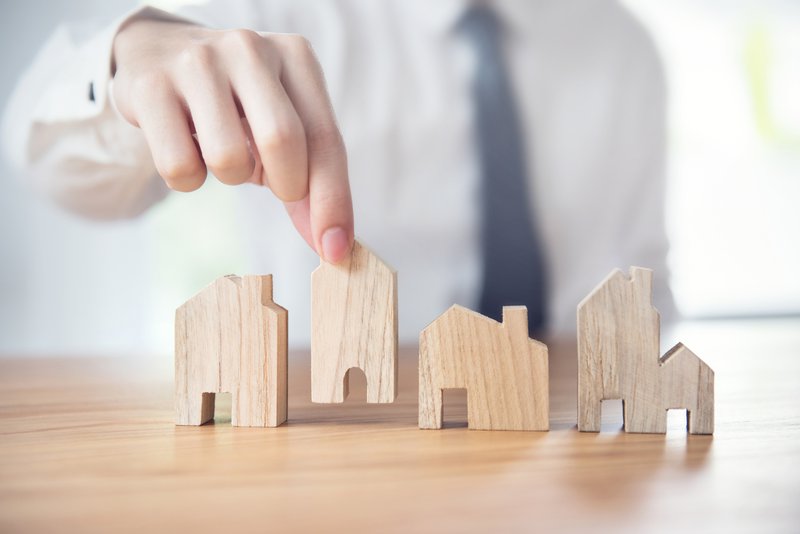 Although you're required to make a "like-kind" exchange, this just means selling one investment property and buying another. This is true even if they're of different natures. For example, it's perfectly fine to sell a residential duplex and buy a small office building. Or you could sell a warehouse property and buy a few single-family rental properties to replace it.
There should be tons of potential properties in your desired market. Here are a few of the many possible sources for 1031 exchange properties to consider:
Your local MLS is a great place to start, but it's a lot of legwork.
Real estate websites (Zillow, Trulia, LoopNet, etc.) can also be a good resource, as well as 1031 specialty platforms like 1031gateway.com and 1031crowdfunding.com.
If you have a real estate professional, let them know your situation and what you're looking for. They can help generate a list of potential identification properties for you.
Commercial real estate brokers can be helpful, too. There are likely a few local professionals who specialize in commercial properties. These companies generally have extensive experience with 1031 exchanges, so they can be a good source of property ideas.
Things to keep in mind
There are a few things you should keep in mind as you prepare to look for replacement properties.
First, tart the process as soon as possible. The 45-day window will fly by quicker than you think. In fact, I suggest starting the search for suitable replacement properties as soon as your original property is under contract to sell. Remember: It's easy to make a list of three properties. It's not easy to make a list of three properties that are priced right and make sense for your investment objectives.
Use your entire identification allowance. For most people, this means identifying three replacement properties even if you only intend to buy one. This way, if one or two of them fall through, you can still have an IRS-compliant 1031 exchange. If you identify just one potential replacement property during the 45-day window and the sale falls through, you could be in trouble.
Finally, keep the 1031 exchange spending and financing requirements in mind while you prepare your list of replacement properties. To completely defer taxes, you need to buy a property or properties with a sale price that's equal to or greater than your original property's sale price. You also need to take on the same amount of debt with the second property.
So if you sell an investment property for $500,000 with a $300,000 mortgage, your replacement property or properties must match or exceed both of these figures. Remember that when making your list of replacement properties. You can acquire a property with a lower sale price or with less debt, but this will result in a partial 1031 exchange and the difference is taxable income.
There are a lot of things to consider when you're looking for 1031 exchange properties. But by keeping these points in mind, you should be able to find great candidates and make the most of your exchange.
Got $1,000? The 10 Top Investments We'd Make Right Now
Our team of analysts agrees. These 10 real estate plays are the best ways to invest in real estate right now. By signing up to be a member of Real Estate Winners, you'll get access to our 10 best ideas and new investment ideas every month. Find out how you can get started with Real Estate Winners by clicking here.