Get our 43-Page Guide to Real Estate Investing Today!
Real estate has long been the go-to investment for those looking to build long-term wealth for generations. Let us help you navigate this asset class by signing up for our comprehensive real estate investing guide.
Many people jump at the chance to buy a new-construction home because it lets them buy a custom home. There are two types of new construction on the market: homes that are already designed and homes that are perhaps framed out, but completely empty.
For this discussion, we're talking about the latter scenario -- new construction that gives you a chance to design the home of your -- or a potential renter's -- dreams. But if you're going to buy that type of property, be sure to avoid these mistakes that could hurt you in the long run.
1. Investing in upgrades that won't raise your property value
When you're faced with an opportunity to design a home, it's easy to go overboard on upgrades. If money isn't an issue and those upgrades are for your personal enjoyment, you can stop reading this section right now. But if your goal is to one day sell your home at a profit, you should know that certain upgrades won't do much to raise its value.
For example, you might want a high-end patio for your outdoor space. If you spend $15,000 on the highest-end stone available rather than $10,000 for stone that's pretty much identical at first glance, you're unlikely to get that money back. The same holds true if you spend money on things you want but many homeowners aren't drawn to. Reconsider that sauna or swimming pool if they're not popular in your area.
If you're going to upgrade your new-construction home, focus your funds on high-profile areas like your kitchen. You're generally better off upgrading your countertops and appliances than you are springing for an in-ground hot tub that eats into your backyard space.
2. Not understanding the cost of upgrades
Many new-construction homes come with builder-grade items included. "Builder-grade" is essentially another term for "minimally acceptable" in the world of construction. A builder-grade fridge, for example, might work just fine, but don't expect it to be particularly roomy or energy-efficient.
It's common for buyers of new construction to upgrade certain items, like appliances and fixtures, so they're not builder-grade. Before you do, make sure you understand how much money you're signing up to spend.
You might think that the difference between the dishwasher you want and the dishwasher your builder plans to include might be $100, but it's probably a wider gap than that. Remember that your builder is likely planning to include the cheapest model your local hardware chain carries.
Ask questions early about the cost of upgrades and budget accordingly.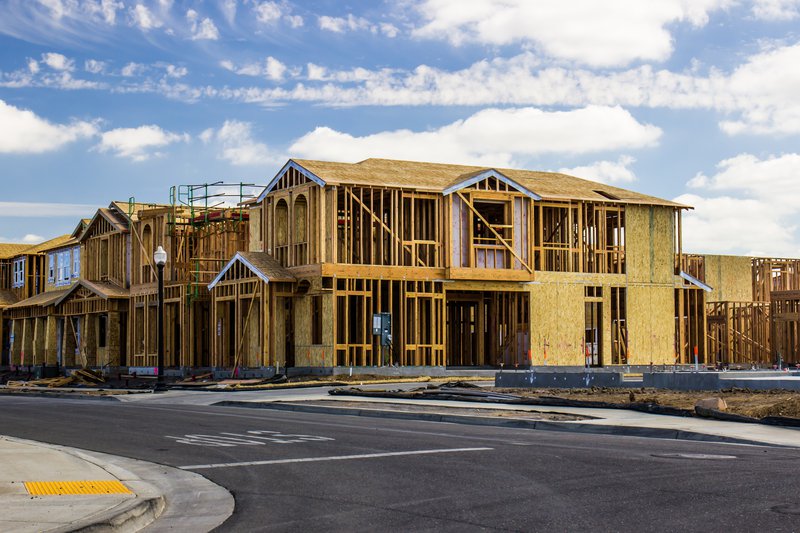 3. Not vetting your builder
Not all builders are created equal. If yours has financial problems and runs out of money mid-construction, you could be out of luck in the worst possible way. That's why it's important to vet your builder before signing a contract.
Ask to see your builder's financials and request references so you can talk to people who have worked with that builder. Be sure to review at least one live example of your builder's finished product -- either in your development or a comparable one.
4. Not reviewing the terms of your contract
When you buy a new construction, certain items you'd expect to be included in your home's purchase price may, in fact, be on you to cover. For example, some new-construction homes don't include fixtures like towel rods, window treatments, or even hardware for your kitchen and bathroom cabinetry.
Review your contract carefully so you understand the expenses you're liable for and what your builder will be providing.
Similarly, some builders put provisions in their contracts that let them charge buyers for unexpected costs during the construction process. Read these clauses carefully -- if you don't, you may find that your home's purchase price goes up 5% for reasons outside your control.
5. Not being flexible with your move-in date
New-construction homes can easily fall victim to delays. Weather issues can cause problems and hold-ups with permits and inspections can push back your closing date by weeks.
Recognize that delays are likely and aim to be as flexible as you can. For example, if you're selling your current home to buy new construction, and the estimated closing date on your new home is Oct. 1, don't expect to be in a position to move in until Nov. 1 or even Dec. 1. Keep that in mind as you negotiate with your buyers.
Purchasing a new-construction home can be a wonderful experience. Just be sure to avoid these mistakes along the way.
Got $1,000? The 10 Top Investments We'd Make Right Now
Our team of analysts agrees. These 10 real estate plays are the best ways to invest in real estate right now. By signing up to be a member of Real Estate Winners, you'll get access to our 10 best ideas and new investment ideas every month. Find out how you can get started with Real Estate Winners by clicking here.