Get our 43-Page Guide to Real Estate Investing Today!
Real estate has long been the go-to investment for those looking to build long-term wealth for generations. Let us help you navigate this asset class by signing up for our comprehensive real estate investing guide.
Current economic conditions show that a recession could be coming as soon as late 2019. While predicting the exact timing of a recession is extremely challenging, some indicators show signs of weakness or instability in the market.
Let's explore some of the current recession indicators and see how real estate investors can prepare.
[Update]: See our COVID-19 Resource Center for pandemic and economic downturn information.
Economic cycles point to a recession
I want to be very clear: A recession is coming. It's not a question of if, but when.
Our economy operates in cycles. We go through periods of economic downturns. We then recover, expand, oversupply, and start all over again. Economists have measured expansion cycles for the past 165 years and none has lasted longer than 10 years -- except this one.
We're just over the 10-year mark since we started to recover from the Great Recession, and many feel the market is due for a correction.
Housing prices outpace income
In some markets, housing prices have outpaced the growth seen in 2006–2007. Since 2011, we've seen a nationwide average increase of 59% in housing prices. However, household income and wages have lagged behind. Today, U.S. housing costs 4.41 times more than the average median household income, according to the S&P/Case–Shiller U.S. National Home Price Index. In 2006, the cost for housing peaked just above five times the average household income.
To encourage the continued purchase of homes, the Federal Reserve has kept interest rates low, but that can only prop up the housing market for so long. When wages fall too far behind housing prices, the market eventually corrects itself. We're already seeing signs of this correction, according to Zillow's Housing Estimates prices, with a month-over-month decrease in home values earlier this year.
However, since the housing supply remains low and 30-year fixed-rate mortgage rates hover around 3.75%, many areas are still experiencing rising property values.
Subprime mortgages are back
Banks and government-sponsored enterprises (GSEs) like Fannie Mae, Freddie Mac, and Ginnie Mae play a huge role in the state of the economy and housing market. 
Banks and GSEs create mortgages, package them together, and sell them as mortgage-backed securities on the secondary market. Before 2008, GSEs and banks bundled subprime mortgages, or mortgages that were originated for borrowers who had a credit score below 660, into packages with higher-quality loans. Investors paid top dollar for these mortgage-backed securities -- but when the market fell, they were left with a large number of subprime mortgages that couldn't pay their debt.
While loans are no longer labeled "subprime," this method of lending to riskier borrowers is still being practiced. Fannie and Freddie's minimum credit score is now 620, 40 points lower than before the Great Recession. While the Dodd-Frank Wall Street Reform and Consumer Protection Act tries to prevent the repeat of shady lending practices, risk factors in loan originations among subprime borrowers have continued to rise over the past few years. Mortgage denial rates are their lowest level since 2004.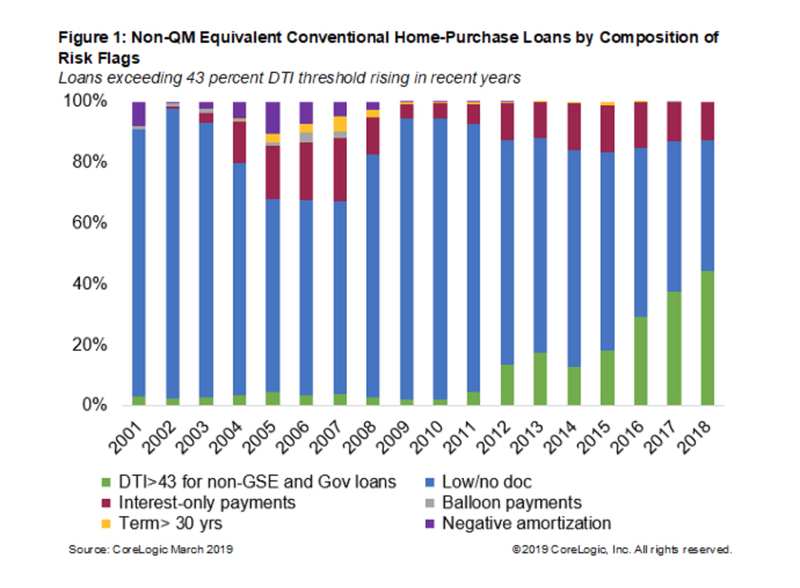 GSEs continue to undergo annual stress tests as a part of the Dodd-Frank Act to help assess potential risks and create plans of action for a major global recession. But if a recession comes, we could see additional risk exposure from the subprime loan market.
Bonds indicate a bubble
Bonds are the backbone of the credit market and financial system. Before you can understand the significance of what's happening in the bond market and how it's signaling a recession, you need to understand how bonds work and how they affect the overall economic market.
Bonds let corporations, governmental bodies, and municipalities borrow money at a set interest rate over a specified period. When you buy a bond, you're lending money to that entity and receiving interest payments. There are secured bonds, which means collateral is used to secure the bondholder, and unsecured bonds, in which no collateral is used to secure the bondholder. With unsecured bonds, repayment is based on trust.
Wall Street operates on collateralized leverage. It uses bonds to leverage cash on the repo market, where short-term bonds are bought and sold. If the value of the collateral securing the bond drops below a certain level or when current interest rates drop below the interest rate on the bond, there can be a margin call, which means cash is needed to pay the call on the bond. If this happens too fast, there can be a shortage of money, like what happened in September when the overnight repo rate surged to nearly 10%. 
In essence, bond prices went down, margins were called, and investors were out of money so they had to sell more bonds. To keep the credit markets from freezing and starting a downward spiral, the Fed injected $53.2 billion into the repo market that day to bring rates back down. They inject an additional $75 billion per day over the next two days, totaling just over $200 billion in three days. The surge in cash worked -- temporarily.
There's currently $17 trillion in negative-yielding bonds in the market, indicating a major bubble. If the bond market crashes, it's likely the Fed will continue to prop it up by injecting more cash.
But how much more money can be printed before the U.S. dollar becomes devalued or no longer trusted by the global economy? Right now, that number is unknown, but unless interest rates start to increase, it's unlikely the bond market crisis will improve soon.
Already low interest rates continue to drop
With the trade war in China, a slowdown in manufacturing production, and a decline in mortgage originations, the Federal Reserve continues to lower interest rates in hopes of promoting economic stability and growth. It recently lowered interest rates by 0.25%, and it's expected to lower rates again at the end of October.
While cutting interest rates worked during the Great Recession, the Federal Reserve has far less wiggle room this time around. Benn Steil, director of international economics at the Council on Foreign Relations says, "it will likely take more than 175 basis points of easing" to prevent an oncoming recession -- which would push interest rates close to zero.
What the Federal Reserve does directly affects the bond market, which directly affects interest rates, which affects real estate investors. When interest rates go down, the affordability of buying goes up, which promotes purchasing -- even at higher prices. This is a large reason real estate prices continue to rise while yields decrease.
How can real estate investors prepare for a recession?
Our goal as real estate investors isn't to perfectly predict the timing of the next recession -- although that would be great -- but rather to build a portfolio that can survive during a recession and have a plan in place before a recession happens. 
Review and assess your current portfolio. Do you have enough cash flow to sustain the debt service on your investments even with higher vacancy and lower rents? Can you remain profitable with a 25%-to-50% decrease in your portfolio's value? If you're over-leveraged, eliminate some debt to achieve a more secure leverage ratio and save as much as possible to increase your cash reserves. 
Investors who have liquidity, safe leverage ratios, and cash-flowing assets typically fare the best during an economic recession. There's no guarantee that these factors alone can sustain you through an economic downturn. But they may help you weather the storm and take advantage of great investment opportunities as prices drop.
In summary
The indicators discussed in this article are just that: indicators. We can only speculate on whether a recession is on the horizon. As always, it's up to you to digest this information, conduct your own due diligence, and come to your own conclusions.
We don't know when the next recession will come or how severe it will be. All that we know is that, eventually, the market will go through a downturn. It's up to you to determine how best to prepare. Rather than try to "outsmart" the market, focus on building a lasting portfolio that can support itself through economic hardships.
Got $1,000? The 10 Top Investments We'd Make Right Now
Our team of analysts agrees. These 10 real estate plays are the best ways to invest in real estate right now. By signing up to be a member of Real Estate Winners, you'll get access to our 10 best ideas and new investment ideas every month. Find out how you can get started with Real Estate Winners by clicking here.