Get our 43-Page Guide to Real Estate Investing Today!
Real estate has long been the go-to investment for those looking to build long-term wealth for generations. Let us help you navigate this asset class by signing up for our comprehensive real estate investing guide.
There seems to be an ever-increasing need for storage space in our country. The storage industry brings in $38 billion from 1.7 billion square feet of rentable space every year. But a company called Neighbor has created an alternative option for storing items.
The Neighbor app brings together people with extra space and people who need to store their things. Thousands of people use Neighbor to earn money renting storage space in their homes -- or rent spaces at rates 10%–50% lower than the average storage facility.
Take a look at how Neighbor works and some important things to consider before renting storage space through the app.
What can you rent on Neighbor?
The space you can rent on Neighbor isn't limited to just storage space. There are a variety of spaces available for rent, including:
car, boat, or RV parking;
attic space;
closet space;
outdoor sheds;
bedrooms; and
bicycle parking (some rentals offer a gate to securely lock their bikes).
The app doesn't limit what you can rent.
Some cities, like Salt Lake City, have far more listings than other areas. However, Neighbor is growing tremendously. There are listings in 48 states and the District of Columbia, with hopes of expanding internationally soon.
The CEO says the company is already seeing a 500% annual growth rate. While it's unlikely to eliminate the need for storage facilities, it could disrupt the sector while bringing a creative income opportunity to those with extra space.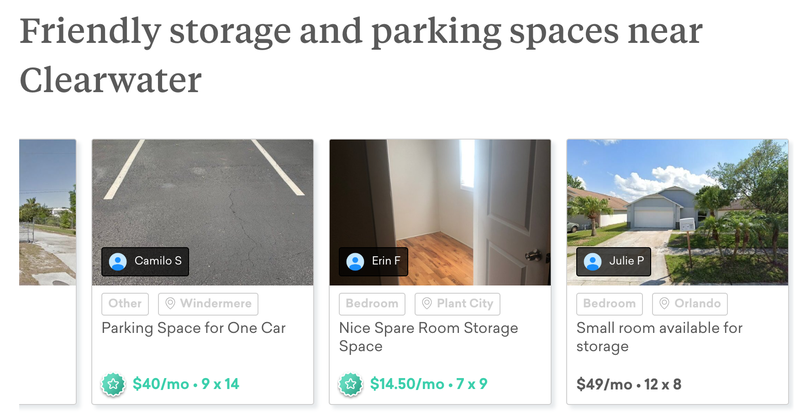 How do you earn money through Neighbor?
If you have unused space you'd like to rent out, register for the app (it's free). Neighbor will confirm your phone number, identity, and email address. You can elect to have an optional background check if desired.
You can set your own price or use the suggested list price from the app's algorithm, which analyzes the average rental rate for the type of space you're listing in your area.
Once the space is listed for rent, potential tenants can chat with you about it. You can review their profile and, if you both agree, the tenant will rent the space through the app. Hosts have 48 hours to reply to a request for rent.
The tenant's credit card is charged automatically each month and the rent is deposited into your bank account. There are no contracts. Tenants and hosts are supposed to give at least 30 days' notice if there's a need to remove the belongings. There's a nominal service fee of 4.9% and $0.30 for every transaction that is paid out.
Things to consider before renting with Neighbor
Liability and safety
Neighbor's service fee includes a $25,000 "renter's guarantee" and a $2 million "host guarantee." These protect both parties if the tenant's belongings or the host's storage space are damaged. As long as neither is found responsible, there's no personal liability to either party, so neither can be sued.
Tenants can't store firearms, illegal drugs, hazardous items, waste, perishable foods, or stolen goods. It's up to the host to ensure the tenant meets those requirements.
The identity of the person renting from you is confirmed, but you're letting a stranger into your property. There haven't been any publicly reported incidents, but there could be risks and dangers in this model of renting.
There's always a chance the tenant stops paying
If the host or tenant decides to cancel their lease early, the app promotes coming to a resolution together. If an agreement cannot be made, there's a $60 eviction fee that's split between the tenant and host.
If the tenant stops paying, Neighbor will continue to pay the host. It's not the host's responsibility to evict the tenant. Neighbor handles everything, from sending a default letter to the eviction/auction process.
While it may be worthwhile for some to rent their unused space, several risks should be considered before deciding to rent space on Neighbor. Do the risks outweigh the benefits? That's up to you.
Conduct your own due diligence on the company, its policies and procedures, and user experiences. Consider the risks involved in having a stranger rent space at your home or property. While it could bring in additional cash, it may not be the right fit for you.
Got $1,000? The 10 Top Investments We'd Make Right Now
Our team of analysts agrees. These 10 real estate plays are the best ways to invest in real estate right now. By signing up to be a member of Real Estate Winners, you'll get access to our 10 best ideas and new investment ideas every month. Find out how you can get started with Real Estate Winners by clicking here.