Get our 43-Page Guide to Real Estate Investing Today!
Real estate has long been the go-to investment for those looking to build long-term wealth for generations. Let us help you navigate this asset class by signing up for our comprehensive real estate investing guide.
Flipping houses is getting less profitable. According to a new report, returns on fix-and-flip investments have hit a nearly eight-year low, dropping 2% since a year ago.
Last quarter, the average home flipper made $62,700 in gross profits per property -- about a 40% ROI. In Q2 2018, flippers made an average ROI of 44.4% (or $64,000). It marks the sixth straight quarter that returns have dropped and the lowest quarterly ROI since late 2011.
As Todd Teta, the chief product officer at ATTOM Data Solutions, explains, it could be a marker that the "post-recession housing boom" is coming to an end. But it doesn't mean that home flipping is no longer worth the effort.
"Flipping houses is still a good business to be in, and profits are healthy in most parts of the country," Teta said. "But push-and-pull forces in the housing market appear to be working less and less in investors' favor. That's leading to declining profits and a business that is nowhere near as good as it was a few years ago."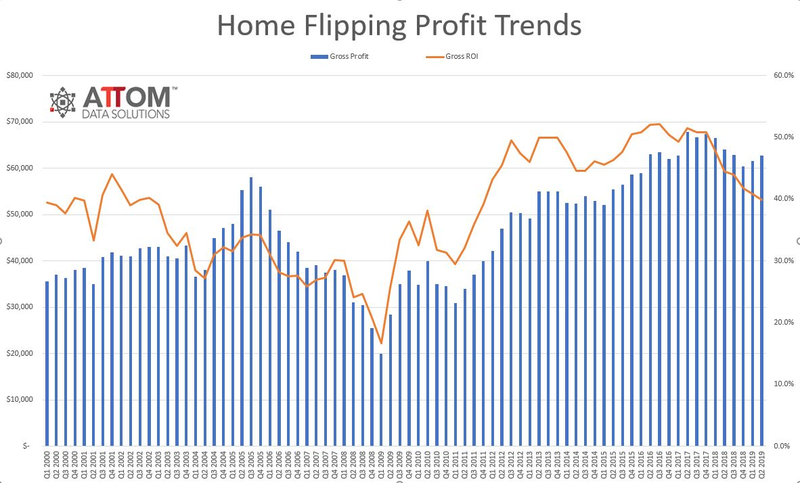 Some markets are bucking the trend, with investors more than doubling their money on fix-and-flip investments. In Scranton, Pennsylvania., for example, investors saw an average ROI of 134% last quarter. Pittsburgh's weren't much lower at 132.5%.
See some of the top markets for house-flipping returns below. (A large share of them are located in the Mid-Atlantic region.)
| | |
| --- | --- |
| Market | Average ROI for Q2 2019 |
| Scranton, Pennsylvania | 134% |
| Pittsburgh, Pennsylvania | 132.5% |
| Reading, Pennsylvania | 129.3% |
| Kingsport, Tennessee | 104.1% |
| Augusta, Georgia | 101.1% |
| Philadelphia, Pennsylvania | 99.9% |
| Cleveland, Ohio | 98.3% |
| Baltimore, Maryland | 91.5% |
| Buffalo, New York | 85.5% |
And here's where ROIs dropped the most this quarter:
| | |
| --- | --- |
| Market | ROI Decrease for Q2 2019 |
| Raleigh, North Carolina | -72% |
| Savannah, Georgia | -56% |
| San Antonio, Texas | -52% |
| Springfield, Missouri | -52% |
| Baton Rouge, Louisiana | -50% |
It's also important to note that home-flipping activity is up slightly from last year. In Q2 2019, flipped properties accounted for 5.9% of all home sales, up from 5.4% last year.
A full 70% of the top 149 metro areas saw their flipping rate increase over the year, with Raleigh, N.C., leading the way. The city's home-flipping rate has jumped 72% since 2018. In nearby Charlotte (mentioned in Tuesday's report on rising rents), flipping is up 54%.
The bottom line
Historically speaking, flipping returns are down, but investors are still generating profits. Just be smart about the markets you invest in and know how to estimate your rehab costs and resale value you before you buy. Getting a good deal is critical to ensuring a healthy ROI later on.
Got $1,000? The 10 Top Investments We'd Make Right Now
Our team of analysts agrees. These 10 real estate plays are the best ways to invest in real estate right now. By signing up to be a member of Real Estate Winners, you'll get access to our 10 best ideas and new investment ideas every month. Find out how you can get started with Real Estate Winners by clicking here.