Get our 43-Page Guide to Real Estate Investing Today!
Real estate has long been the go-to investment for those looking to build long-term wealth for generations. Let us help you navigate this asset class by signing up for our comprehensive real estate investing guide.
A new report from the Urban Land Institute and PwC takes a close look at the biggest current and ongoing trends facing North American real estate investors.
And let me tell you: It's a doozy.
The 107-page tome is full of charts, graphs, expert insights, and hundreds of valuable data points. It's definitely not a read-in-one-sitting document, but it's brimming with golden nuggets of info that any forward-thinking real estate investor should have.
Don't have time to read the report? I've got you covered. I've combed the document and pulled out the top seven trends you'll want on your radar.
1. The move toward specialization
Investor competition is on the rise, and it calls for a more creative approach to property selection.
As the report explains, "The competition to find investments that meet the return requirements of a growing investor pool has resulted in looking to new and more complex methods to find markets and property sectors that may fall outside the traditional size and growth metric."
In short, investors need to specialize and focus on niche-level opportunities. The report specifically mentions specialty markets like:
senior housing,
medical offices,
cell towers,
multifamily buildings,
co-living,
industrial/distribution,
hotels, and
retail.
You'll even find detailed city-by-city recommendations in many of these categories at the bottom of the report.
The main takeaway? ULI and PwC recommend that investors dive deep to discover "pearls of great value" in markets they're considering. "Specialization has become the hallmark of many professional fields, and real estate is no exception," the report reads.
2. An ever-growing live-work-play mantra
Urban areas have long been a haven for the live-work-play lifestyle. Residents want walkable commutes, easy access to housing, and 24-hour amenities. But today, it's not just major city centers providing this way of life.
The 24-hour live-work-play approach has officially entered suburbia, with smaller cities like Charleston, South Carolina, and Jacksonville, Florida, joining the ranks. It's stretching from Brooklyn into New Jersey towns like Hoboken and Maplewood and from Manhattan into Yonkers and New Rochelle.
And it's not slowing down, either. According to the report, investors should expect more communities to embrace the 24-hour (or at least 18-hour) lifestyle: "If the live-work-play formula could revive inner cities a quarter-century ago, there is no reason to think that it will not work in suburbs with the right bones and the will to succeed."
3. Heat as an influencer
Rising temperatures will impact investing from all angles, influencing where people migrate, the infrastructure required, and overall building costs. As the report puts it, "Without intervention, the current and potential future impacts of extremely high temperatures -- on real estate developments, infrastructure, and the economy -- could be substantial."
Some stats to note about this trend:
July 2019 was the hottest month on record, according to NOAA.
High temperatures in urban areas increase building cooling loads by 13%.
Temperatures over 120 degrees make it too hot to fly. American Airlines canceled 40 Phoenix flights in June 2017 alone because of too-high temperatures.
Seattle is a great example of just how hard rising temperatures can hit investors. Before 2010, a mere 6% of Seattle rental properties had central air conditioning. Now, a full quarter of them do.
4. The role of rent control
California, Oregon, and New York's latest rent control laws have the topic on every landlord's mind. As housing affordability issues abound, more markets are likely to consider a similar move. In fact, according to the report, the majority of developers downright expect it. 
"Most apartment owners, developers, property managers, and investors see the issue as a major challenge that could affect both opportunity and risk profiles for the apartment asset class for years to come," the report states.
The news isn't all bad, though. As the report notes, rent control can hurt potential short-term returns, but over the long haul, it could "provide for more steady, reliable investments to emerge."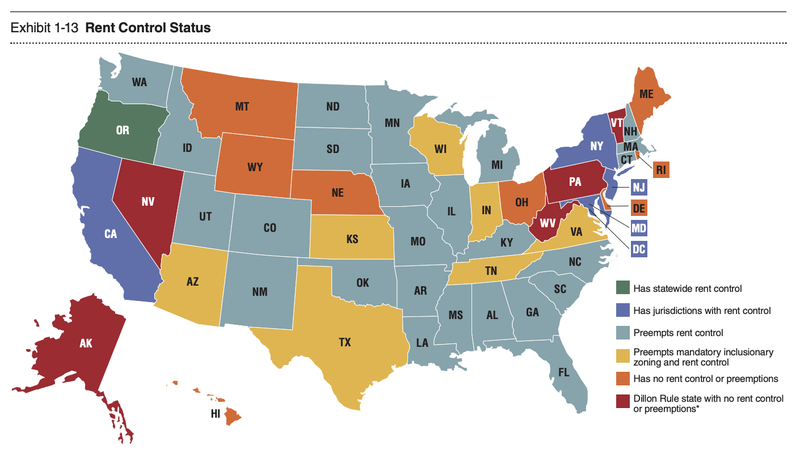 5. A focus on community
Co-living, co-working, ride-sharing, and short-term rental hosting all point to a growing sense of community. People are more willing to share and interact with their neighbors these days, and it's trickling down to the real estate world by way of co-living buildings, farm-based master-planned communities, and even reimagined office buildings.
"Office design even within large organizations has gone beyond the eclipse of the individual office and the blooming of common areas, to spaces that encourage serendipity even more than mere collaboration," the report reads. "The office spaces created specifically for the gig economy are even more designed to help this along, as they regard networking as an essential benefit for their users -- and provide social as well as productive opportunities to help this along."
Much of the shift toward community is generational, borne out of technology and the need for cost-saving mechanisms, according to the report.
6. The importance of ESG issues
As more millennials start investing, environmental, social, and governance (ESG) issues are becoming more important. More than half of millennial investors say ESG policies impact their investment decisions, whereas just 11% of boomers and 25% of Gen Xers said so.
A recent move by Boston Properties shows that industry players are taking notice, too. The group issued $1 billion in green bonds last year and another $850 million in June.
Overall, investors surveyed for the report note business ethics as their top-of-mind ESG concern, followed by:
bribery and corruption,
occupational health and safety,
responsible supply chain practices,
waste management issues, and
energy use.
7. Boomers will make themselves known
By 2029, there will be more than 14 million middle-income earning baby boomers aged 75 or older -- seniors with too much income for government support, but too little to handle housing and medical costs privately for long. They'll be the most diverse, educated generation of seniors ever. Throw in ever-growing life expectancies and the age of existing senior housing properties (nearly two out of every three was built pre-2000) and boomers will be even more in need of housing options a decade from now.
In fact, according to a survey of investors, senior housing is one of the most viable investment prospects for the coming year -- more so than master-planned communities, condos, and more. As the report says, "We need to put our minds to fresh thinking and need imagination to consider the real estate, social, and economic implications as succeeding generations have not only more years, but better years in which to live, work, and play."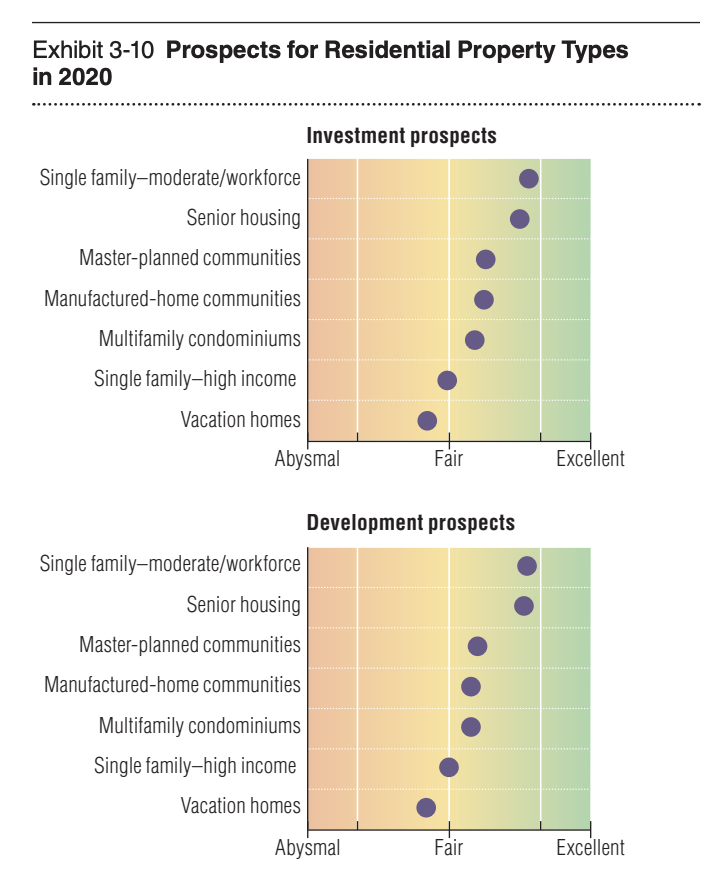 Top markets for investment opportunities
The report also called out the best markets for investments. Overall, Austin, Texas took the crown, with Raleigh-Durham, North Carolina, and Nashville rounding out the top three.
According to the report's findings, Austin is projected to have the highest population increase in the next five years out of all 80 major markets analyzed. The city is also gaining an Apple campus, a medical school, and additional public transit.
Raleigh-Durham, on the other hand, is seeing big growth in its suburban office and multifamily markets. Homebuilding in the area is on the rise, too. The city's Research Triangle Park, as well as multiple universities, have made the region a haven for technology talent, drawing workers away from costlier tech hubs along the West Coast.
In Nashville, "the local mood is ebullient, with expectations strong for continued investment and development." The town boasts an Amazon operations center and more than 8,000 new jobs. It moved up from the number-three spot on ULI's list just one year ago.
In total, the cities ranked in the top 10 have claimed more than a quarter of the country's investment capital for the last two years. Year-to-date, they've accounted for 26%.
| Top Real Estate Investment Cities Overall | Top Cities For Homebuilding Prospects |
| --- | --- |
| Austin, Texas | Raleigh-Durham, North Carolina |
| Raleigh-Durham, North Carolina | Charlotte, North Carolina |
| Nashville, Tennessee | Houston |
| Charlotte, North Carolina | Nashville, Tennessee |
| Boston | Salt Lake City |
| Dallas-Fort Worth, Texas | Austin, Texas |
| Orlando, Florida | Phoenix |
| Atlanta | Cape Coral-Fort Myers-Naples, Florida |
| Los Angeles | Dallas-Fort Worth, Texas |
| Seattle | Tampa-St. Petersburg, Florida |
The full report also contains the top spots for office, industrial, multifamily, retail, hotel, and other specialized investment industries.
The bottom line
I've only covered only a few of the many trends noted in ULI and PwC's report, but they're poised to make a big impact.
As the report so aptly summarizes, "Trends -- by their nature -- are dynamic. Time is a stream, not a frozen pond. That stream runs toward the future, and each year puts some conditions into the past and brings some conditions closer to realization. If the pace is gradual, we may hardly feel the changes. But they are happening even if subtly."
Got $1,000? The 10 Top Investments We'd Make Right Now
Our team of analysts agrees. These 10 real estate plays are the best ways to invest in real estate right now. By signing up to be a member of Real Estate Winners, you'll get access to our 10 best ideas and new investment ideas every month. Find out how you can get started with Real Estate Winners by clicking here.