Get our 43-Page Guide to Real Estate Investing Today!
Real estate has long been the go-to investment for those looking to build long-term wealth for generations. Let us help you navigate this asset class by signing up for our comprehensive real estate investing guide.
Zillow Group (NASDAQ: Z; NASDAQ: ZG), now the most widely used real estate platform in the world, has become a household name over the past decade. With more than 221 million average users per month, it's the No. 1 way to search, list, buy, or rent real estate online.
The company, which has achieved tremendous growth over the years, is adding to its operations so it can expand and grow. If you're considering buying shares in Zillow Group, here's what you need to know.
Zillow Group company profile
Zillow Group is first and foremost a real estate software platform that allows users to search or list real estate for sale in the multiple listing service (MLS), among other platforms, including their own. The company dominates the market for this service, having had 2.5 billion visits to its website in the first quarter of 2021.
While their online platform is what put them on the map, the core of their services is expanding to better serve the market, as well as its business. Zillow Group now offers:
Zillow Closing Services (title and escrow services)
Zillow Home Loans (loan origination)
Zillow Offers (iBuying service)
Zillow Premier Agent (agent referral system)
Zillow Rentals (rental listings and digital management services)
The company also owns the subsidiaries Trulia (similar real estate platform), Hotpads (residential rental platform), and StreetEasy (New York greater Metro listing platform). The goal of adding the additional services is to allow the company to be an all-encompassing solution for homebuyers, home sellers, and investors, depending on their needs.
Zillow's internet, media, and technology (IMT) segment is, by far, the most profitable sector for the company, which earns revenues from online advertising commissions or sales earned through any of their platforms and services. As of Q1 2021, the IMT segment made up 32% of the company's revenues.
The next two biggest sectors include Zillow Offers and its mortgage services, making up (8%) and (3%) losses, respectively, for the company revenues in the same quarter.
Zillow Group news
Zillow is largely working on ramping up its iBuying services through Zillow Offers. It has improved its automated valuation, or Zestimate, to provide more accurate valuations. That, in turn, is used to help provide instant offers to prospective sellers. The company acquires the property at or near par value, making small or major improvements to the property before relisting the property for sale on its platform.
The iBuyer market has grown tremendously over the past 10 years, and while Zillow isn't the largest iBuyer in the market today, they do take up significant market share.

Source: Supplemental Data from Zillow Group Earnings for Q4 2021
In 2020, Zillow sold 5,337 homes, which provided a net loss of -$7.34 million. While net losses aren't great by any company's standards, it's important to remember that iBuying is still a very new model of buying and selling real estate. And big iBuying companies like Zillow are in the experimental phase, learning how to make this model profitable.
Zillow improved its profit margins year over year (YOY), bringing losses down 72% to -$1,375 per property sold on average.

Source: Supplemental Data from Zillow Group Earnings for Q4 2021
The company also paused iBuying for nearly just over four months after the onset of the pandemic. This led to lower numbers of homes purchased and sold in the given year. While 2020 wasn't a stellar year for iBuying for Zillow, things are looking up in Q1 2021. The company purchased 1,965 homes that netted an average profit of $17,634.

Source: Supplemental Data from Zillow Group Earnings for Q1 2021
Outside of Zillow Offers, the company's Q1 2021 was strong, with total revenue of $1.2 billion and consolidated earnings before interest, taxes, depreciation, and amortization (EBITDA) of just under $181 million, a 338% YOY increase when compared to the same quarter last year. This gain in momentum is undeniably driven by the red-hot real estate market and record appreciation rates we see today.
As homebuyers attempt to enter the housing market and sellers prepare to list their homes, many are turning to Zillow to start their search and get a better understanding of where the market is in relation to their journey. This has driven the company's IMT segment up 143% YOY. Q2 2021 earnings will be a good indicator of whether the momentum will be maintained as things start to cool down a bit in the housing market.
In 2020, Zillow raised $1 billion through $500 million of convertible senior notes due in 2025 and $500 million worth of Class C common stock for acquisitions and improvements in technology. As of Q1 2021, Zillow had roughly $4.7 billion in cash and cash equivalents, which is more than sufficient to cover its $2.74 billion in liabilities.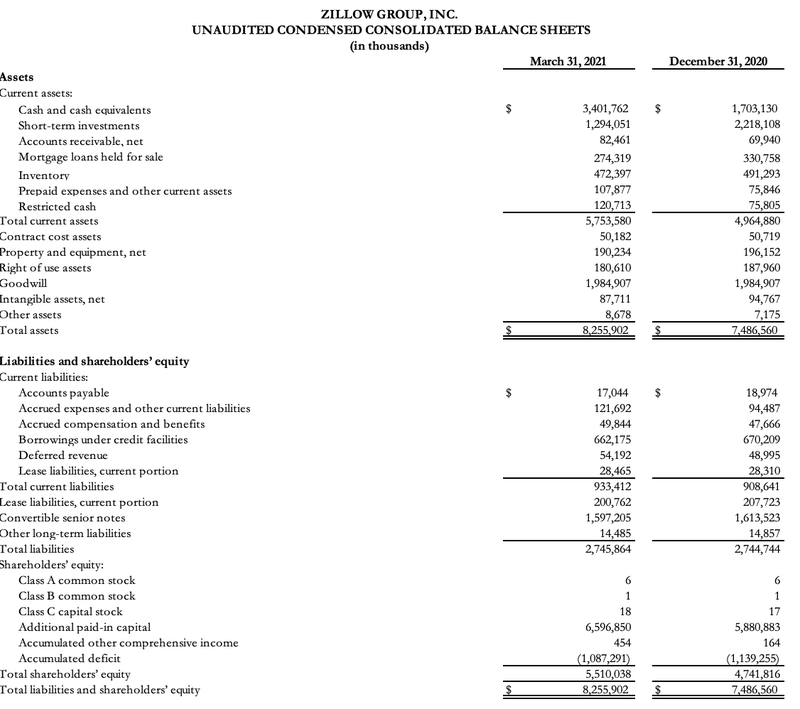 Source: Supplemental Data from Zillow Group Earnings for Q1 2021
Zillow Group stock price
Over the past five years, Zillow's stock price has risen steadily -- reaching record levels in early 2021 after the release of a strong Q1 performance and news about adding brokerages -- which adds them as a member to MLS platforms and the National Association of Realtors. However, share prices have tapered back over the past few months, without any real reasoning behind it.
Concern has been increasing as the new delta variant is resulting in a return to mask mandates and social distancing measures, and moratoriums are starting to expire, leading to uncertainty over the future of the real estate market.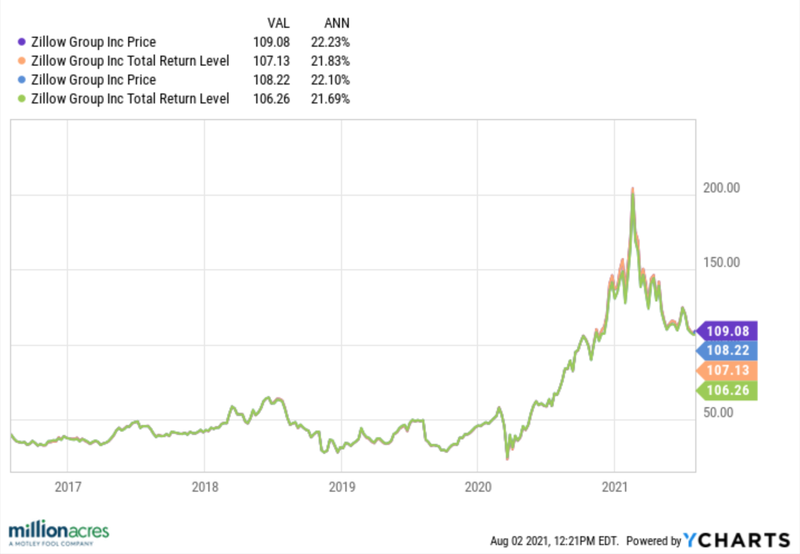 Source: Supplemental Data from Zillow Group Earnings for Q1 2021
All in all, despite the dip in share values recently, the company has still managed to achieve strong growth over the past five years, with over 21% annualized returns and 21%+ share price growth. The company doesn't pay dividends, meaning investors are looking for share price growth as their method of return.
The bottom line on Zillow Group
When it comes to an online real estate presence in the residential market, Zillow reigns supreme. Its current executives are long-time tech leaders and innovators on a mission to grow Zillow continuously. Its sheer size and market reach mean it has the power, name, and creative team to fuel it forward.
But it won't be without growing pains. Right now, Zillow's surging success is largely fueled by the market. If the market were to correct or slow, company revenues would likely match.
Got $1,000? The 10 Top Investments We'd Make Right Now
Our team of analysts agrees. These 10 real estate plays are the best ways to invest in real estate right now. By signing up to be a member of Real Estate Winners, you'll get access to our 10 best ideas and new investment ideas every month. Find out how you can get started with Real Estate Winners by clicking here.
Liz Brumer-Smith
has no position in any of the stocks mentioned. The Motley Fool owns shares of and recommends Zillow Group (A shares) and Zillow Group (C shares). The Motley Fool has a
disclosure policy
.