Get our 43-Page Guide to Real Estate Investing Today!
Real estate has long been the go-to investment for those looking to build long-term wealth for generations. Let us help you navigate this asset class by signing up for our comprehensive real estate investing guide.
If you invest in real estate, you may have heard about investing in tax liens and tax deeds. But what's the difference? These more advanced investment strategies both offer the opportunity to receive a competitive return on investment (ROI), but in very different ways. This article explains the difference between investing in tax liens vs tax deeds and covers important things to know about each method of real estate investing.
What is a tax lien?
When a property owner fails to pay their property taxes, the local governing body, which could be the city or county, can place a lien against the property. This lien clouds the title, stopping the property owner from refinancing or selling the property until the lien is satisfied.
Depending on the county or state, tax liens are issued on a monthly, quarterly, or annual basis. Essentially, tax liens are the municipality's way of securing a claim for the repayment of back taxes.
How do I invest in a tax lien?
If the delinquent property taxes remain unpaid, most states allow the governing body to sell the tax lien at a public auction after publicly notifying all parties, granting the winning bidder from the auction a tax lien certificate. The municipality receives payment for the delinquent taxes, and the winning bidder has the right to collect the unpaid tax amount plus interest and penalties from the property owner.
Interest rates vary by jurisdiction with ceiling limits to how much interest can be charged in that state. For example, Florida offers a maximum interest rate of 18%, while Alabama offers a fixed rate of 12% and Iowa offers 2% per month on the unpaid balance. However, because the certificate is sold at an auction, the winning bidder is the person who was willing to receive the lowest return and typically earns far less than the maximum return allowed in that jurisdiction.
Interest on a tax lien is simple interest, where interest accrues monthly up to a maximum allowable rate assuming the certificate is redeemed (paid off) by the redemption period ending or expiration date.
Tax liens are a relatively cheap investment, sometimes as little as a few hundred dollars all the way to several thousand dollars, and are a great option for a self-directed IRA or those who want to earn a competitive return passively.
Example tax lien investment
Let's say you are the winning bidder on a tax lien that carries an interest rate of 8%, which equates to $160 per annum. Since interest accrues monthly, to determine how much interest you earn on a monthly basis, you divide the per annum return by 12, which is $13.33. The homeowner redeems the tax lien after 11 months, which is $146.67 in interest plus a $75 penalty, making the total amount at redemption $2,221.67. That means the tax lien produces an 11% return on investment (ROI).
| | |
| --- | --- |
| Amount invested (winning bid amount) | $2,000.00 |
| 11 months of interest at 8% per annum | $146.67 |
| Penalty income | $75.00 |
| Total Amount at Redemption | $2,221.67 |
| Total Profit | $221.67 |
| ROI | 11% |
| Annualized Yield | 10.56% |
What is a tax deed?
A tax deed is similar to a tax lien but with one big distinction: The public auction conducted by the governing body transfers ownership and interest by deed to the winning bidder at the auction. When you bid at a tax deed sale, you are bidding to gain title to the property itself, not to receive a specified rate of return.
Tax deeds can be redeemable or not. If the state has a redemption period, the property owner or another party with a vested interest in the property, such as a lender (such as a mortgagee), can pay the delinquent property taxes plus fees and penalties, redeeming their interest in the property within the allotted time period.
If there is no redemption period, the property is conveyed to the new buyer and the prior owner's interest is wiped away, including most other debts or encumbrances, such as mortgages. The winning bidder will need to remove others' claim to the property by filing a quiet title action or ordering a title certification.
How to invest in a tax deed
Since you acquire the property when you win at a tax deed sale, most investors invest in tax deeds with an end goal in mind. They have three options:
Fix and flip (rehab) the property.
Sell it as-is (wholesale to an investor).
Keep it as a rental.
Any tax overage from the tax deed sale can be collected by the lender. If there is no lender, the homeowner has the right to collect overages from the tax deed sale. Investors buying tax deeds in redemption states should wait until the redemption period expires before initiating the process to clear title or beginning work such as renovations.
Buying properties at tax deed sales can equate to buying a property at a significant discount. However, since real estate auctions are competitive, most properties are purchased for far more than the delinquent tax amount owed.
Example tax deed investment
Let's say you are the winning bidder at a tax deed sale. The property taxes owed to the local jurisdiction were $4,900. The property is worth $50,000 in its current condition, and $125,000 if it's fixed up or fully rehabbed. Other investors were bidding on the property as well, so your winning bid ended up being $38,500.
The property owner had a mortgage on the property that still owed $40,000, so the lender receives the remaining overage from the sale, which is $33,600. The tax deed sale was in a non-redeemable state, so once it's sold you simply clear title using a title certification, which costs an additional $2,000. You sell the property for $50,000 three months later, earning a rough profit of $8,000 (after accounting for 3% for closing costs), producing a 20% cash-on-cash ROI.
| | |
| --- | --- |
| Delinquent taxes owed with interest | $4,900.00 |
| Current property value | $50,000.00 |
| Winning bid amount | $38,500.00 |
| Total collected by jurisdiction after sale | $4,900 |
| Total collected by lender/mortgagee after sale | $33,600 |
| Title certification | $2,000 |
| Total invested | $40,500 |
| Total profit | $8,000 |
| Cash-on-cash ROI | 20% |
Tax Lien vs. Tax Deed
According to the National Tax Lien Association (NTLA), 36 states and 2,500 jurisdictions allow tax lien sales, and only 31 states allow tax deed sales, with many of the states being a hybrid of the two.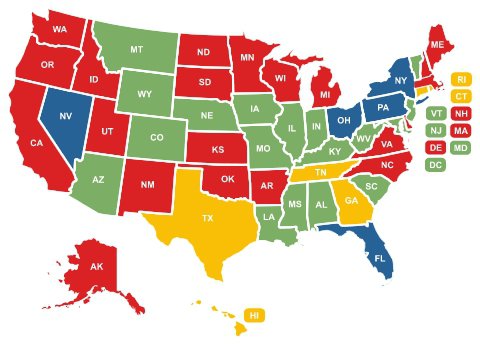 If a state is a hybrid where it is a tax lien state and a tax deed state, the tax lien certificate goes to tax deed sale after a certain period of time. Tax deed only states do not issue a tax lien sale before going to tax deed sale.
Tax Lien Investing
Tax Deed Investing
• Does not transfer ownership at public auction; the lien acts as a loan accruing interest and penalties until redeemed.
• Inexpensive, with tax lien certificates costing as little as a few hundred dollars to a few thousand.
• Passive investment requiring very little work after initial due diligence and auction participation.
• Redemption period or expiration date of the lien varies by jurisdiction.

• Transfer of ownership at public auction, where the property is deeded to the winning bidder.
• More expensive investment than a tax lien, costing anywhere from a few thousand to tens of thousands of dollars.
• Active investment requiring investor participation after the property is sold at auction.
• Sales can be redeemable or not depending on the state.

Tax liens and tax deeds are typically a more advanced method of real estate investing. As such, they should be entered into with caution. While they can produce a nice return, they can also be an unpleasant investment if not purchased correctly.
If investors are interested in investing in a tax lien or tax deed, they should familiarize themselves with the process of the sale in their state or local jurisdiction. They should also intimately understand how to conduct due diligence on the investment opportunity to determine a maximum desired return or bid amount. This includes verifying:
The existence of other liens such as municipal fines, unpermitted work, code violations, or other tax liens like an IRS lien.
The condition of the property.
Whether the property is in an active bankruptcy case.
It's also helpful to understand the buying process in your target area before branching out to other markets, as each jurisdiction has a slight variance to how sales are conducted.
Tax lien and tax deed sales are not the same thing, and it's important that investors interested in exploring this avenue know the difference. Also be aware that while these advanced investment methods can be quite lucrative, they may not be ideal for beginning investors.
Got $1,000? The 10 Top Investments We'd Make Right Now
Our team of analysts agrees. These 10 real estate plays are the best ways to invest in real estate right now. By signing up to be a member of Real Estate Winners, you'll get access to our 10 best ideas and new investment ideas every month. Find out how you can get started with Real Estate Winners by clicking here.