Get our 43-Page Guide to Real Estate Investing Today!
Real estate has long been the go-to investment for those looking to build long-term wealth for generations. Let us help you navigate this asset class by signing up for our comprehensive real estate investing guide.
If you own or plan to own rental property, you will ultimately need to decide whether you want to become a Section 8 landlord. There are mixed reviews about the Section 8 landlord experience. Some investors love having Section 8 tenants, while others stay away from the program. This article explains what Section 8 housing is and what its requirements are and compares the pros and cons of being a Section 8 landlord to help you determine whether it's the right move for your rental business.
What is Section 8 housing?
The Section 8 Housing Program, also referred to as the housing choice voucher program, is the Federal Government's primary program, funded by the Department of Housing and Urban Development (HUD), to help low-income families, elderly, and the disabled afford quality housing in the private market. Section 8 has provided affordable housing to over 2.2 million people, paying out $17.5 billion in voucher assistance in 2016.
Participants are able to choose their own rental housing, which must be formally approved by the local public housing authority (PHA). Rental units are not limited to public subsidized housing and can include any approved Section 8 rental in the private market, such as a single-family home, townhome, condo, duplex, or apartment.
Tenants who qualify for housing assistance through Section 8 must make less than 50% of the median income for the county or metropolitan area. The local housing authority pays a housing subsidy directly to the landlord each month. The subsidy amount varies based on the participant's income eligibility and the area's fair market rent, which is determined by HUD. Tenants are responsible for any difference between the actual rent charged by the landlord and the amount subsidized by the program.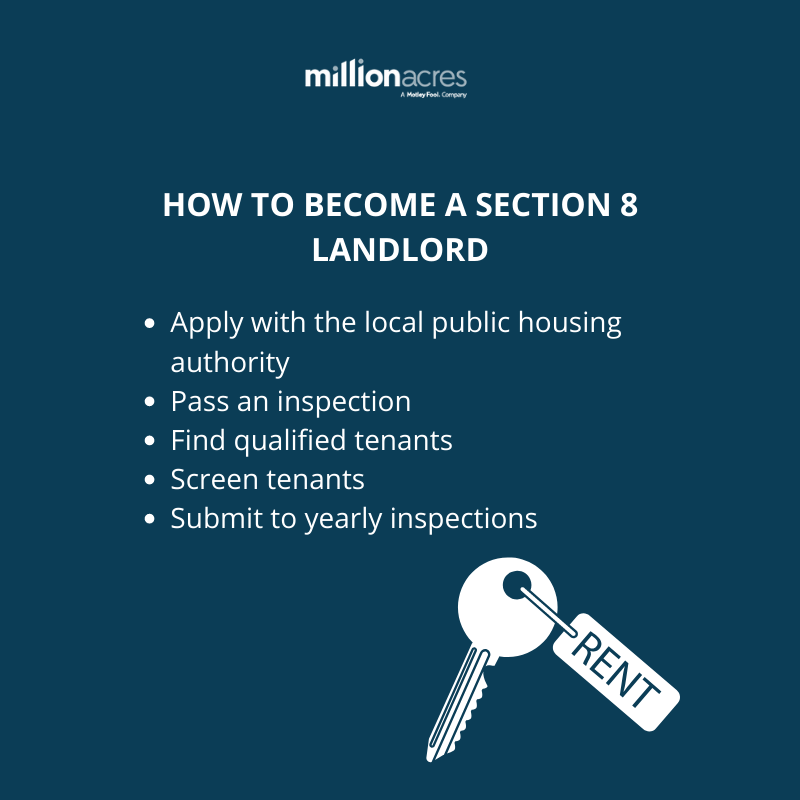 How does Section 8 housing work?
After the landlord and tenant have been approved by the Section 8 housing voucher program, they enter into a lease agreement separate from the local public housing authority and Section 8 program. If a rental deposit is collected, it is paid directly by the tenant to the landlord and is not a part of the subsidy.
For example, say you own a two-bedroom single-family home in Orlando, Florida. You decide you want to rent the house for $1,225, which is close to the market rent for the specific neighborhood.
HUD's fair market rent for 2020 in Orange County is $1,248, which means the maximum allowable rent you could charge would be $1,248. Let's say you found a qualified tenant who had a voucher for $1,100. Each month your local PHA would pay you $1,100 directly, and the tenant would pay the remaining $125. If you found a tenant who qualified for the full $1,225, you could receive your entire $1,225 rental amount directly from the PHA each month.
How to become a Section 8 landlord
Landlords who want to participate in the Section 8 program should apply with the local public housing authority, providing basic information about themselves and the property include:
Name and address of landlord
Address of property
Lease period or start date
Proposed rental rate
Included utilities
After reviewing your application, the PHA will inspect your property to ensure it is up to local health, safety, and building codes. The goal is not for the rental property to be in perfect, updated condition but for it to be "decent, safe, and sanitary housing" for a tenant. The property at minimum, should:
Be free of chipped paint
Have up-to-code plumbing and electrical
Include heating or cooling units (depending on its location)
Landlords who want to participate in the Section 8 program should apply with the local public housing authority, providing basic information about themselves and the property include:
If the PHA feels your asking rent is too high, they may require you to lower your rate to meet market standards. Once approved, you can find a qualifying tenant who meets your own tenant screening standards.
Pros of Section 8 tenants
Consistent income
Most landlords participate in Section 8 housing because all or most of the rent is guaranteed income. Landlords don't have to worry about late or missed payment for the approved voucher amount since it's paid directly from the PHA.
Partially prescreened tenants
The public housing authority has its own screening process for applicants which includes running a criminal background check, drug testing, and verification of income. It's helpful to know the applicants have met certain standards to qualify for Section 8, but it's highly recommended each landlord conduct their own tenant screening process as well.
Lower vacancy rates
In most areas demand for Section 8 approved housing far outpaces supply, which means when a vacancy does occur, it's filled quickly. Residents often stay in Section 8 housing for longer, as well, because of its guaranteed rental assistance, as long as there is not a dramatic change in their income or family size.
Free advertising
HUD and many local PHAs offer free websites to advertise housing specifically for Section 8 tenants. This reduces advertising costs and gets your rental in front of more applicants.
Cons of Section 8 tenants
Yearly inspections
Each year, the local housing authority will send someone to conduct an inspection of your property to ensure it remains compliant to their standards for Section 8 housing. If you fail the inspection, you will be required to fix the issues or you could risk losing your subsidy.
Rental pricing caps
HUD determines your maximum allowable rent, capping your rental income based on the number of bedrooms the property has for the designated area. Meaning if HUD says the fair market rent for a three-bedroom rental in your area is $1,387, you cannot charge more than that amount even if market rents would allow. If you are in an area that justifies a higher rental rate than HUD's defined fair market rent, it may not make sense to rent to a Section 8 tenant.
Delay in first month's rent
A common practice in rental real estate is to collect a security deposit and first month's rent before move-in. But with Section 8 housing, the first month's rent is not paid to the landlord until after the tenant has moved in -- and it can even be delayed by one to several months. However, once the initial payment is distributed, deposits are consistent. If you cannot financially sustain the property until then, renting to Section 8 may not be a good option.
Potentially challenging tenants
Tenants who participate in Section 8 are low-income families who qualified because they make no more than 50% of the median income for the area. Lack of job stability or earning just enough to support your family's need for food, shelter, clothing, and other basic necessities can make it difficult to pay rent on time -- even if it's a portion of the rent.
Some landlords feel lower-quality tenants are more common in Section 8 housing, leading to more problems, property damage, headaches, and evictions. While that statement can be true of any tenant regardless of their income, it is a risk. Quality tenant screening can help you avoid renting to a "challenging tenant."
Pros of Section 8 tenants
Con of Section 8 tenants
• Consistent "guaranteed" income

• Partially prescreened tenants

• Lower vacancy rates

• Free advertising

Yearly inspections

• Rental pricing caps (rent control)

• Delay in first month's rent

• Potential for challenging tenants
Screening Section 8 tenants
I know rental investors who have had only great experiences with Section 8 tenants, and others who have had only terrible experiences. Their success or failure with the program often relates back to their tenant screening process. Just because a tenant has qualified for Section 8 doesn't mean they will be a good tenant. Make sure to thoroughly review each tenant's application, including reviewing their:
Income and employment
Criminal history (updated background check)
Credit score and credit history
Eviction history
Landlord referrals (including a rental verification assessing their pay history and condition of their current home)
Should you become a Section 8 landlord?
Deciding whether to become a Section 8 landlord is definitely a personal choice. For many, the pros do not outweigh the cons. However, for landlords who have a careful tenant screening and selection process, this program can be a good option for earning guaranteed rental income each month.
Got $1,000? The 10 Top Investments We'd Make Right Now
Our team of analysts agrees. These 10 real estate plays are the best ways to invest in real estate right now. By signing up to be a member of Real Estate Winners, you'll get access to our 10 best ideas and new investment ideas every month. Find out how you can get started with Real Estate Winners by clicking here.