Get our 43-Page Guide to Real Estate Investing Today!
Real estate has long been the go-to investment for those looking to build long-term wealth for generations. Let us help you navigate this asset class by signing up for our comprehensive real estate investing guide.
Whether you're shopping for a home on a budget or simply looking for a discounted investment property, knowing how to buy a house at auction can potentially lead to a great deal -- as long as you know what you're doing.
In this article we'll explore how to buy a house at auction, the types of real estate auctions available, the risks involved in buying a house at auction, and the pros of cons of real estate auctions.
How do real estate auctions work?
Distressed properties, which could be properties in foreclosure, with seriously delinquent taxes, or that were seized by the government, are regularly sold through a real estate auction. The selling agent, which could be a bank, third-party company, taxing jurisdiction, or government body, conducts a public or private auction in which registered bidders are able to bid on the property.
Most properties are priced according to the unpaid balance of the taxes, lien, or mortgage amount. While not always the case, this often means the starting bid is a significant discount from the current market value. However, since auctions are competitive in nature, most properties are bid up to around 60% to 80% of the property's value.
Properties sold at a real estate auction can include commercial properties, vacant land, and residential real estate like single-family homes, duplexes, townhomes, or mobile homes.
What types of real estate auctions are there?
There are different types of real estate auctions as determined by who is conducting the auction, why the property is being sold, and how the auction is conducted.
Types of real estate auctions
Foreclosure Auction
REO Auction
Tax Deed Auction
Federal Auction
Private Auction
A public auction conducted by the county to sell a property after it has been foreclosed. Can be held online or at the county courthouse.
A public auction conducted by a third-party company or real estate agent after a property goes through the foreclosure auction but is not sold to the highest bidder. It instead is sold back to the bank or lender and is now being auctioned as an REO.
Can be held online or at the county courthouse.
A public auction conducted by the local jurisdiction for the collection of unpaid taxes.
Some states allow the sale at auction to be redeemed while in others, the sale is final. 
Can be held online or at the county courthouse.
A public auction conducted by governmental agencies like the IRS for properties that were seized for nonpayment of federal income taxes or criminal activity or from surplus.
Typically held online by the government agency or a third-party auction company.
Conducted by a third-party auction company or real estate agent on behalf of the property owners, who hope to increase their sale price by using an auction method to sell the property.
This method is far less common than public auctions.
Can be held online or at the property itself.
How does bidding work?
Almost all types of auctions require bidders to register in order to participate. Some may require a proof of funds or a small deposit (2% to 5% of the starting bid amount) to ensure the registered bidder is a serious buyer, although this is not always required.
The bidding process varies based on the type of auction being held and what real estate auction model that jurisdiction uses. Real estate auctions are conducted in one of three ways.
Real Estate Auction Models
| Absolute Auction | Minimum Bid Auction | Reserve Auction |
| --- | --- | --- |
| The property is sold to the highest bidder with no minimum bid requirements. If there is low competition at the auction and the highest bid is $250, the winning bidder could purchase a property for $250. | The seller sets a minimum bid, and the property is awarded to the highest bidder who meets or exceeds the minimum bid amount. If the minimum bid is not met, the property is typically returned back to the selling party. | Bids are more like an offer, and the seller reserves the right to accept or reject the highest bid within a specific period after the auction is concluded. |
| High competition auction | High competition auction | Low competition auction |
Properties are set for auction with a specified beginning and ending date and time, allowing for active bidding to extend over a particular period of time which could range from a few minutes to as much as a few weeks.
While the auction is live, the highest bid is normally disclosed to registered bidders to stimulate higher bids. Once the allocated auction time expires, the property is either awarded to the highest bidder or returned to the seller, either because the minimum bid was not met or because it was rejected based on the type of auction model that was used.
How do I determine how much to bid and what properties to bid on?
Establishing your buying parameters, like the location of the property, type of property, numbers of bedrooms and bathrooms, or square footage, will help you narrow down prospective auction properties to bid on.
From there, you will want to determine the as-is value or the after repair value of the property. It's extremely important to know the property's value before entering into an auction. Unless you are able to get inside the property (or peek in a window, if it's vacant), it's best to assume the property will need work.
Depending on the type of sale, pre-existing liens relating to the property, like a mortgage, may be dissolved. Some liens, like municipal or code enforcement liens, typically survive the auction process and will become the winning bidder's responsibility post-auction.
It's helpful to order a lien search before going to the auction so you don't inherit expensive liens. Some counties will provide a lien search prior to the sale to help bidders conduct their due diligence on the property. This information may also be available in public records, but some code violations may not be recorded yet. It's a good idea to call the local municipality code department to find out if there are any recorded or unrecorded liens.
Budget for repairs, liens, and legal fees you may incur in order to get the current homeowner or tenant out of the property, and set a maximum amount you are willing to pay based on this information.
How does the post-auction process work?
After the auction is closed, the winning bidder is expected to either:
Pay an earnest money deposit in the form of a cashiers check or wire to the auctioneer (such as 10% to 20% of the winning bid amount), and then pay the remaining balance in full around 30 to 45 days later, or
Pay the entire winning amount in the form of a cashiers check or wire in full within 24 hours up to a few weeks from the auction date, depending on the jurisdiction.
Some states or auctions offer a redemption period, which is a period of time in which the seller or interested party (such as a lender) can redeem the sale amount in order to reclaim their ownership of the property.
Once a certificate of title is issued and recorded with the county, you are the rightful owner of the property. It's usually a good idea to get title insurance as an added layer of protection in the event an unexpected lien or title issue transfers to you upon the sale.
How can I find auctions?
Auctions are conducted online or live, in person. Online auctions are becoming the more popular option and preferred method because of ease and convenience for both the seller and bidders. Live auctions can be held at the county courthouse or the property itself, depending on the type of auction being held.
The frequency of auctions depends on the jurisdiction and type of auction. Some counties with high foreclosure activity or tax deeds will conduct multiple sales per week, while others only hold an auction once a month or once a quarter.
Your local county
If you are interested in buying a house at auction, first research your local jurisdiction's process for conducting a foreclosure or tax sale as each city, county, and state has a different process or auction method and may not offer that auction type in your area. You can find this information out by contacting your county or city tax collector or clerk of the court or by going to the courthouse directly.
Auction websites
You can register on specific auction websites to be alerted of REO sales going to auction in your area. If you want to participate in a federal auction, you will have to go to each government entity's individual website. Some of the popular auction websites are:
Properties up for auction can be throughout the country and are updated as inventory arises, so routinely checking these websites for new inventory is suggested.
Local legal or real estate professionals
See if your local real estate office can refer an agent who specializes in distressed sales and auctions. If so, request that they keep you informed of any potential auctions that will be held. Estate or bankruptcy attorneys can also be a good contact, as they may have clients with assets going to auction.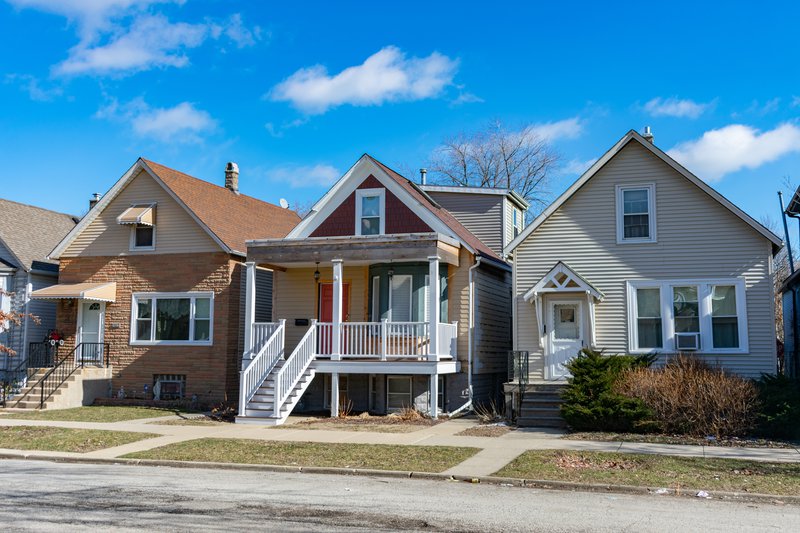 What are the pros of real estate auctions?
Price
While not every property at a real estate auction is a good deal, there is always the opportunity to snag a big discount on a property that equates to tens of thousands of dollars off the current market value. Price is usually the main motivating factor for buying real estate at auction.
Fast closing
Most auctions are a fast process, with the property being advertised for auction, active bidding, and closing handled within 30 to 45 days. This makes it an enticing option for investors who have money to put to work or for buyers who need a home to live in quickly.
What are the cons of real estate auctions?
Competition can be fierce
It's easy to let your emotions get the best of you during an auction. If you're in a market with high competition, don't be pressured to overbid. Stick with your maximum bid, even if others bid higher.
Properties are frequently withdrawn
It's fairly common for properties to be withdrawn from the auction on the day of sale because the delinquent amount is paid in full or the owner files bankruptcy. You can put a lot of time and effort into conducting due diligence on the property and spend money on title and lien searches only to be unable to bid on the desired property.
There's a lot of junk property
Real estate auctions are distressed sales -- meaning the property is being conveyed "as-is" without an inspection period or warranty, and property conditions will vary. Some properties are occupied at the time of the auction; others are vacant. The property could be in great condition or be a piece of junk.
You might be able to get inside to assess the condition before bidding, but some auctions are conducted with the property being inaccessible, and bidders are bidding sight unseen. You can easily purchase a junk property at a sale if you don't do your due diligence. If buying it sight unseen, always assume the property is in terrible condition and budget accordingly.
Traditional financing isn't a likely option
Most auctions will require an all-cash closing in a short period of time. If you aren't able to secure a hard money loan or private loan or have the cash available yourself, your ability to buy a house at auction is restricted.
Redemption periods can cause delays
If the state or jurisdiction has a redemption period, you may want to wait until the redemption period expires before starting any renovations or improving the property's value. If the homeowner or lender redeems the sale, any work or value you've added to the property falls back to the redeeming party.
Pros of Real Estate Auctions
Cons of Real Estate Auctions
• Potential to buy a property at a significant discount.

• Fast closing.

• High competition -- pushing bids up and discounts down. • No inspection periods.

• Could buy a junk property (especially if you can't get inside the property before the auction).

• Need cash at closing (traditional financing is rarely an option).

• Some states have redemption periods.
In summary
If you're in a highly competitive real estate market, it may be worthwhile to buy a house at auction because of the discount it can offer. Just remember, not every home being sold at an auction is a deal. Do your due diligence on the property, and make your bid accordingly. Understand how the auction process works for your jurisdiction and familiarize yourself with bidding at an auction, and you may be able to land a great deal.
Got $1,000? The 10 Top Investments We'd Make Right Now
Our team of analysts agrees. These 10 real estate plays are the best ways to invest in real estate right now. By signing up to be a member of Real Estate Winners, you'll get access to our 10 best ideas and new investment ideas every month. Find out how you can get started with Real Estate Winners by clicking here.