Get our 43-Page Guide to Real Estate Investing Today!
Real estate has long been the go-to investment for those looking to build long-term wealth for generations. Let us help you navigate this asset class by signing up for our comprehensive real estate investing guide.
Real estate investment trusts (REITs) tend to have a well-defined strategy. Most are pure-play REITs focused on either a specific property type or a particular region. That's the case for Washington Real Estate Investment Trust (NYSE: WRE), or WashREIT, which, as the name implies, is a pure-play REIT focused on Washington, D.C.
However, that focus is about to change. The REIT is pivoting its strategy from concentrating on one city to a specific type of property. Here's a closer look at the company.
WashREIT profile
WashREIT entered 2021 as a diversified REIT focused on the Washington, D.C. metro area. The company-owned and operated 22 multifamily properties with 7,059 apartment units. In addition, it had 3.4 million square feet of commercial space across 13 office properties and eight retail centers.
However, in mid-June, the company unveiled a plan to accelerate its plan to transform into a residential REIT focused on multifamily properties across the Southeast. By the end of the second quarter, the company had closed the sale of most of its office properties and had a contract to sell its retail centers. It still had one office property remaining -- the iconic Watergate 600 building in Washington, D.C. -- that it intends to sell in the future.
At that time, its portfolio consisted of:
Class A multifamily: High-quality apartments that generally rent for above-market average rates -- 13%.
Class B multifamily: More affordable apartments -- 20%.
Class B value-add multifamily: Pre-renovated apartments -- 62%.
Office space: Watergate 600 makes up the final 5% of its portfolio.
The company owned multifamily units across the Washington, D.C. area, including in the capital (14% of its geographic mix), Northern Virginia (76%), and Maryland (10%).
In the future, it anticipates that 100% of its portfolio will be multifamily properties. Meanwhile, it sees the mix shifting south to be 60% in the capital region (Virginia, Maryland, and Washington, D.C.) and 40% across the Southeast (Atlanta and Raleigh/Durham and Charlotte, North Carolina).
WashREIT news
The pandemic weighed on WashREIT's results in 2020. The REIT's same-store net operating income (NOI) declined by 5.4% due to lower rental income and higher credit losses, primarily in its office and retail portfolios. Meanwhile, lease rates fell in its multifamily portfolio as renters opted to take advantage of lower interest rates to buy a home, or they took advantage of their ability to work remotely and moved to cheaper areas outside of the Washington, D.C., area.
The REIT continued its portfolio transformation in 2020. It completed the sale of three office assets for a total of $163.5 million. It used those proceeds to strengthen its balance sheet.
WashREIT accelerated its portfolio transition to a multifamily REIT in the first half of 2021. In mid-June, the company agreed to sell all but one of its remaining office buildings to a private real estate investment fund managed by Brookfield Asset Management. Overall, it sold 12 office assets in the Washington, D.C., metro area with nearly 2.4 million square feet for $776 million. It retained Watergate 600, which it intends to sell when practical. In addition, the REIT agreed to sell its eight remaining retail assets to another buyer for $168.3 million. The company plans on using those proceeds to reduce debt and finance its multifamily expansion strategy across the Southeast.
The REIT also noted an improvement in its multifamily portfolio in early 2021. New lease rates jumped 10% in June and July compared to the prior-year period. Meanwhile, occupancy rose from 95.2% to 95.8%. WashREIT also saw strong leasing activity at the recently completed Trove development, bringing occupancy to more than 75%. That has it on schedule to stabilize the property by year's end, well ahead of its May 2022 target.
WashREIT stock price
WashREIT's portfolio transformation has weighed on its stock price in recent years: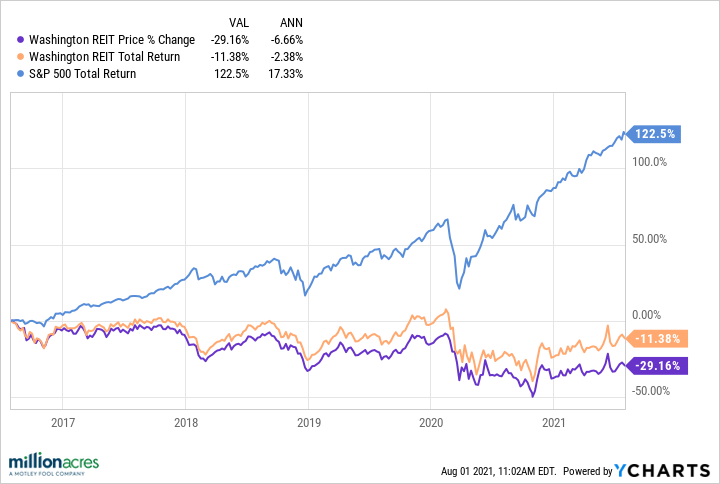 As that chart shows, the REIT has significantly underperformed the S&P 500 over the last five years. While the pandemic played a role, that's not the only issue impacting WashREIT in recent years.
The biggest factor weighing on WashREIT over the years has been its asset recycling program. The REIT has been steadily selling commercial properties and using the proceeds to expand its multifamily portfolio. For example, in the first quarter of 2013, the REIT had a diversified portfolio consisting of office (50% of its portfolio), retail (20%), multifamily (16%), and medical office (14%). However, it sold more than $5 billion of assets in recent years. It recycled that capital into expanding its multifamily operations, growing its portfolio from 11 properties with 2,540 units in 2012 to its 22 properties with more than 7,000 units by 2021.
It made this move to streamline and simplify its business model and deliver sustainable growth while also improving its balance sheet. On the one hand, its diversified operations provided stability. However, its office and retail assets faced growth headwinds that impacted the REIT's ability to expand its funds from operations (FFO) per share.
Retailers were already under pressure before the pandemic due to the accelerating shift toward e-commerce. Meanwhile, offices face new headwinds because of the pandemic due to an increase in remote work and a preference by companies to expand beyond coastal gateway cities into faster-growing metro areas in the Sun Belt region.
WashREIT's portfolio pivot has impacted its dividend. The diversified REIT had kept its payout flat at $0.30 per share each quarter since resetting it to that level in 2012 to provide additional cash flow for reinvestment. It reduced the dividend again in mid-2021 to $0.17 per share each quarter following the sale of its office portfolio to Brookfield. That will enable it to retain more cash to strengthen its balance sheet as it executes its multifamily expansion program.
At that reduced rate, WashREIT yields 2.8%. That's slightly below the REIT sector's average of around 3%.
The bottom line on WashREIT
WashREIT is shifting its strategy away from a diversified REIT focused on Washington, D.C., to a multifamily REIT concentrated in the Southeast. The company believes this pivot will provide stable growth in the future, allowing it to do a better job creating shareholder value. That makes it an interesting REIT, especially for investors looking to play the Sun Belt migration megatrend.
Got $1,000? The 10 Top Investments We'd Make Right Now
Our team of analysts agrees. These 10 real estate plays are the best ways to invest in real estate right now. By signing up to be a member of Real Estate Winners, you'll get access to our 10 best ideas and new investment ideas every month. Find out how you can get started with Real Estate Winners by clicking here.
Matthew DiLallo
has no position in any of the stocks mentioned. The Motley Fool has no position in any of the stocks mentioned. The Motley Fool has a
disclosure policy
.