Get our 43-Page Guide to Real Estate Investing Today!
Real estate has long been the go-to investment for those looking to build long-term wealth for generations. Let us help you navigate this asset class by signing up for our comprehensive real estate investing guide.
The commercial real estate industry is enormous. A 2018 study pegged the U.S. commercial real estate market's total value at an eye-popping $16 trillion. Given the market's sheer size, most real estate investment trusts (REITs) typically focus on a specific property type or region. Being a pure-play REIT enables them to concentrate on what they know best to create the most value for shareholders.
However, some REITs believe that the best way to enrich their investors is by owning a diversified real estate portfolio. One of the leading diversified REITs is VEREIT (NYSE: VER). Here's a closer look at the company.
VEREIT profile
VEREIT derives its name from a combination of two words: Veritas (Latin for truth) and REIT. That name drives its mission of being a respected leader in the REIT sector.
The company owns a diversified portfolio of retail, restaurant, office, and industrial real estate secured by net leases with credit-worthy tenants. The company focuses on strategically located properties essential to the operations of its tenants and retail properties that provide necessity- and value-oriented products or services. These criteria help reduce the risk that tenants default on their rent.
VEREIT owned $14.6 billion of gross real estate investments at the end of 2020's third quarter. Overall, it had 3,800 properties with 88.9 million square feet of leasable space. These included:
Retail: 2,602 properties with 33.8 million square feet of space, contributing 44.9% of its annualized rental income (ARI). Top tenants include automotive, discount, grocery, home and garden, and pharmacies.
Restaurants: 1,529 locations with nearly 7.1 million square feet of space supplying 20.6% of its ARI. The company owns both casual dining restaurants like Red Lobster and Outback Steakhouse and quick-service locations like Wendy's (NASDAQ: WEN) and Arby's.
Industrial: 147 properties with 36.9 million square feet of space contributing 17.3% of its ARI. Most of its properties are single-tenant distribution and warehouse facilities.
Office: 72 properties with almost 11.1 million square feet of space supplying 17.1% of its ARI. A third of its properties serve as corporate headquarters, while the rest support corporate operations.
Other: 10 properties, including a redevelopment project, billboards, in-progress construction projects, land, and parking lots, contribute 0.1% of its ARI.
VEREIT leases space to 616 tenants in 41 industries across 49 states. However, it does have a somewhat concentrated tenant base as its top 10 tenants supply 27.1% of its ARI while the top 49 comprise 58.3% of the total. However, most of those 49 are high-quality tenants; 37 are public companies, while 22 have investment-grade credit ratings. Overall, 37.7% of its tenants have investment-grade credit ratings, suggesting they have the resources to meet their financial obligations (including paying rent to VEREIT) if economic conditions deteriorate.
Its top ten tenants:
Red Lobster (A private, non-investment-grade restaurant): 4.8% of ARI
Dollar Tree (NASDAQ: DLTR) and Family Dollar (A public, investment-grade retailer): 3.6% of ARI
Dollar General (NYSE: DG) (A public, investment-grade retailer): 3.2% of ARI
Walgreens (NYSE: WBA) (A public, investment-grade retailer): 3% of ARI
CVS (NYSE: CVS) (A public, investment-grade retailer): 2.7% of ARI
FedEx (NYSE: FDX) (A public, investment-grade industrial tenant): 2.7% of ARI
B.J.'s Wholesale Club (NYSE: BJ) (A public, non-investment-grade retailer): 1.9% of ARI
L.A. Fitness (A private, non-investment-grade retail tenant): 1.9% of its ARI
Albertsons (NYSE: ACI)(A public, non-investment grade retailer): 1.7% of ARI
PetSmart (A private, non-investment-grade retailer): 1.6% of ARI
As that list shows, the company owns properties leased to many well-known brands. That focus on partnering with high-quality companies to meet its real estate needs provides a steady stream of expansion opportunities as the company grows its operations.
VEREIT news
VEREIT's focus on owning strategically located properties and essential retail locations has paid dividends during the COVID-19 outbreak. While the company's rental-collection rate dipped to 87% during the second quarter due to weakness within its restaurant (60% collection rate) and retail (89%) tenants, it rebounded to 94% during the third quarter and was above 95% in the fourth quarter. Because of that, its AFFO held up much better than other REITs, especially those with lots of exposure to nonessential retailers.
The REIT spent much of 2020 focused on enhancing its portfolio and financial profile. VEREIT invested $1 billion of capital during 2020, $600 million on acquisitions and $400 million to redeem preferred stock.
Roughly $280 million of its 2020 acquisitions were in its institutional partnerships. The company formed two 80/20 partnerships in recent years, one to own industrial assets leased to investment-grade tenants and another that owns office properties. The strategic alliances enabled the company to strengthen its balance sheet while providing it with a source of growth. For example, the industrial partnership formed in 2019 purchased a property from a third party during the third quarter of 2020 for $246.8 million, with VEREIT contributing $18.7 million.
Meanwhile, the company formed an office partnership in early 2020, centered around three existing office assets valued at $137.5 million. That partnership is part of its strategic focus to reduce its exposure to office assets from 17% of its ARI to 15%. Overall, the company sold more than $430 million of office assets from the start of 2020 through early 2021 as part of this strategic shift.
VEREIT used the financial flexibility gained from institutional partnerships, asset sales, and financing initiatives, like the preferred stock repurchase, to acquire additional assets for its core retail and restaurant portfolios. It expected to complete more than $300 million of acquisitions during the fourth quarter of 2020 and the first quarter of 2021, which was above the high end of its $150 million to $300 million range.
VEREIT stock price
Despite its focus on owning a diversified portfolio of high-quality properties, VERIT has struggled to create shareholder value in recent years: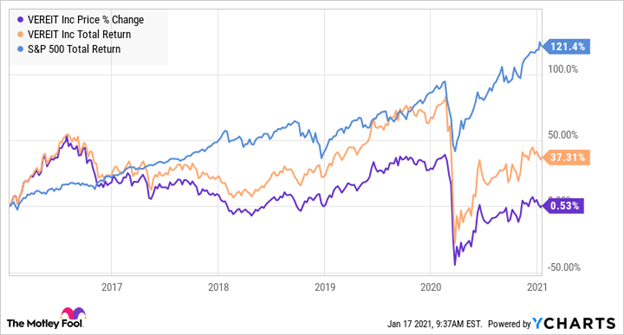 As that chart shows, the COVID-19 outbreak has affected its stock price. While the REIT collected most of its rent in 2020, it expected its AFFO to decline from $0.69 per share in 2019 to $0.62 per share in 2020 (or $3.10 per share after adjusting for a one-for-five reverse stock split completed at the end of 2020). That was due to the lower overall rental collection rate and asset sales.
However, an even bigger weight on the stock had been ongoing litigation between the company and shareholders in recent years. VEREIT, then known as American Realty Capital Partners, allegedly failed to properly report AFFO by artificially inflating that number in 2013 and 2014. The company finally settled all its outstanding legacy litigation in 2019 when it also reached a resolution with the SEC, which investigated the matter. As a result, VEREIT paid $738.5 million towards the class-action settlement and an additional $27 million to shareholders that previously opted out of the class action. Meanwhile, its former external manager, CFO, and auditor paid a combined $286.5 million, bringing the total settlement to $1.025 billion. The company also paid an $8 million civil penalty as part of its agreement with the SEC. VEREIT satisfied its legal bills with asset sales, which it also used to help reduce leverage and improve its credit profile.
VEREIT's legal troubles also forced it to reduce its dividend in 2015 from a reverse split-adjusted $0.4167 per share each month to a quarterly rate of $0.6875 per share. Meanwhile, the company cut its payout again in 2020 to a split-adjusted $0.385 per share each quarter due to the uncertainty caused by the COVID-19 outbreak.
The REIT's 2020 dividend reduction pushed its yield down to around 4%. Before that, it had averaged above 6% in recent years.
The bottom line on VEREIT
While VEREIT finally put its legal troubles in the rear-view mirror in 2019, a new headwind emerged in 2020 as the pandemic impacted many of its tenants, especially in the restaurant sector. Because of that, the REIT still has a lot to prove. It must show that it has put its legacy issues in the past and that its portfolio can weather the real estate sector's current downturn. Meanwhile, it must demonstrate that its diversified approach can create shareholder value. Given the uncertainty surrounding VEREIT, REIT investors might want to watch it from the sidelines until it proves it can deliver results.
Got $1,000? The 10 Top Investments We'd Make Right Now
Our team of analysts agrees. These 10 real estate plays are the best ways to invest in real estate right now. By signing up to be a member of Real Estate Winners, you'll get access to our 10 best ideas and new investment ideas every month. Find out how you can get started with Real Estate Winners by clicking here.
Matthew DiLallo owns shares of FedEx. The Motley Fool owns shares of and recommends FedEx. The Motley Fool recommends CVS Health. The Motley Fool has a disclosure policy.