Get our 43-Page Guide to Real Estate Investing Today!
Real estate has long been the go-to investment for those looking to build long-term wealth for generations. Let us help you navigate this asset class by signing up for our comprehensive real estate investing guide.
With the growing number of baby boomers entering retirement, there is tremendous long-term opportunity for healthcare real estate investment trusts (REITs) over the next several decades. But the global pandemic has put the future of healthcare REITs into question. Ventas (NYSE: VTR), a longstanding and popular healthcare REIT owning healthcare facilities including senior housing, medical offices, health systems and hospitals, among others, has had a tough year. But that doesn't mean it's done for. If you're considering investing in Ventas, here's what you need to know.
Ventas profile
As of year end 2020, Ventas owns or has interest in approximately 1,200 medical facilities across the globe. The company earns revenues from leasing real estate or engaging in joint ventures with third-party operators and managers for real estate developments.
Of their $2 billion net operating income in 2020:
30% of their income was earned from senior housing operating portfolio (SHOP),
18% from triple net leased senior homes,
22% from medical offices,
8% from inpatient rehabilitation facilities (IRF) and long-term adult care (LTAC),
8% from research and information (R&I),
7% from health systems,
4% from healthcare-related loans,
and 2% from other fields.
The company launched Ventas Investment Management (VIM) in 2020, which merges its preexisting and new third-party capital ventures, Ventas Life Science and Healthcare Real Estate Fund, L.P. (the Ventas Fund), under one umbrella. The fund helps the company continue to expand its research and information (R&I) portfolio, among other "seed projects." Their R&I portfolio now contains just over 8 million square feet, while their outpatient square footage is at approximately 20 million square feet.
By creating long-term relationships through joint venture partnerships, Ventas gains exclusive rights for future development for the company while maintaining their portfolio with high-quality tenants. For example, in 2019, Ventas invested in Le Groupe Maurice, which provided them access to exclusive rights for future development for this Canadian senior housing company. A few of the company's largest tenants are Atria Senior Living, which makes up 14% of their NOI, Lillibridge accounting, for 12% of NOI, and Brookdale Senior Living, at roughly 8% of NOI.
Ventas news
Healthcare facilities have been one of the sectors hardest hit by the global pandemic. Considering the elderly were some of the most exposed and at risk, nearly all of the company's senior housing operating portfolio (SHOP) facilities halted operations in spring of 2020. This resulted in a 13.8% decrease in normalized funds from operations when compared to the full year 2019.
Among it's current core categories, office, healthcare, and senior housing, the company has collected 99%, 100%, and about 100% respectively for January and February 2021. But rental collections aren't what's hurting the company's bottom line. That would be occupancy. Average occupancy for its senior house portfolio for the full year of 2020 was 81.7%, a 5% decrease from the average occupancy in 2019. The lowered occupancy resulted in 14.6% reduction in net operating income, despite having increased its portfolio by 9,760 units.
One way the company was able to float the initial impacts of the coronavirus pandemic was through asset dispositions, which totaled $1 billion. Ventas has a current debt-to-EBITDA ratio of 6.1x, slightly high by most REIT standards but understandable given the current economic climate for this sector.
The company has $1.3 billion in debt maturity due over the course of 2021 and 2022, which currently can be covered by their $3 billion cash and cash equivalent on hand. However, future debt maturities, including $1.6 billion due in 2023, will need to be covered through further dispositions in the event revenues have not returned to normalized levels. The company has shared its plans to increase its dispositions in 2021 to just under $2 billion.
One positive thing going for the company right now is its operators' and residents' vaccine adoption rate. As of February 2021, 98% of their SHOP portfolio and 96% of their triple net lease senior operators had received at least the first dose of the vaccine. Full vaccine adoption should help improve the reduced move-ins / increased move-outs trend the company is seeing.
Ventas stock price
Ventas share prices plummeted in March of 2020 and have yet to recover. Right now, shares are trading at roughly 27.5% lower than pre-pandemic highs. However, despite the drop in value, investors in Ventas have still achieved a 31% total return over the past three years -- an impressive return considering the current volatility in the sector.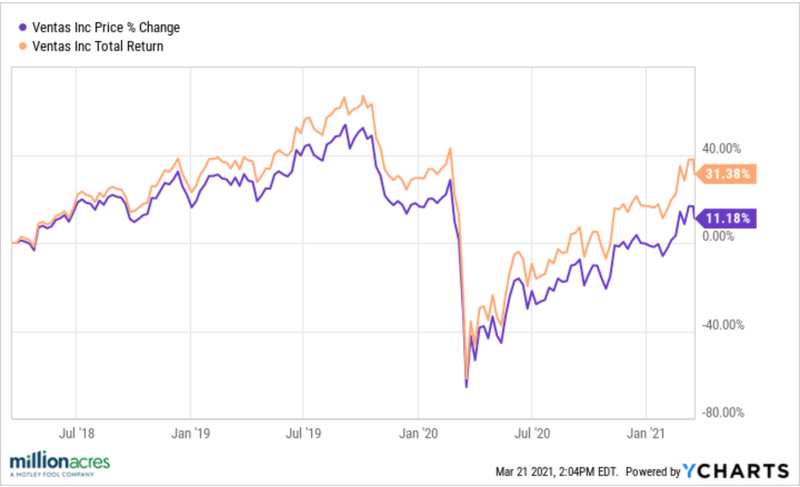 The company cut dividends in 2020 to help reduce its payout ratios and have more capital on hand. Right now, payout ratio is 54%, giving it plenty of room to increase its dividends in the future if FFOs start to restabilize. Given the company's current dividend payout and slightly depressed share prices, investors can achieve just over a 3% return.
The bottom line on Ventas
With the release of the vaccine, occupancies should start to recover, and with them the company's performance, but it will take time for recovery to be achieved. The company expects further reduction in net operating income and lower FFOs for Q1 2021.
The biggest hurdle the company will need to face moving forward is any long-term trends that may come from the impact of the virus. Particularly, the interest in multigenerational living as a solution for elder care. Some believe Ventas, as well as other senior care-centric REITs, will start reducing their senior care portfolio and focusing on further portfolio diversification to hedge against recurrences or potential new pandemics in the future.
Ventas does have three R&I projects in development, consisting of over 1 million additional square feet in partnership with the University of Pittsburgh and Drexel University. This increase in office and R&I facilities could be a continued trend moving forward helping return its FFO to positive levels, but the future of the company is still somewhat uncertain, meaning investors should invest with caution.
I think more risk-averse investors should steer clear; however, those with higher risk tolerances could use this time to purchase shares at a discount. If senior housing bounces back, this could be a profitable buy in the long run. Given the company's solid credit ranking of BBB+ and its large portfolio, there is wiggle room on its path to recovery -- but that doesn't come without volatility or risk.
Got $1,000? The 10 Top Investments We'd Make Right Now
Our team of analysts agrees. These 10 real estate plays are the best ways to invest in real estate right now. By signing up to be a member of Real Estate Winners, you'll get access to our 10 best ideas and new investment ideas every month. Find out how you can get started with Real Estate Winners by clicking here.
Liz Brumer-Smith has no position in any of the stocks mentioned. The Motley Fool has no position in any of the stocks mentioned. The Motley Fool has a disclosure policy.