Get our 43-Page Guide to Real Estate Investing Today!
Real estate has long been the go-to investment for those looking to build long-term wealth for generations. Let us help you navigate this asset class by signing up for our comprehensive real estate investing guide.
Manufactured housing and recreational vehicle (RV) communities tend to get a bad rap, as many see them as low-quality housing options. However, while there are low-quality operators in the sector, Sun Communities (NYSE: SUI) isn't one of them. Instead, the real estate investment trust (REIT) focuses on operating high-quality communities of manufactured homes and RVs that help address the country's affordable housing problems.
Here's a closer look at the leader in these real estate subsectors.
Sun Communities company profile
Sun Communities is a residential REIT focused on manufactured housing and RV communities. It's the largest of three publicly traded REITs that concentrate on these property types. As of the middle of 2020, the company owned interests in 426 manufactured housing and RV communities with more than 143,000 sites across 33 states and Ontario, Canada. Its portfolio included 266 manufactured home communities, 126 RV communities, and 34 mixed communities.
The company leases homes, homesites, and RV sites to tenants under annual contracts as well as RV sites to transient visitors. Overall, about 73% of its rental revenue comes from manufactured home leases, 12% from annual RV site leases, and 15% from transient RV site rentals. Sun Communities also sells manufactured homes, including newly built houses in its communities and former rental homes. About 44% of the company's manufactured home properties are retirement communities with age restrictions.
The REIT's communities play an important role in providing renters and homebuyers with more affordable housing options. For example, its manufactured homes offer 25% more space at 50% less on a per-square-foot basis than other residential rental options. Meanwhile, the average manufactured home costs roughly twice the median household income of its applicants, which is approximately $42,000. In contrast, the average single-family home costs about seven times that amount.
Sun Communities news
In late September of 2020, Sun Communities agreed to acquire Safe Harbor Marinas for $2.11 billion. That company owns and operates 101 marinas and manages five others for third-party owners across 22 states. Safe Harbor's high-quality portfolio of prime coastal market marinas generates recurring rental income from annual and seasonal leases, with 74% of its gross profit from storage and commercial leases. Upon closing that transaction, which should occur by the end of 2020, Safe Harbors should contribute about 15% of Sun's pro forma total annual rental revenue.
The acquisition of Safe Harbor will diversify Sun Communities' portfolio by geography, property focus, and customer type while adding a new growth platform. The marina industry is highly fragmented as the top five operators (led by Safe Harbor) only control about 4% of the marina market, making it ripe for consolidation.
Safe Harbor adds another fuel source to power Sun Communities' growth engine. Internally, the company has four earnings growth drivers:
Contractual rate increases: The company typically increases its rental rates by 2% to 4% per year, supported by the steady reinvestment in its communities.
Expansions: Sun has more than 7,600 available sites, with plans to turn about 200 into income producers in 2020.
Occupancy gains in manufactured housing: Sun's communities had a 96.5% occupancy rate during the middle of 2020, with a target to get it up to 98%+.
Transient RV site conversions: Sun owns 22,300 RV sites that it rents out to short-term visitors. However, it has been steadily converting them to annual leases at a rate of 1,100 per year. These conversions yield a 40% to 60% revenue uplift during the first year compared to the transient rental revenue.
Meanwhile, Sun Communities has two external growth drivers: acquisitions and development projects. Through the first half of 2020, the company invested $132.3 million to purchase five more communities with 1,455 sites as it continues to consolidate the highly fragmented manufactured home and RV sectors. Since 2010, Sun Communities has acquired more than $5.8 billion of communities, growing its portfolio more than threefold. The REIT also typically starts two to four new ground-up development projects each year. It expects to complete four new ones in 2020. Finally, it will also sell communities from time to time -- it divested a 226-site property in Montana for $13 million in 2020 -- to help fund acquisitions and development projects.
Sun Communities has a solid balance sheet to support its expansion. Its leverage ratio has fallen from 7.5 times debt-to-EBITDA in 2016 to a much more comfortable 4.8 times by mid-2020. Further, it had no near-term debt maturities and only 3.7% of its total debt coming due through 2024. That gave it the financial flexibility to make the needle-moving acquisition of Safe Harbor and continue purchasing communities, investing in development projects, and expanding existing communities.
The REIT has also weathered the COVID-19 economic downturn reasonably well. Rental collection rates in its manufactured housing operations averaged 97% during the second quarter of 2020 as well as July and August of that year. Meanwhile, annual RV rent collection averaged 98% during that period while transient bookings increased because it's easier to socially distance at an RV park than at other vacation destination options.
Sun Communities' stock price
Sun Communities' consolidation strategy has paid big dividends for investors over the years. During the five years from early October 2015 through that same month in 2020, the REIT has significantly outperformed the S&P 500: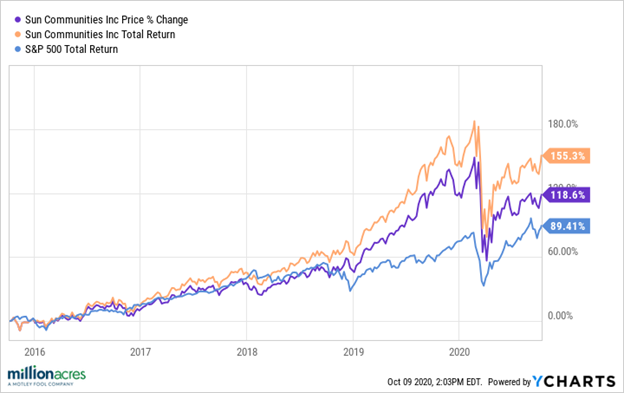 One factor contributing to the company's outperformance is the steady growth in its community count. The REIT has expanded from 231 communities and 88,612 sites at the end of 2015 to 426 communities and 143,053 sites by mid-2020.
However, the REIT hasn't expanded for the sake of getting bigger. Instead, it has focused on acquiring properties that grow its NOI. As a result, its NOI has increased faster than its peers in the manufactured housing sector and all other REIT subgroups since 2000.
The company's consistent income growth has enabled it to increase its dividend each year since 2016, including a 5.3% boost in 2020. Despite that steady growth, Sun Communities' dividend yield has fallen from above 6% in 2014 to slightly more than 2% in 2020. That's due to its strong stock price appreciation in recent years thanks to continuing earnings growth and a significant improvement in its leverage ratio, which has taken the pressure off its balance sheet.
The bottom line on Sun Communities
Sun Communities is a leading owner of high-quality manufactured home and RV communities geared toward those seeking affordable housing options. Given the fragmentation in those sectors and its pending marina platform acquisition, this REIT has lots of growth potential ahead. Because of that, it should be able to continue expanding its portfolio, income, and dividend, which has been the key to its market-beating performance in recent years.
Got $1,000? The 10 Top Investments We'd Make Right Now
Our team of analysts agrees. These 10 real estate plays are the best ways to invest in real estate right now. By signing up to be a member of Real Estate Winners, you'll get access to our 10 best ideas and new investment ideas every month. Find out how you can get started with Real Estate Winners by clicking here.
Matthew DiLallo has no position in any of the stocks mentioned. The Motley Fool has no position in any of the stocks mentioned. The Motley Fool has a disclosure policy.