Get our 43-Page Guide to Real Estate Investing Today!
Real estate has long been the go-to investment for those looking to build long-term wealth for generations. Let us help you navigate this asset class by signing up for our comprehensive real estate investing guide.
Many investors are hesitant to put their hard-earned money into any stock involved with brick-and-mortar retail. And with the wave of retail bankruptcies and store closures we've seen in recent years, it's not difficult to understand why.
However, STORE Capital (NYSE: STOR) isn't just any retail stock. This real estate investment trust, or REIT, invests in properties that should produce predictable, growing income for decades to come, without the risks involved with many other retail-focused investments.
STORE Capital company profile
Let's start with STORE Capital's business. The REIT specializes in single-tenant net lease real estate, mostly in the service and retail industries. If you're curious about why I keep capitalizing the letters in STORE, that's because it stands for Single Tenant Operational Real Estate. STORE Capital is a relatively young REIT, having completed its IPO in 2014.
At the end of the third quarter of 2020, STORE Capital owned 2,587 properties throughout the United States, leased to 511 different tenants.
The company looks for specific types of properties to acquire, specifically middle-market properties occupied by single tenants. To put the term "middle market" into perspective, most of STORE's tenants are companies with $20 million to $500 million in annual revenue. So, we're talking mostly not huge companies, but not small independent businesses either.
STORE prefers service-based properties, which account for about 63% of the company's rental income. Just to give a few examples, restaurants, day care centers, auto repair facilities, and pet care businesses are some of the company's top service-based property types.
In addition to its service properties, STORE Capital also invests in retailers (about 19% of rent) and manufacturing properties (about 18%). Furniture stores, farm supply, and vehicle dealerships are some of the major retail tenant types, and manufacturing properties include metal fabrication, food processing, and furniture manufacturing businesses, just to name a few.
The key takeaway is that STORE Capital's properties are not easily disrupted by e-commerce and not especially prone to recessions. Service-based businesses typically sell things people need, and what they sell cannot be duplicated by online disruptors in most cases. And the types of retail tenants STORE focuses on are selling things (like furniture and cars) that people generally want to see in person before buying.
No more than 2.7% of STORE's rental income comes from any one tenant. Just to name a few examples, top tenants in the portfolio include Fleet Farm, Bass Pro Shops, Camping World (NYSE: CWH), and AMC Theaters (NYSE: AMC).
STORE Capital's portfolio of more than 2,500 properties might sound like a large collection of real estate (and it is), but this could be just the starting point. STORE's management estimates there are more than $3 trillion worth of existing properties that could fit the company's acquisition criteria. And while it isn't going to become a trillion-dollar company anytime soon, with a current market cap of about $8.5 billion, it could easily multiply in size.
STORE Capital news
By far, the largest news item STORE Capital investors need to know about is how the COVID-19 pandemic affected the business. And while STORE's business is designed to keep e-commerce disruption at a minimum and to survive a recession relatively unscathed, that's not the case when it comes to a global pandemic that prevents people from physically going places.
Specifically, about one-third of STORE's properties are occupied by one of the following types of businesses:
Day care centers
Family entertainment centers
These are some of the most hard-hit property types in the pandemic -- especially when the outbreak first started. STORE's rent collection rate fell below 70% in May, and these property types were the main reasons.
Since that time, STORE's business has rebounded nicely. Virtually all of the company's properties are open for business, and rent collection was at 90% in October and November 2020. And much of the uncollected rent is deferred, which means the company will collect it eventually.
As far as profitability goes, STORE's adjusted FFO declined by about 5% in the second quarter of 2020 year over year as a result of the low rent collection rate but rebounded a bit in the third quarter. STORE is earning more than enough to pay its dividend and actually gave shareholders a raise in 2020.
In other news, STORE's growth is worth discussing. Unlike many other REITs that develop properties from the ground up, STORE grows through acquisition. In 2018 and 2019, STORE spent more than $3.3 billion combined expanding its portfolio. While the company understandably pumped the brakes on growth at the onset of the pandemic, it appears to be in full-on growth mode once again. The company invested over $250 million in acquisitions in the third quarter, and at a very favorable cost of capital. Acquisitions were made at an average initial cap rate of 8.3%, and interest rates are incredibly low right now. In fact, STORE just obtained $350 million of new 10-year debt at an interest rate of just 2.75%, citing "to fund property acquisitions" as one of the major purposes.
Finally, investors may be encouraged by the fact STORE Capital is the only real estate investment trust in Berkshire Hathaway's (NYSE: BRK.A) (NYSE: BRK.B) stock portfolio. The Warren Buffett-led conglomerate added STORE to its closely followed investment portfolio a few years ago and recently increased its position to a nearly 10% stake.
STORE Capital stock price
STORE Capital's focus is on total returns -- that is, a combination of stock price appreciation and dividends. So far, the results have been strong. We'll start with dividends.
Since its 2014 IPO, STORE Capital has increased its dividend every year by a total of 44%. Not only that, but the company has a relatively low payout ratio for a REIT, paying out 70% or less of its funds from operations (FFO) each year from 2015 through 2019. In simple terms, management considers this to be a great way to produce strong shareholder income while still leaving the company plenty of profits to reinvest in the business.
In fact, management estimates that through annual rent escalations in tenant leases and reinvested profits alone, STORE's internal growth rate will be more than 5%. And that's not considering any impacts of growing the portfolio through borrowed money, which, as we've seen, STORE can do at a very favorable cost structure. When you combine internal growth, growth through acquisitions, and the dividend (which currently yields about 4.6%), it's not hard to see the double-digit total return potential.
While STORE has a relatively short history (which includes a pandemic), the results are still impressive. Since its late 2014 IPO, STORE has generated a 116% total return for investors (about 14% annualized), handily beating the overall real estate sector.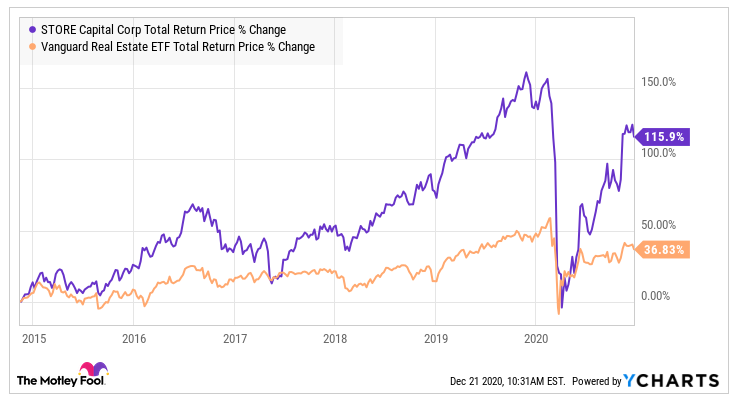 The bottom line on STORE Capital
STORE Capital is technically categorized as a retail REIT, but this isn't the same thing as investing in shopping malls or other types of physical retail. STORE Capital is designed to produce growing income and market-beating total returns without too much risk, and the results so far have been strong. Income-seeking investors may want to take a closer look at STORE Capital for their portfolios.
Got $1,000? The 10 Top Investments We'd Make Right Now
Our team of analysts agrees. These 10 real estate plays are the best ways to invest in real estate right now. By signing up to be a member of Real Estate Winners, you'll get access to our 10 best ideas and new investment ideas every month. Find out how you can get started with Real Estate Winners by clicking here.