Get our 43-Page Guide to Real Estate Investing Today!
Real estate has long been the go-to investment for those looking to build long-term wealth for generations. Let us help you navigate this asset class by signing up for our comprehensive real estate investing guide.
Manhattan holds some of the most valuable real estate in the world. Space is almost always in high demand because the city is a mecca for the global financial sector, which draws in many other industries, including entertainment, advertising, publishing, legal, real estate, and technology. That has made it an excellent market for real estate investors over the years as they've benefited from steadily growing rental rates and property values.
A leader in investing in the Manhattan property market is SL Green Realty (NYSE: SLG). Here's a closer look at the real estate investment trust (REIT).
SL Green Realty profile
SL Green is an office REIT focused on the New York City market. As of the end of 2021's first quarter, the company held interests in 84 buildings with 37.8 million square feet of space. That portfolio included ownership stakes in 28.3 million square feet in Manhattan -- where it's the largest office landlord -- and debt and preferred equity investments secured by 8.7 million square feet of space.
The company's owned portfolio consisted of the following property types:
Office: Interests in 27 office properties in Manhattan with nearly 21.4 million square feet of space.
Retail: Interests in 10 retail properties in Manhattan with about 312,000 square feet of space. The company also has interests in 44 other retail properties within office buildings consisting of more than 1.4 million square feet of space.
Residential: Interests in nine residential properties in Manhattan with more than 1.7 million square feet of space and over 2,000 residential units.
Suburban: Interest in seven buildings in Stamford, CT, with 862,800 square feet of space.
Development/redevelopment: Interests in eight buildings with nearly 1.7 million square feet of usable space currently undergoing development or redevelopment.
Construction in progress: Interests in four projects currently under construction at an estimated cost of more than $6 billion.
The company leases this space to tenants in various industries:
| Tenant type | % of annualized contractual cash rent |
| --- | --- |
| Financial services | 33% |
| TAMI (technology, advertising, media, and information) | 17% |
| Legal | 13% |
| Retail | 9% |
| Professional services | 8% |
| Arts, entertainment, and recreation | 4% |
| Medical | 4% |
| Government/non profit | 4% |
| Other | 3% |
| Manufacturing | 3% |
| Business services | 2% |
While SL Green leases space to tenants across many industries, it has a high concentration in the financial services sector. That's a potential concern. If that sector needs less office space in the future, it could significantly impact SL Green's occupancy level and rental rates.
Overall, the company leases space to various tenants. Leading the way is Viacom CBS at 5.9% of its annualized contractual cash rent. Meanwhile, its top 20 tenants contribute 38.7% of its rent, giving it a reasonably diversified rent roll.
Another major aspect of SL Green's portfolio is its debt and preferred equity investments. As of the end of 2021's first quarter, it held nearly $1.1 billion of these investments with a weighted average yield of 6.86%. These investments included mezzanine loans, mortgages, junior mortgage loans, and preferred equity investments secured by office, multifamily rental, residential, and retail properties.
SL Green Realty news
The COVID-19 pandemic had a significant impact on New York City in 2020. The city was an early virus hotspot, forcing government officials to restrict travel and non-essential businesses. As a result, companies shifted to working remotely while many retailers closed their doors. That impacted SL Green's ability to collect rent from some tenants, mainly retailers, while also affecting revenue generated from parking fees. These headwinds led the company to take steps to shore up its balance sheet by selling several properties and certain debt and preferred equity investments.
Because of all that, the REIT's funds from operations (FFO) declined from $605.7 million in 2019 to $562.7 million in 2020. However, it increased on a per-share basis from $7.00 to $7.11, thanks to the positive impact of its share repurchase program.
SL Green sold several properties in 2020, led by 410 Tenth Avenue. The company and its partners received $952.5 million in gross consideration from the sale, generating $206.5 million in net cash proceeds to SL Green and a $41.3 million gain. The company used those funds to repay debt, increase its share repurchase program authorization, and pay a special dividend.
Another highlight in 2020 was the opening of its One Vanderbilt Avenue construction project. The company completed the 1,401 foot tall, 1.7-million-square-foot skyline defining tower in September. It will serve as the new headquarters for many leading finance, banking, law, and real estate companies.
The REIT continued to make progress on its strategic plan in early 2021. While its FFO declined on a per-share basis due to the continued headwinds from the pandemic and asset sales, it signed new leases, sold additional assets, and repurchased more stock. Among its notable early accomplishments were signing more leases for One Vanderbilt, bringing it to 81% leased by early May and on target to reach its goal of 90% by year end. The company also continued to take advantage of strong buyer demand for Class A office space by selling 635-641 Sixth Avenue for $325 million, or more than $1,200 per square foot.
SL Green Realty stock price
Despite being the biggest landlord in one of the world's top office markets, SL Green Realty hasn't created any shareholder value in recent years: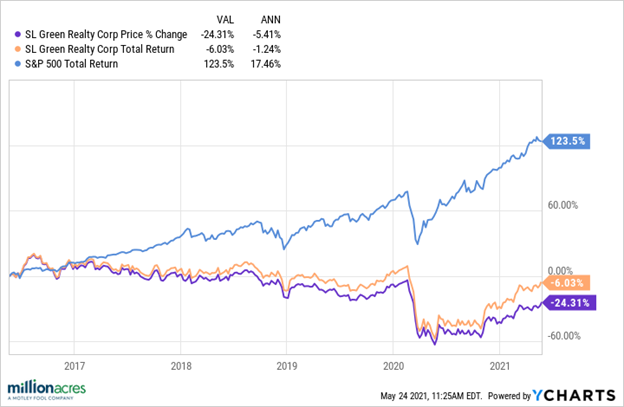 As that chart shows, investors in the office REIT have lost money over the last five years, whereas the S&P 500 has more than doubled during that time frame.
While the pandemic's impact on its operations in 2020 played a role in the REIT's underperformance, that's not the sole factor weighing on its performance. Another issue has been the lack of FFO growth over the past several years. On a per-share basis, FFO has declined from $8.29 in 2016 to $7.11 in 2020 or 14.2% over the last five years.
One factor weighing on FFO has been a steady stream of asset sales in recent years. The company ended 2016 as New York City's largest office landlord. It owned interests in 127 Manhattan office buildings totaling 47.8 million square feet and 30 suburban office buildings with 4.8 million square feet in Brooklyn, Long Island, Westchester County, Connecticut, and New Jersey. SL Green has significantly pared back that portfolio by exiting nearly all those suburban markets while also trimming its position in Manhattan.
SL Green used the proceeds from asset sales to fund development and construction projects and repurchase stock. Overall, the company has retired more than 27% of its outstanding shares over the last five years. The REIT has been repurchasing stock because it believes investors have undervalued its stock.
Despite the decline in its FFO per share, SL Green has been steadily increasing its dividend. The REIT notched its 10th consecutive annual dividend increase in 2020. When combined with its declining stock price, steady dividend growth has pushed its yield above 4.5% over the past year. That's well above the REIT sector's average of more than 3% and the S&P 500's roughly 1.3% yield.
The bottom line on SL Green Realty
SL Green has narrowed its focus in recent years on owning the best office properties in Manhattan. The company believes this strategy will create the most value for long-term investors. That's why it has been trimming around the edges of its portfolio in recent years to focus on its core, invest in construction projects, and repurchase its beaten-down stock. That strategy could pay big dividends for shareholders in the coming years if the Manhattan office market bounces back in a post-pandemic world.
Got $1,000? The 10 Top Investments We'd Make Right Now
Our team of analysts agrees. These 10 real estate plays are the best ways to invest in real estate right now. By signing up to be a member of Real Estate Winners, you'll get access to our 10 best ideas and new investment ideas every month. Find out how you can get started with Real Estate Winners by clicking here.