Get our 43-Page Guide to Real Estate Investing Today!
Real estate has long been the go-to investment for those looking to build long-term wealth for generations. Let us help you navigate this asset class by signing up for our comprehensive real estate investing guide.
Residential REITs allow everyday investors to put their money in assets that are out of most people's reach. For example, most people can't afford to buy a Manhattan apartment building -- but there are REITs that let you invest in them.
Here's what you should know about investing in residential REITs before you get started.
What is a residential REIT?
A real estate investment trust, or REIT, is a specialized type of company that invests in real estate assets. REITs that invest in commercial properties are known as equity REITs. REITs that invest in mortgages, mortgage-backed securities, and similar assets are known as mortgage REITs. Generally, the term "REIT" is used in reference to an equity REIT. For the rest of this discussion, assume I'm referring to equity REITs.
To qualify as a REIT, according to industry group NAREIT, a company must meet some strict requirements, including distributing at least 90% of taxable income to shareholders as dividends and investing at least three-fourths of assets in real estate.
If a REIT meets all the requirements, a real estate company doesn't pay corporate income tax on its profits. The only taxation of REIT dividends takes place after they're distributed to shareholders. REIT dividends generally don't meet the IRS definition of "qualified dividends" for tax purposes, but the lack of corporate tax liability is still a big perk for investors. This is especially true for those who own REITs in tax-advantaged retirement accounts.
So what's a residential REIT?
A residential REIT is a real estate investment trust that owns and operates rental property. Some own apartment buildings, and some specialize in a type like urban high-rise apartment buildings. Others focus on a specific group of people, like students. Some own single-family rentals.
Some residential REITs primarily grow through development -- that is, by building new properties from the ground up. Others choose to grow through acquisitions. They create value by purchasing (and often improving) existing properties. Some REITs do a combination of these.
Risks of investing in residential REITs
Residential REITs can produce impressive total returns over time, but they aren't without risk. While there are dozens of potential risk factors when it comes to stock investing, here are four in particular that residential REIT investors should know.
Interest rate risk
No discussion of REIT investing would be complete without mentioning interest rates. Rising interest rates -- especially long-term Treasury yields -- are a usually negative catalyst for REIT stock prices. Investors expect a "risk premium" when investing in income-based stocks and bonds. As risk-free yields rise, yields paid by REITs and other income investments tend to rise as well. Since yield and price have an inverse relationship, higher yields translate to lower stock prices. As you can see, the 10-year Treasury yield and REIT prices almost always move in opposite directions:
10 Year Treasury Rate data by YCharts
Oversupply risk
There's always a risk that commercial real estate supply could grow faster than demand. Let's say that in a particular area, there are 19,000 households who rent their homes. If there are 20,000 rental units in the area, that's a 95% occupancy rate. Imagine that developers try to take advantage of this "hot" market and build 5,000 more units. Occupancy could fall to 76% if no new renters enter the market.
Financing risk
Most REITs rely on borrowed money to grow their businesses. Higher levels of debt add to a REIT's risk level. If debt is too high, a company can become unable to pay its interest obligations without cutting dividends or selling assets.
Housing market risk
Most housing investments fall into two basic categories -- renting or owning. The homeownership rate in the U.S. is currently near a generational low, but there's no guarantee it will stay there. After all, there are often political initiatives designed to make homeownership more accessible and affordable for Americans. And the higher the homeownership rate climbs, the less demand for rental housing there is.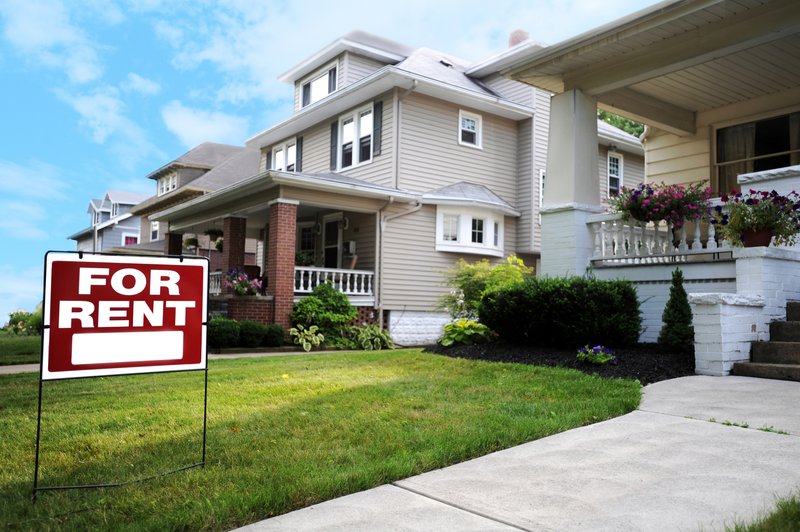 How do residential REITs hold up during recessions and tough economies?
Two of the most important factors you need to know for any type of REIT are the cyclicality (economic sensitivity) of its properties and the lease structure associated with its property type.
Residential real estate isn't a very cyclical industry. When times get tough, some renters may move in with relatives to save money, but generally speaking, residential real estate is a recession-resistant business. Think of it like this -- when times get tough, people can cut back on discretionary expenses like shopping at the mall and going on vacation. Rent is typically last on the list when it comes to cutting expenses.
Residential leases usually use a structure called a gross lease. This means tenants pay rent, but the landlord pays property taxes, building maintenance, and insurance. In residential properties, the REIT may be responsible for paying certain utilities on behalf of its residents as well. Residential REITs have several variable expenses to worry about that tenants take care of in other types of commercial real estate.
Lease length is another potential drawback. The typical apartment is leased on an annual basis -- two-year leases aren't unheard of, but it's rare to see residential leases longer than that. The annual lease structure makes it easy for tenants to vacate if they need to cut expenses. It also means apartment operators can lose pricing power easily during tough economies as they struggle to keep occupancy high.
In a nutshell, residential real estate is not a terribly cyclical industry. But its lease structure puts it at a disadvantage during tough times.
Three of the largest residential REITs
Many REITs specialize in residential properties. To give you an idea of the types of companies in the space, here are three well-known residential REITs:
| | | | |
| --- | --- | --- | --- |
| Company (Stock Symbol) | Property Sub-Category | Market Capitalization | Dividend Yield |
| AvalonBay Communities (NYSE: AVB) | Apartments | $27.0 billion | 3.1% |
| American Homes 4 Rent (NYSE: AMH) | Single-family homes | $6.8 billion | 0.9% |
| American Campus Communities (NYSE: ACC) | Student housing | $6.4 billion | 3.9% |
AvalonBay Communities is one of the largest residential REITs. It specializes in apartment communities in high-barrier urban markets such as New York City and San Francisco. The company grows through development and strategic acquisitions. It has a portfolio of 291 properties with a total of over 85,000 apartment units.
American Homes 4 Rent is a single-family REIT with nearly 53,000 homes located in 22 states. The company aims to capitalize on people who want to rent houses instead of apartments or condos.
American Campus Communities specializes in on- and off-campus student housing communities. The company takes advantage of the growing need for student housing and the generally inferior product offered by U.S. colleges and universities. In 14 years since its IPO, American Campus Communities has grown its portfolio to 170 properties with over 109,000 rentable beds.
How to invest in ­­residential REITs the right way
REITs are best suited for long-term investments. There are too many variables that affect REIT prices over short periods of time. And while things like the housing market can impact residential REITs, some (like interest rates) have little to do with how well the business is doing.
Over long periods of time, the effects of interest rates and economic cycles tend to even out and REITs with good management and competitive advantages usually do quite well. I don't advise investing any money in REITs that you'll need in the next five years. Much longer time horizons are even more desirable.
As a personal example, I'm 37 and plan to hold most of the REIT stocks I own until I reach retirement age. I suggest you think about REIT investing in a similar way.
Got $1,000? The 10 Top Investments We'd Make Right Now
Our team of analysts agrees. These 10 real estate plays are the best ways to invest in real estate right now. By signing up to be a member of Real Estate Winners, you'll get access to our 10 best ideas and new investment ideas every month. Find out how you can get started with Real Estate Winners by clicking here.
Matthew Frankel, CFP has no position in any of the stocks mentioned. The Motley Fool owns shares of and recommends American Campus Communities. The Motley Fool recommends AvalonBay Communities. The Motley Fool has a disclosure policy.