Get our 43-Page Guide to Real Estate Investing Today!
Real estate has long been the go-to investment for those looking to build long-term wealth for generations. Let us help you navigate this asset class by signing up for our comprehensive real estate investing guide.
Real estate investment trusts (REITs) are the well-known and obvious way to invest in real estate through stocks.
There are hundreds of REITs, and many of them are excellent long-term investments. But they aren't the only way to invest in real estate through the stock market. Some non-REIT companies own many real estate assets and conduct other real estate activities. And there are many other companies that don't actively own or manage real estate, but do stand to benefit from strength in the real estate market.
Let's take a look at the best ways to invest in real estate via the stock market.
Real estate investment trusts
The most obvious way to invest in real estate through stocks is by buying real estate investment trusts, or REITs.
A REIT is a company whose primary business activities revolve around owning real estate assets. REITs can make money from managing the properties they own, leasing them to third parties, developing new properties, or buying and selling properties.
To be legally classified as a REIT, a company must:
invest at least three-fourths of its assets in real estate,
derive at least three-fourths of its income from its real estate assets, and
pay at least 90% of its taxable income to shareholders as dividends.
If it meets these and a few other requirements REITs aren't taxed at the corporate level. Instead, REITs are treated as pass-through entities like LLCs and S-Corporations. Income isn't taxed until it's paid to shareholders.
This is a big tax benefit. With most dividend-paying stocks, profits are effectively taxed twice -- once at the corporate level, and then again at the individual level when they're paid out as dividends.
There are hundreds of publicly traded REITs. You may have heard of some of the largest REITs on the market:
Simon Property Group (NYSE: SPG) develops, owns, and manages shopping mall properties under "The Mills" and "Premium Outlets" brand names. Prologis (NYSE: PLD) owns and operates logistics properties like warehouses and distribution centers. If you shop online, some of your packages have probably passed through Prologis buildings.
There are several good reasons to invest in REITs. For starters, they let you invest in properties that most investors can't afford otherwise. Few people can buy an office tower, for example, but you can invest in them through REITs.
Additionally, REITs enjoy the pass-through tax advantage and tend to pay above-average dividend yields. They have strong growth potential over time as the value of their property portfolios increase. And they can diversify your portfolio.
Real estate can be a defensive asset class, depending on the type of commercial property. REITs tend to hold up well during recessions and other tough economic conditions.
Matt discusses the relative lack of volitility of real estate investments
Land developers and other property-owning businesses
While REITs have excellent tax advantages, the requirements are strict. This may not be desirable in some cases.
For example, since REITs must pay out most of their taxable income, they have limited ability to reinvest in the business and grow without taking on debt or selling more shares. If a company's business strategy involves owning real estate, but it doesn't necessarily want to invest over 75% of assets in real estate, REIT classification might not make sense.
Howard Hughes Corporation (NYSE: HHC) is a good example. The company develops master-planned communities, or MPCs. Howard Hughes sells land to homebuilders, who create residential neighborhoods. These neighborhoods create demand for commercial properties in the surrounding area, which Howard Hughes builds and leases to tenants. These, in turn, create more demand for residential housing, and the cycle repeats.
Due to its growth-oriented business model, Howard Hughes would rather be classified as a traditional corporation and reinvest as much as possible into its business.
Vail Resorts (NYSE: MTN) is another example. The company owns and operates mountain resorts in some of the most desirable areas in the United States, Canada, and Australia. The company operates in three segments:
the "mountain" segment owns and operates its mountain resorts,
the "lodging" segment owns or manages the company's hotels, condos, and other assets, and
the third segment does the company's real estate development.
Although the company clearly is a real estate operation, it isn't classified as a REIT for tax purposes.
Real-estate-adjacent companies
Many businesses stand to benefit from a strong real estate market but aren't in the business of owning real estate assets.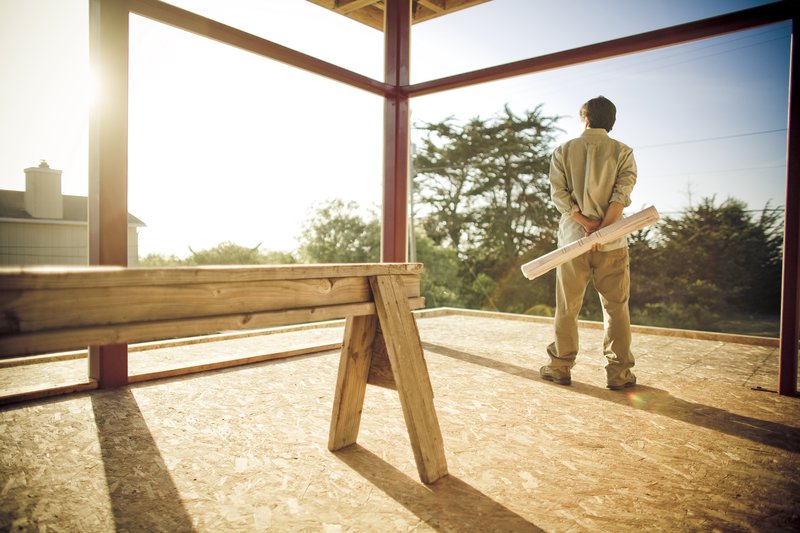 For example, construction supply businesses like Home Depot (NYSE: HD) and Lowes (NYSE: LOW) can see sales rise when a surge of new constructions are taking place or when a strong economy allows more homeowners to spend money on renovations.
Real estate websites like Zillow (NYSE: Z) (NYSE: ZG) also benefit from strong real estate markets. Companies that sell homes on behalf of owners, such as Realogy (NYSE: RLGY), also benefit. (If you're not familiar with Realogy, it's the company behind popular real estate brands Century 21, Coldwell Banker, Sotheby's International Realty, and more.) Homebuilder stocks like DR Horton (NYSE: DHI) also fall into this category.
Electronic document platform Docusign (NASDAQ: DOCU) is widely used when buyers and sellers complete transactions, to name another potential example. Property-casualty insurers can also benefit from a strong real estate market, especially those who write a lot of homeowner's insurance policies.
This is just a sampling. The list is long, and it's not practical to mention all the real-estate-adjacent businesses and industries here.
These stocks have a wide variety of risk levels, so it's impossible to make any generalized statements about how volatile or risky they are compared to REITs or other real estate companies.
The key takeaways
To sum it up, there are three main ways to invest in real estate through stocks:
You can buy real estate investment trusts, or REITs, which are a special type of company that owns, manages, develops, acquires, and/or sells commercial real estate.
Alternatively, you can invest in companies who own real estate and perform some of the same activities as REITs, but for one reason or another don't want to be classified as a REIT.
Finally, you can buy stocks in companies that stand to benefit from strength in real estate, but whose primary business isn't owning or managing real estate.
As we've seen, each type of investment has its own benefits and drawbacks. The right way for you to invest in real estate through stocks depends on your investment goals and risk tolerance.
Got $1,000? The 10 Top Investments We'd Make Right Now
Our team of analysts agrees. These 10 real estate plays are the best ways to invest in real estate right now. By signing up to be a member of Real Estate Winners, you'll get access to our 10 best ideas and new investment ideas every month. Find out how you can get started with Real Estate Winners by clicking here.
Matthew Frankel, CFP
owns shares of The Howard Hughes Corporation. The Motley Fool owns shares of and recommends DocuSign, Home Depot, Prologis, and The Howard Hughes Corporation. The Motley Fool recommends Lowes and Vail Resorts. The Motley Fool has a
disclosure policy
.