Get our 43-Page Guide to Real Estate Investing Today!
Real estate has long been the go-to investment for those looking to build long-term wealth for generations. Let us help you navigate this asset class by signing up for our comprehensive real estate investing guide.
The biggest companies enjoy nice advantages. It's generally more cost-efficient for larger companies to run their businesses. And, all other factors being equal, larger companies have more financial flexibility than smaller ones.
These advantages definitely apply to real estate investment trusts, or REITs. With that in mind, here's a list of the 10 largest publicly traded REITs, and a little about each one.
| Rank | Company (Stock Symbol) | Market Capitalization | Property Type |
| --- | --- | --- | --- |
| 1 | American Tower (NYSE: AMT) | $99.9 billion | Communications |
| 2 | Crown Castle (NYSE: CCI) | $60.1 billion | Communications |
| 3 | Prologis (NYSE: PLD) | $52.0 billion | Industrial |
| 4 | Simon Property Group (NYSE: SPG) | $47.3 billion | Malls |
| 5 | Equinix (NYSE: EQIX) | $46.4 billion | Data centers |
| 6 | Public Storage (NYSE: PSA) | $45.5 billion | Self-storage |
| 7 | Welltower (NYSE: WELL) | $35.9 billion | Healthcare |
| 8 | Equity Residential (NYSE: EQR) | $30.6 billion | Residential |
| 9 | AvalonBay Communities (NYSE: AVB) | $28.8 billion | Residential |
| 10 | Digital Realty Trust (NYSE: DLR) | $25.6 billion | Data centers |
The largest REIT in the market, American Tower owns and manages communications sites. Have you ever been driving down the road and noticed a tower that looks like this?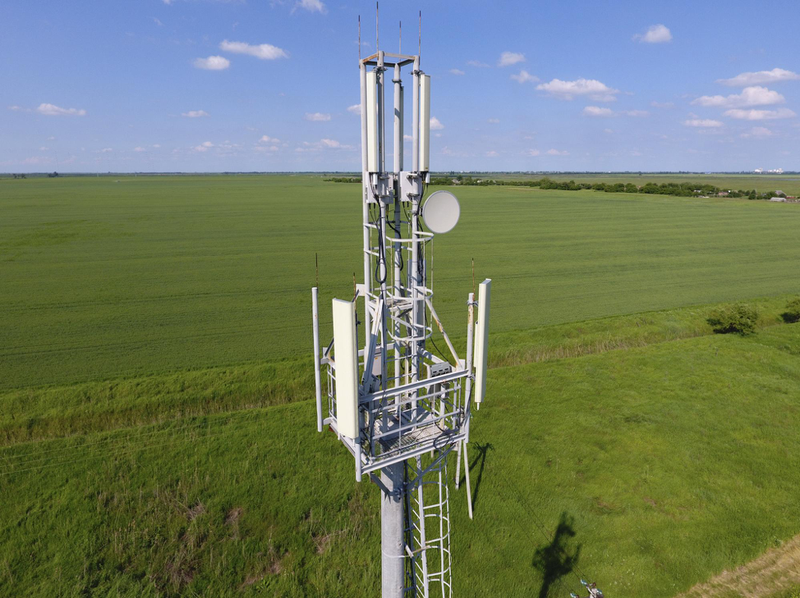 That's the type of property American Tower owns.
This REIT has grown significantly in recent years and now has more than 170,000 sites around the world in its portfolio. In fact, the majority of American Tower's revenue is now generated outside of the United States.
Simon owns and operates high-end shopping malls under brand names such as "The Mills." It also has the largest portfolio of outlet centers, which use the company's "Premium Outlets" brand name.
The company's strategy is to create destinations for consumers. Besides traditional retail elements, Simon's properties often contain businesses you might not expect to see in a mall. These include entertainment options, upscale food and beverage providers, and non-retail elements like hotels, office space, and apartments.
Crown Castle has a similar focus to American Tower, but its portfolio of over 40,000 communications towers and other assets is all in the U.S.
Like American Tower, Crown Castle has benefited from the rapid growth in mobile data transfer. And that growth is expected to accelerate going forward. With the gradual rollout of 5G networks, mobile data traffic is expected to quintuple in the five-year span from 2017 through 2022.
Prologis is a leader in logistics real estate, with a big portfolio of large-scale distribution centers and warehouses. The company has enjoyed the trend towards e-commerce, as online retailers need roughly three times the logistics square footage of brick-and-mortar retailers.
Only a small percentage of sales take place online, even after recent growth. That means there's still lots of room for expansion.
Self-storage can be an attractive type of real estate. Developers build these facilities quickly and easily, and they have low ongoing maintenance and operational expenses compared to other types of commercial real estate.
Public Storage is the undisputed leader in the self-storage world, with about 2,700 properties in the U.S. and Europe. It also has a market capitalization larger than its next three competitors combined.
The largest owner and operator of data centers, Equinix's properties provide secure, reliable data storage and transmission. The company's customer list reads like a Who's Who of major tech and financial companies. Roughly half of the Fortune 500 rents space in an Equinix data center.
Data center REITs have enjoyed the increased need for cloud data storage in recent years. According to most forecasts, this isn't likely to slow down anytime soon, especially with the upcoming rollout of 5G technology.
Welltower is the largest REIT that specializes in healthcare real estate. The company owns nearly 1,700 properties. The majority are senior housing, but there are also large holdings in outpatient medical facilities and health system properties. Welltower's properties stand to benefit from the expected growth in the senior population over the coming decades.
Welltower and other senior housing REITs often have a unique structure under which many properties aren't leased to tenants. Instead, they operate as partnerships. As tenants generate more revenue, the REIT and its customers benefit.
The largest residential REIT (by a small margin), Equity Residential owns just over 300 apartment properties with 79,400 units. The vast majority of the portfolio is concentrated in six core markets: Boston, New York, D.C., Seattle, San Francisco, and Southern California. These are markets with high barriers to entry, lots of rental households, and limited supply of rental housing.
Equity actively "recycles" capital. The company sells properties and reuses the capital to maximize shareholder returns.
AvalonBay is just smaller than Equity Residential in terms of market capitalization, but actually has several thousand more apartment units in its portfolio (over 85,000 in all).
One differentiator is that AvalonBay is more active in ground-up development than Equity. It uses its financial strength to develop attractive apartment properties in high-barrier markets. This can be a big value creator. In fact, AvalonBay spent $630 million on development during a nine-month stretch in 2018. The company estimates that the completed properties are worth $275 million more than they cost to build.
Like Equinix, Digital Realty Trust owns and manages data center properties.
Data center real estate is a hot type of property right now. In North America, data center inventory is being absorbed 60% faster than it's being built.
Two big caveats
There are two points I'd like to make here. First, I don't think any of these 10 REITs are bad long-term investments. All have strong records of financial discipline and creating value for shareholders. I would, however, advise you to take a diverse approach -- buy a few REITs that specialize in different types of properties.

These are the largest REITs, and this comes with some advantages, but it's also important not to confine your search to the biggest names in the industry. Strong track records and excellent balance sheets are important, but some of the largest growth opportunities can be found in smaller REITs.
So I encourage you to own REITs of varying sizes. For example, my (non-REIT) stock portfolio is roughly 70% large-cap companies. The other 30% is in small- and mid-cap stocks, which are riskier but also present the biggest opportunities. The same diversification logic applies here.
Got $1,000? The 10 Top Investments We'd Make Right Now
Our team of analysts agrees. These 10 real estate plays are the best ways to invest in real estate right now. By signing up to be a member of Real Estate Winners, you'll get access to our 10 best ideas and new investment ideas every month. Find out how you can get started with Real Estate Winners by clicking here.
Matthew Frankel, CFP
owns shares of Digital Realty Trust and Public Storage. The Motley Fool owns shares of and recommends American Tower, Crown Castle International, Digital Realty Trust, and Prologis. The Motley Fool recommends AvalonBay Communities. The Motley Fool has a
disclosure policy
.