Get our 43-Page Guide to Real Estate Investing Today!
Real estate has long been the go-to investment for those looking to build long-term wealth for generations. Let us help you navigate this asset class by signing up for our comprehensive real estate investing guide.
Mortgage lenders like banks prefer to originate home loans that conform to industry standards since they're at a lower risk of default, making them easier to sell to investors. Unfortunately, that makes it harder for those seeking unconventional loans like jumbo home loans, commercial multifamily loans, and mortgages secured by single-family rental (SFR) property to get the financing they need.
That's opening up opportunities for specialty finance companies to step in and fill in the gaps in the home lending market. One of those focused on increasing the accessibility of housing-related financing is real estate investment trust (REIT) Redwood Trust (NYSE: RWT).
Here's a closer look at the company.
Redwood Trust profile
Redwood Trust is a specialty finance company structured as a mortgage REIT. The company has a bold mission, "to make quality housing accessible to all American households, whether rented or owned." It does that by investing in mortgages for single-family and rental properties and acquiring, selling, and securitizing residential loans. These activities help provide liquidity to the housing market so borrowers can access funding.
The company operates three businesses that span the entire U.S. home lending industry:
Redwood Residential: The company's residential mortgage banking operations focus on making jumbo loans.
CoreVest: The company's business-purpose mortgage lending unit provides short- and long-term financing to rental real estate investors, including single-family rentals (SFRs) and multifamily properties.
Redwood Investments: Redwood acquires loans and mortgage securities not sourced through its residential and business-purpose lending units that it holds as an investment.
In addition to those three primary business units, the company launched RWT Horizons during the first quarter of 2021. This venture capital investment fund focuses on making strategic investments in innovative companies involved in financial and real estate technology and digital infrastructure. It made three strategic investments in early 2021:
Rent Butter: A proprietary tenant-screening tool allowing landlords to more effectively evaluate prospective tenants to reduce potential defaults and evictions.
Rentroom: A turnkey property management platform made for small and medium landlords and their tenants.
Liquid Mortgage: A life-of-loan infrastructure to digitize, track documentation, facilitate payments, and record additional information on a blockchain.
Redwood Trust's diversified business model generates multiple revenue streams. The company allocates about 40% of its shareholder equity to its residential and business-purpose lending operations. These businesses generate mortgage banking revenue while providing a steady stream of investments to hold in its loan portfolio. It aims to earn 20% after-tax returns via these operating businesses.
Redwood allocates the other 60% of shareholder equity on its investment portfolio. In addition to loans made through its operating business, Redwood buys housing-related loans made by third parties. It targets to earn 10% to 11% after-tax returns on these investments.
The company ended the first quarter of 2021 with $2.1 billion of housing credit investments, leveraged roughly one time with secured debt to equity. Its portfolio consists of high-quality credit investments diversified across the housing sector, 20% from its residential arm, 43% from CoreVest, and 37% acquired from third parties.
Redwood Trust news
The pandemic significantly impacted the mortgage REIT in early 2020. It triggered a collapse in liquidity and severe market dislocations. That led Redwood to incur substantial losses in the first quarter, primarily related to marking down assets remaining on its balance sheet.
Market conditions improved throughout the year, enabling the company to shore up its liquidity, strengthen its balance sheet, and reduce the marginable debt used to support its business. The company ended the year delivering "sparkling results at our operating platform," according to CEO Christopher Abate and President Dashiell Robinson in the fourth-quarter shareholder letter. Its residential business locked a record $3.8 billion in loans, 81% above the third quarter. Meanwhile, CoreVest logged $448 million of originations, up 71% sequentially, driven by strong SFR loan originations.
Redwood Trust picked up where it left off in early 2021, generating strong first-quarter results. It locked $4.6 billion of jumbo loans in the period, up 22% sequentially. Meanwhile, the value of its security portfolio increased by 5%, driven in part by strengthened credit performance.
Redwood Trust stock price
Despite Redwood's improving performance throughout 2020, the mortgage REIT has significantly underperformed the S&P 500 in recent years: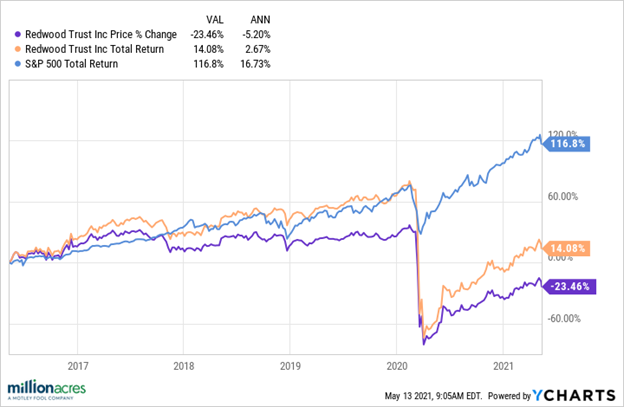 As that chart shows, Redwood kept pace with the broader market until early 2020, when its stock price collapsed during the early days of the pandemic as liquidity dried up. While business conditions improved throughout the year, the company hasn't fully recovered from a brutal first quarter.
As noted, the REIT incurred substantial losses in the quarter due to negative market adjustments for its loan portfolio. As a result, it endured margin calls on marginable debt, forcing it to raise cash to meet all its margin calls. That led the company to change its funding strategy, including selling off most of its residential loan portfolio during the second quarter to reposition its debt profile. Redwood steadily rebuilt its loan portfolio throughout the year, which has helped drive a steady recovery in its stock price.
Those issues impacted the company's dividend over the past year. Redwood initially delayed paying its first-quarter dividend to preserve its liquidity. While it eventually made the promised $0.32 per share payment, which it accelerated by a month due to its improving liquidity picture, the REIT reduced its dividend rate in the second quarter to $0.125 per share. That lowered payout aligned with the smaller size of its balance sheet due to the dislocations in the financial market. It steadily increased its dividend from there, growing it to $0.16 per share by the first quarter of 2021.
Redwood's dividend yield has been quite volatile over the past year due to the changing rate and fluctuations in its stock price. As of mid-2021, the yield was above 5.5%. That's well above the S&P 500's 1.3% rate and the roughly 3% yield of most other REITs. However, high dividend yields are pretty common among mortgage REITs.
The bottom line on Redwood Trust
The pandemic had an outsized impact on Redwood Trust, due in part to its usage of margin debt. As loan values declined, the company had to scramble to meet margin calls. While it has steadily repositioned its debt profile and rebuilt its loan portfolio, it will take the REIT a while to get its dividend back to where it was before the pandemic. Because of that and the overall volatility of the mortgage REIT earnings, Redwood Trust isn't the best option for yield-seeking investors since its payout could continue to fluctuate with market conditions.
Got $1,000? The 10 Top Investments We'd Make Right Now
Our team of analysts agrees. These 10 real estate plays are the best ways to invest in real estate right now. By signing up to be a member of Real Estate Winners, you'll get access to our 10 best ideas and new investment ideas every month. Find out how you can get started with Real Estate Winners by clicking here.
Matthew DiLallo has no position in any of the stocks mentioned. The Motley Fool has no position in any of the stocks mentioned. The Motley Fool has a disclosure policy.