Get our 43-Page Guide to Real Estate Investing Today!
Real estate has long been the go-to investment for those looking to build long-term wealth for generations. Let us help you navigate this asset class by signing up for our comprehensive real estate investing guide.
Realty Income Corporation (NYSE: O) won't make you rich quickly, but it has done a great job of making its long-time investors rich slowly. A $10,000 investment in Realty Income's 1994 NYSE listing would be worth about $455,000 today if you had reinvested your dividends along the way.
Warren Buffett once said that "you don't need to do extraordinary things to get extraordinary results," and this quote sums up Realty Income nicely. The REIT doesn't have a particularly exciting business model, but rather is built to produce steadily-growing income and value creation year after year.
With that in mind, here's what you should know about this net-lease REIT to decide whether it could be a good fit for your portfolio.
Realty Income: The basics
Ticker Symbol: NYSE: O
Property type: Net-lease
Year established: 1969 (Listed on NYSE since 1994)
Market capitalization (as of September 2019): $23.5 billion
What does Realty Income invest in?
Realty Income is the largest net-lease REIT in the market. The bulk (more than 80%) of the company's properties are retail in nature, but there are also significant holdings in office and industrial properties as well. As of mid-2019, Realty Income owns just shy of 6,000 properties total.
If you aren't familiar, a "net lease" is a type of commercial lease structure that requires the tenant to pay for certain expenses. A gross lease is the term for the lease structure most Americans are familiar with -- this is what's used when you're renting an apartment, for example. On the other hand, a net lease might require the tenant to pay for things that a gross lease doesn't. Property taxes are a good example.
The most common form of a net lease is a triple net lease, which requires tenants to pay for property taxes, building insurance, and for most maintenance items. This is the lease structure Realty Income uses with its tenants. This effectively shifts most of the variable costs of property ownership to the tenants, helping Realty Income to create a predictable income stream.
Net leases are most common with freestanding properties, which is mostly what you'll find in Realty Income's portfolio. These leases typically have long (10+ year) initial terms with annual rent increases, or escalators built in.
In addition to the lease structure, Realty Income is also set up for steady income thanks to the nature of its tenant base. While e-commerce is wreaking havoc on many areas of the retail industry, there are some that are doing quite well. Specifically, there are three types of tenants Realty Income focuses on with its retail properties, all of which are e-commerce resistant, recession-resistant, or both:
Discount retail -- Think dollar stores and warehouse clubs. If you take a look at Costco's stock price over the past few years, you'll get an idea of how discount-oriented retail is doing. These retailers offer deals their online counterparts simply can't match. In recessions, discount retailers often tend to do even better than in good times as consumers hunt for bargains.
Experiential and service-based retail -- Movie theaters and automotive repair shops are examples. These are businesses that customers need to visit in person. After all, you can't get your oil changed online -- at least not yet. These businesses are well-insulated from e-commerce disruption.
Non-discretionary retail -- Drug stores and convenience stores are some of Realty Income's largest tenants. These businesses sell things people need, and often in a timely manner. In fact, Walgreens and 7-Eleven are the company's top two tenants, collectively making up 11% of the portfolio.
The proof is in the numbers. Realty Income's portfolio occupancy has stayed above 96% no matter what the economy has been doing and it's at 98.3% in mid-2019 despite the negative retail headwinds. The company has produced positive earnings growth in 22 of the past 23 years, and since its 1994 NYSE listing, Realty Income has generated 16.4% annualized returns for investors, handily beating the S&P 500 as well as the overall REIT industry.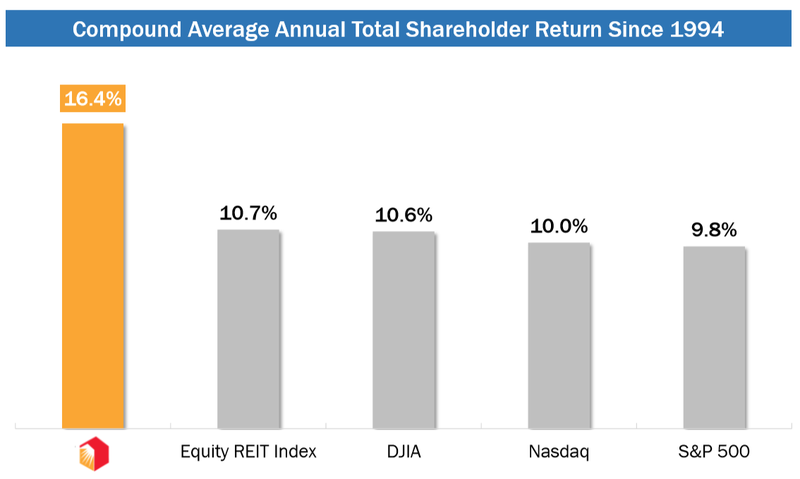 How does Realty Income grow?
Unlike many other REITs, Realty Income doesn't develop properties from the ground up. Instead, its primary growth mechanism is to acquire existing properties.
One of its main acquisition strategies is known as "sale-leaseback" transactions. Let's say that you operate a grocery store and that you own the building it's in. You could choose to sell the building to a company like Realty Income and then lease the property from them. It's a win-win approach. The tenant gets increased financial flexibility by not having millions of dollars tied up in its real estate, and Realty Income gets a financially-stable tenant who is committed to leasing the location for a decade or longer.
Despite its seemingly massive size, don't make the mistake of thinking Realty Income doesn't have room to grow. There is an estimated $12 trillion of corporate-owned real estate in the U.S. and Europe that could keep the company's acquisition department busy for decades.
Digging a little deeper on Realty Income
Before we move on to Realty Income's dividend and the risks involved, here are a couple other important facts for investors to know about the company:
Realty Income likes to establish long-standing relationships with its tenants, and most of its tenants lease multiple properties. In fact, even though the company owns nearly 6,000 properties, there are only 265 total tenants. 89% of acquisitions over the past two years have been relationship-driven.
Realty Income has a rock-solid balance sheet, with debt making up just 24% of its capital structure, a rather low leverage ratio for a REIT. As a result, the company is one of the only REITs to have "A" debt ratings by both Moody's and S&P (A3/A-).
Realty Income's dividend history
It's difficult to find a better all-around dividend stock anywhere in the market. Realty Income yields about 3.7% as of September 2019, and pays its dividend on a monthly basis.
The company's track record is one of the most impressive anywhere in the market. The payout rate has been increased 102 times since the 1994 NYSE listing, including the past 87 quarters in a row. In all, the dividend has grown at a 4.6% annualized pace over the past 25 years, and the company has made a total of 589 consecutive monthly dividend payments to investors.
Risk factors
I would consider Realty Income to be on the lower end of the risk spectrum as far as REITs go. The recession- and e-commerce–resistant nature of its portfolio and its long-term net lease structure are designed to produce year after year of steady growth.
However, no stock that's capable of double-digit returns is without risk, and Realty Income is no exception. There are a few major risk factors investors should be aware of, including:
Interest rate risk -- As a general rule, rising interest rates are bad for REIT prices. As interest rates rise on Treasuries, dividend yields tend to rise accordingly. Because price and yield have an inverse relationship, higher rates tend to drive prices lower.
Financing risk -- Like most REITs, Realty Income relies on its ability to raise money to grow. If rates rise, borrowing money becomes more expensive. Plus, if the stock price falls, Realty Income will need to issue more new shares to raise capital through equity.
Retail risk -- Realty Income doesn't have much exposure to retailers that are vulnerable to e-commerce headwinds, but it does have some. If one of Realty Income's tenants were to go bankrupt, it could hurt the company's profitability.
Currency risk -- This is a pretty new one for the company, but since Realty Income recently started to expand internationally, exchange rate fluctuations are a risk factor going forward.
The bottom line on Realty Income
Realty Income is designed as a steady growth machine, and the company's results show that management has done a fantastic job of delivering for shareholders. I consider Realty Income to be one of the best risk/reward profiles of any publicly traded company, which is why it's the largest REIT holding in my own portfolio.
Got $1,000? The 10 Top Investments We'd Make Right Now
Our team of analysts agrees. These 10 real estate plays are the best ways to invest in real estate right now. By signing up to be a member of Real Estate Winners, you'll get access to our 10 best ideas and new investment ideas every month. Find out how you can get started with Real Estate Winners by clicking here.