Get our 43-Page Guide to Real Estate Investing Today!
Real estate has long been the go-to investment for those looking to build long-term wealth for generations. Let us help you navigate this asset class by signing up for our comprehensive real estate investing guide.
There's an old saying that "money doesn't grow on trees." While that's true, trees can be a money-maker for investors. Timberland owners can sustainably harvest their trees, selling them at a profit to wood product makers. When lumber prices are high, timberlands produce a lot of cash.
That business model of owning timberland and turning it into higher-value wood products has served PotlatchDeltic (NASDAQ: PCH) well over the years. Here's a closer look at the real estate investment trust (REIT) focused on making money off owning trees.
PotlatchDeltic Corporation profile
PotlatchDeltic is a timberland REIT. The company operates three business segments: Timberlands, wood products, and real estate.
The timberlands division consists of more than 1.8 million acres of timberland across the following states:
Arkansas: 923,000 acres
Idaho: 627,000 acres
Mississippi: 99,000 acres
Minnesota: 93,000 acres
Alabama: 91,000 acres
Louisiana: 6,000 acres
The company is the largest private landowner in Idaho, where it owns some of the most productive timberlands in the Inland Northwest. Meanwhile, it's the second-largest private landowner in Arkansas.
PotlatchDeltic's wood products segment consists of seven manufacturing facilities that produce lumber and plywood. It's one of the 10 largest lumber producers in the U.S. with 1.2 billion board feet of capacity. Meanwhile, it owns a leading plywood mill with more than 160 million square feet of capacity.
The third prong of its business model is its real estate segment. This business aims to maximize the value of its vast land portfolio by finding higher and better uses for select tracts of land other than harvesting timber. PotlatchDeltic has identified 185,000 acres of rural land it intends to sell at a premium value to what it's worth as timberland. It also has a 4,800-acre master-planned community in Little Rock, Arkansas, more than halfway through its development. PotlatchDeltic sells home lots to builders and land to commercial developers for new offices, multifamily properties, and retail space.
PotlatchDeltic has historically generated about 55% of its adjusted EBITDA from its timberlands segment, 30% from wood products, and roughly 15% from real estate. However, there's lots of variability year to year due to fluctuations in timber and wood products prices and the timing and volume of real estate sales. For example, thanks to historic lumber prices in early 2021, 60% of its earnings came from its wood products segment compared to 32% from timberlands and 8% from real estate.
That business model makes PotlachDeltic different from most other REITs. It doesn't generate steady rental income backed by long-term leases. Instead, it produces income by selling commodities like timber and wood products at market prices, which fluctuate with supply and demand.
PotlatchDeltic Corporation news
Despite the pandemic, PotlatchDeltic delivered strong results in 2020. Overall, the REIT generated record earnings as all three of its business segments had record years. That's because the pandemic fueled a surge in homebuying as renters took advantage of low interest rates to buy homes with more space, driving demand for timber, wood products, rural land, and residential building lots. Meanwhile, it also prompted a boom in home improvement projects as homeowners renovated their homes, spurring additional demand for timber and wood products.
PotlatchDeltic had several other noteworthy accomplishments in 2020. The REIT took advantage of low interest rates to refinance debt, reducing its borrowing costs. It further boosted its balance sheet by selling 72,440 acres of nonstrategic timberland in Minnesota for $48 million. These factors enabled the company to return $123 million in cash to shareholders via dividends and share repurchases.
Those strong demand trends carried over into 2021, enabling PotlatchDeltic to get off to a phenomenal start. The company reported record earnings, driven by record results in its wood products and timberlands segments thanks to historic lumber prices. The company also benefited from strong demand for rural and development land in the period.
PotlatchDeltic Corporation stock price
Timber and wood products prices can be very volatile. Those fluctuations have caused PotlatchDeltic's stock to be a bit more volatile than the S&P 500 over the past few years. However, thanks to its record-breaking first quarter in 2021, the REIT has outperformed the S&P 500 over the last five years: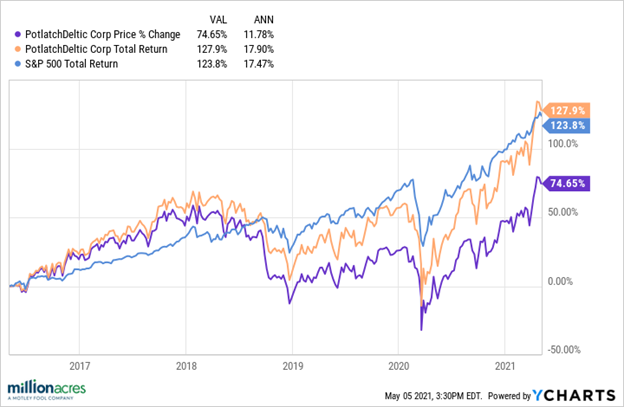 While the pandemic-driven surge in lumber prices has helped drive PotlatchDelic's recent outperformance, another major driver of its record results was the 2018 merger between Potlatch and Deltic Timber that created the current company. The transaction created a larger-scale timberland and lumber manufacturing company, putting it in a stronger position to capture higher timber and lumber prices over the past year as it was able to leverage its larger scale to reduce costs and boost its profit margin. The company has streamlined its portfolio since the merger by selling select timberland and manufacturing assets to improve its profit margin.
Another driver of the company's solid performance over the years has been its steadily growing dividend. While the REIT hasn't increased its payout every year, it has raised the dividend by more than 32% since 2012. On top of that, it has returned additional cash to investors by repurchasing shares.
However, with its stock price surging over the past year due to the positive impact of soaring lumber prices, PotlatchDeltic's dividend yield has declined. It was recently below 3%, less than the REIT sector's average of more than 3%.
The bottom line on PotlatchDeltic Corporation
PotlatchDeltic isn't like most other REITs. Instead of leasing its real estate under long-term agreements that generate stable cash flow, it harvests timber and manufactures wood products that it sells at the going market price. Because of that, its earnings tend to fluctuate with supply and demand. While that makes it an ideal option for betting on higher lumber prices, it's not the best REIT for investors seeking a stock with lower volatility that grows its dividend every year.
Got $1,000? The 10 Top Investments We'd Make Right Now
Our team of analysts agrees. These 10 real estate plays are the best ways to invest in real estate right now. By signing up to be a member of Real Estate Winners, you'll get access to our 10 best ideas and new investment ideas every month. Find out how you can get started with Real Estate Winners by clicking here.