Get our 43-Page Guide to Real Estate Investing Today!
Real estate has long been the go-to investment for those looking to build long-term wealth for generations. Let us help you navigate this asset class by signing up for our comprehensive real estate investing guide.
Hotel real estate can be a very interesting type of investment. Unlike most other types of commercial real estate, hotels measure their "lease" length in days, not months or years. This gives the ability to continuously adjust prices to align with demand, which can be a positive or negative depending on the economic climate.
One of the more interesting hotel real estate investment trusts, or hotel REITs, to put on your radar is Park Hotels & Resorts (NYSE: PK), one of the larger hotel owners in the U.S. In this article, we'll take a closer look at Park Hotels & Resorts' portfolio, growth strategy, recent news, historical performance, and more.
Park Hotels & Resorts company profile
As mentioned, Park Hotels & Resorts is a hotel REIT. It focuses on higher-end and luxury properties located in desirable urban and resort destinations. As of November 2020, Park owned a portfolio of 60 hotels with more than 33,000 rooms. The company is the second largest publicly traded hotel REIT (if you're curious, Host Hotels & Resorts (NYSE: HST) is the largest).
The company's two largest markets are Hawaii and San Francisco, which combined for 43% of Park's earnings last year. Additional major markets include Orlando, New Orleans, Boston, New York City, and Chicago, but the company has a smaller presence in several other markets. The vast majority of Park's properties are operated under Hilton brands, but there are some Marriott, Hyatt, and IHG-branded hotels in the portfolio as well.
Park is also a somewhat top-heavy hotel REIT, getting nearly 90% of its EBITDA from its top 30 properties. Many of its hotels are large-scale properties that are iconic in their respective markets. These hotels include the Hilton Hawaiian Village Waikiki Beach Resort, Hilton San Francisco Union Square, Waldorf Astoria Orlando, New York Hilton Midtown, and Casa Marina in Key West, just to name a few.
Park Hotels & Resorts was spun off from Hilton in 2017 (which is why it owns primarily Hilton-branded properties). Since that time, the company has exited the international hotel business, increased profitability, and diversified the business by focusing on acquisitions of non-Hilton hotel properties.
Park Hotels & Resorts news
By far, the most significant news regarding Park's business is the COVID-19 pandemic. Like virtually all hotel operators, the COVID-19 pandemic hit Park hard. At one point, 38 of its 60 properties were closed.
However, Park is in a somewhat favorable position since its properties are generally leisure oriented. It certainly has a significant amount of meeting space (2.3 million square feet), but this isn't the main focus of its properties, nor is catering to business travelers. As of late 2020, group events like conferences and conventions aren't happening, and business travel is extremely slow, but leisure travel has come back nicely. In October 2020, 49 of Park's 60 hotels were open for business, and its open properties had 43% occupancy, which is historically very low but better than many peers. For comparison, group-focused hotel operator Ryman Hospitality Properties (NYSE: RHP) reported occupancy of just 14.6% in the third quarter.
Unfortunately, the company's massive Hawaiian Village property remained closed as of early December, along with 10 mainland hotels. But Park expects all of its remaining properties to reopen by the end of the first quarter of 2021.
One of Park's strengths is its balance sheet, which has $1.6 billion of liquidity, one of the highest figures in the hotel REIT subsector. So, although it was burning through $50 million per month due to the pandemic as of the third quarter of 2020, it has years of runway to make it through the tough times.
In fact, one of Park's near-term priorities is to go on the offensive and identify acquisition opportunities of distressed hotel assets. With so much liquidity, Park is in a position that many other hotel owners unfortunately are not, and it can pursue opportunities to grow its portfolio as they arise.
Park Hotels & Resorts stock price
As of Dec. 29, 2020, Park Hotels & Resorts trades for about $17 per share, which is roughly 33% below where it started the year. And the company doesn't currently pay a dividend. But that doesn't tell the entire story.
At the onset of the COVID-19 pandemic, Park's share price plunged. At the March 2020 lows, Park had dropped by more than 80% compared to where it started the year. The company made the prudent decision to suspend its dividend, and due to an amendment to its credit facilities shortly after the pandemic began, its dividend is likely to remain suspended for some time.
However, judging a hotel REIT during a once-in-a-century pandemic isn't exactly fair, so let's take a look at Park's history. As mentioned, Park was spun off of Hilton in early 2017, and for much of its history, it paid a dividend that produced a yield ranging from 5%-7% at most points in 2018 and 2019. From its spinoff from Hilton through the end of 2019, Park produced a 25% total return for investors in about two years -- not great, but not terrible performance. For reference, this is about half of the S&P 500's total return during the same time period.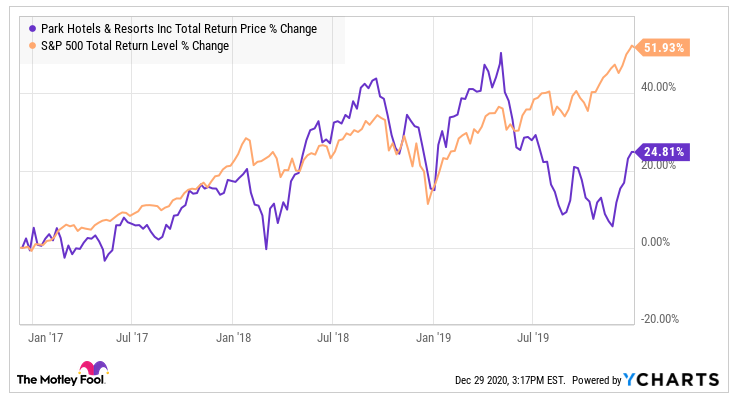 As a final thought on Park's stock price, it's important to note that the entire reason it was spun off from Hilton was to gradually reposition the portfolio to maximize profitability. Being that the company is only about four years into its journey, it's too early to judge by its stock performance whether it's been successful. Since the spin, the company has increased its revenue per available room (RevPAR) by 16%, has increased EBITDA margins by 180 basis points, and has sold noncore assets while adding higher-quality properties to the portfolio. By these metrics, it appears to have been a successful few years, and there simply hasn't been enough time (especially now that a pandemic hit) for the efforts to be fully reflected in the company's stock performance.
The bottom line on Park Hotels & Resorts
Like most hotel operators, Park Hotels & Resorts was hit hard by the pandemic, and the fact that its two largest markets have been the largely shut-down Hawaii and San Francisco markets certainly didn't help. However, it also has quite a bit to gain as the pandemic (hopefully) comes to an end in 2021.
Park traded for a 63% discount to the replacement cost of its properties as of late November, a big margin of safety. And with the stock still 33% below where it started 2020, so it could be worth a look for patient long-term investors.
Got $1,000? The 10 Top Investments We'd Make Right Now
Our team of analysts agrees. These 10 real estate plays are the best ways to invest in real estate right now. By signing up to be a member of Real Estate Winners, you'll get access to our 10 best ideas and new investment ideas every month. Find out how you can get started with Real Estate Winners by clicking here.